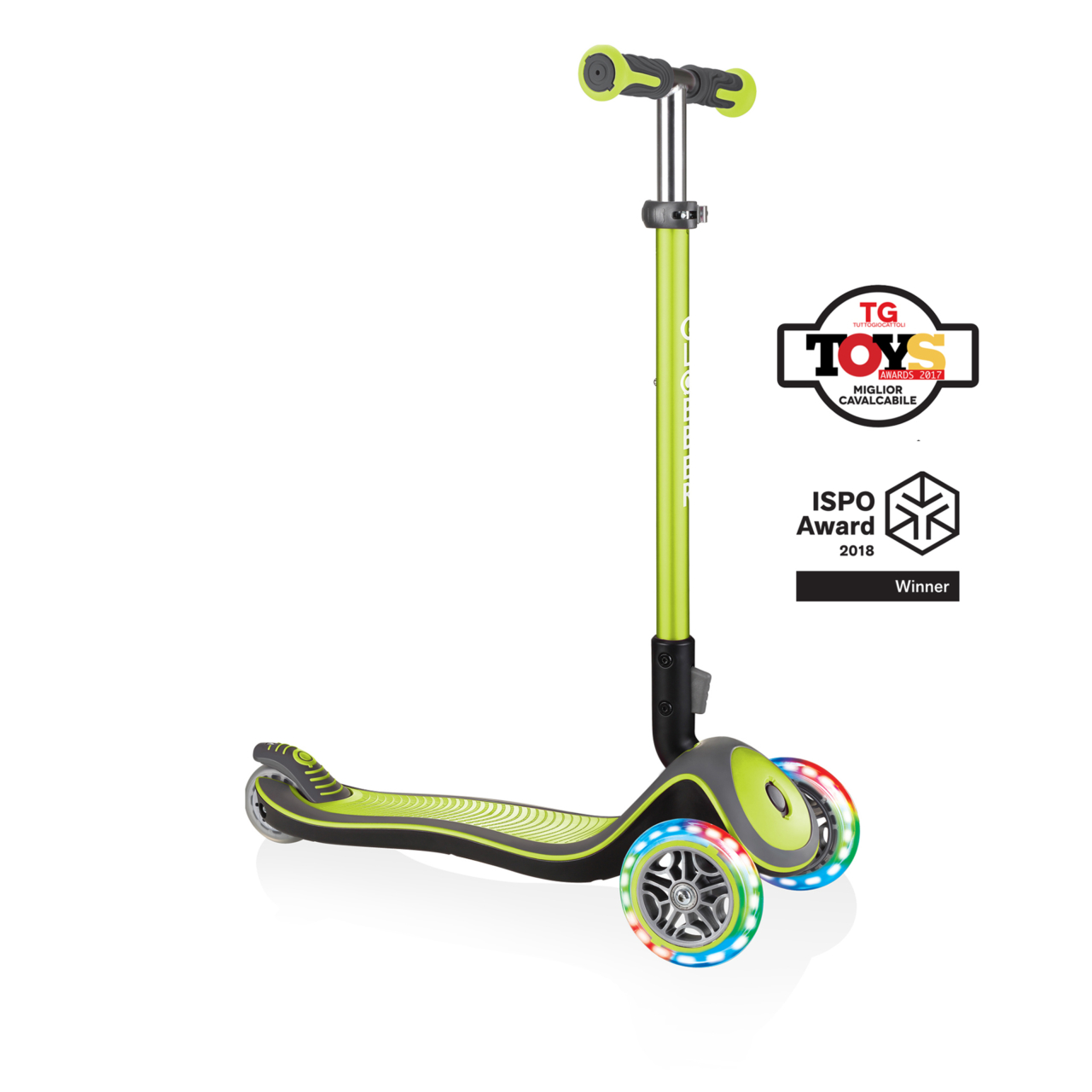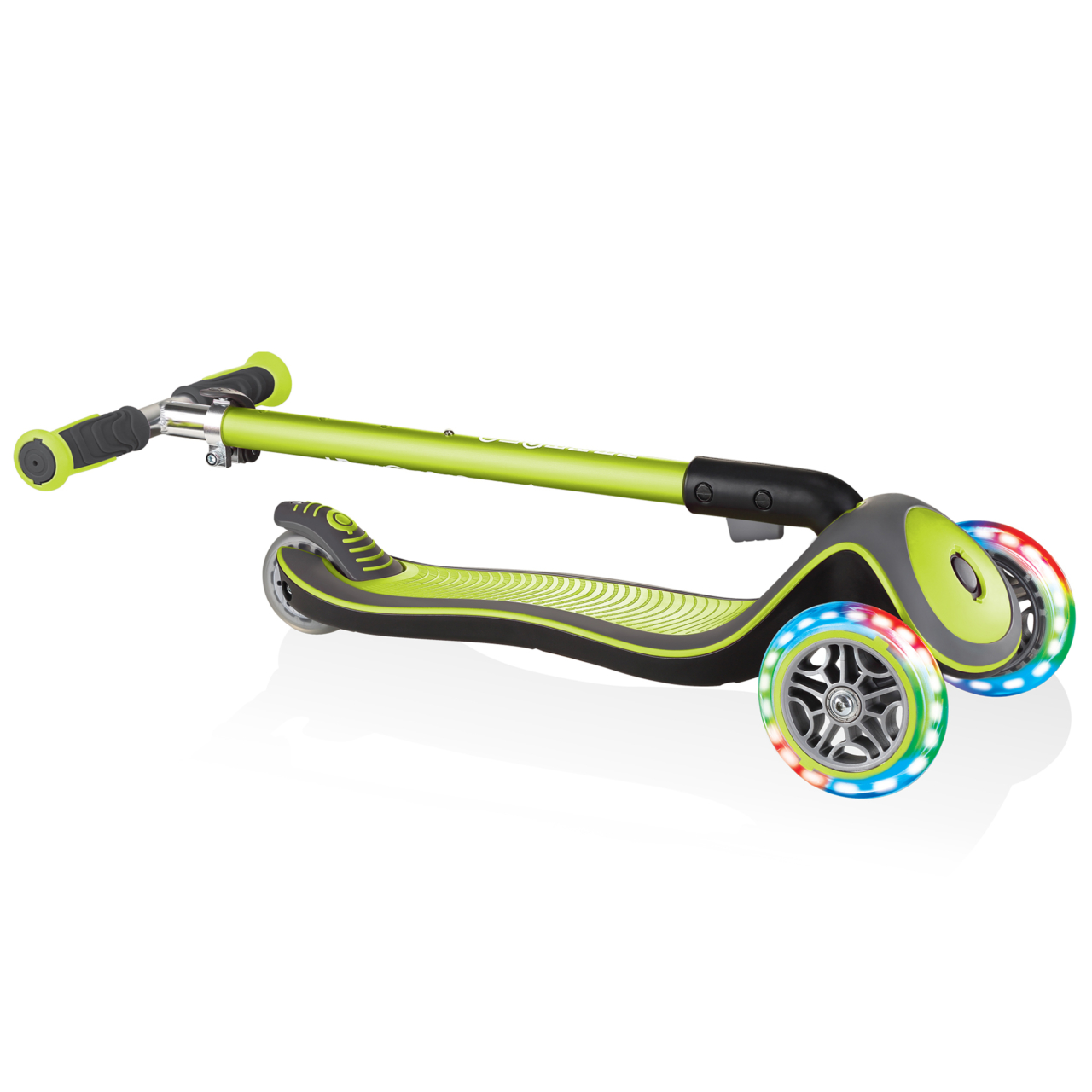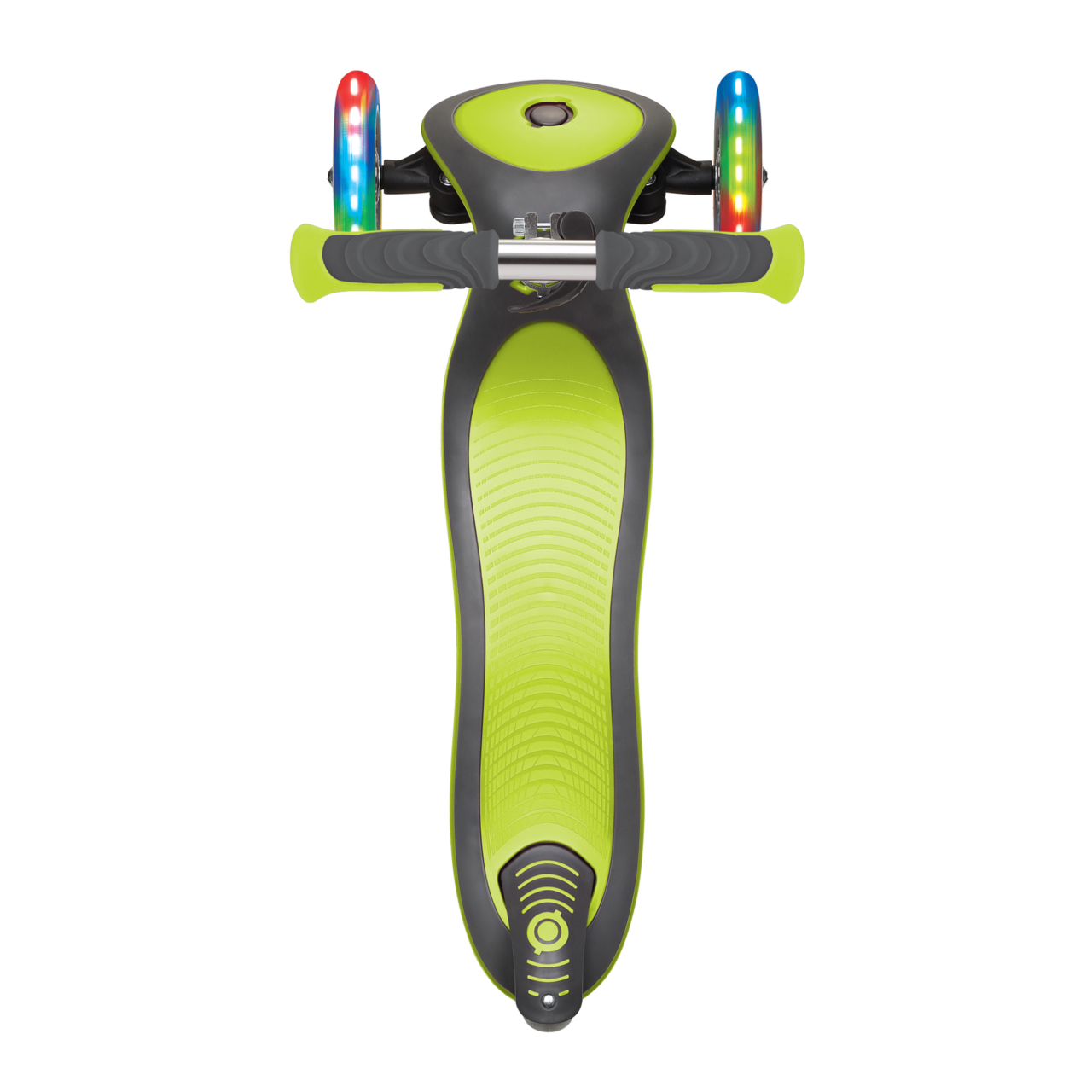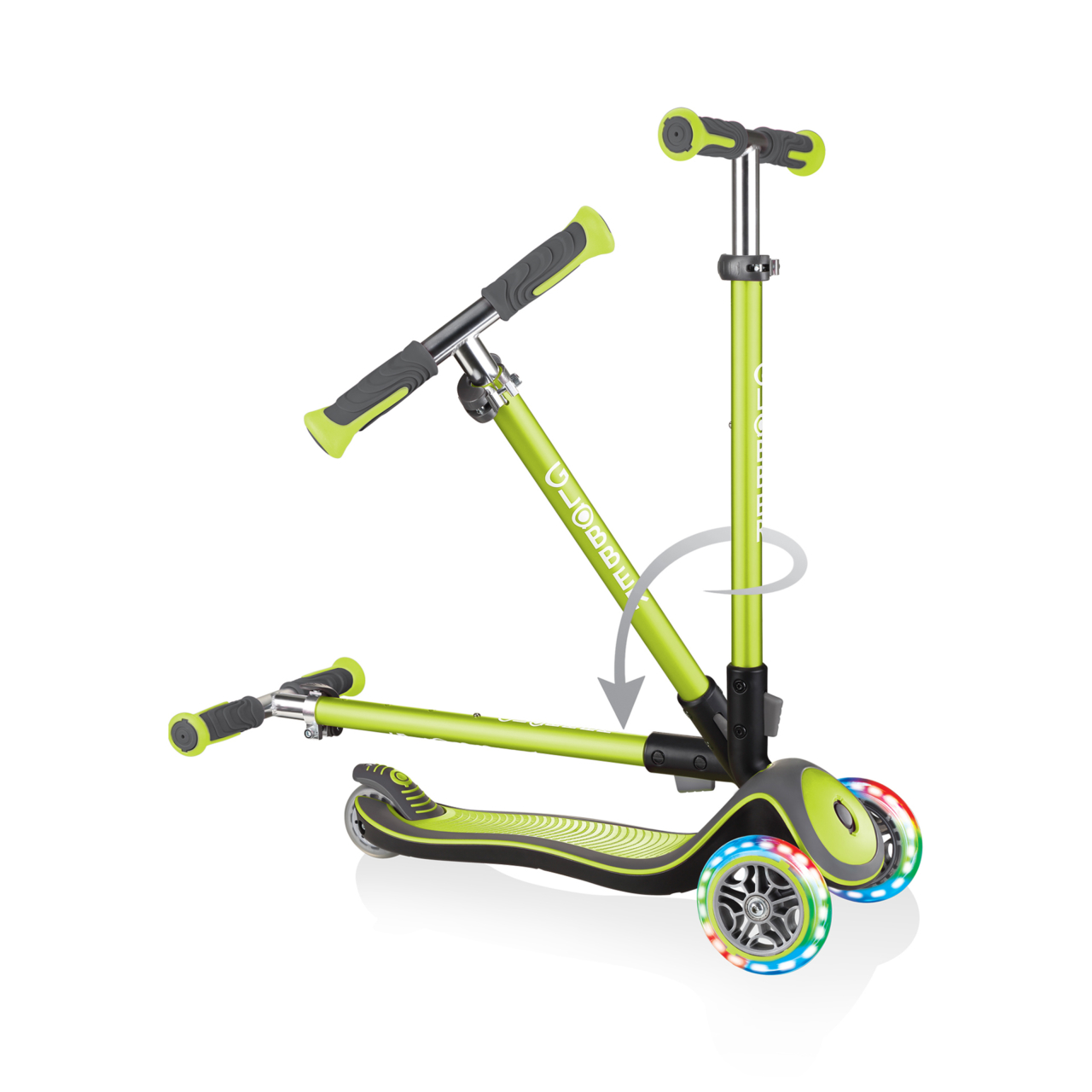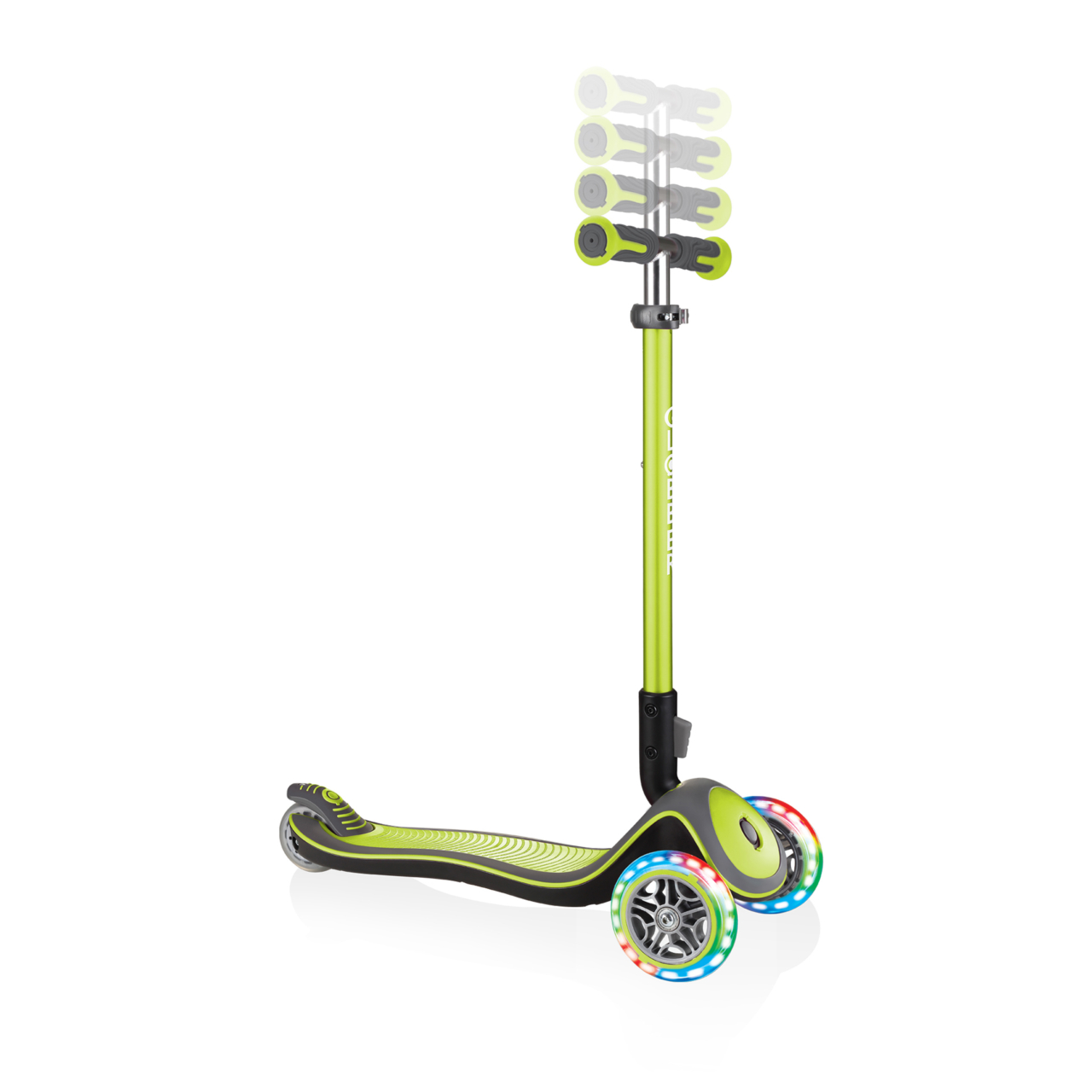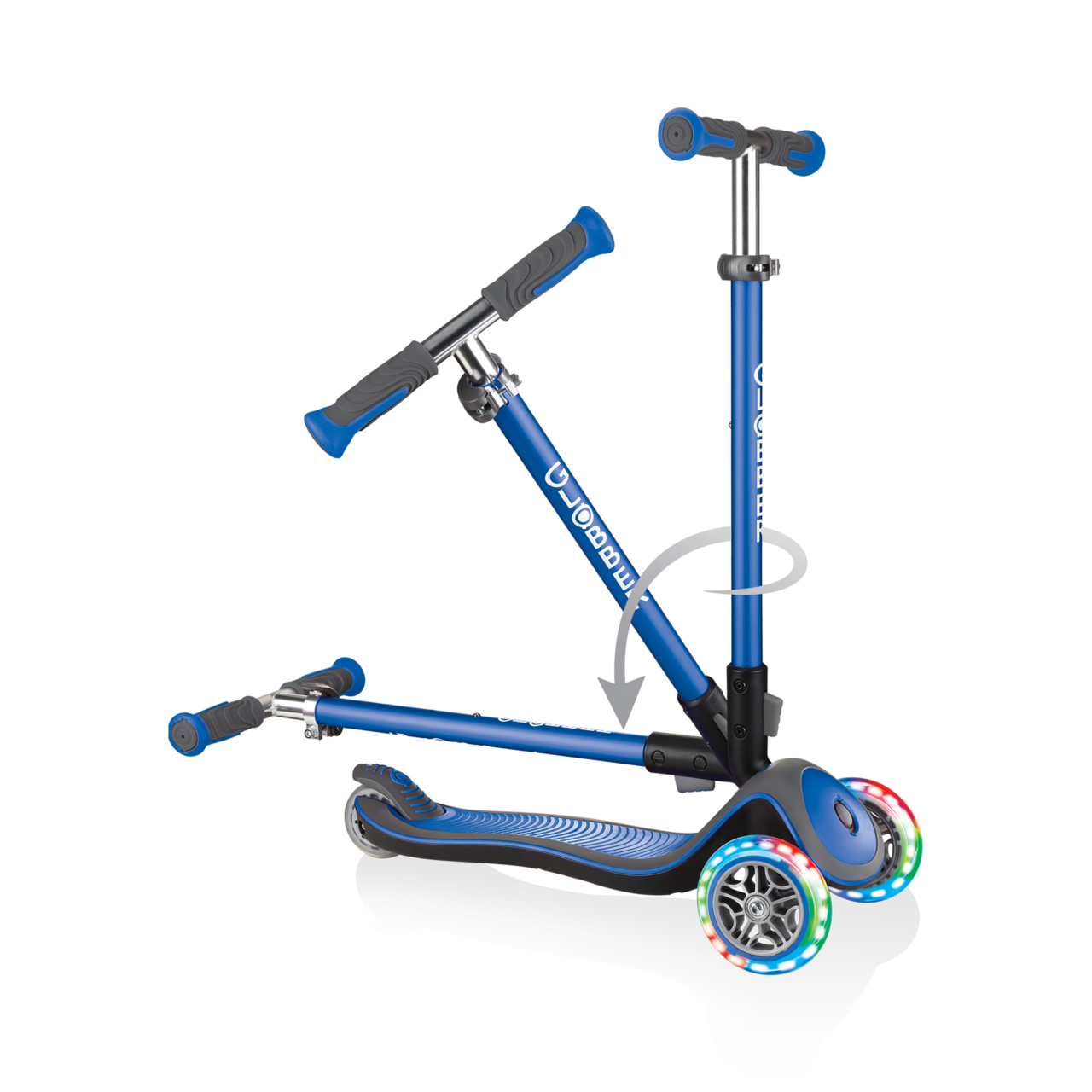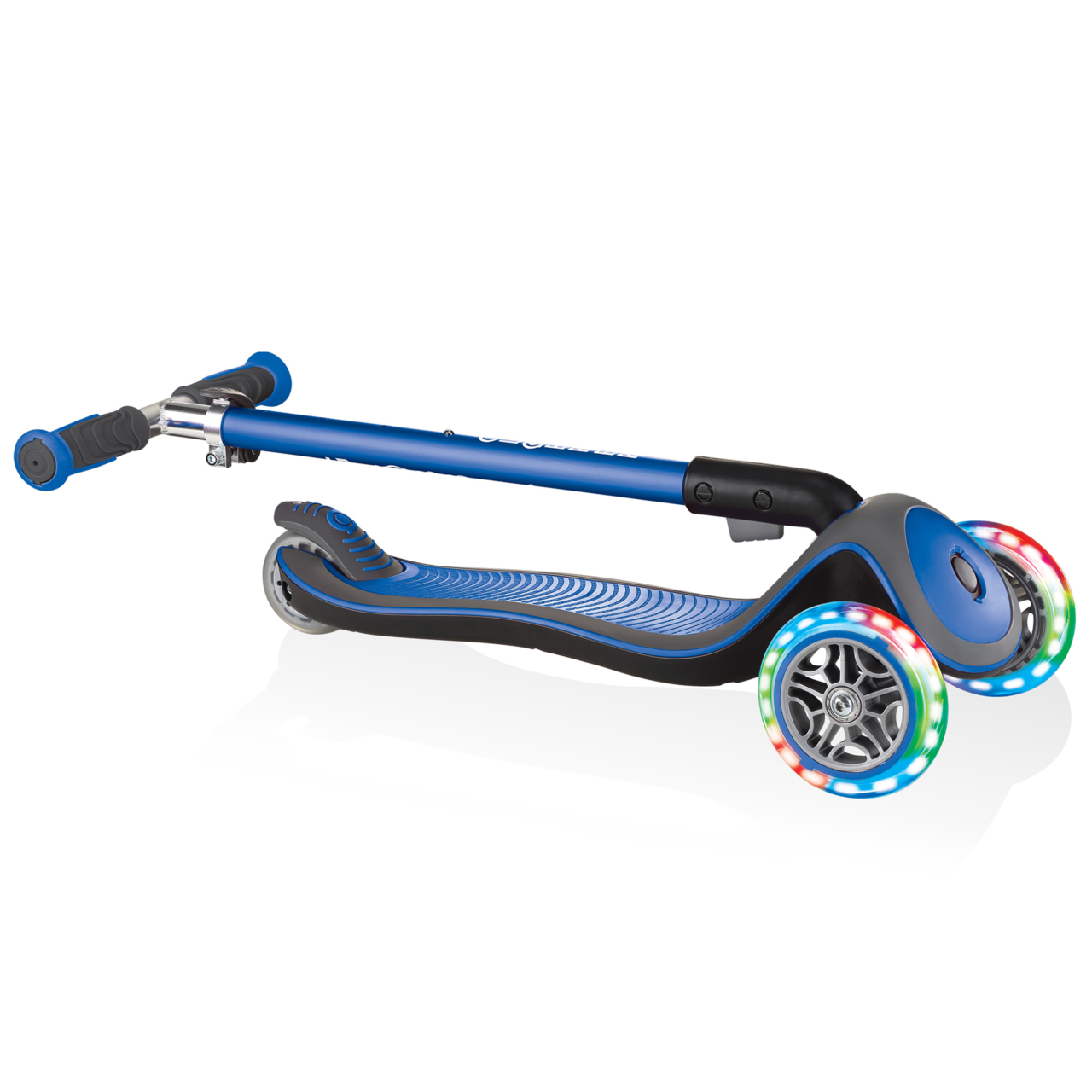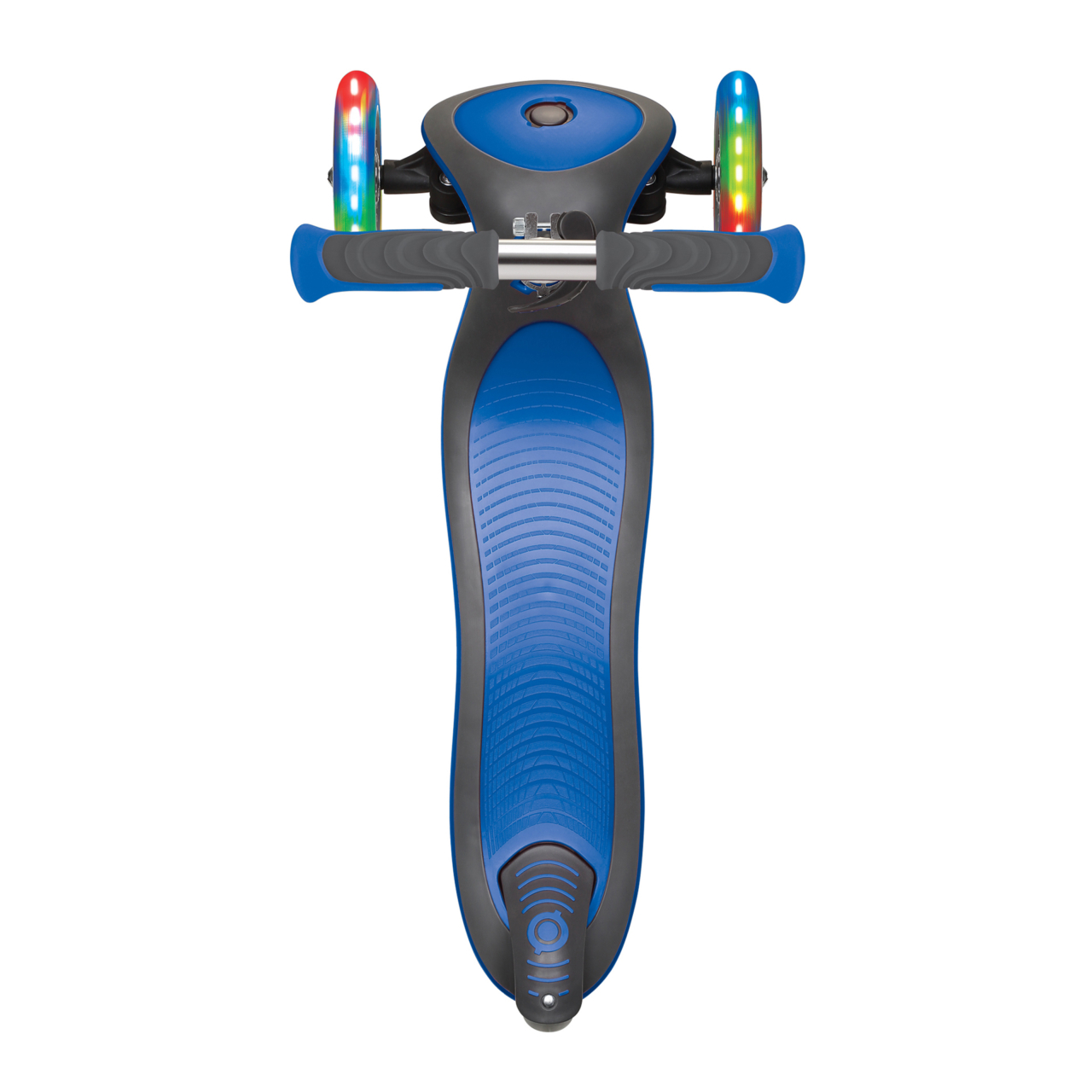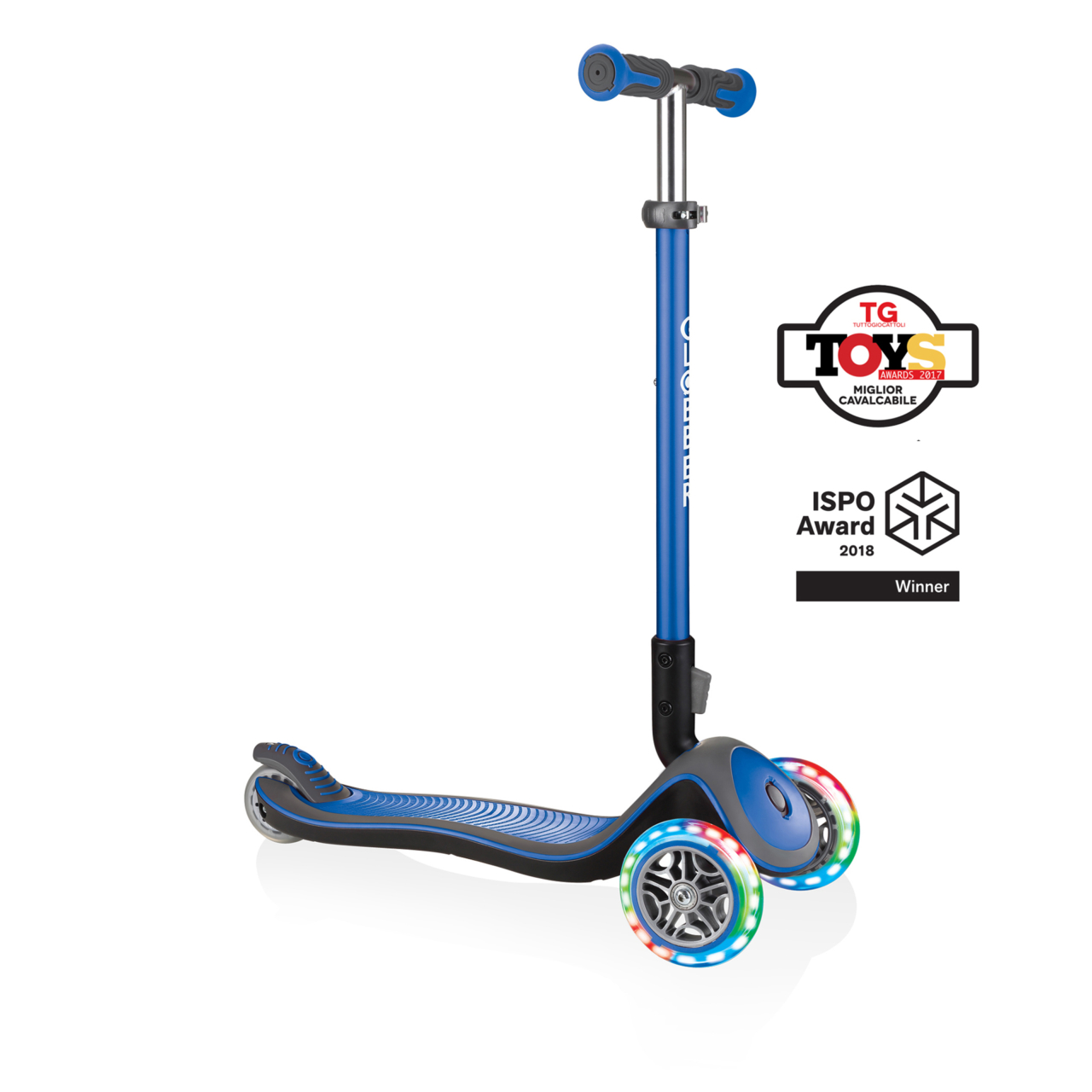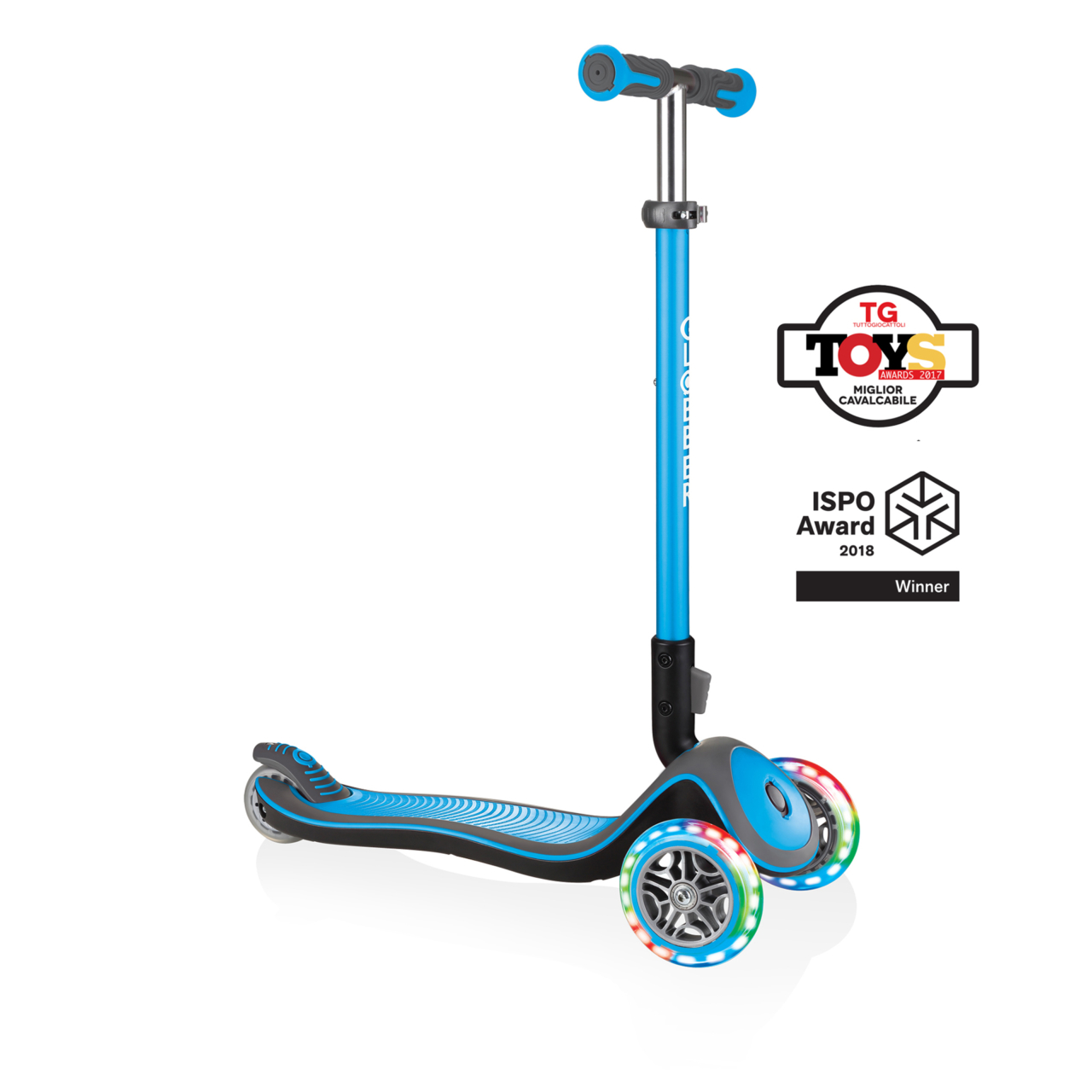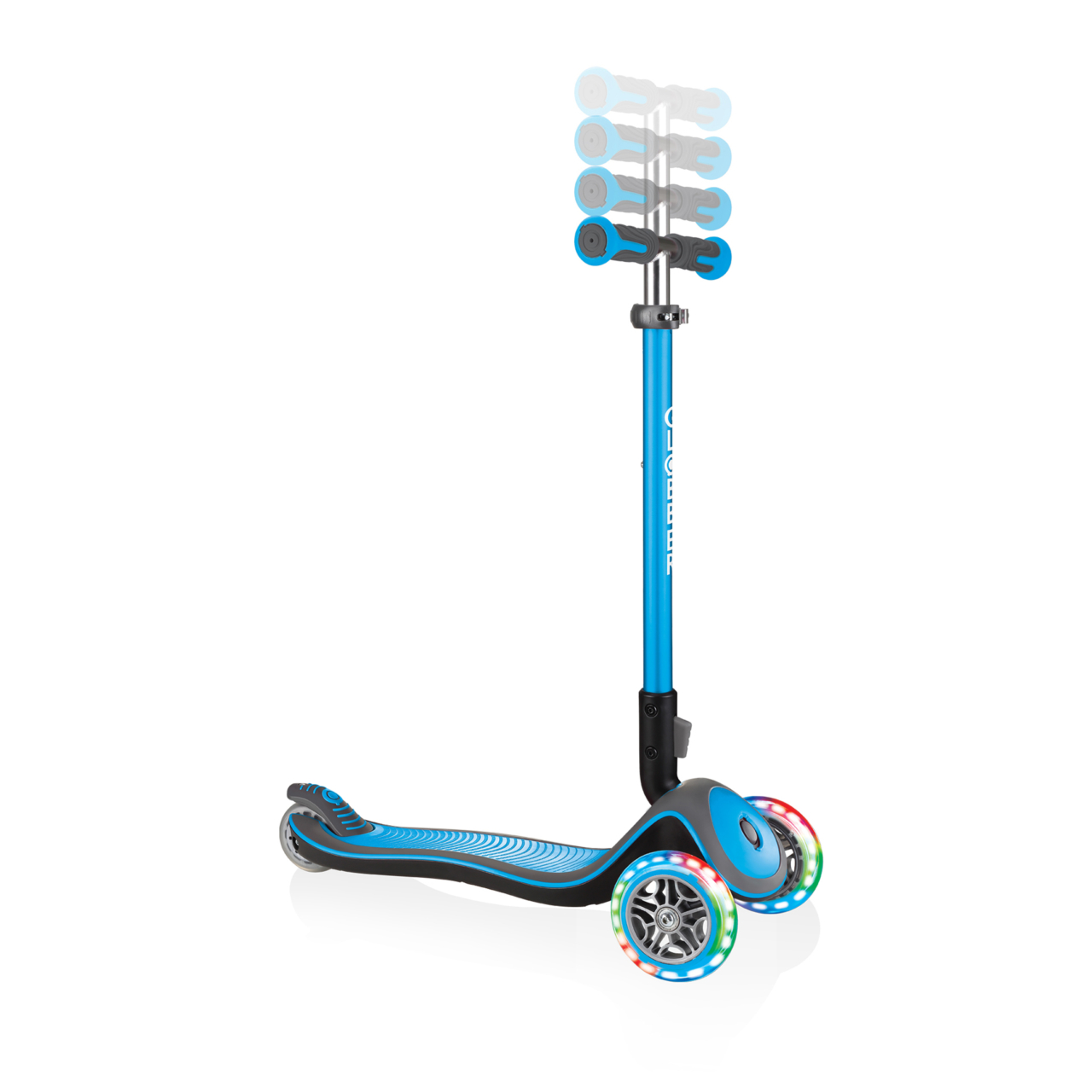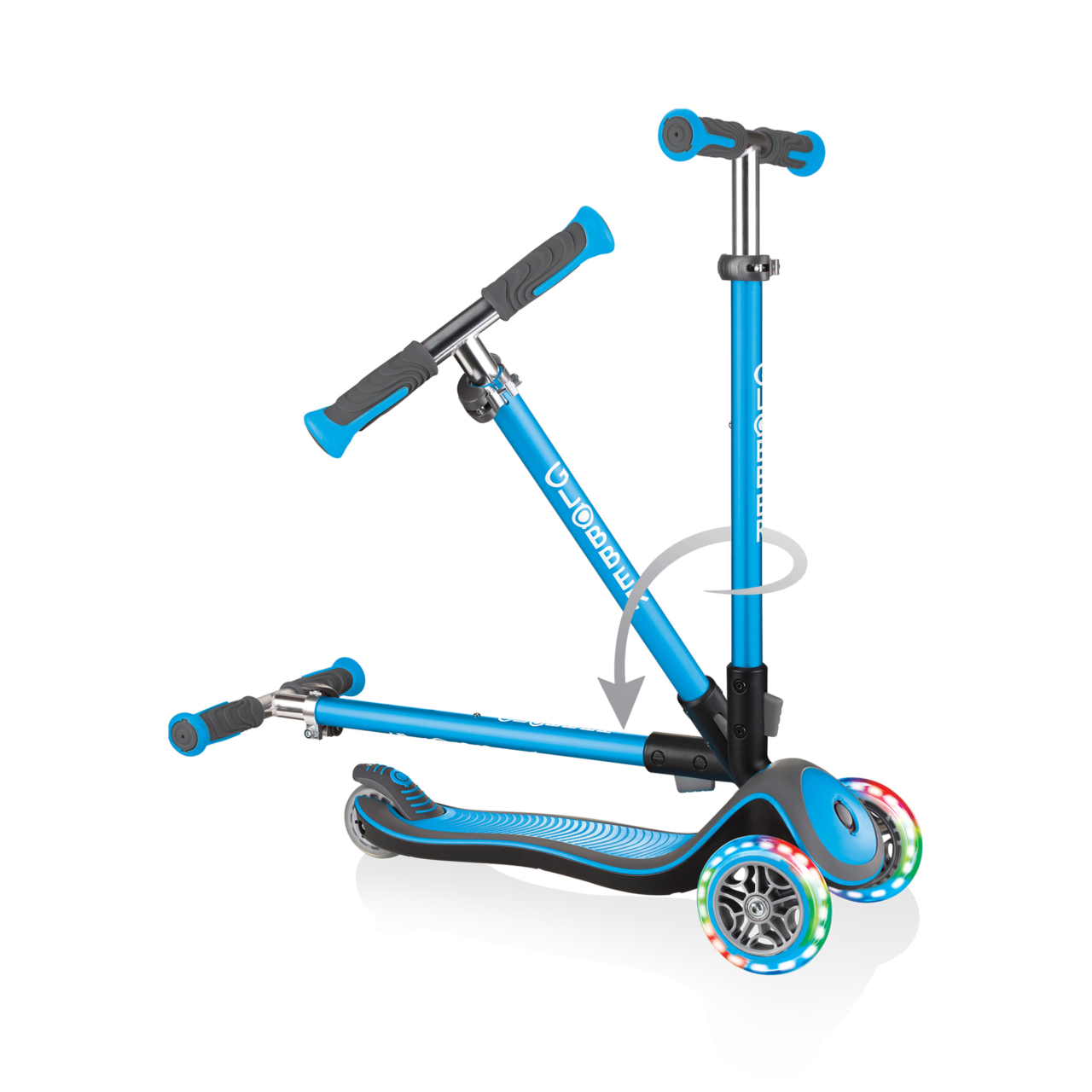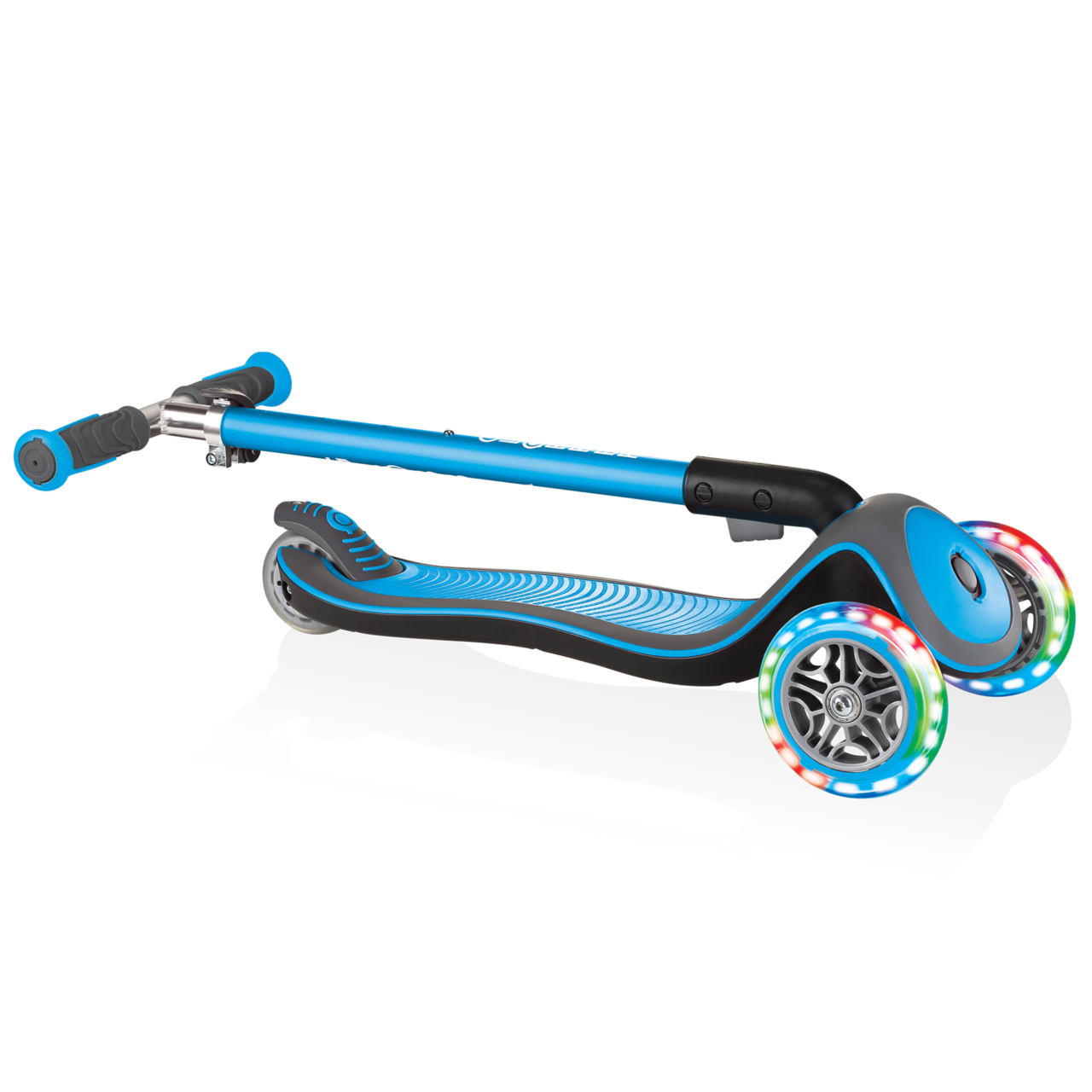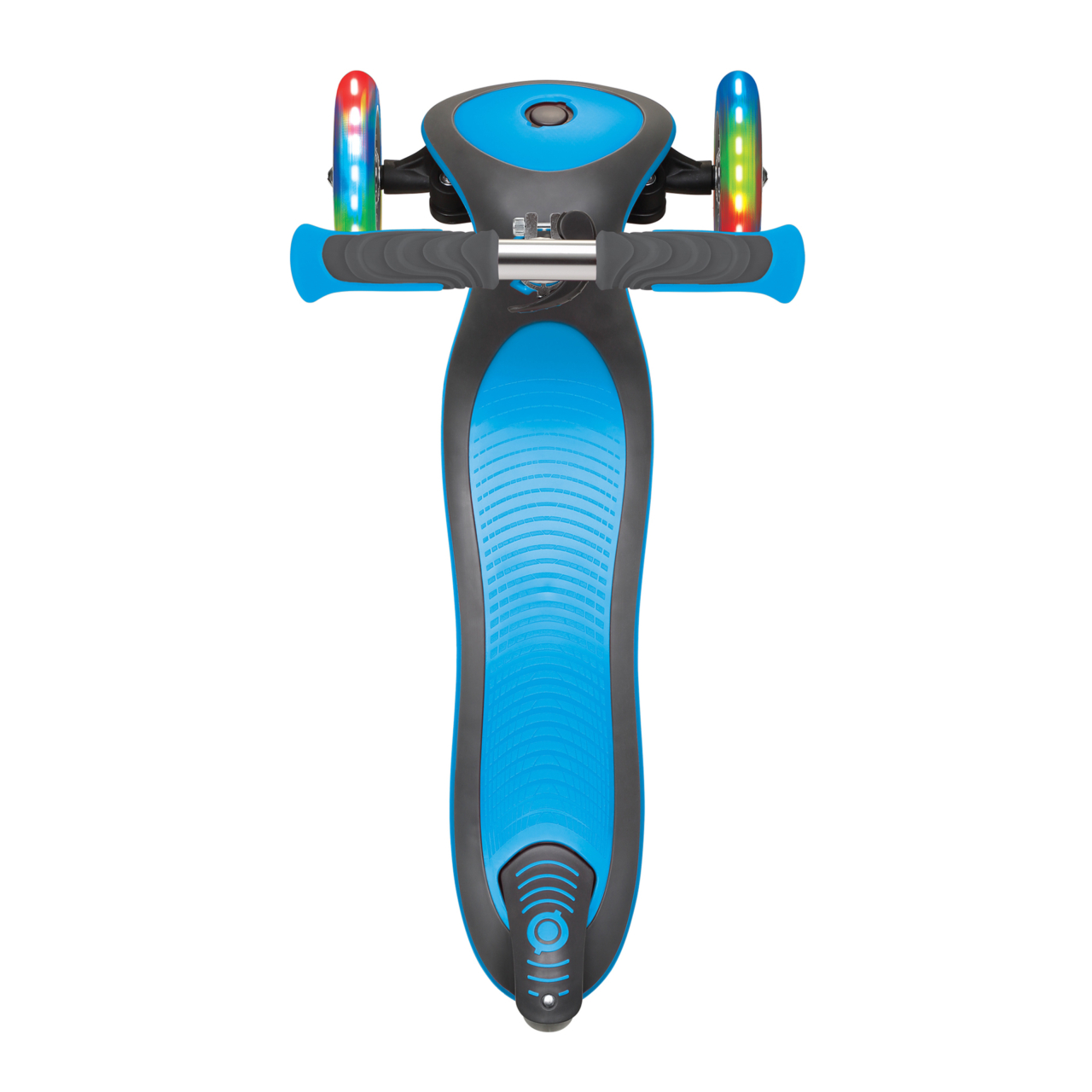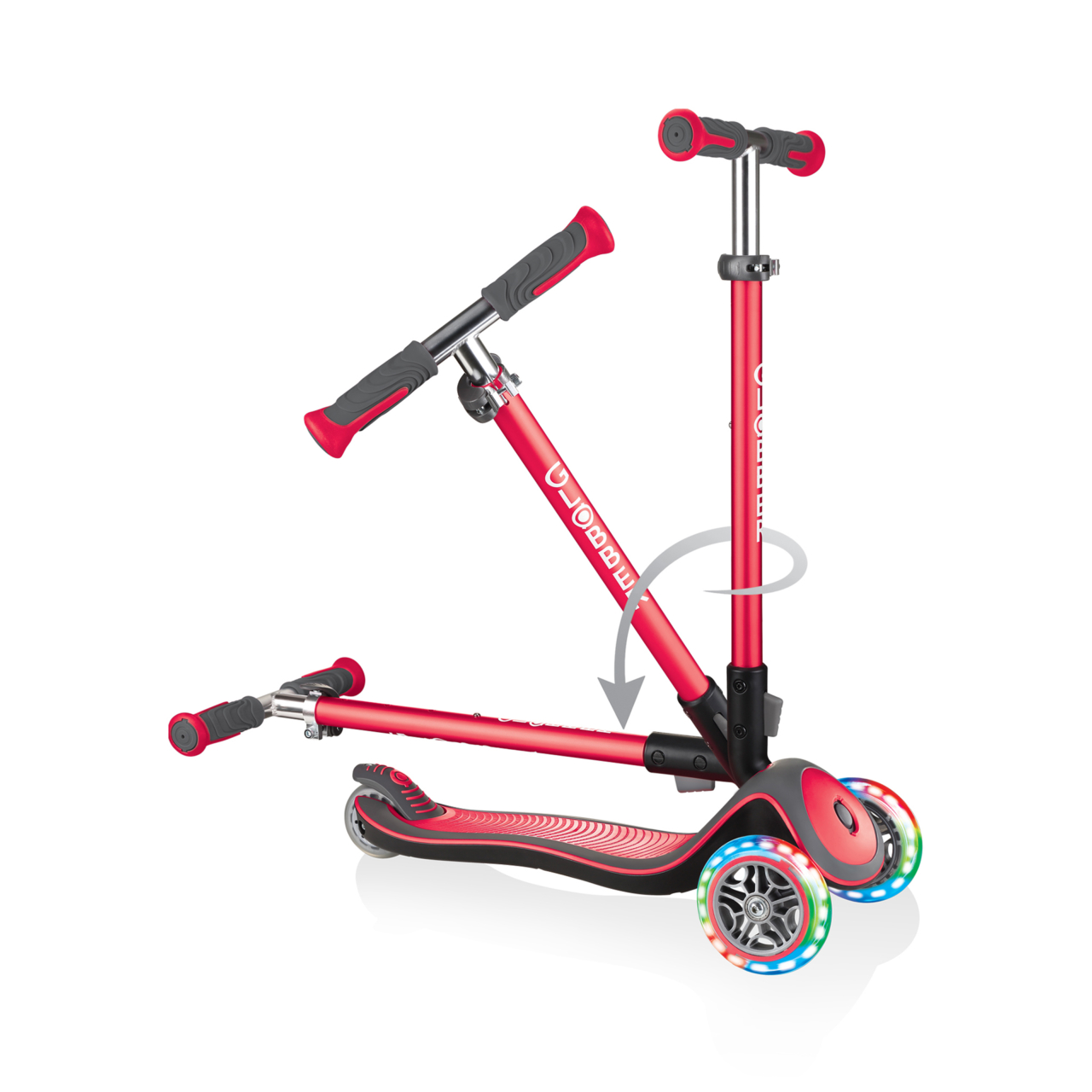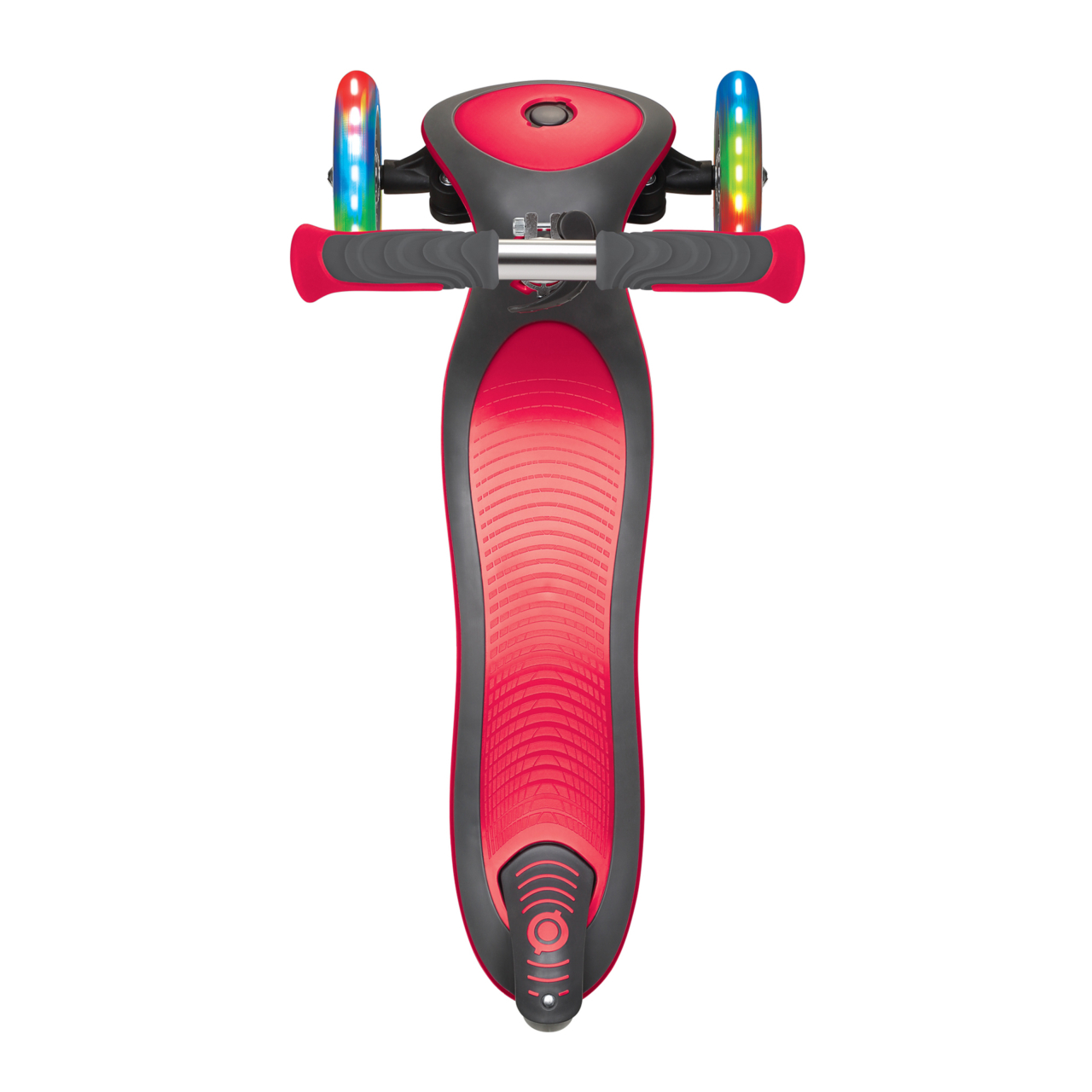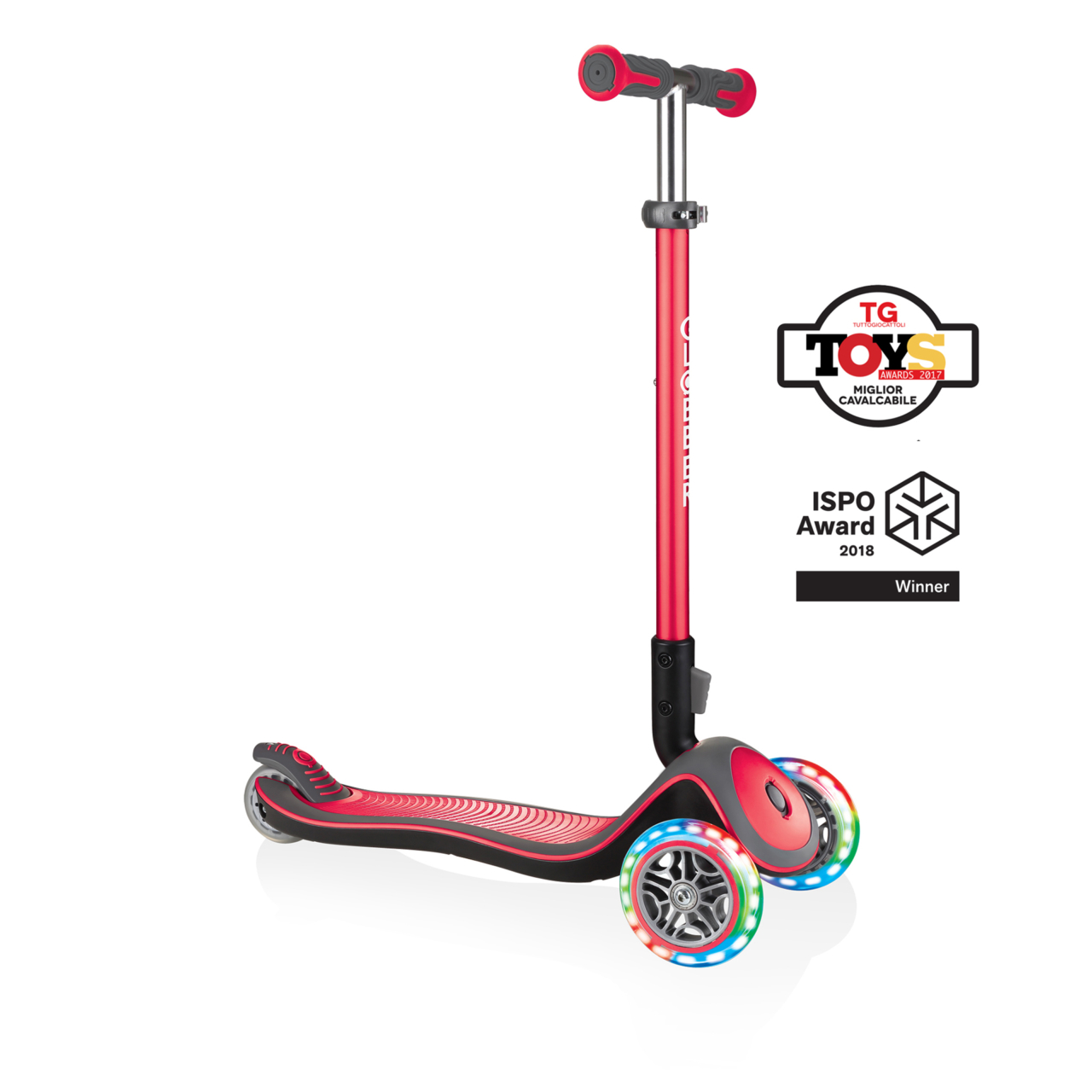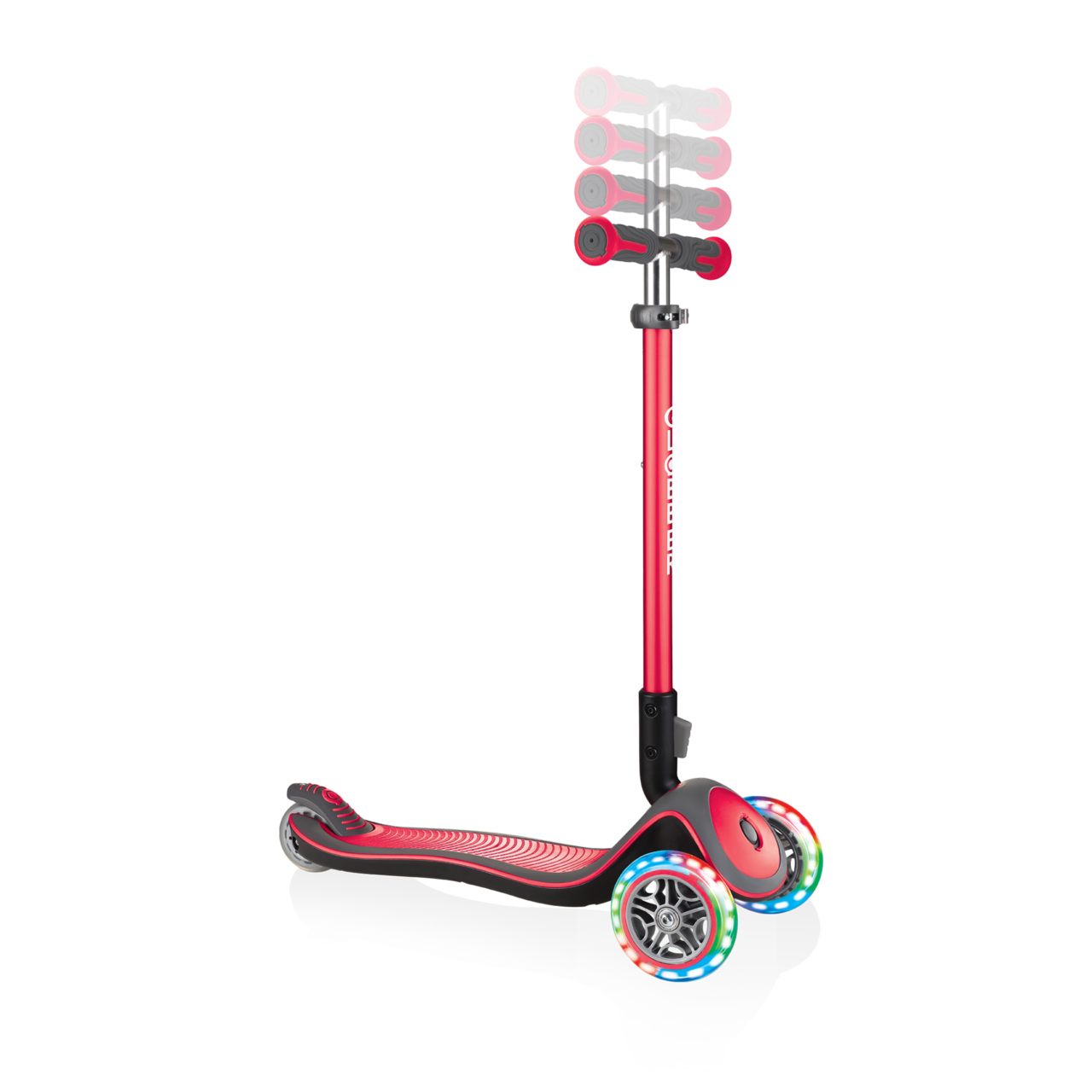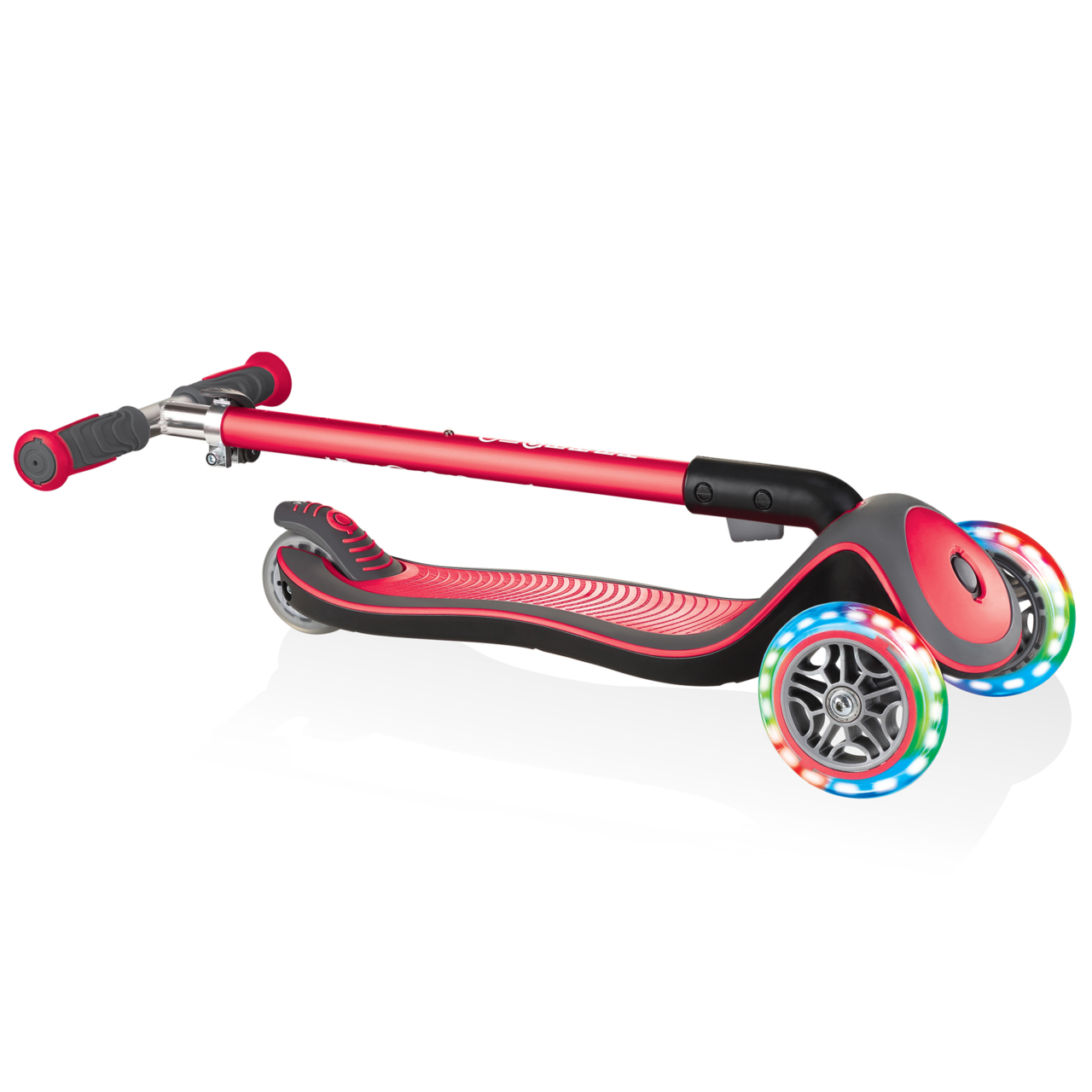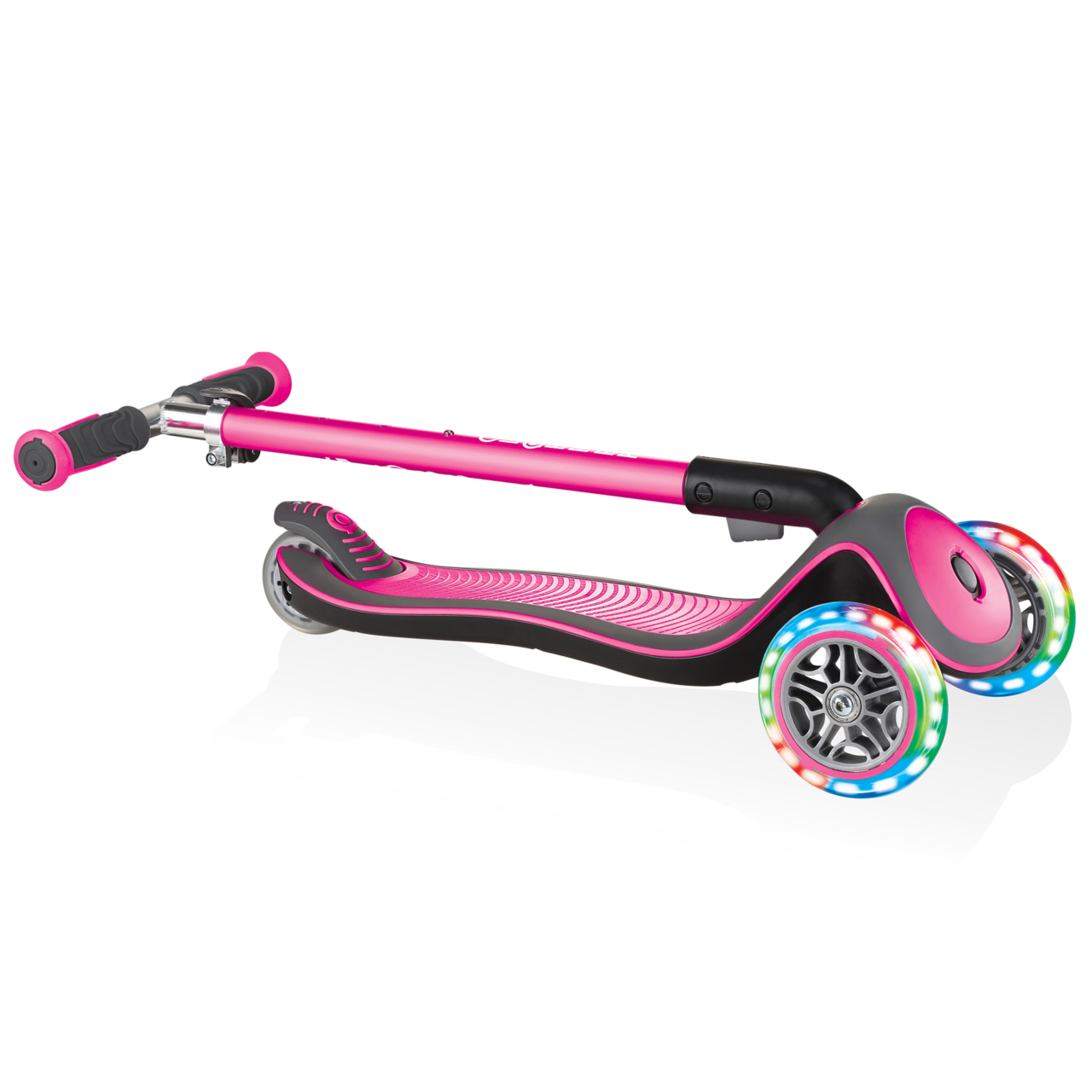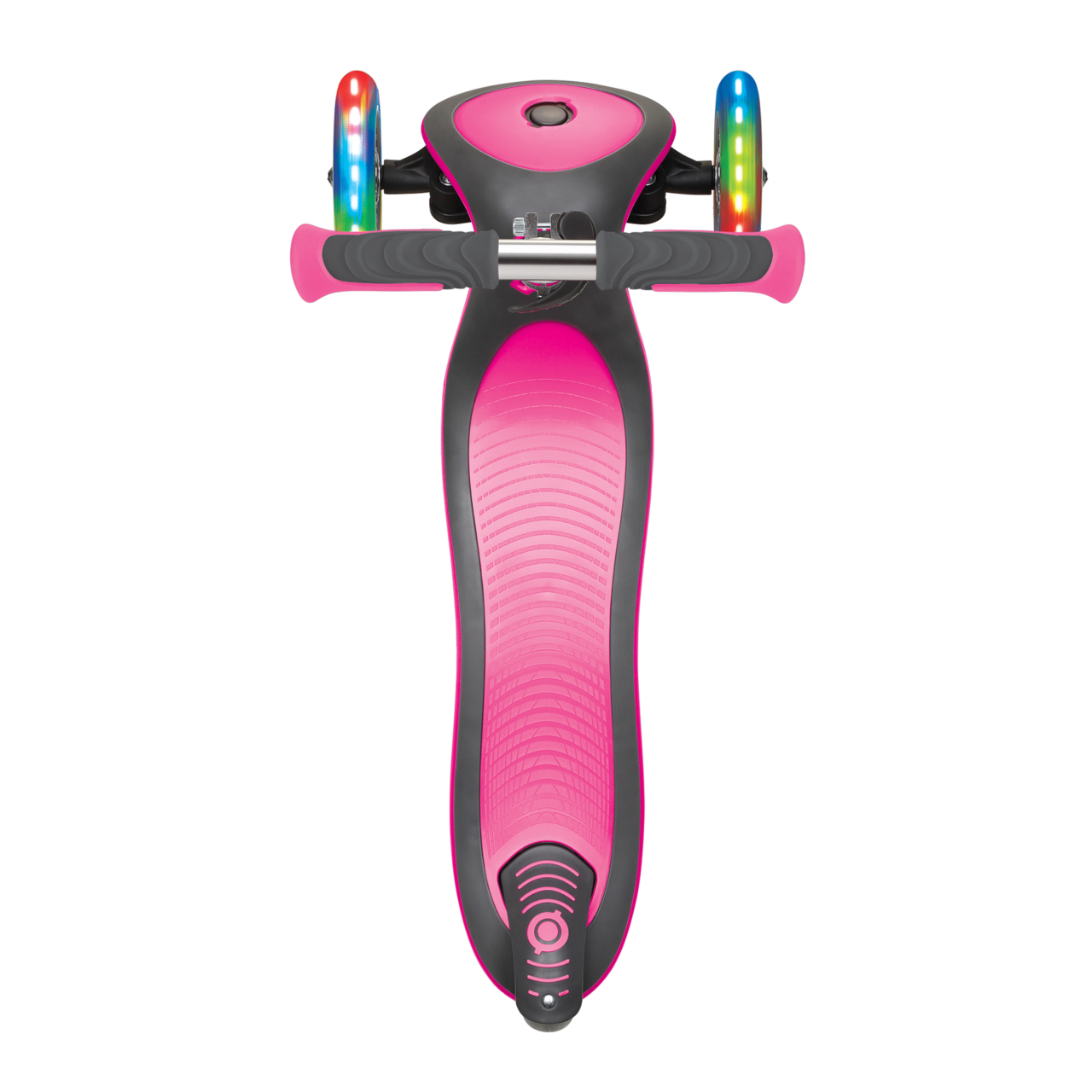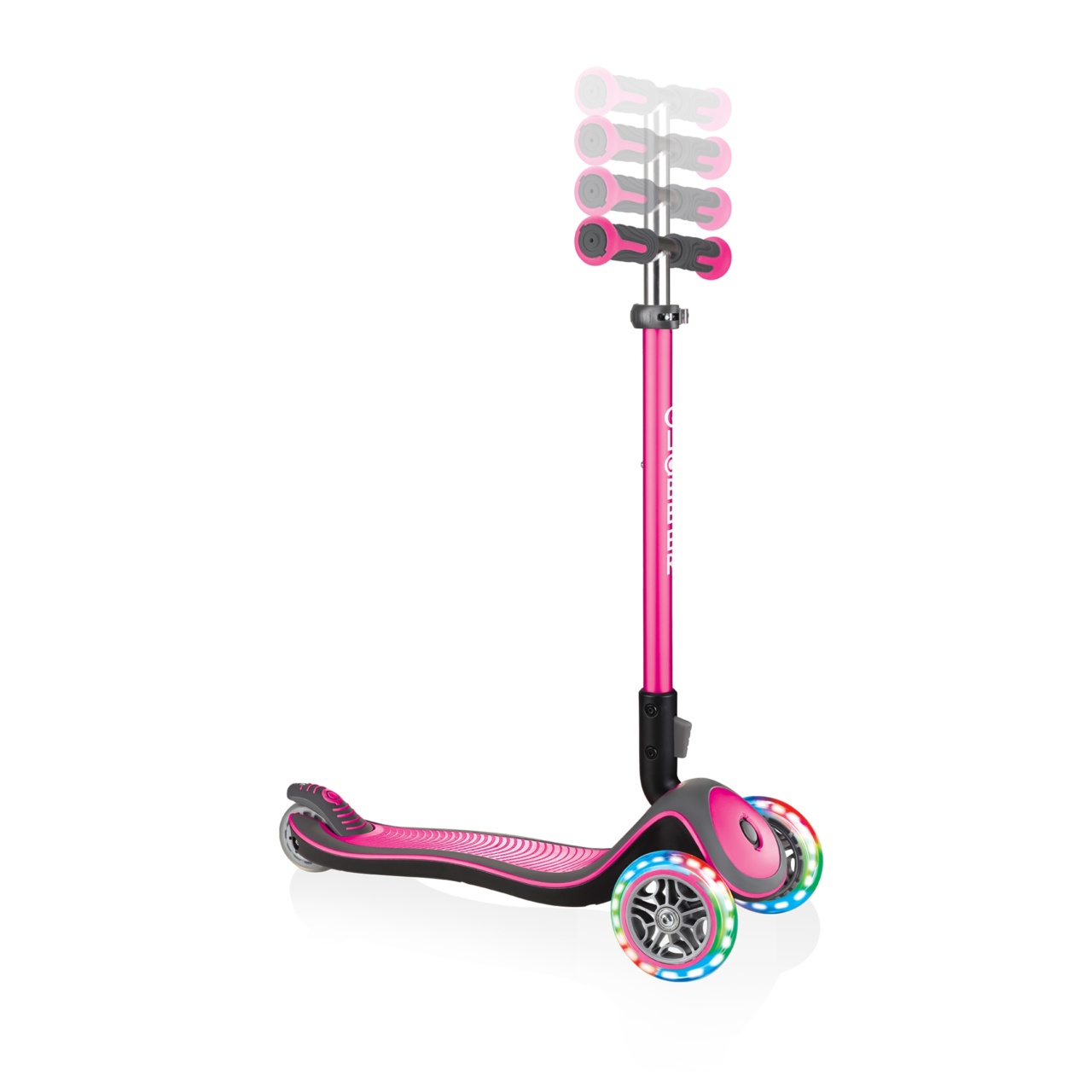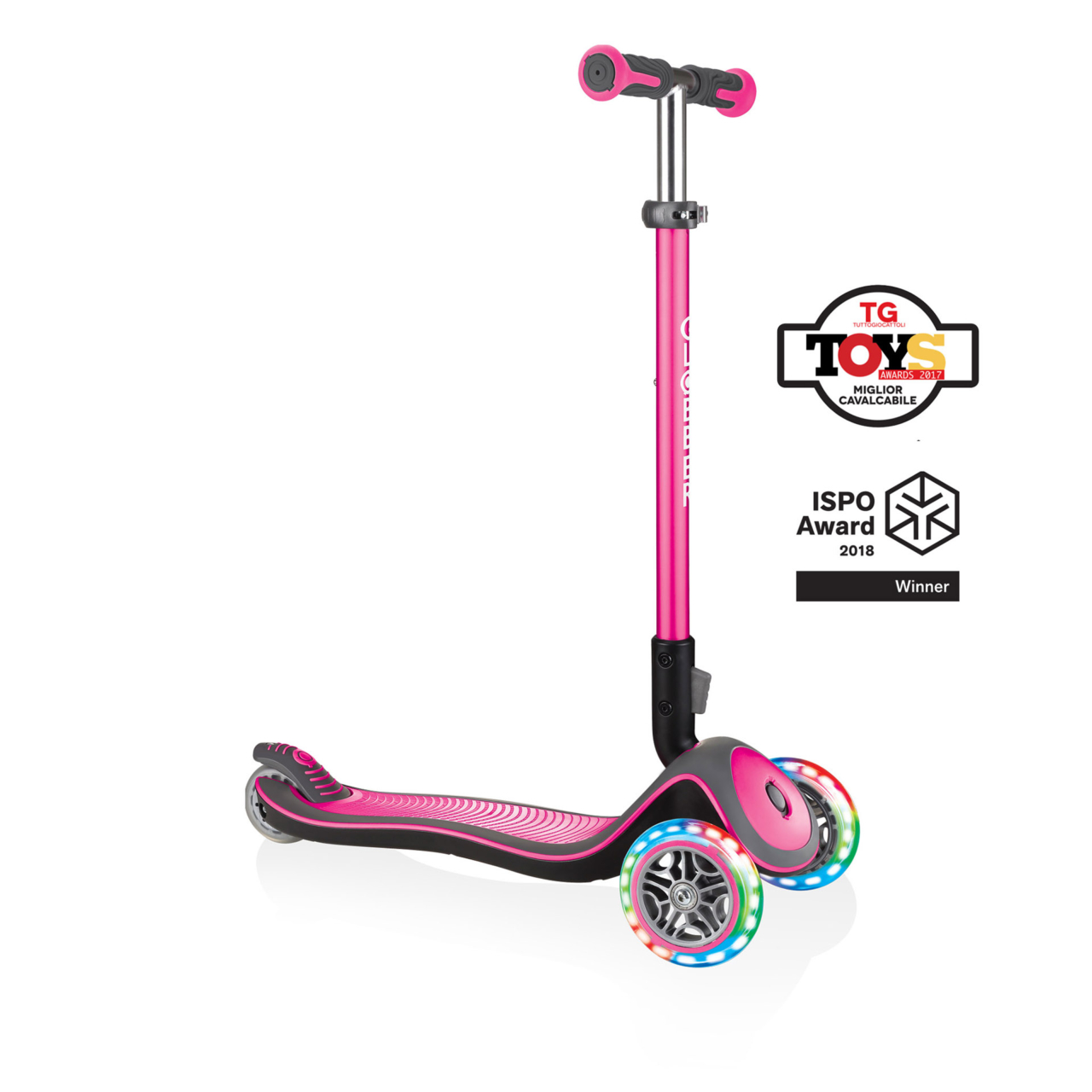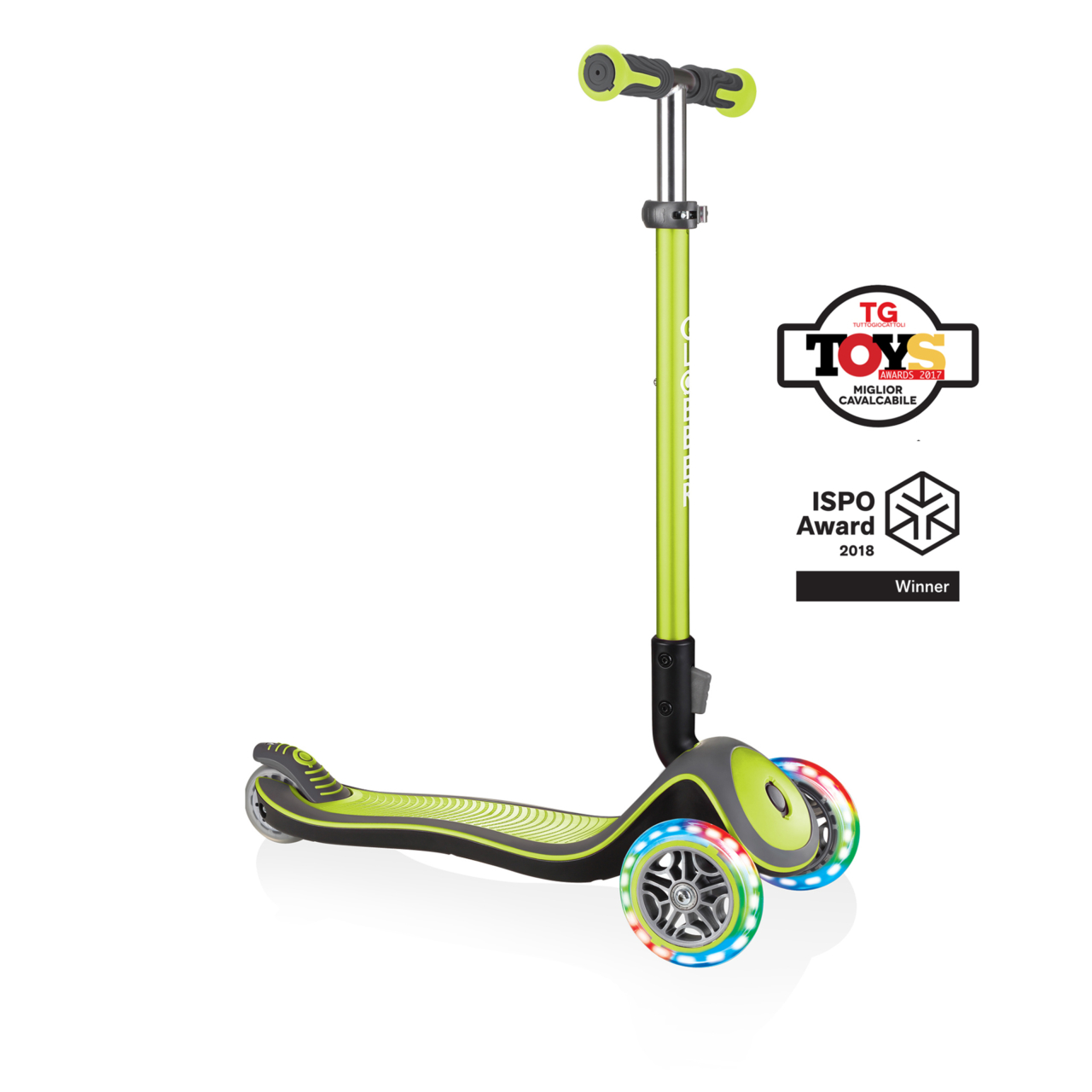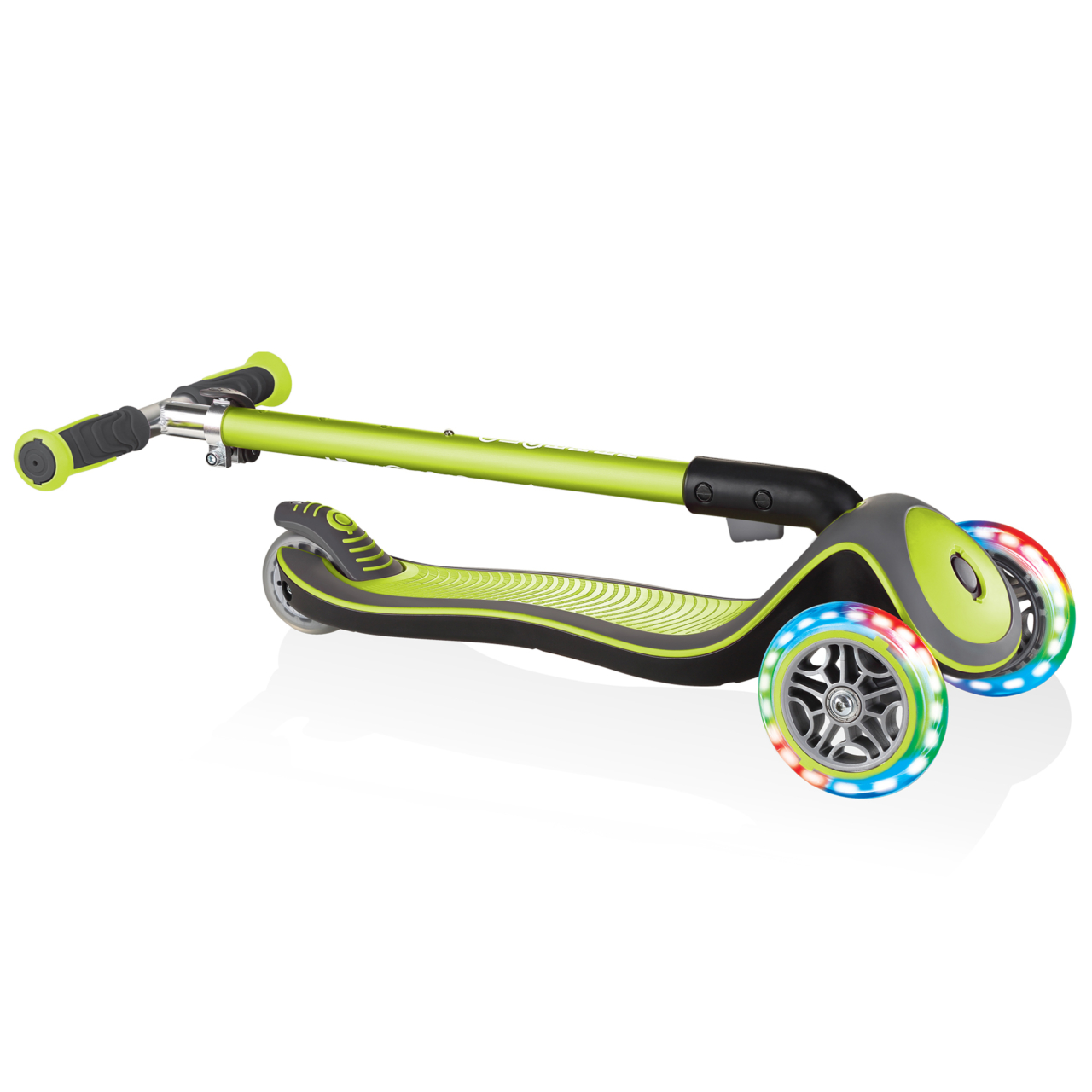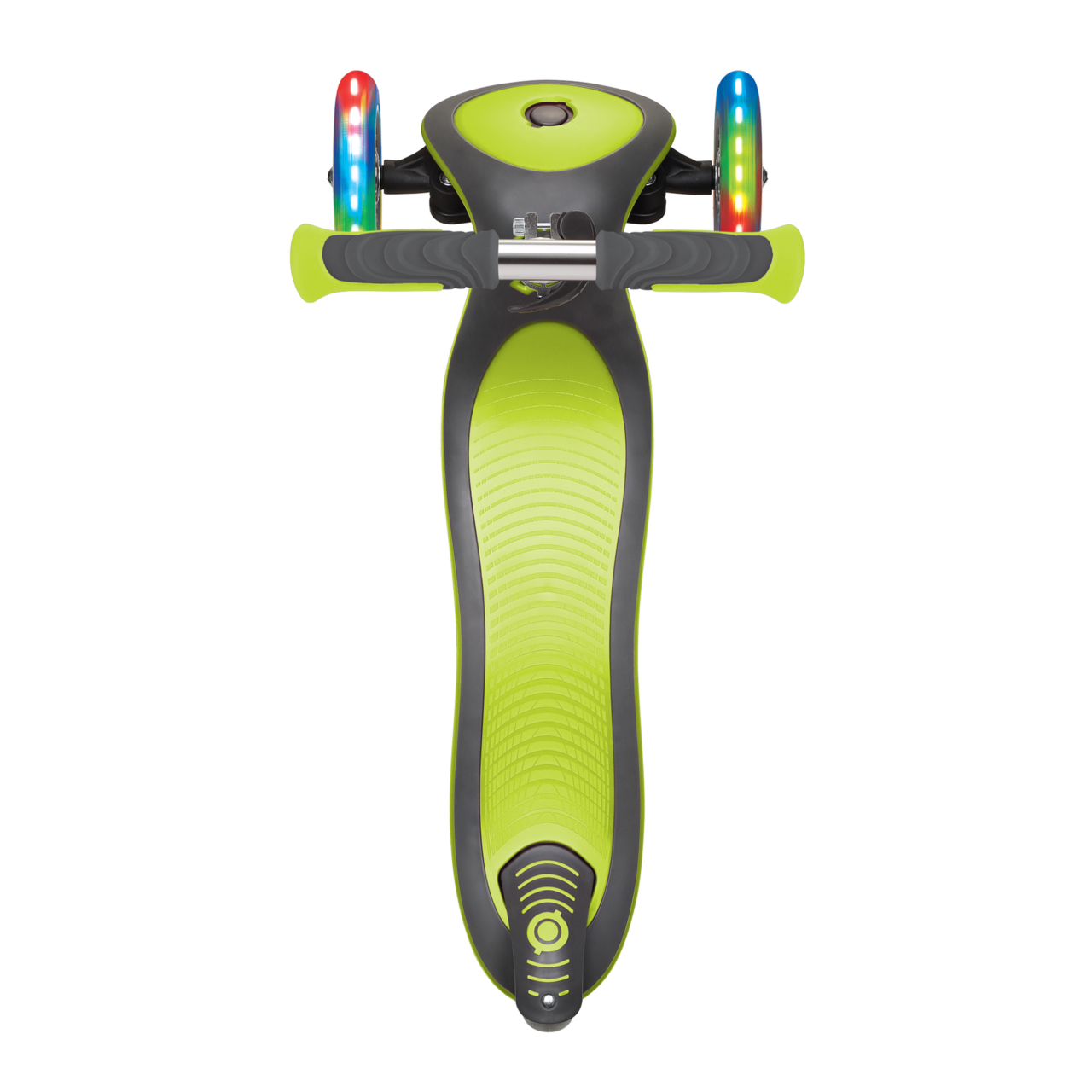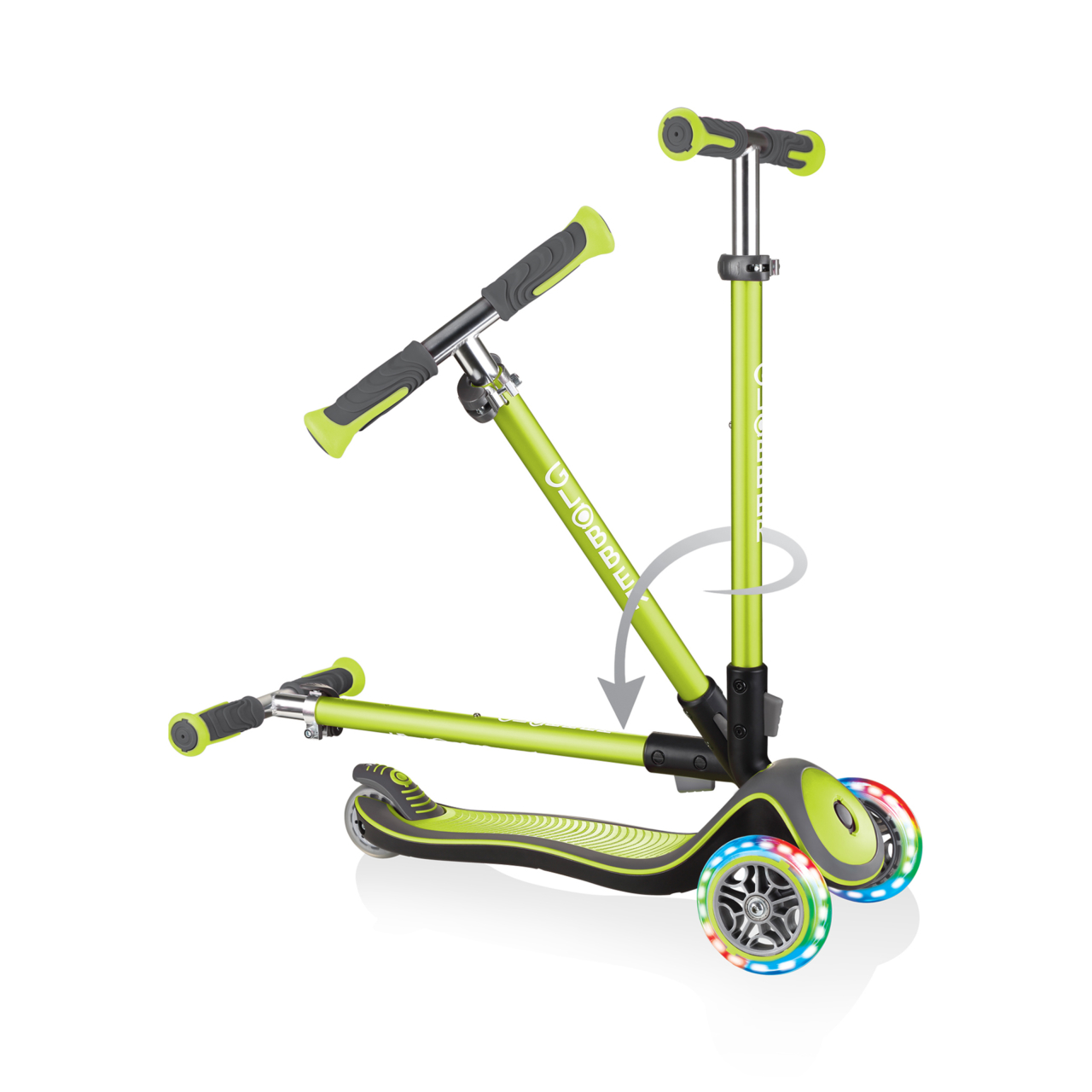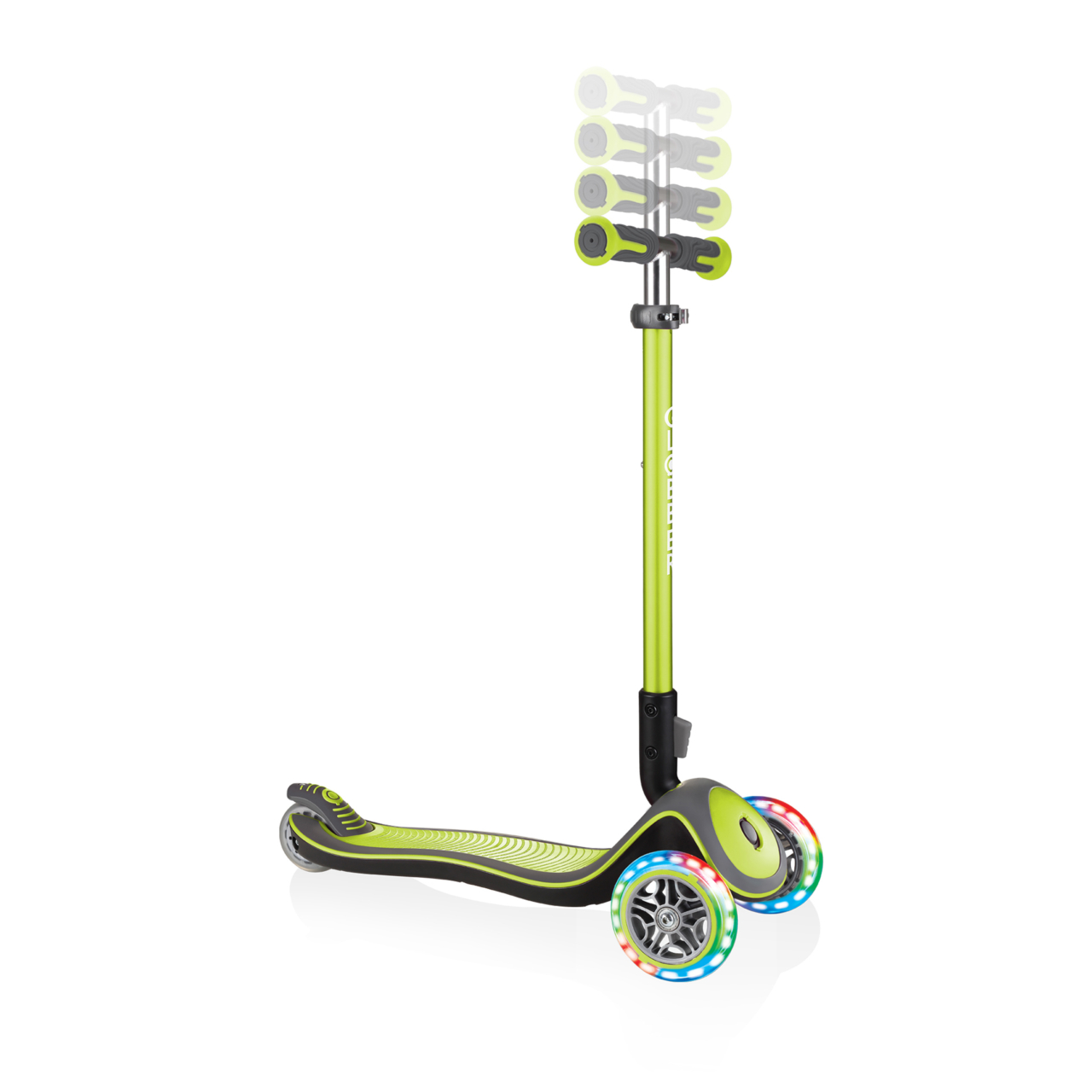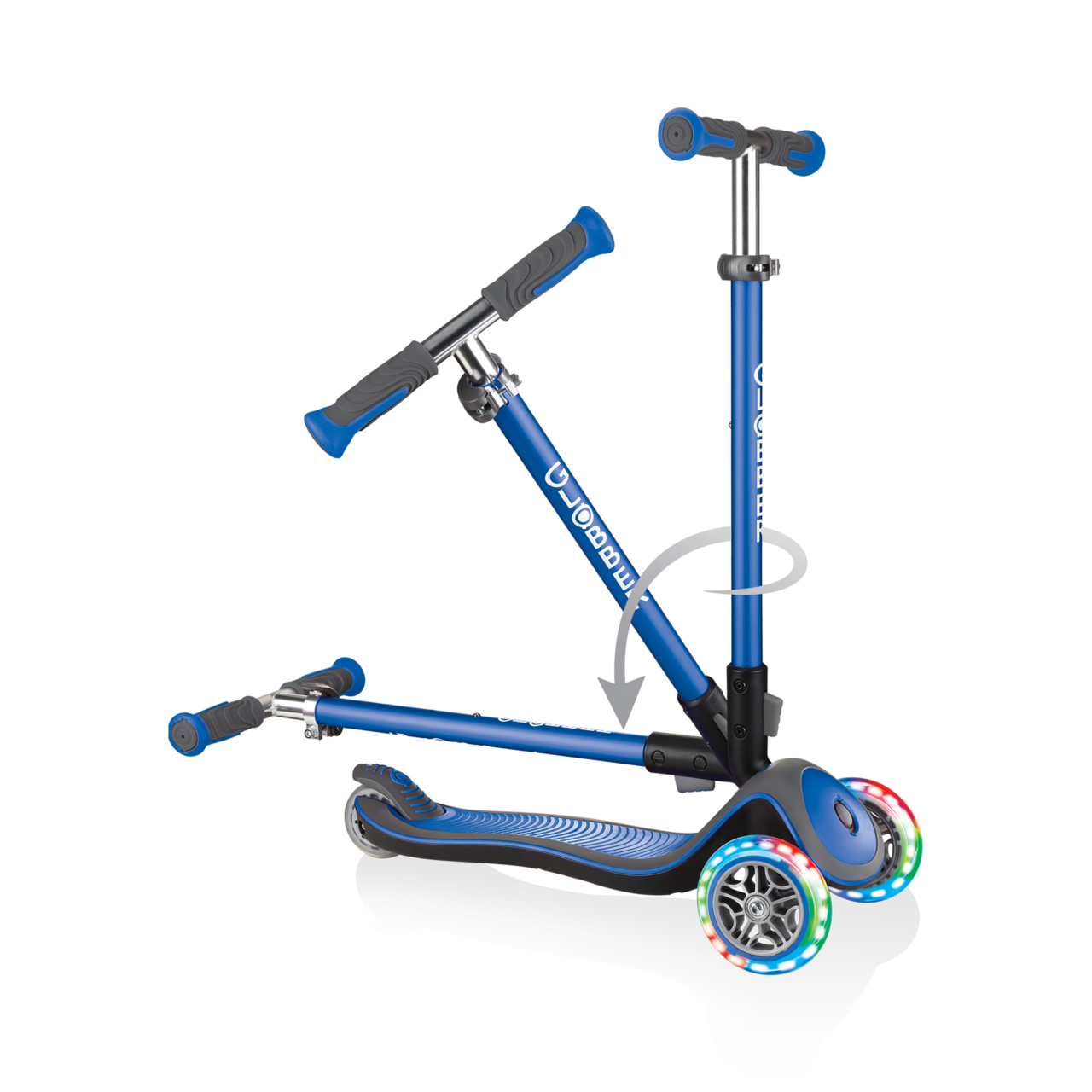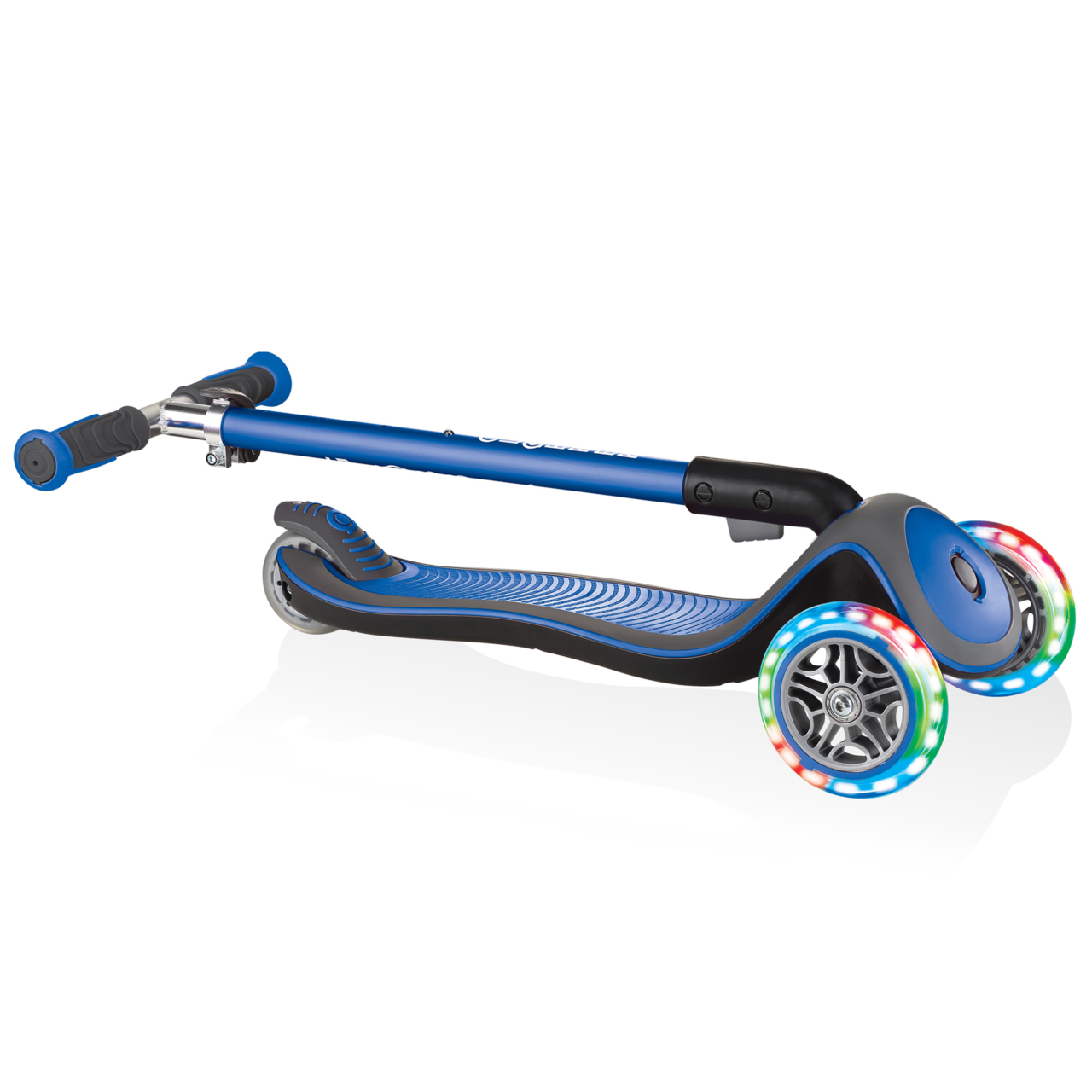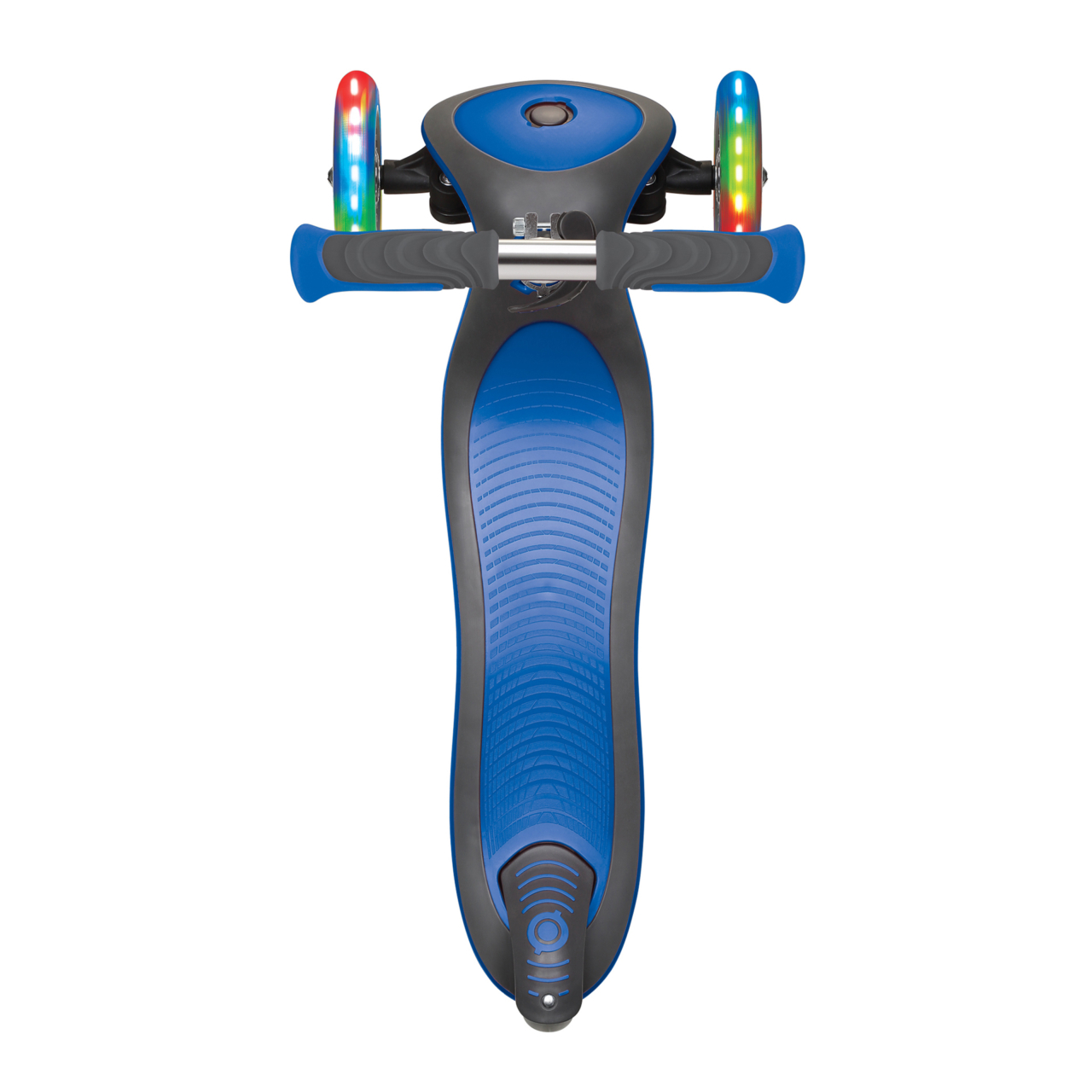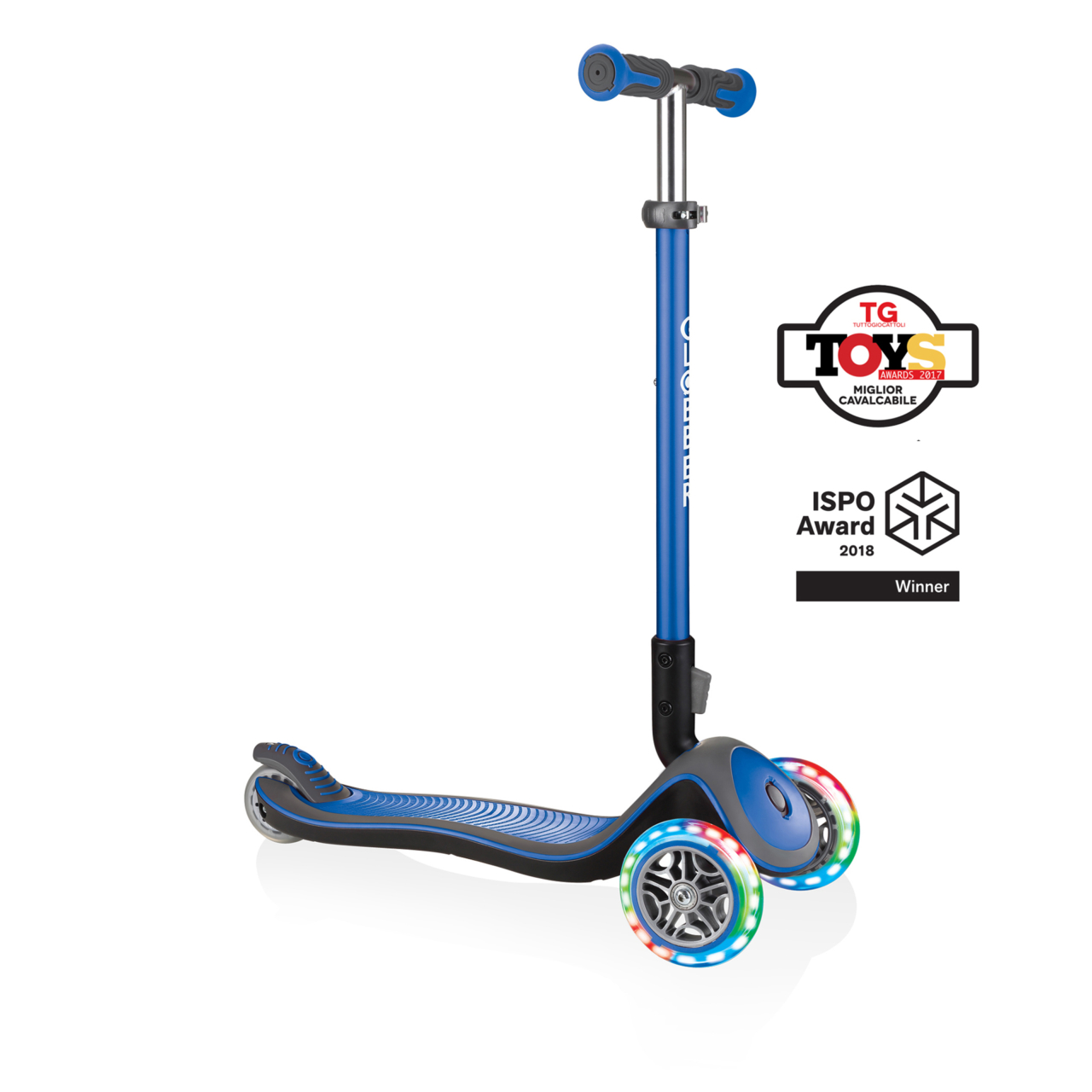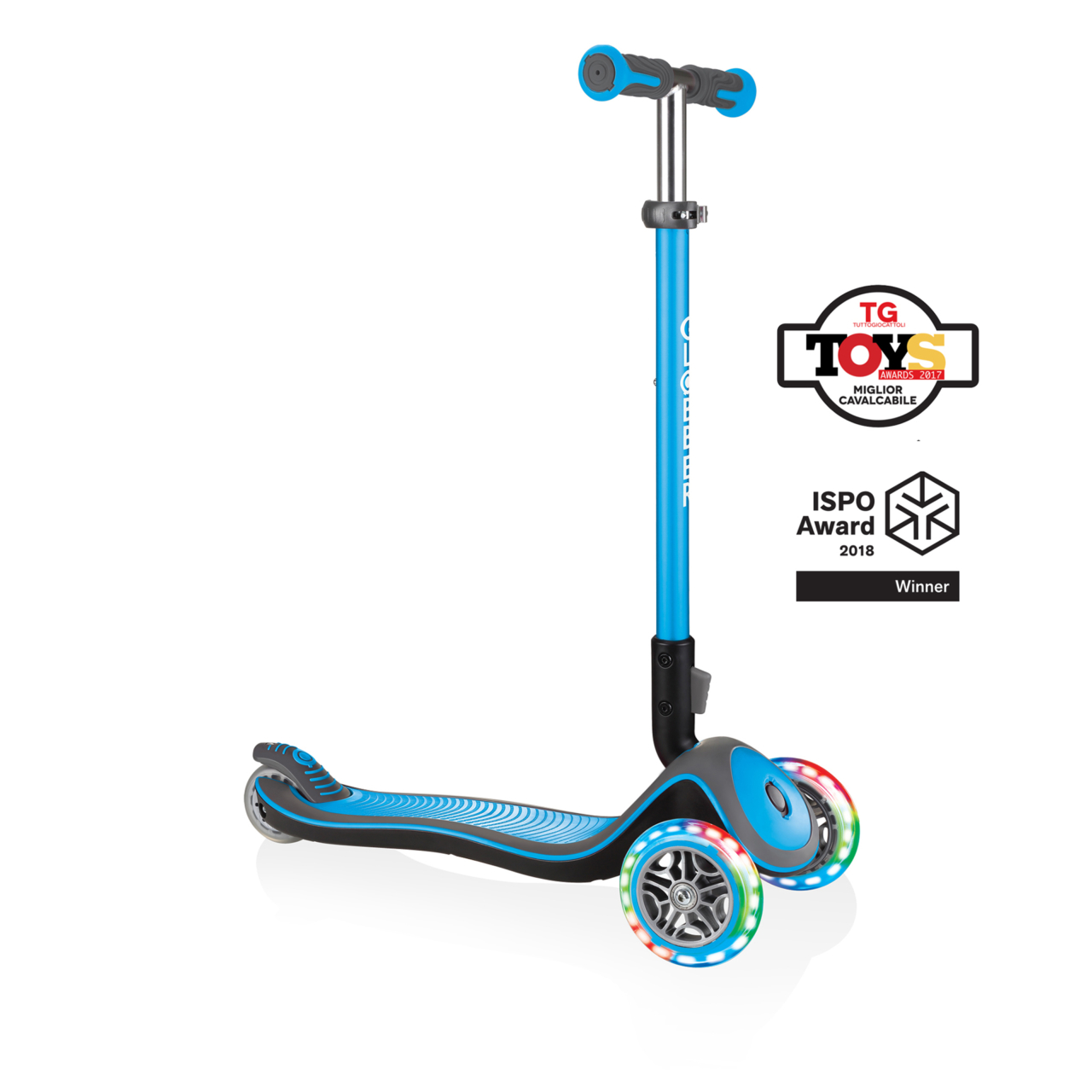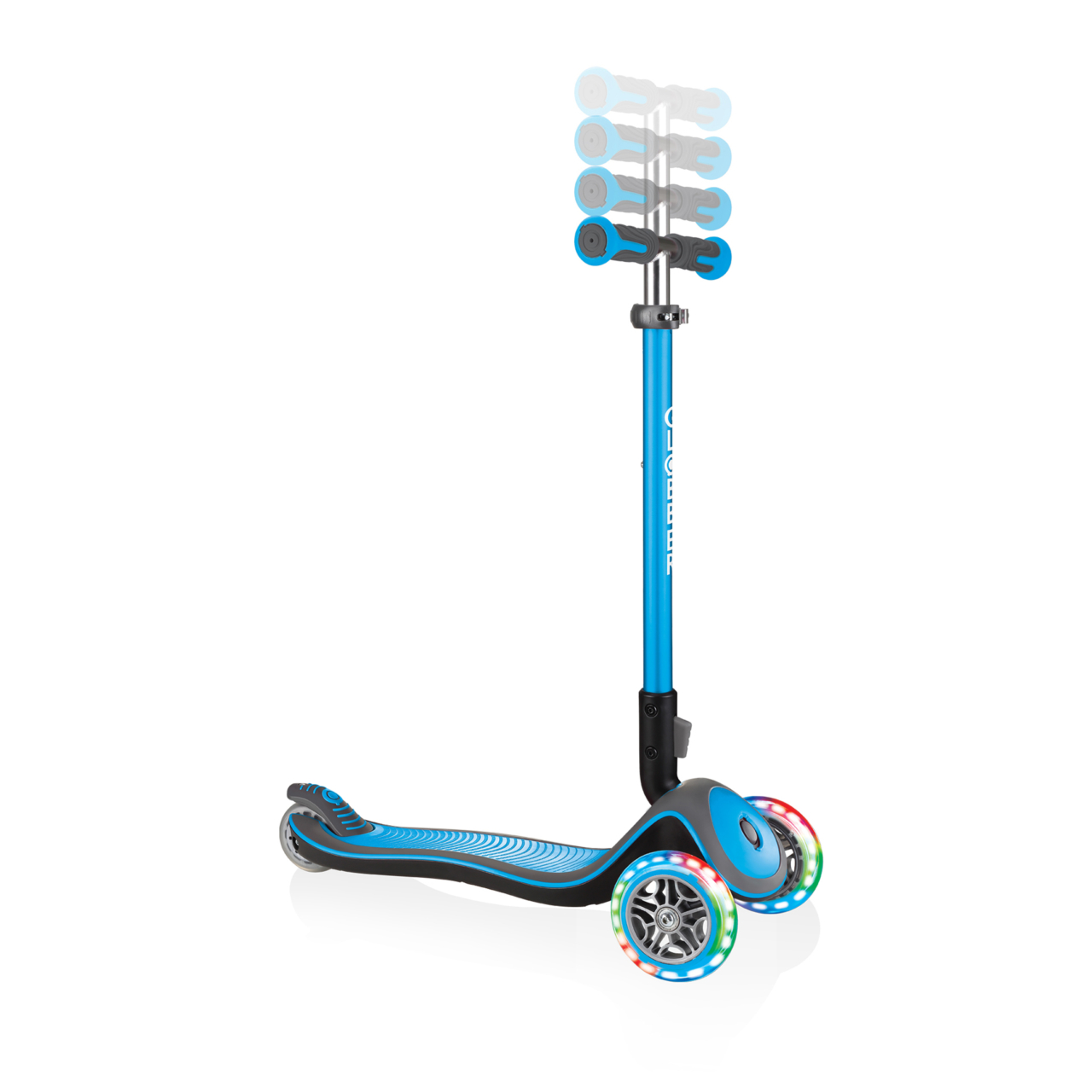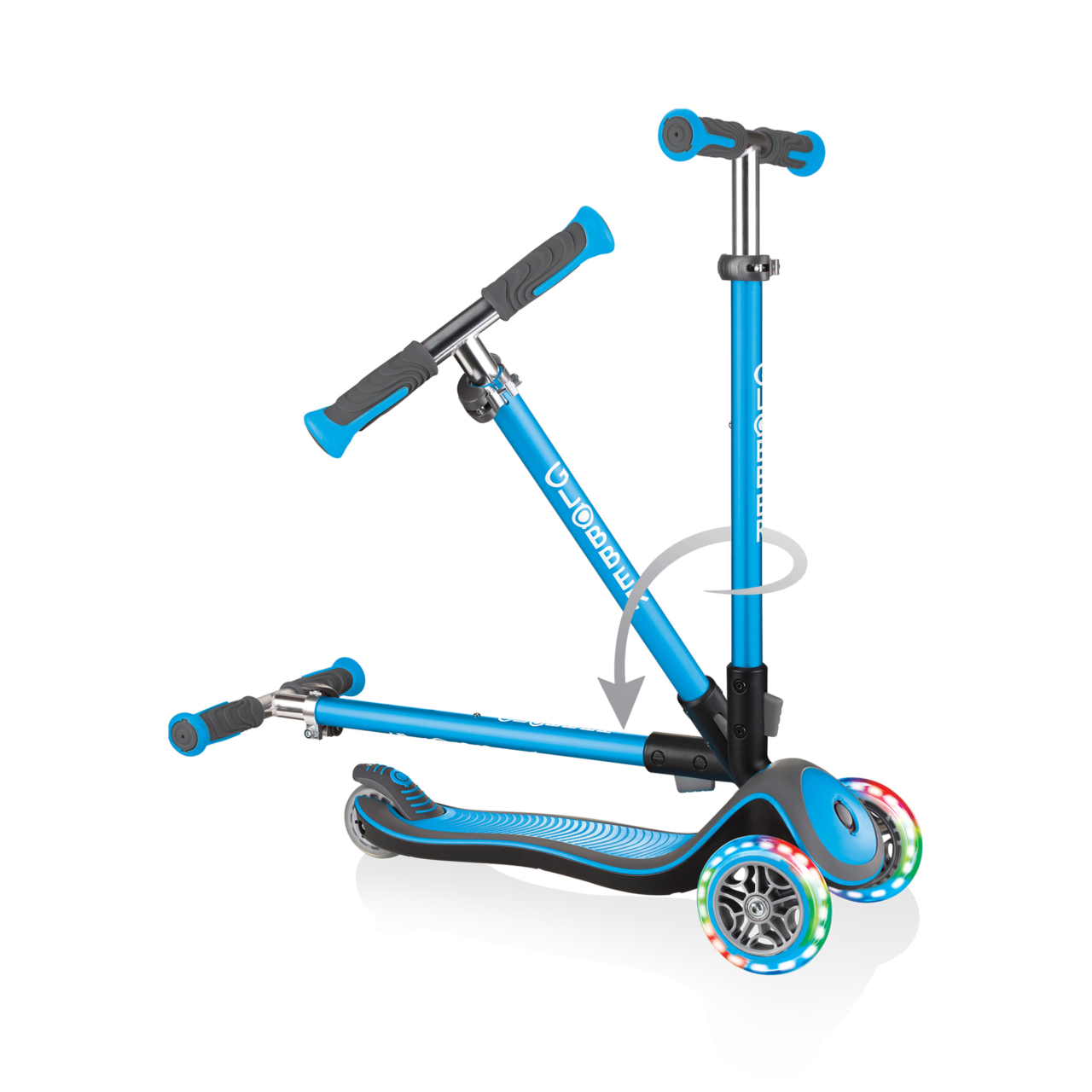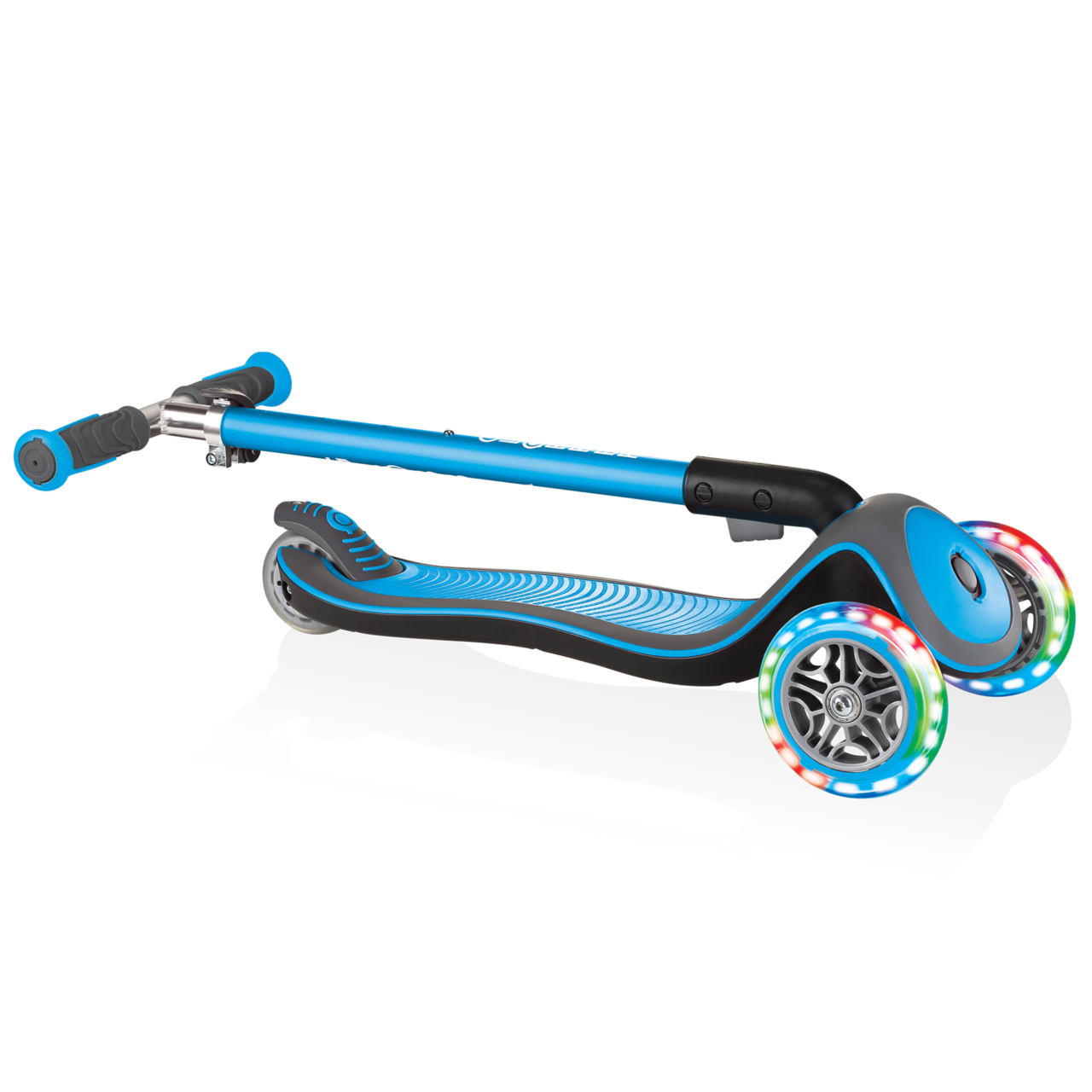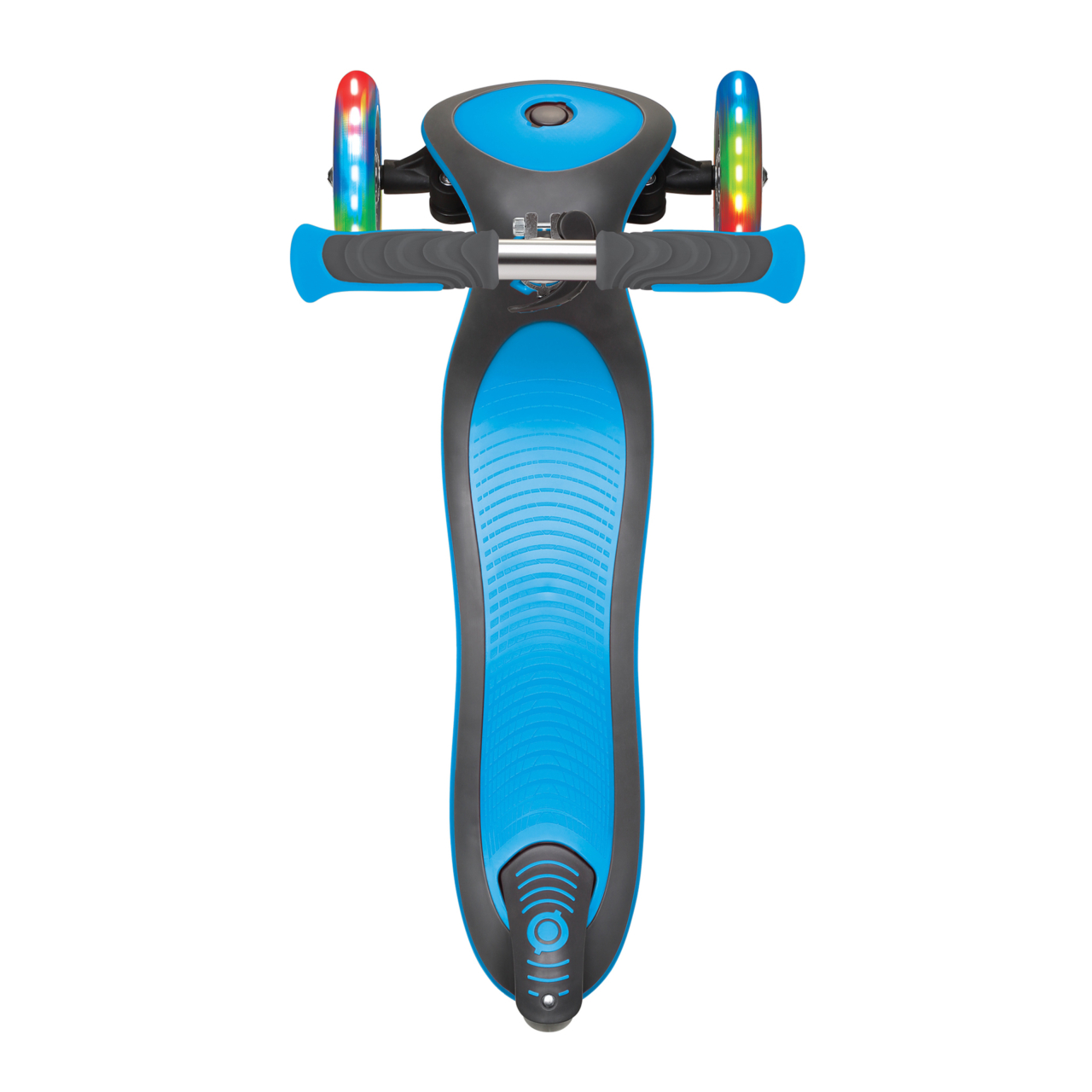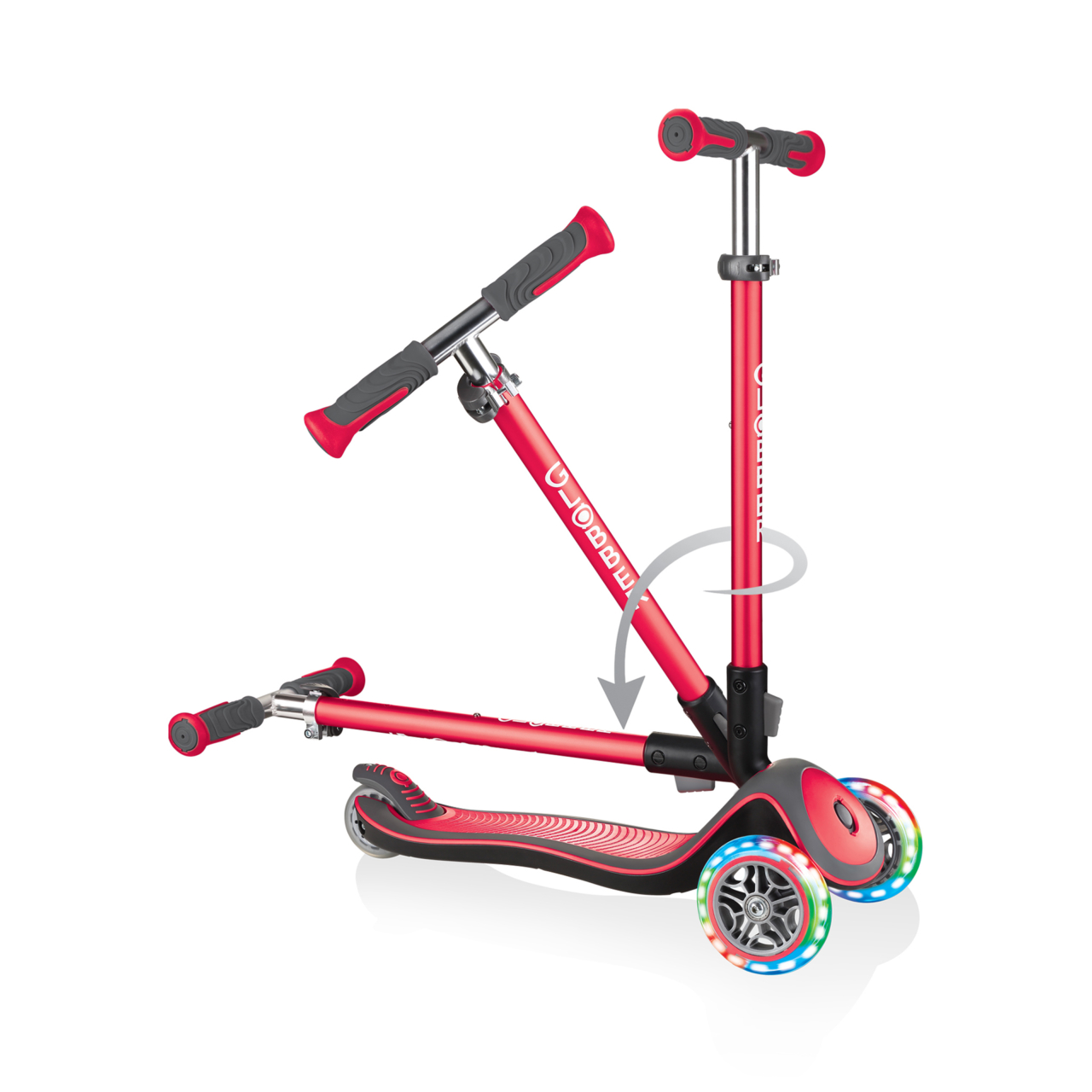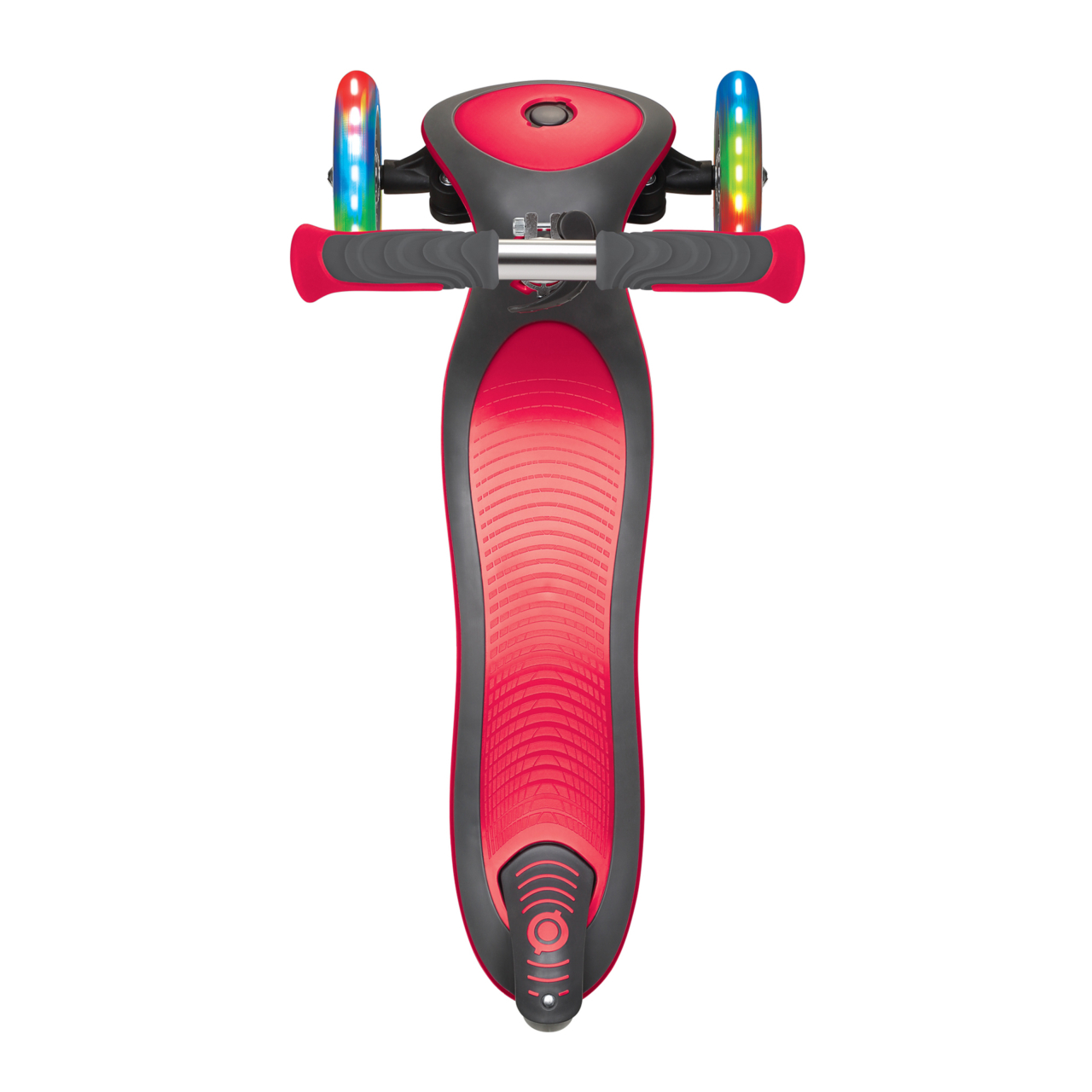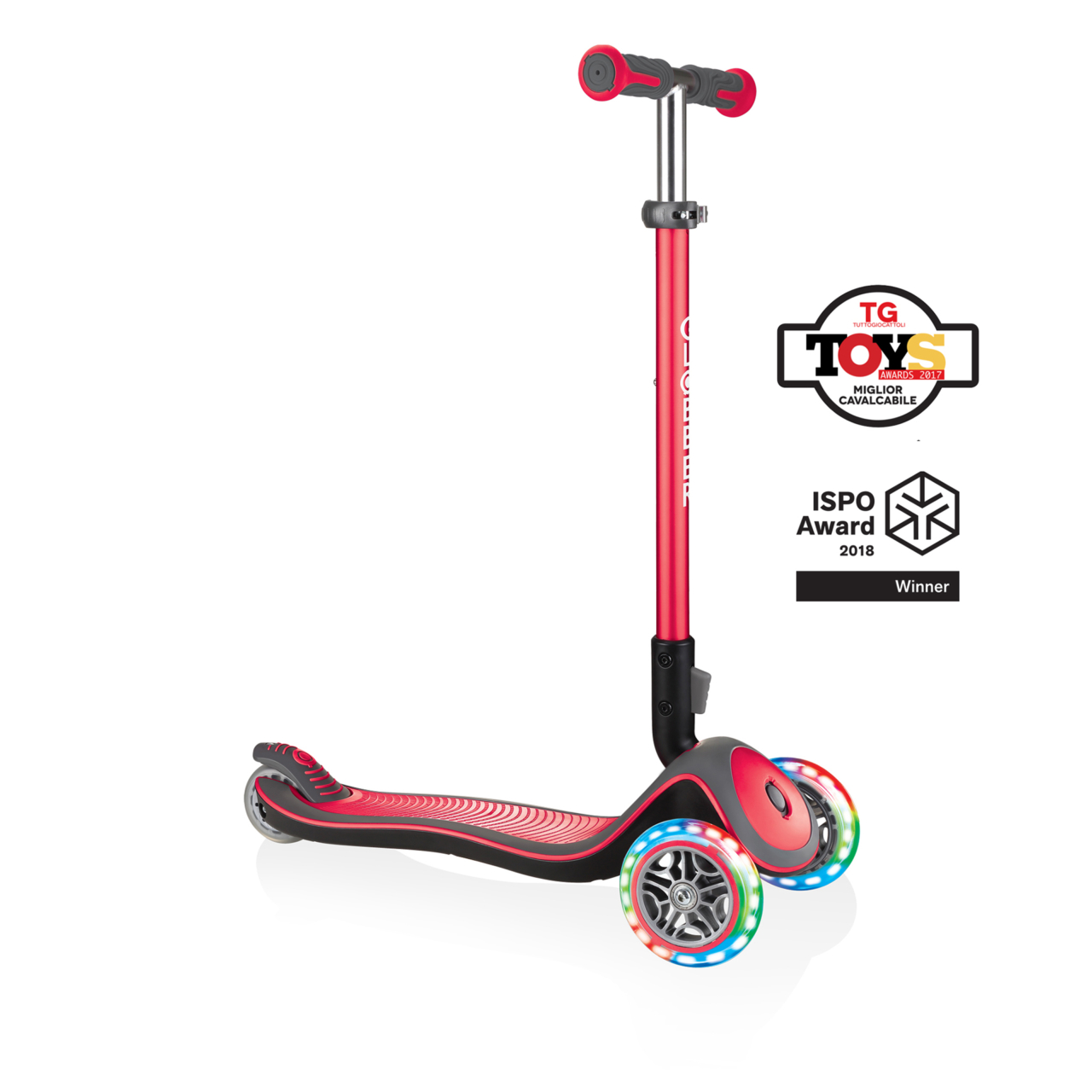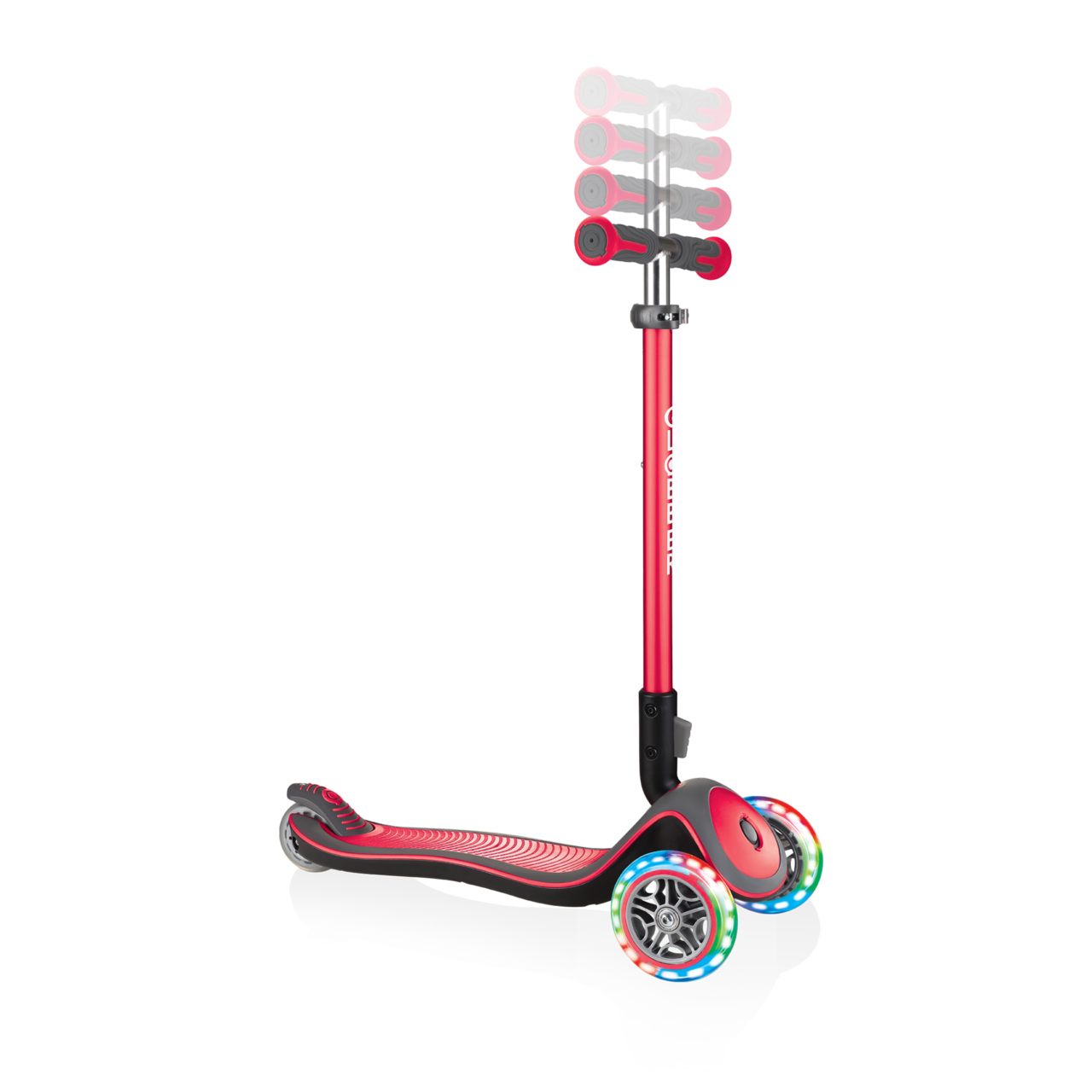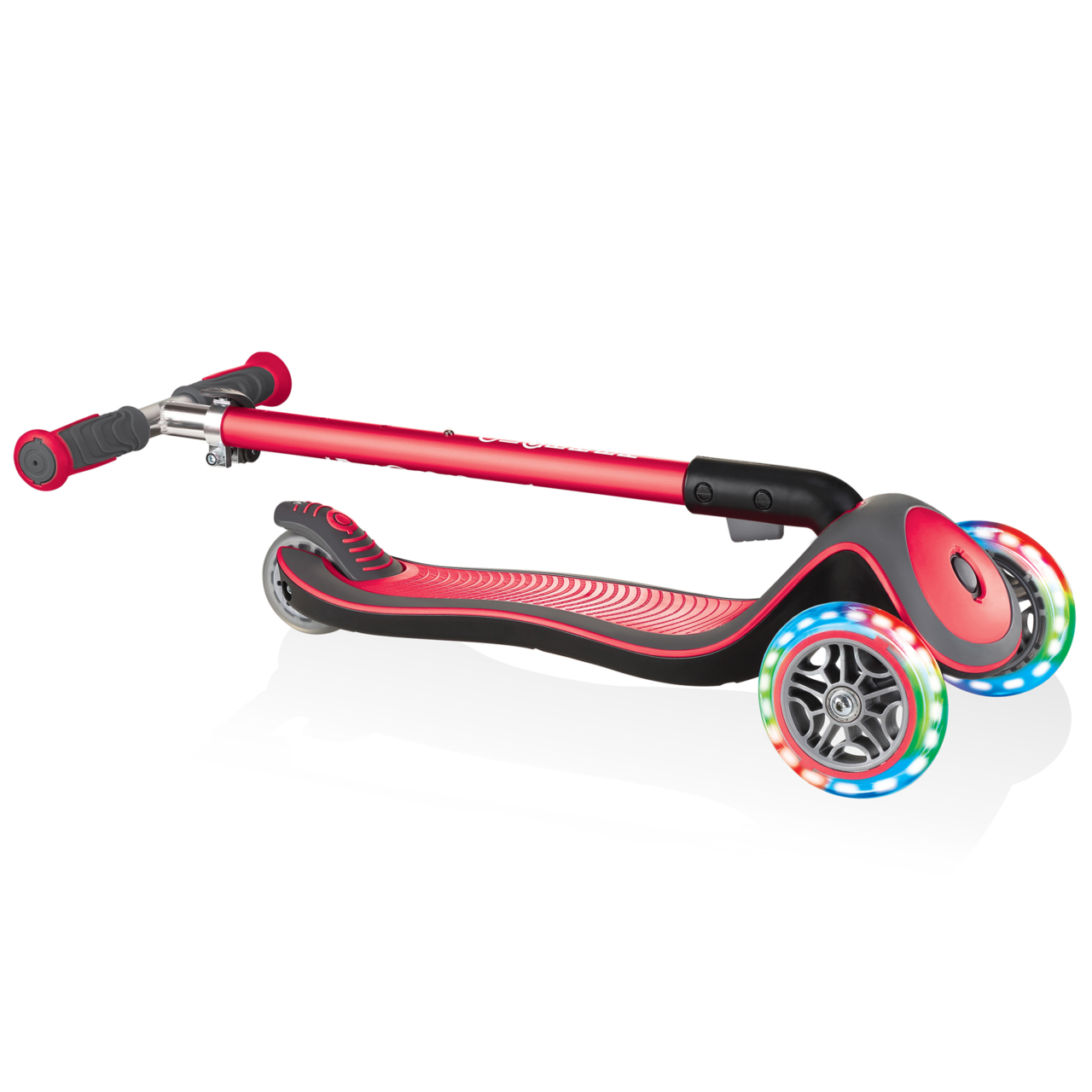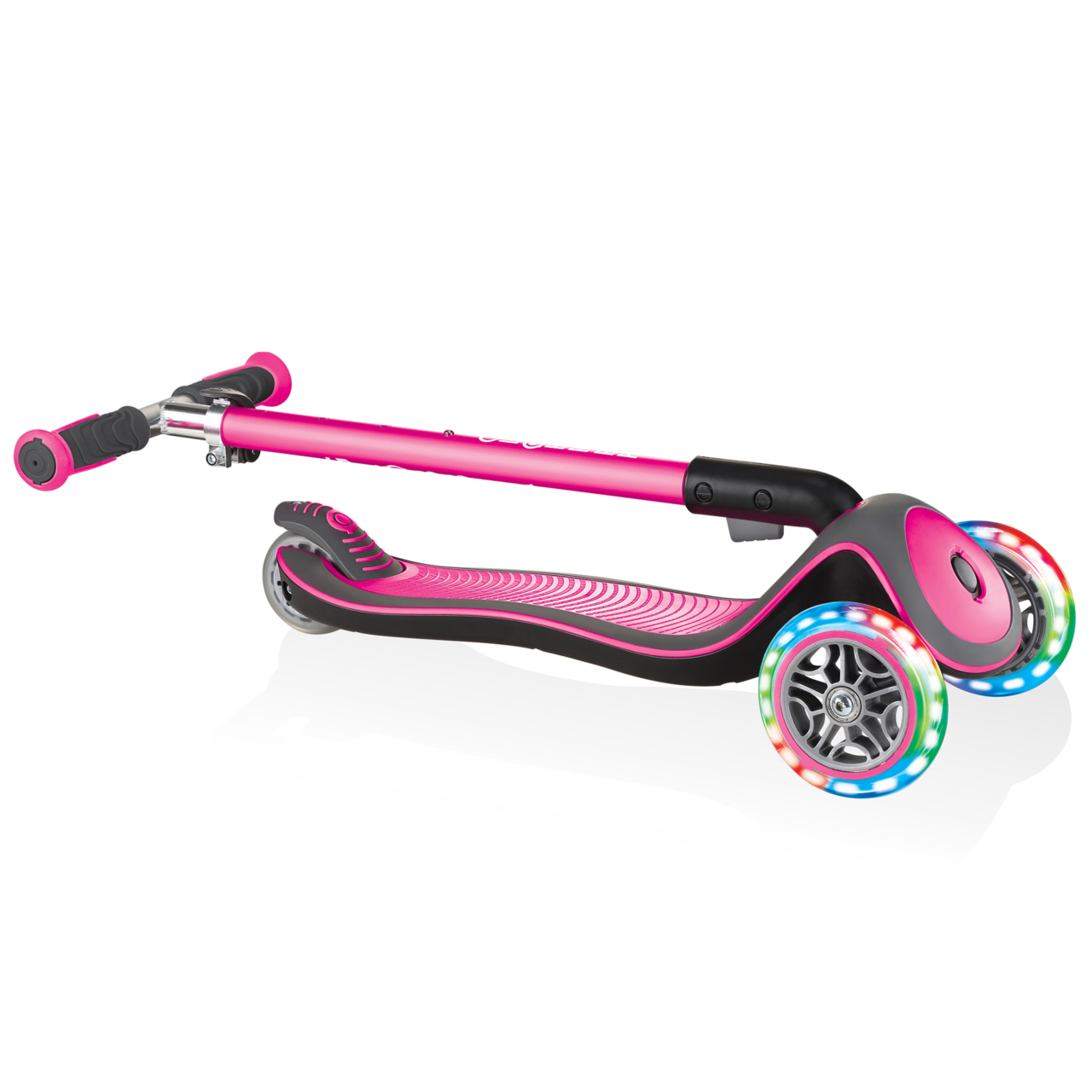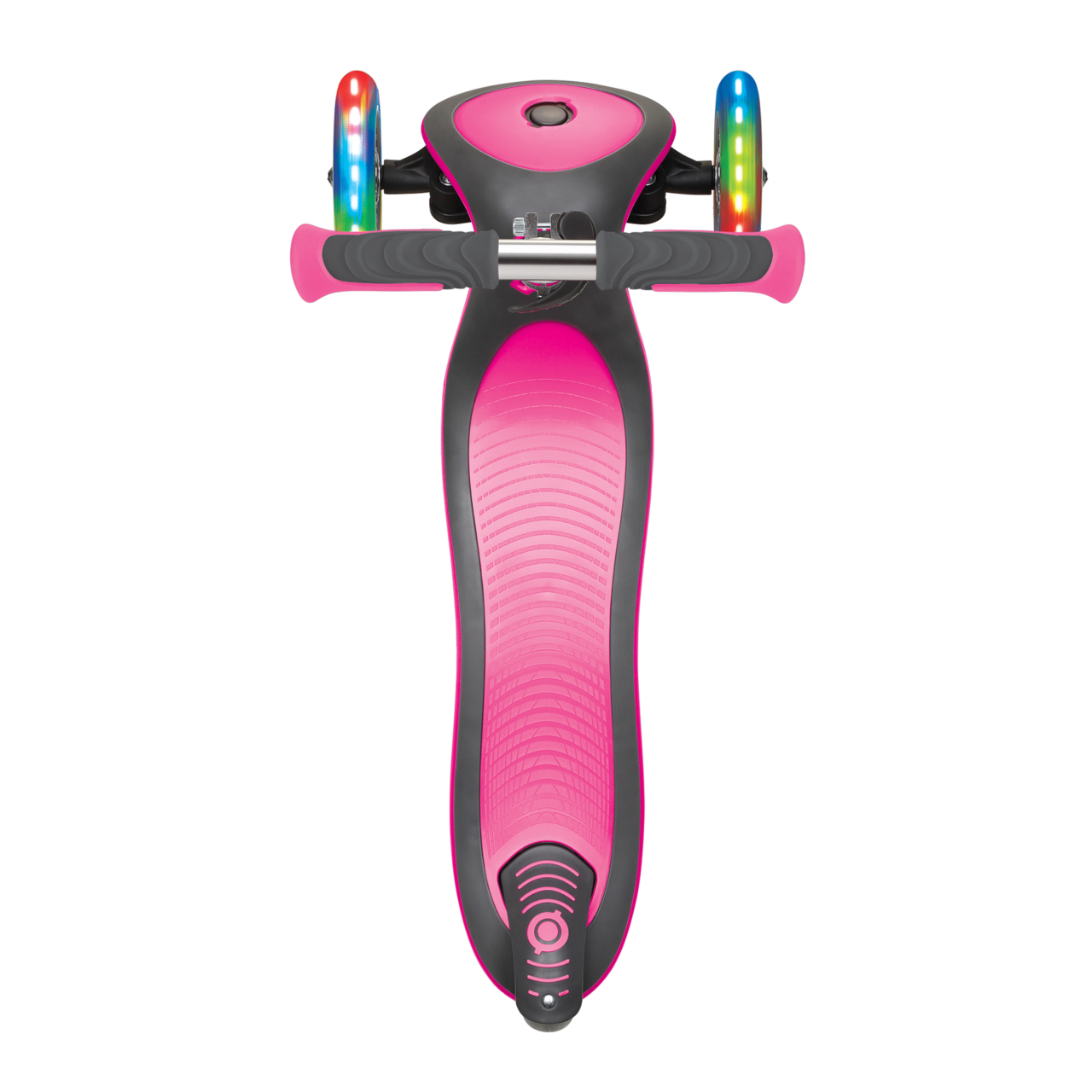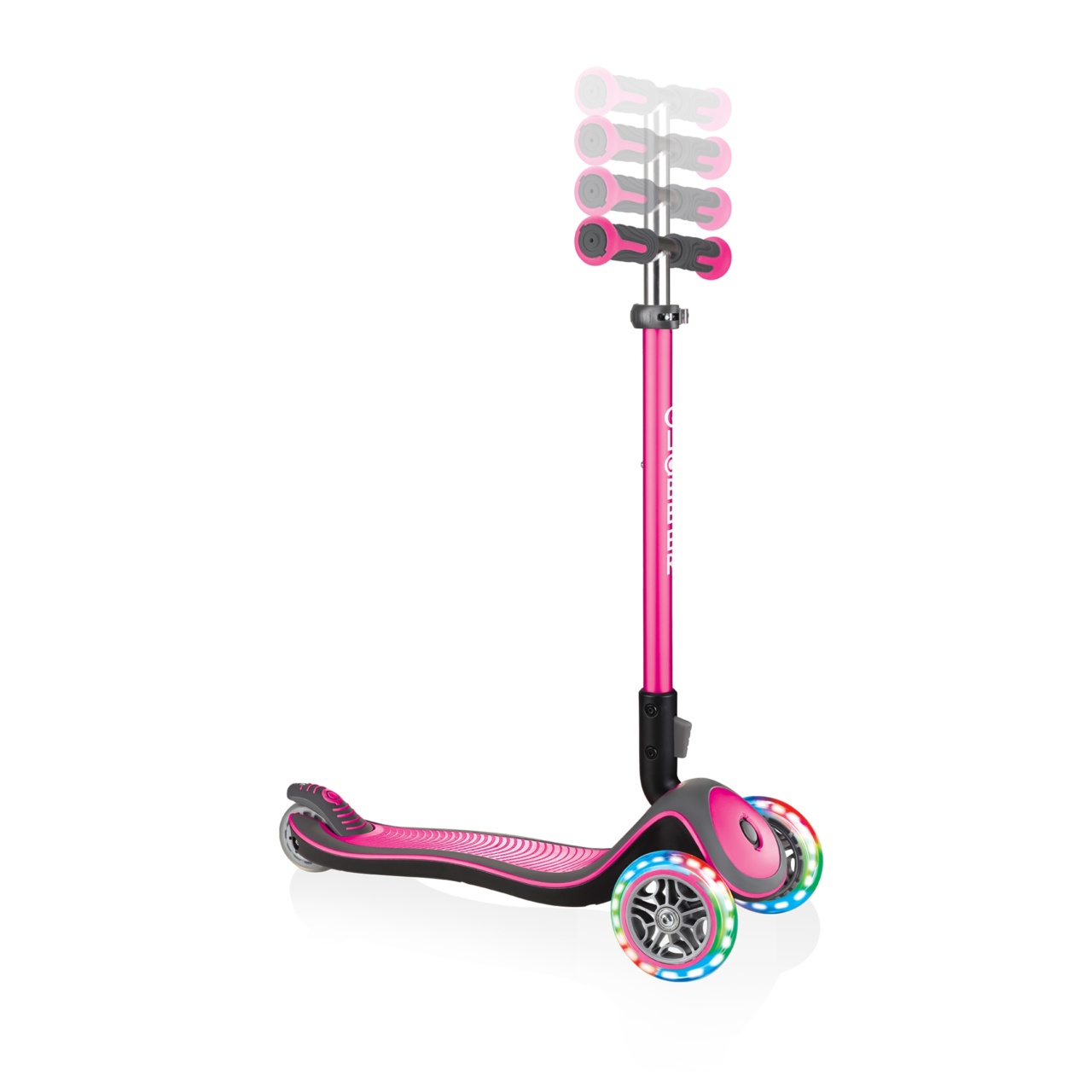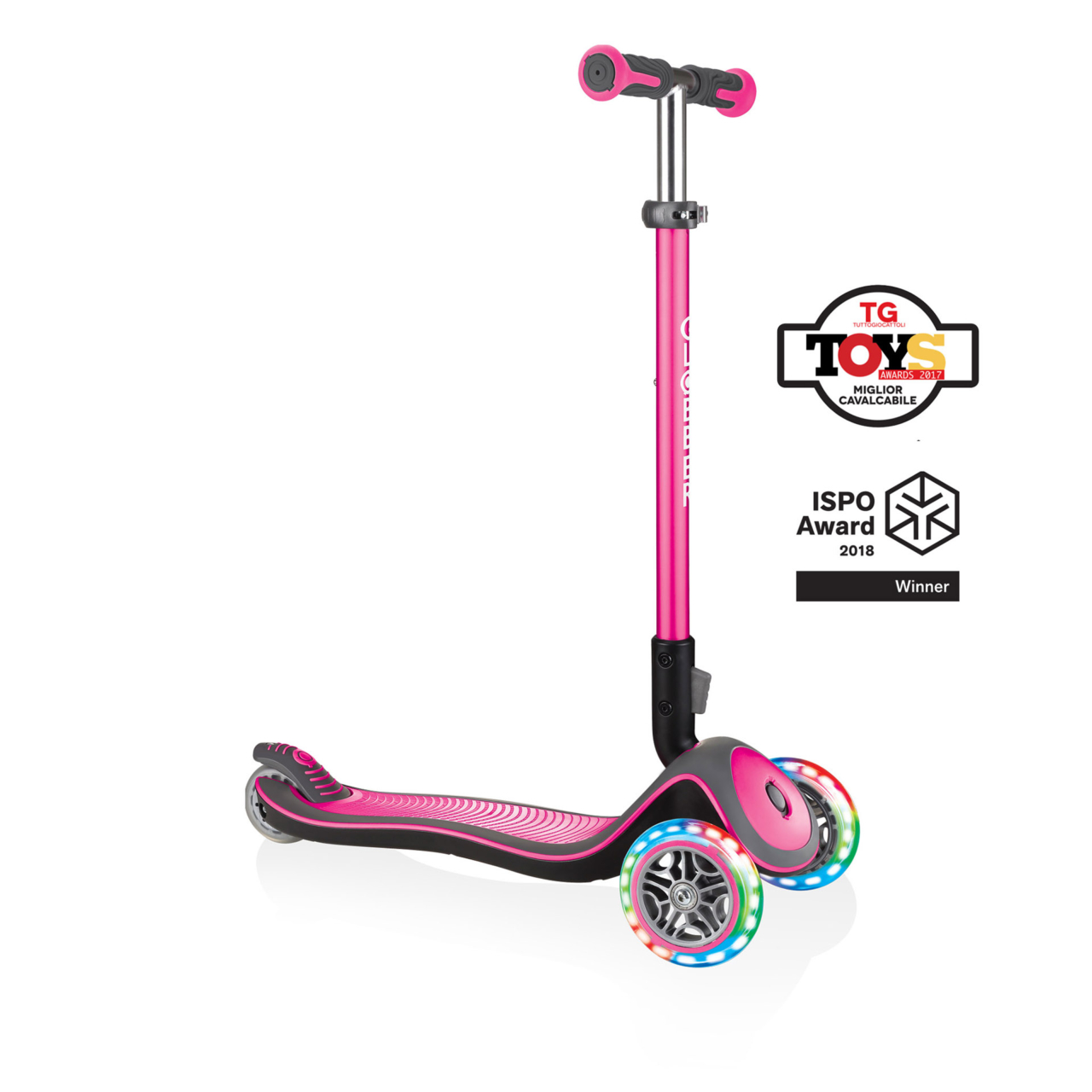 ELITE DELUXE LIGHTS
Race off in glowing lights!
Deluxe 3-wheel light-up scooter (aged 3-9)
| | |
| --- | --- |
| Product type | 3-wheel scooter |
| Color | Deep Pink, Lime Green, Navy Blue, Red |
| Age range | 3-9Y+ |
| Recommended user height | 95-130cm |
| Max user weight | 50kg |
| Foldable | Yes |
| Adjustable | Yes |
| T-bar heights | 68.5, 73.5, 78.5 & 83.5cm (from the ground) |
| Product weight (net) | 2.70kg |
| Deck material | Composite (PP + fiber) |
| Deck size | W 12.8cm x L 53cm |
| Brakes | Mechanical rear brake (composite) |
| Wheels size | 121mm (24mm wide) front, 80mm (30mm wide) rear |
| Wheels material | High-rebound PU-casted |
All Globber items purchased are guaranteed against manufacturing defects for a period of 2 years from the date of purchase. E-scooter batteries are covered by a 1-year warranty from the date of purchase. Wear & tear items, including but not limited to wheels, bearings, grip tape, handlebar grips & 2-wheel rear brakes are excluded from our 2-year warranty.
Available in some of our online Globber stores! Check it out:
Product Details
Leave a trail of glowtastic lights as you scoot down the block! ELITE DELUXE LIGHTS can make your scooting days all the brighter with its LED light-up front wheels.
This 3-wheel light-up scooter for kids has deluxe features such as a Globber-patented elliptic folding system for easy storage and transport, patented steering lock system for kids still learning how to scoot, battery-free LED wheels powered by kinetic energy, 4-height aluminium T-bar, and a wide, dual-coloured scooter deck.
Battery-free light-up wheels
Patented elliptic folding system
Patented steering lock system
4-height adjustable T-bar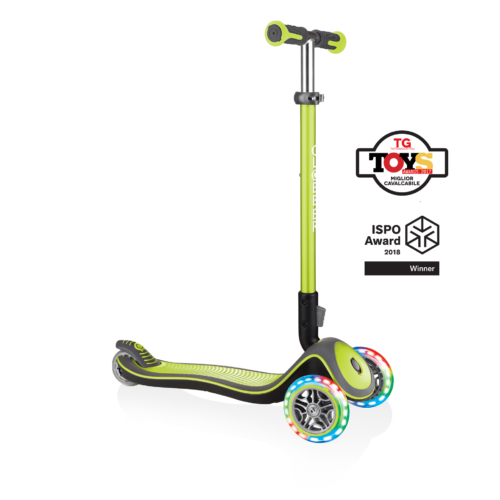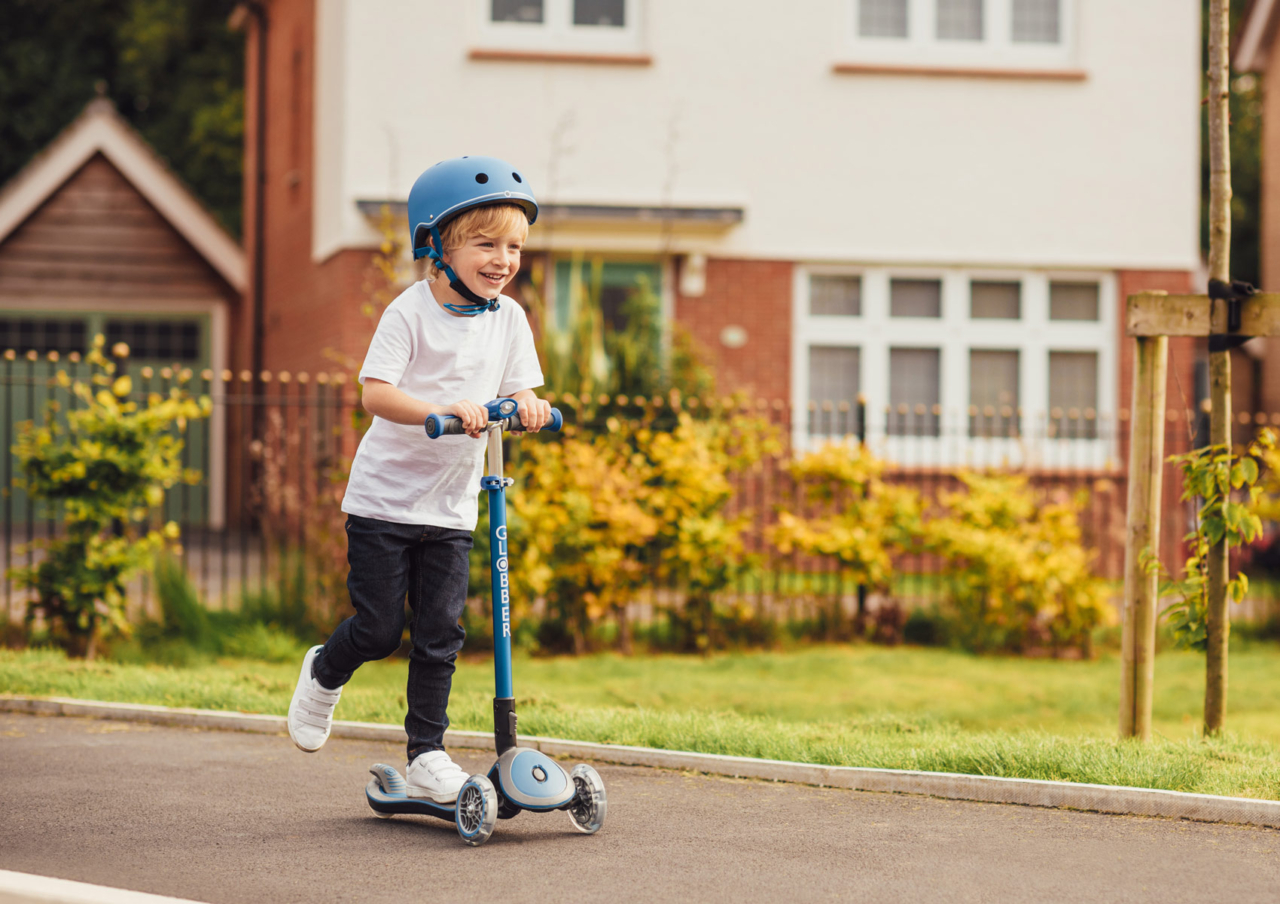 Patented Elliptical Folding System
Easy folding is here! ELITE DELUXE LIGHTS has a patented elliptical folding system that allows you to fold your light-up scooter without taking the T-bar out of the scooter. Just twist the T-bar 180 degrees and you'll have trolley mode to roll the scooter home!
Patented Steering Lock System
Learn how to confidently scoot through developing balance skills by activating ELITE DELUXE LIGHTS' patented steering lock feature. A steering lock button allows you to fix the steering system of the two front wheels to a to-and-fro movement only. Easily balance on the 3-wheel light-up scooter and simply unlock the button to enable lean-to-steer riding.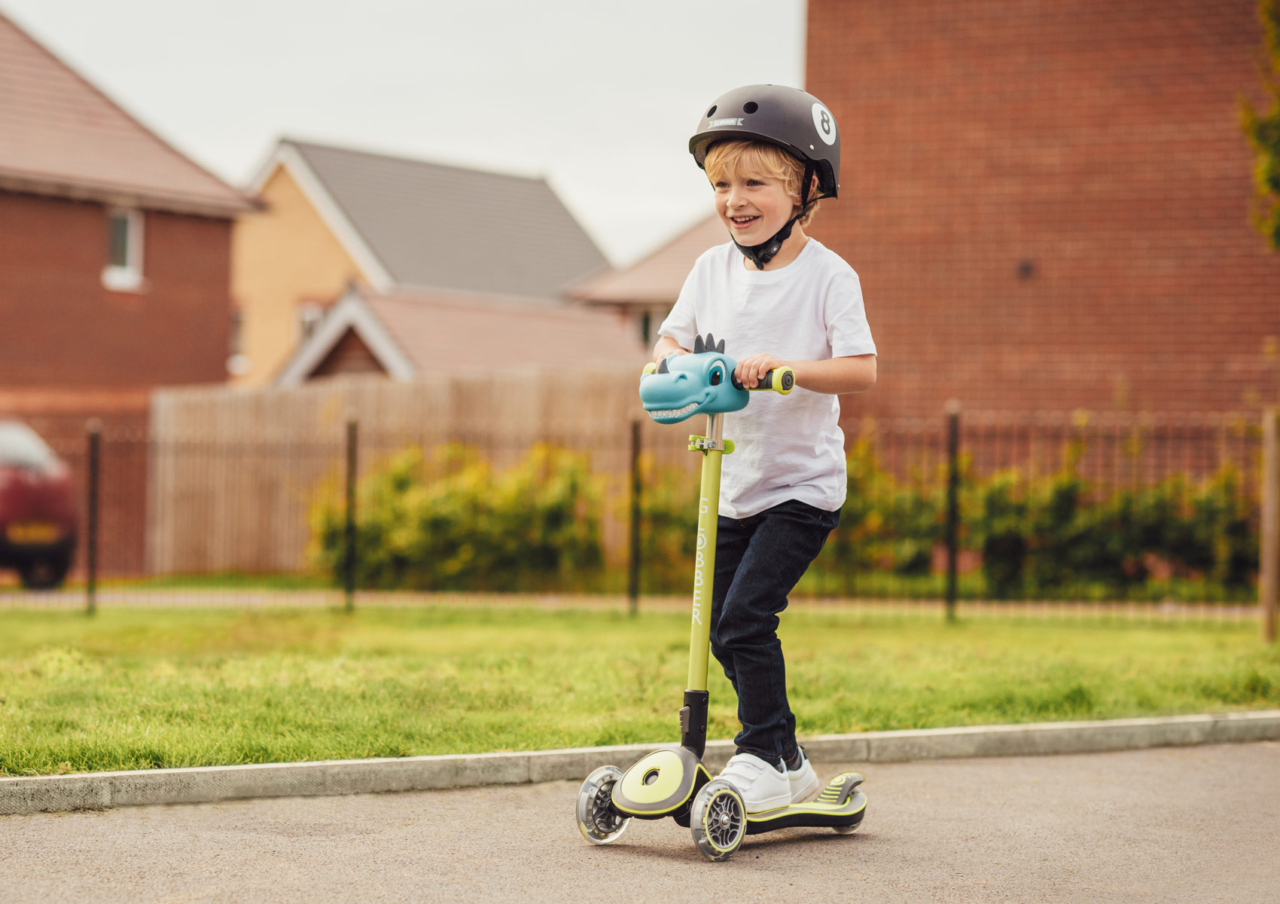 Battery-Free LED Light-Up Wheels
With ELITE DELUXE LIGHTS, light-up scooting is endless! This 3-wheel light up scooter has LED light-up front wheels that flash in blue, green, and red for a colourful ride all day long. No batteries are ever needed thanks to dynamo lighting—it runs purely on the kinetic energy produced by your scooting power which means it's totally battery-free!
4-Height Adjustable T-bar & Wide Deck
Adjust your 3-wheel light-up scooter to the most comfortable height for you! ELITE DELUXE LIGHTS comes with a 4-height adjustable aluminium T-bar (68.5cm, 73.5cm, 78.5cm, or 83.5cm) for a comfy ride and a wide dual-coloured deck to easily place both feet.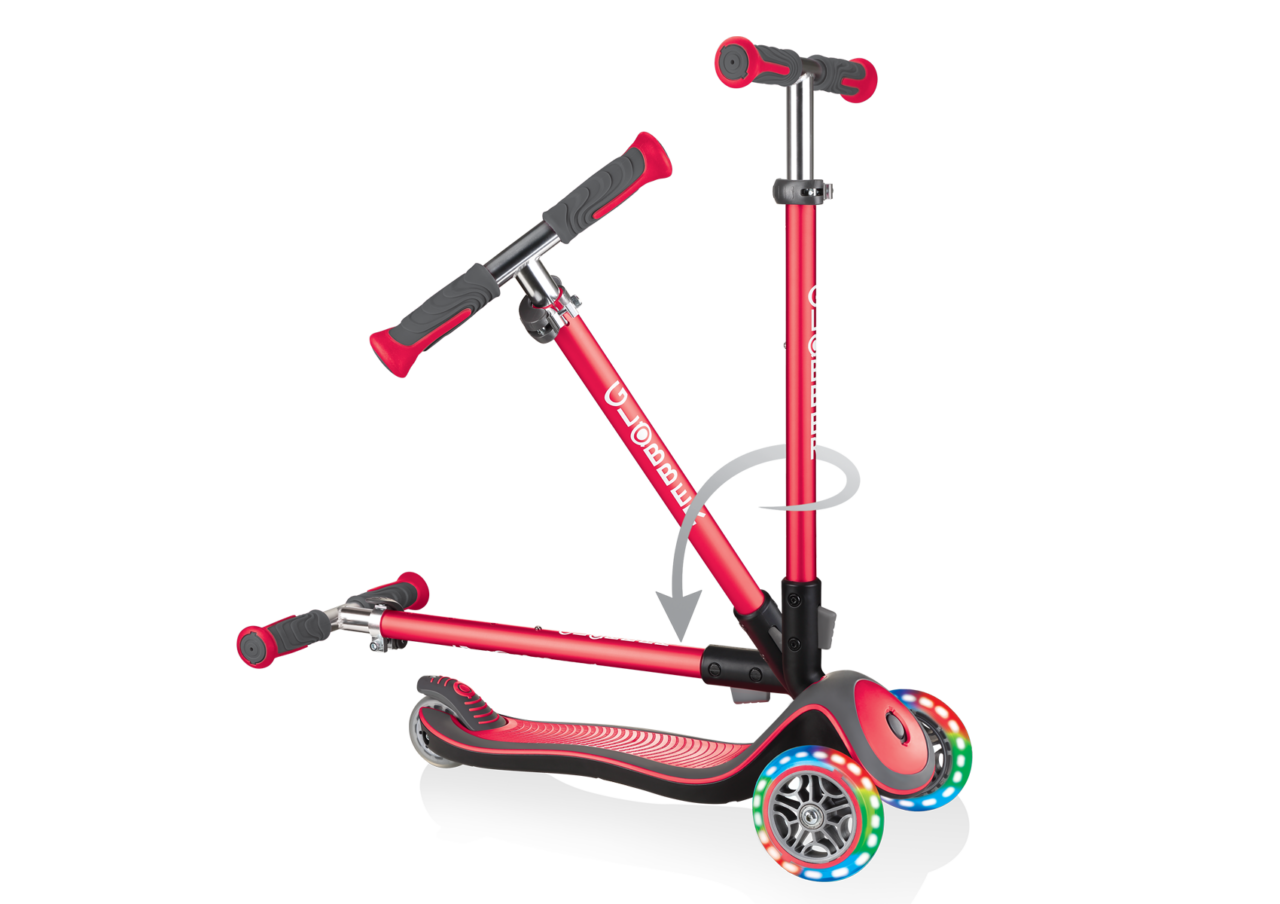 Product Features
3-wheel light-up scooter with Globber's patented elliptic folding system that folds the scooter into trolley mode without removing the T-bar. Conveniently carry, roll, or store it away after playtime!
Adjustable light-up scooter for kids with a 4-height aluminium scooter T-bar (68.5cm, 73.5cm, 78.5cm, or 83.5cm from the ground) with comfortable dual-coloured TPR ergonomic grips for comfy rides.
Patented steering lock button which fixes the steering system of the two front wheels to only move forward and backward, helping kids learn to balance. Unlock the button to enable lean-to-steer riding.
Durable and safe 3-wheel light-up scooter with a low reinforced structure and a wide, anti-slip, dual-coloured composite deck design which supports kids up to 50kg. Its extra-long and wide bi-injection composite brake delivers efficiency and wheel longevity.
High-quality and high-rebound 80mm PU-casted rear wheel and battery-free LED 121mm front PU-casted wheels that flash in red, green, and blue, mounted on ABEC 5 bearings, for light-up rides that last as long as you can scoot—the faster you go, the brighter you glow!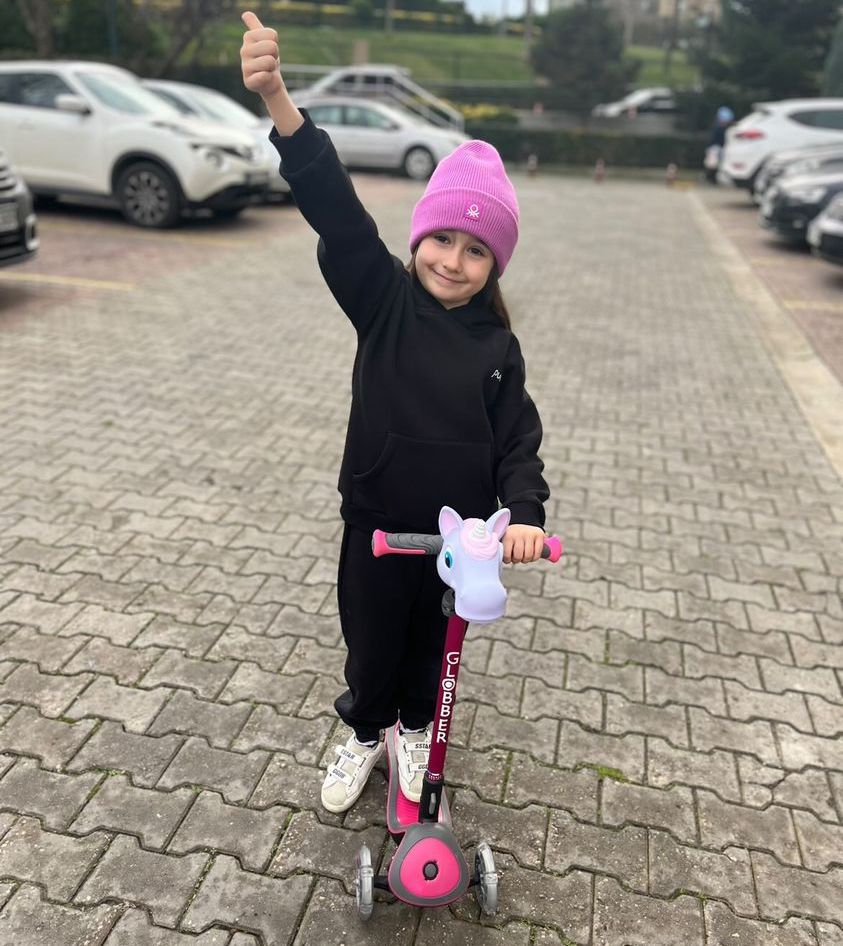 ⭐️ ⭐️ ⭐️ ⭐️ ⭐️ 
"ELITE DELUXE LIGHTS pink scooter is indispensable for my 5-year-old daughter. It's comfortable and practical, folds easily, and fits in the trunk. Our motto is 'Bring Globber everywhere with us!'"
You must be to post a review.