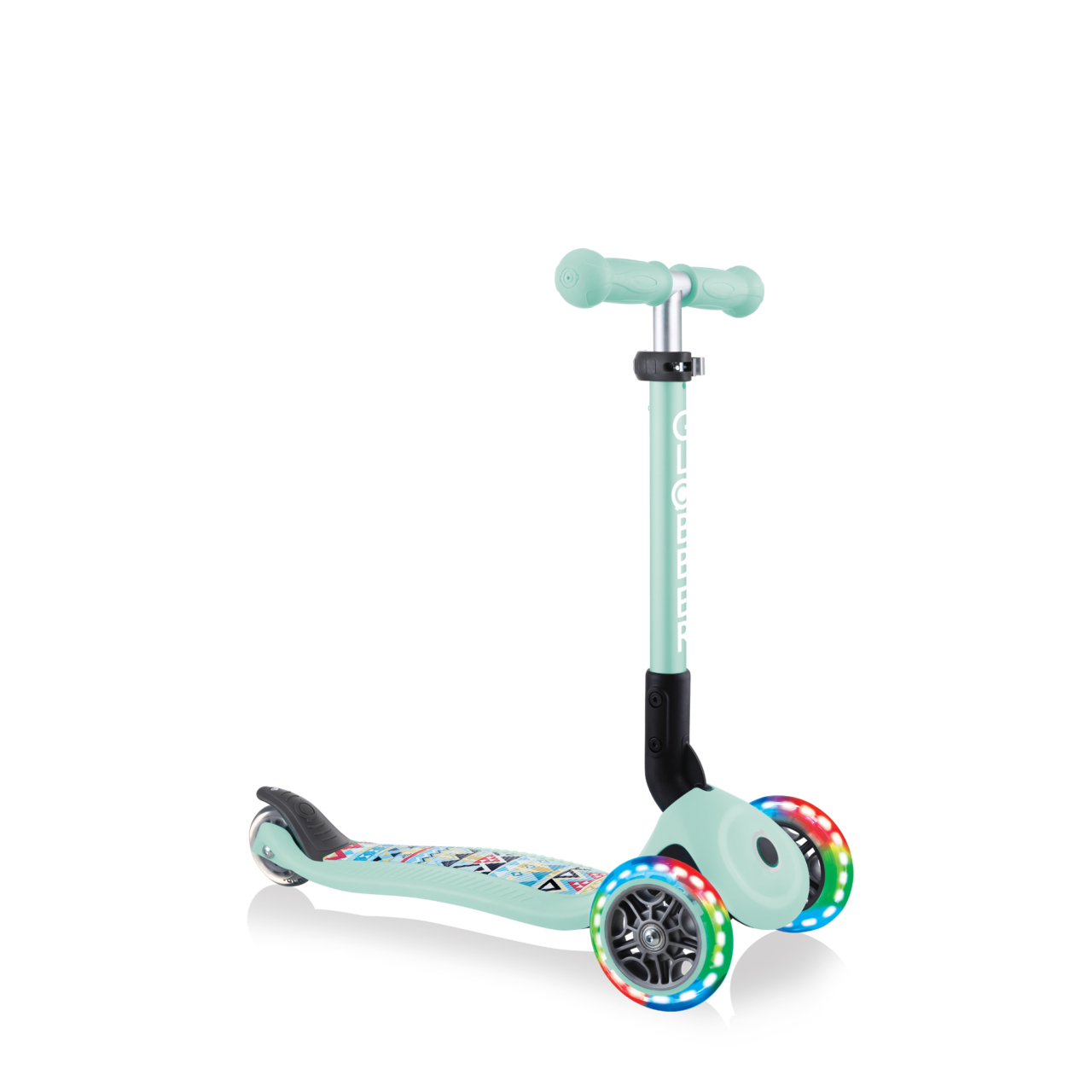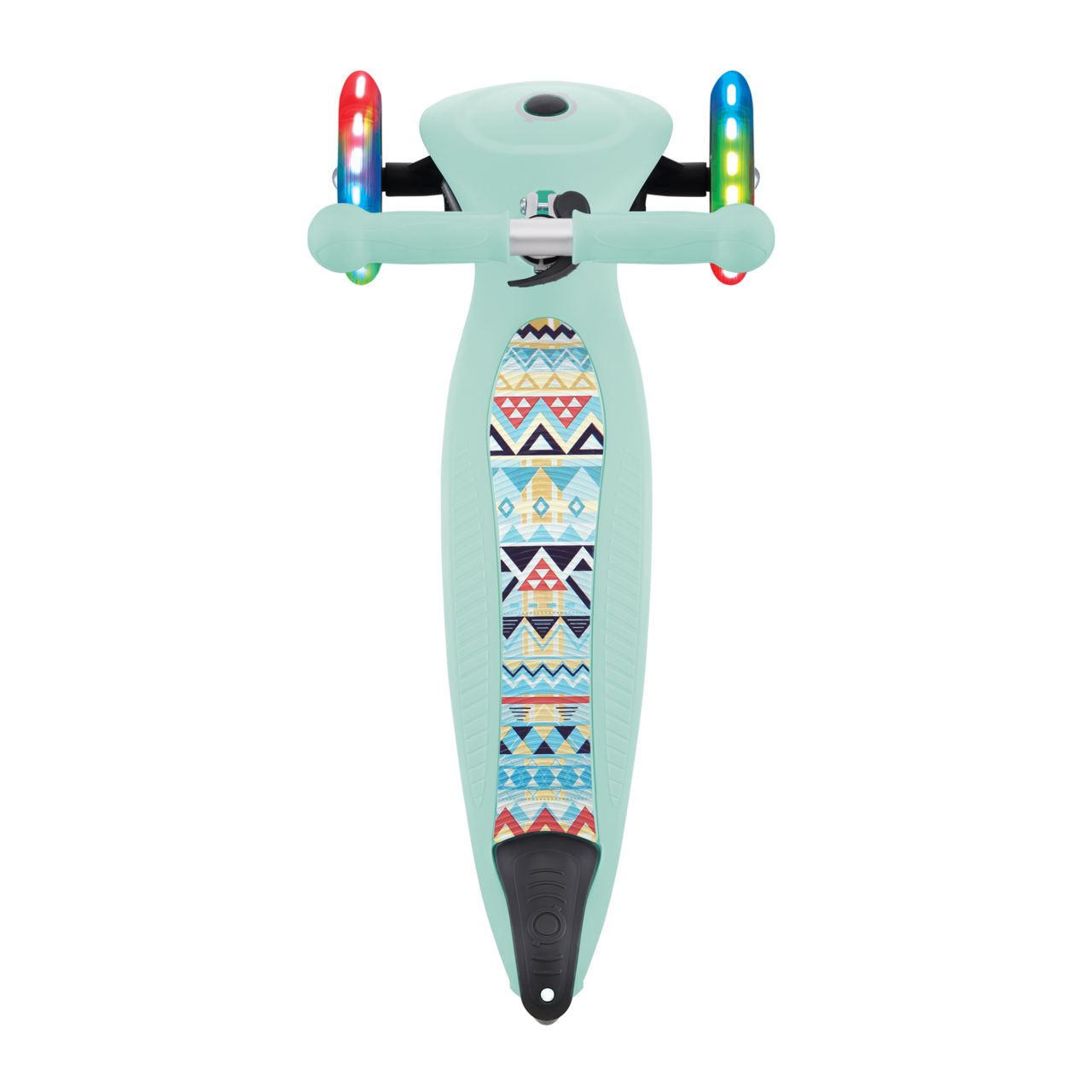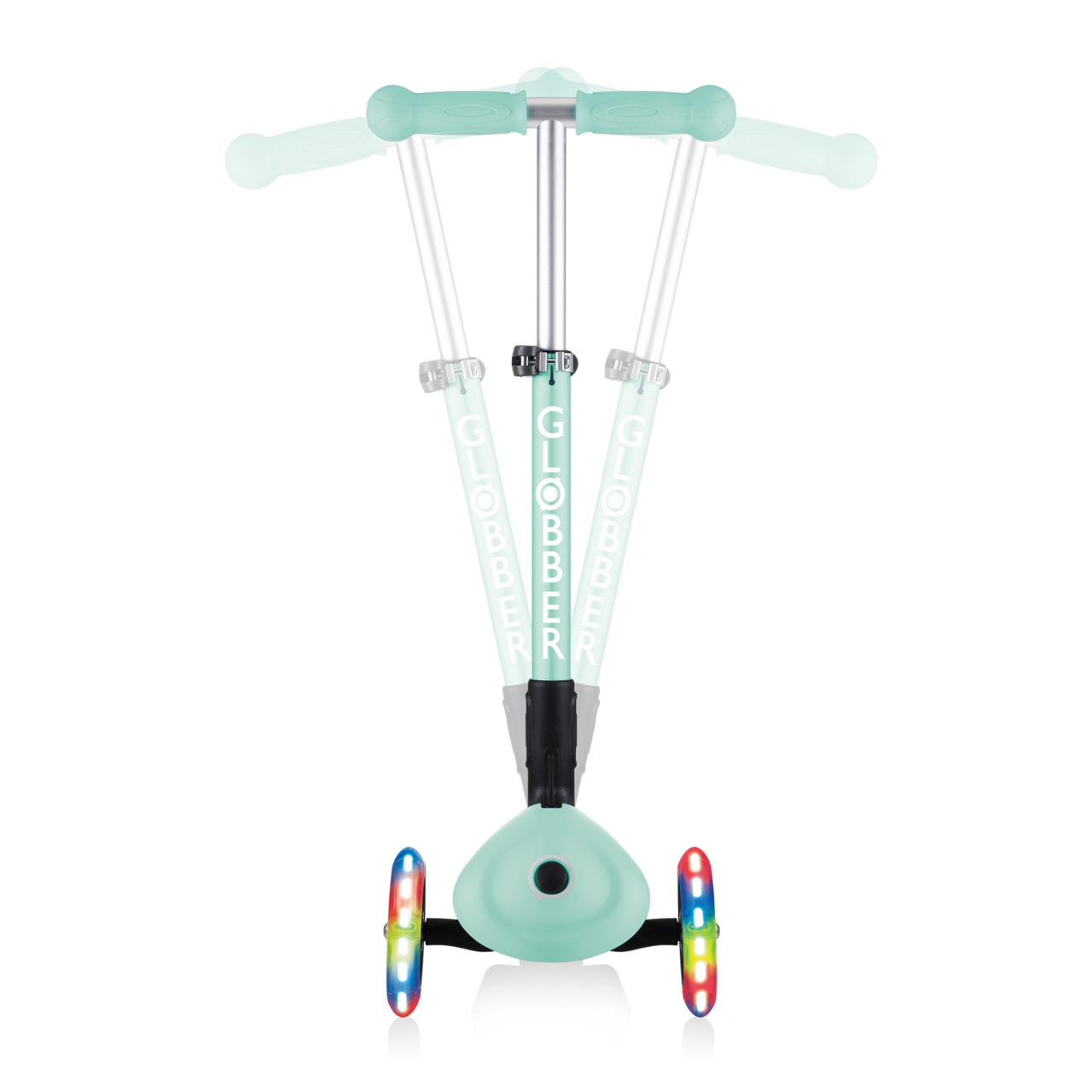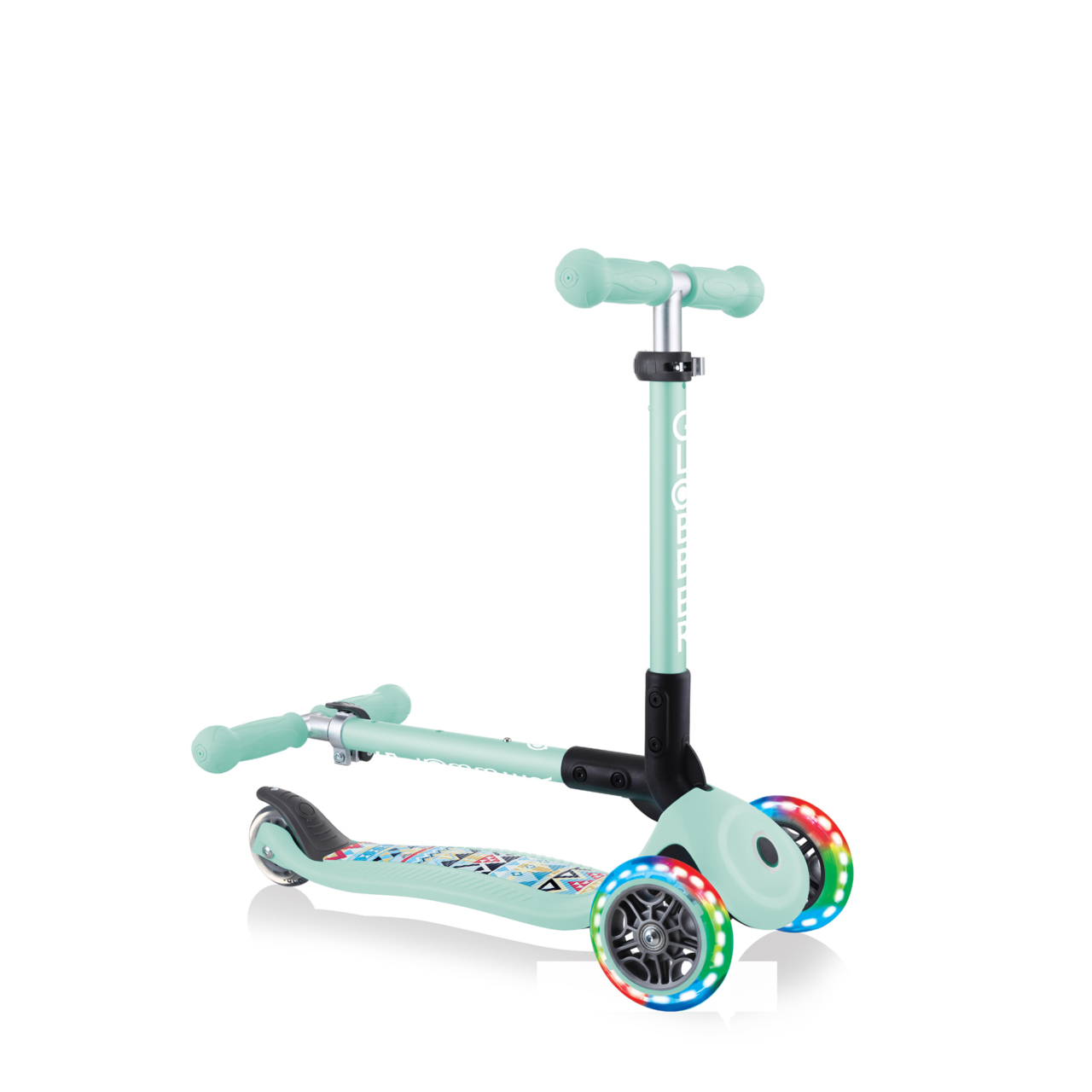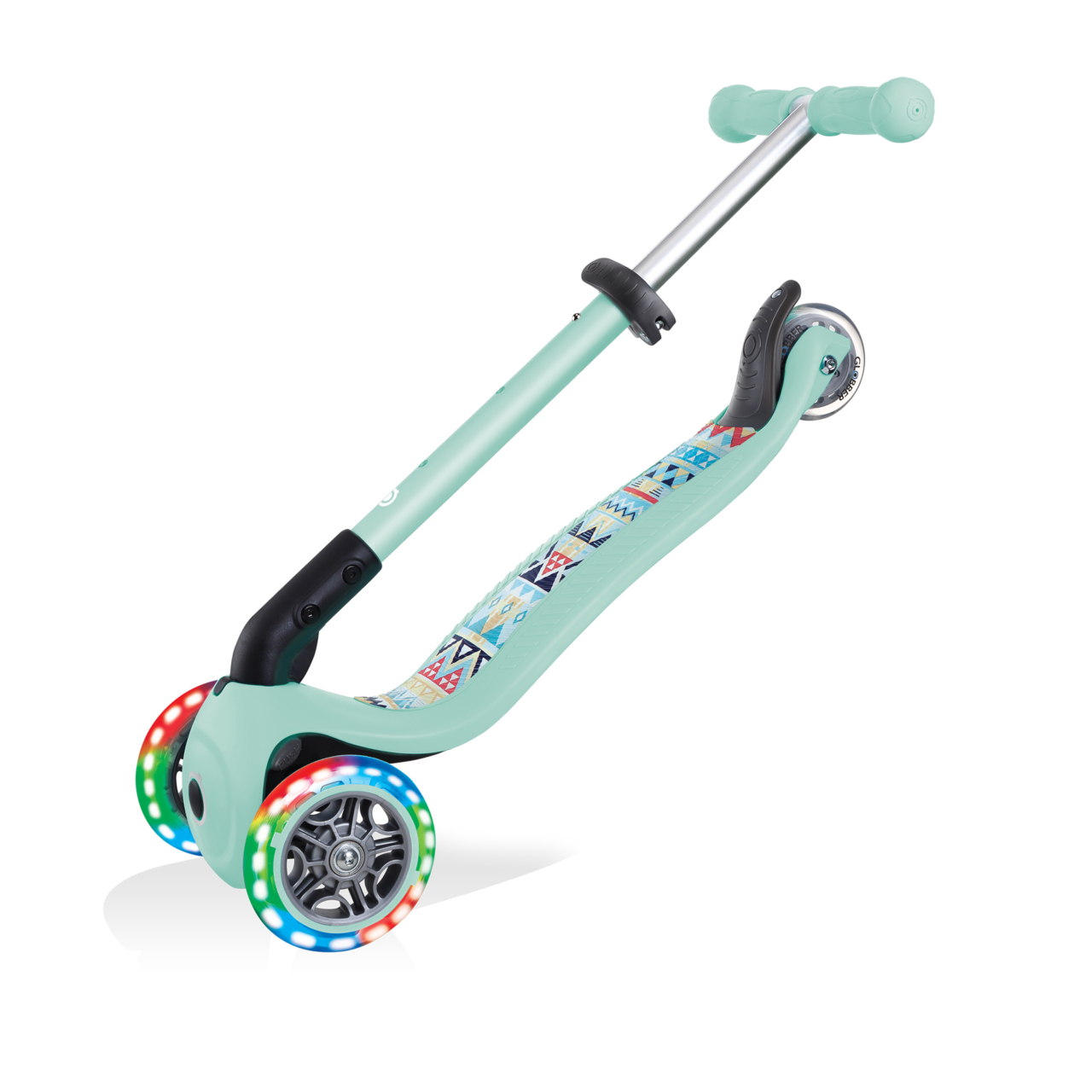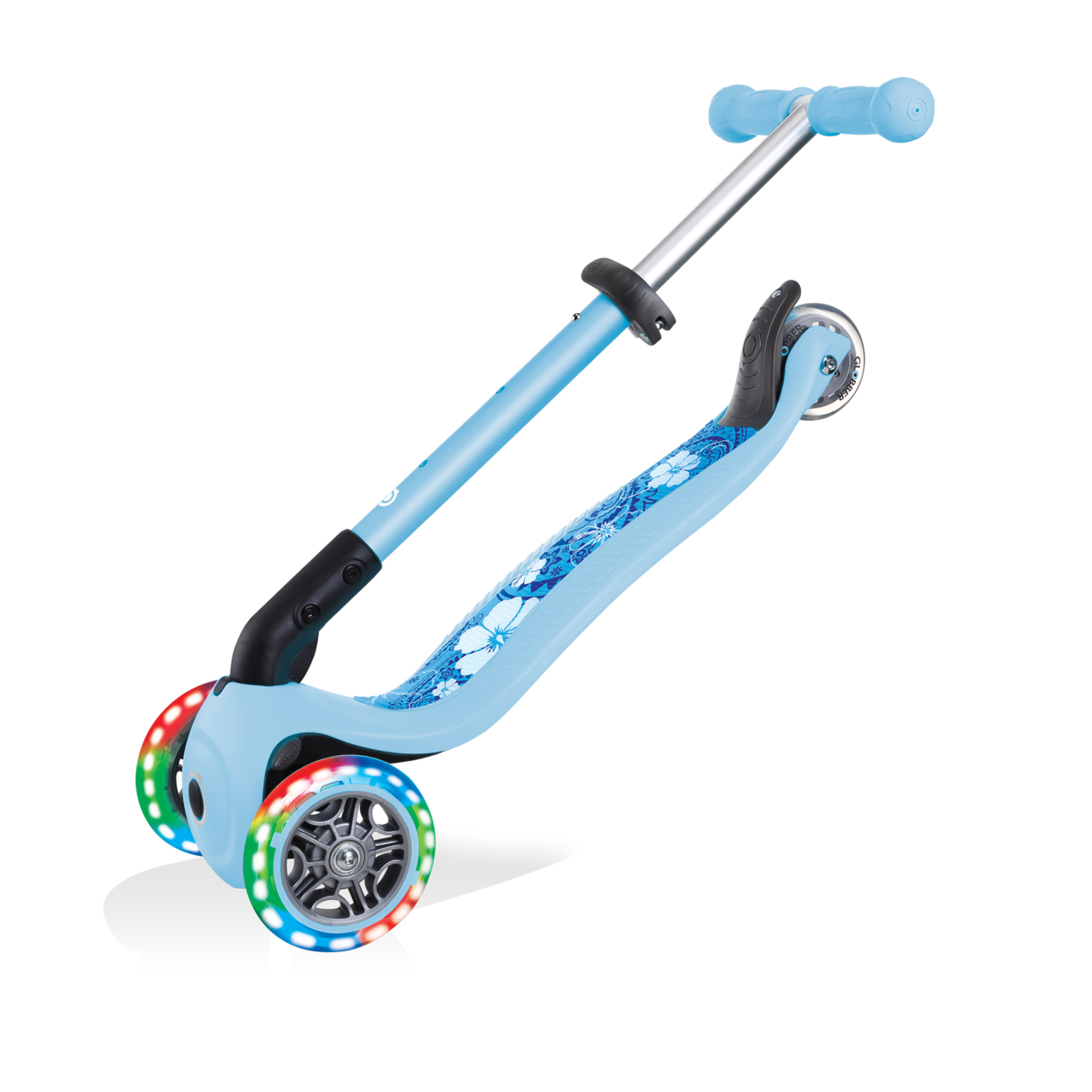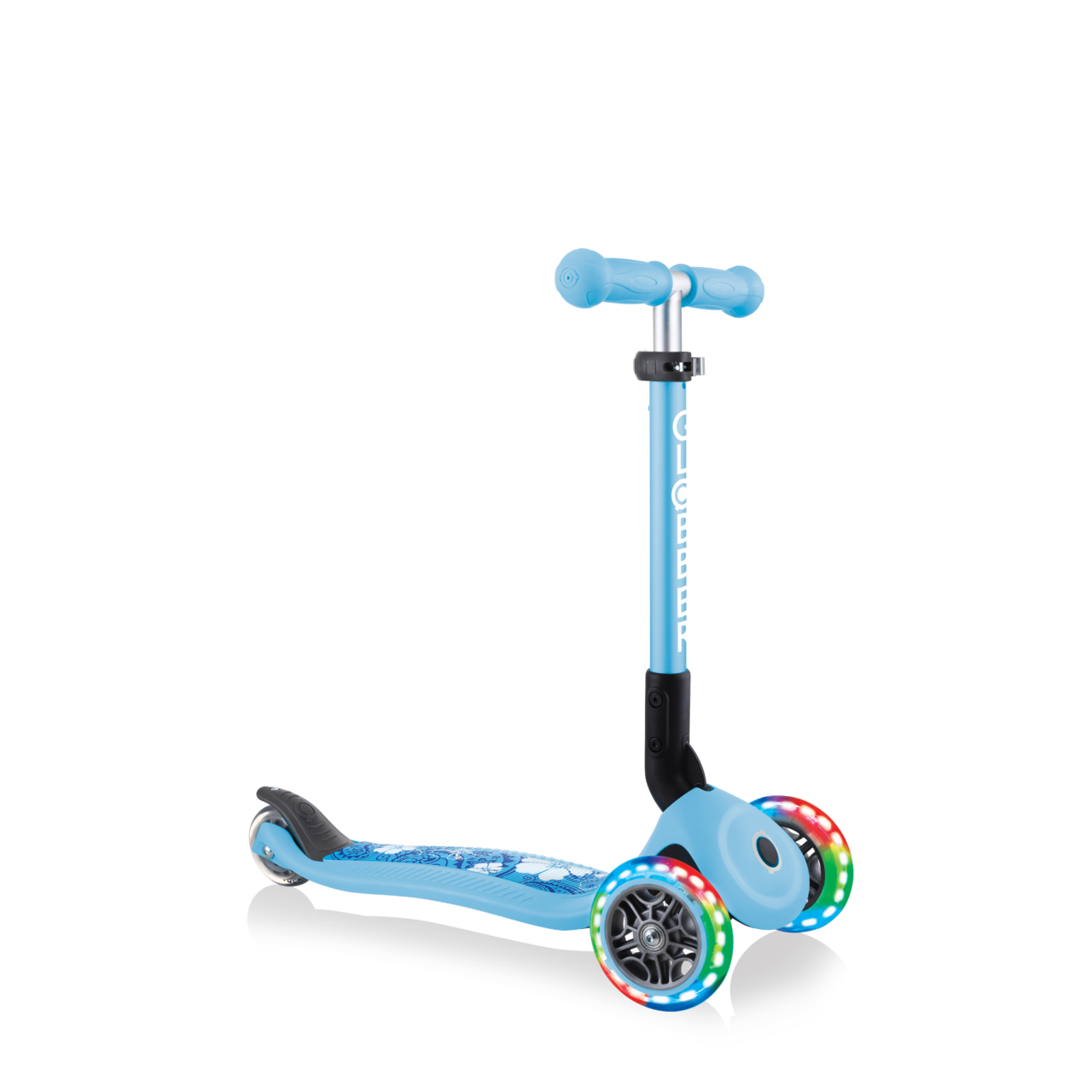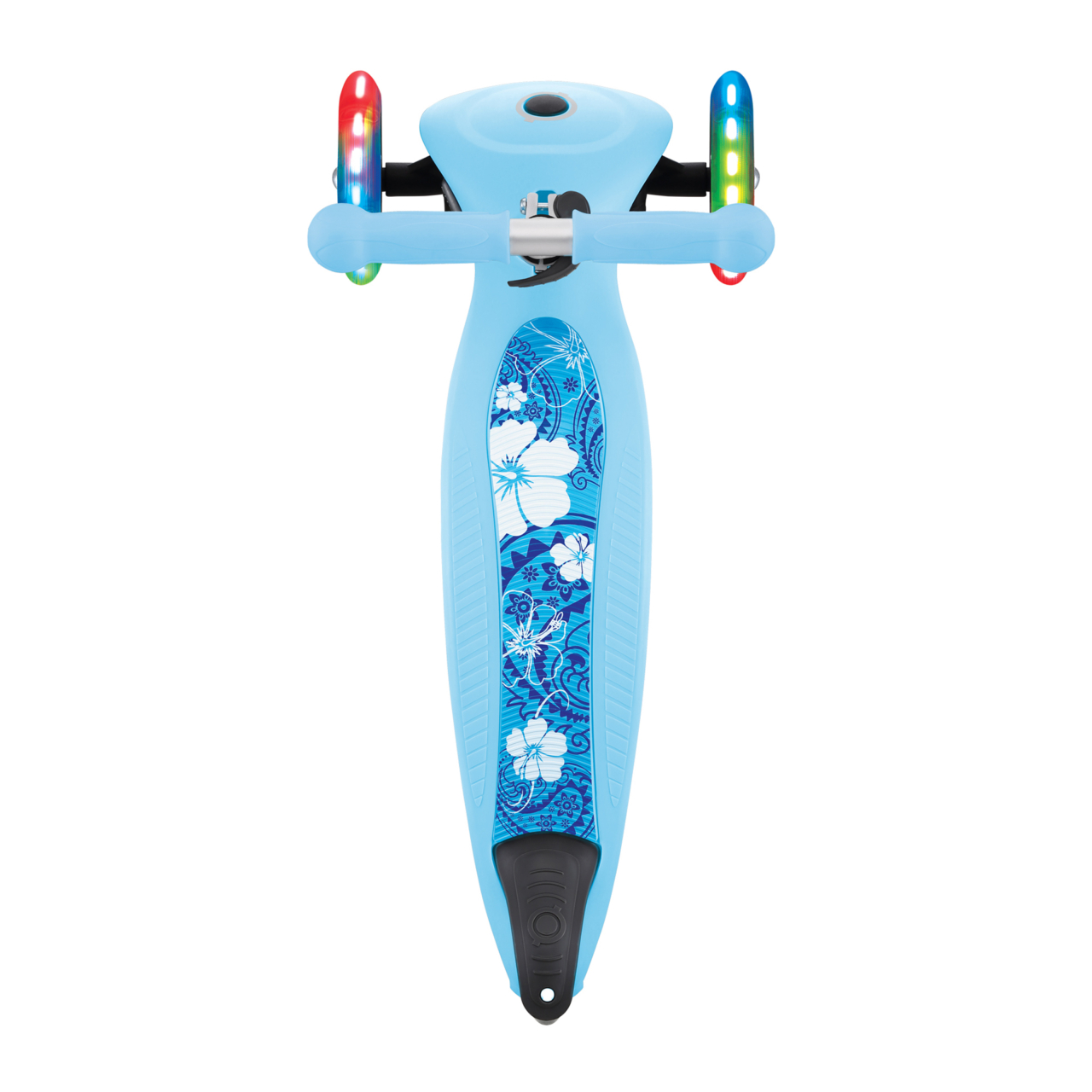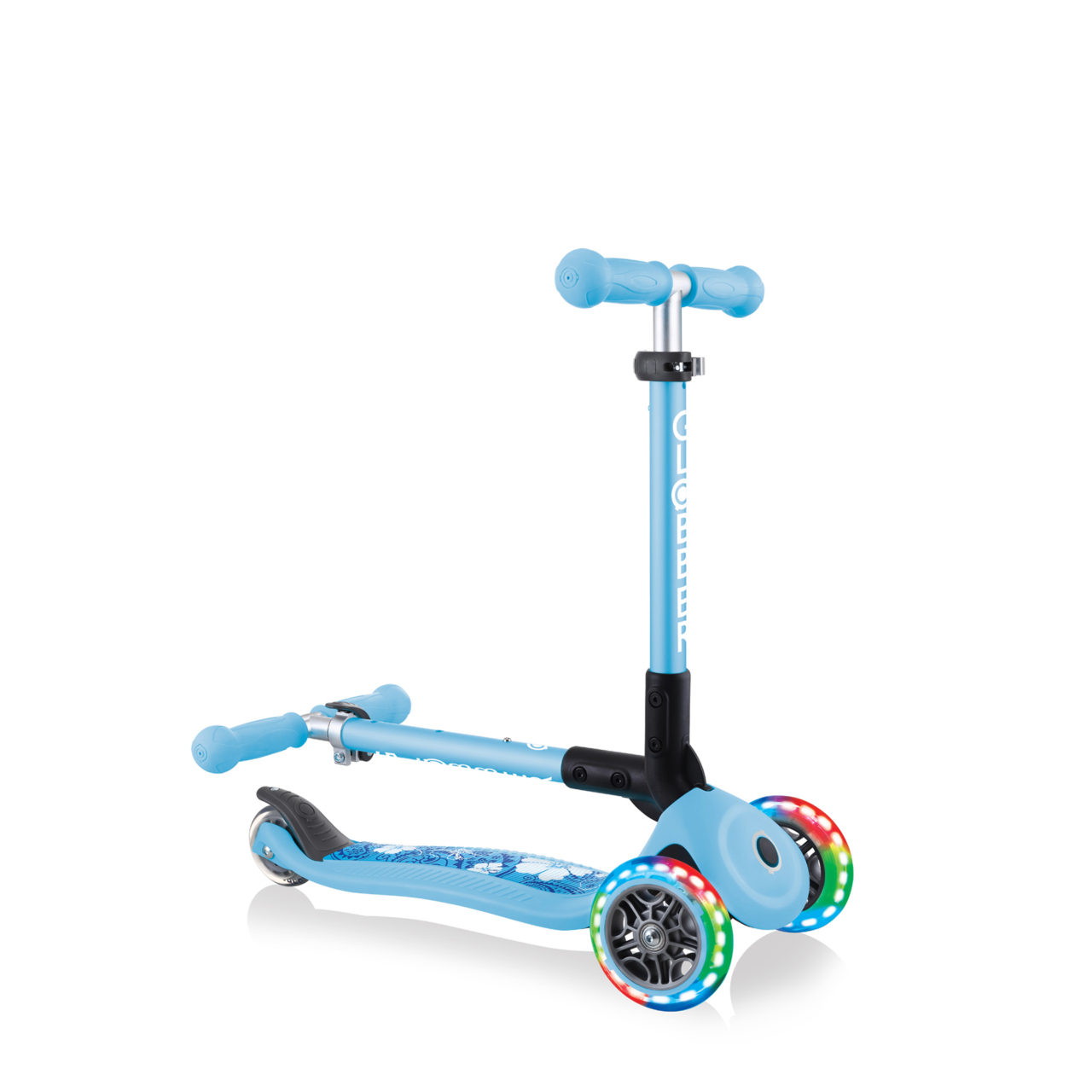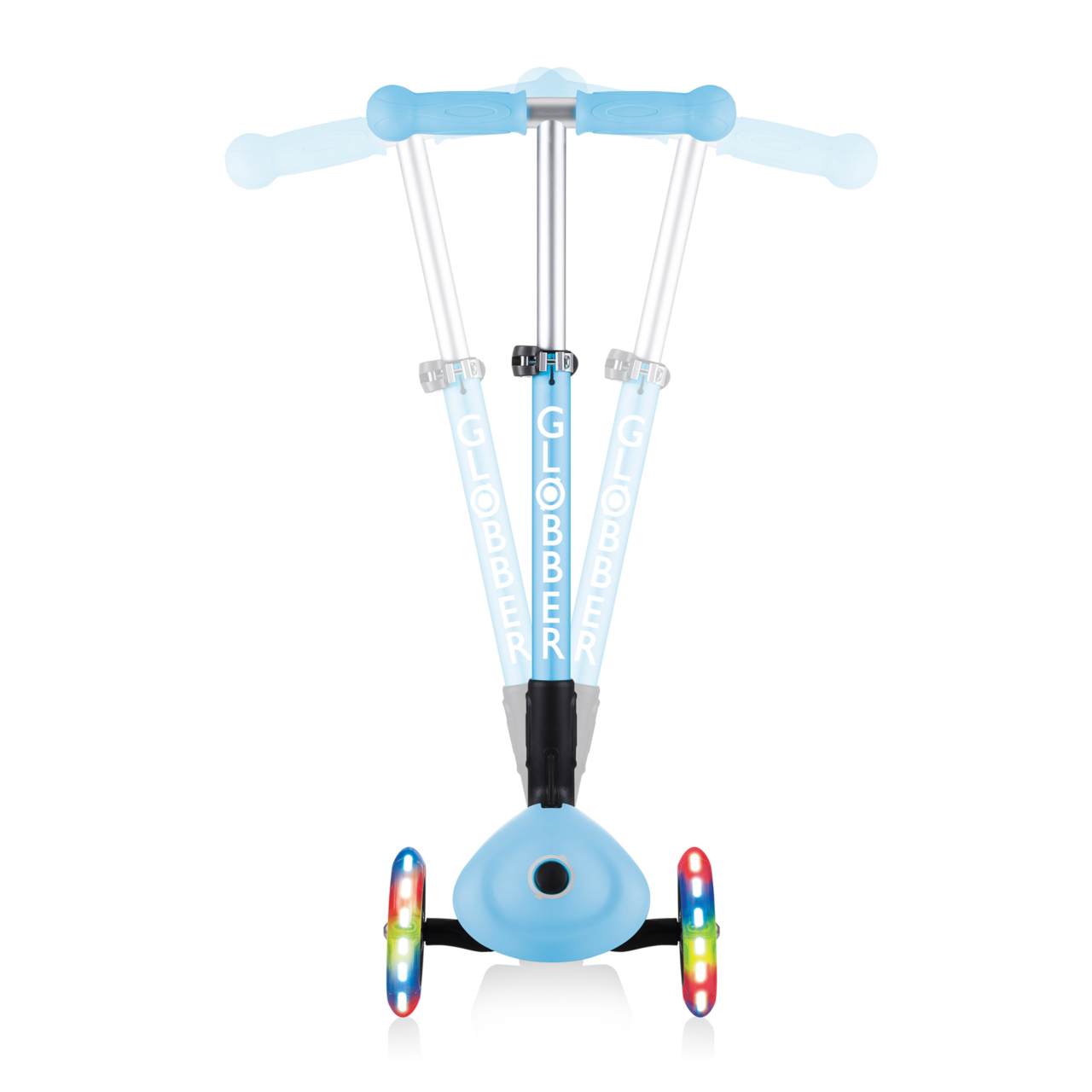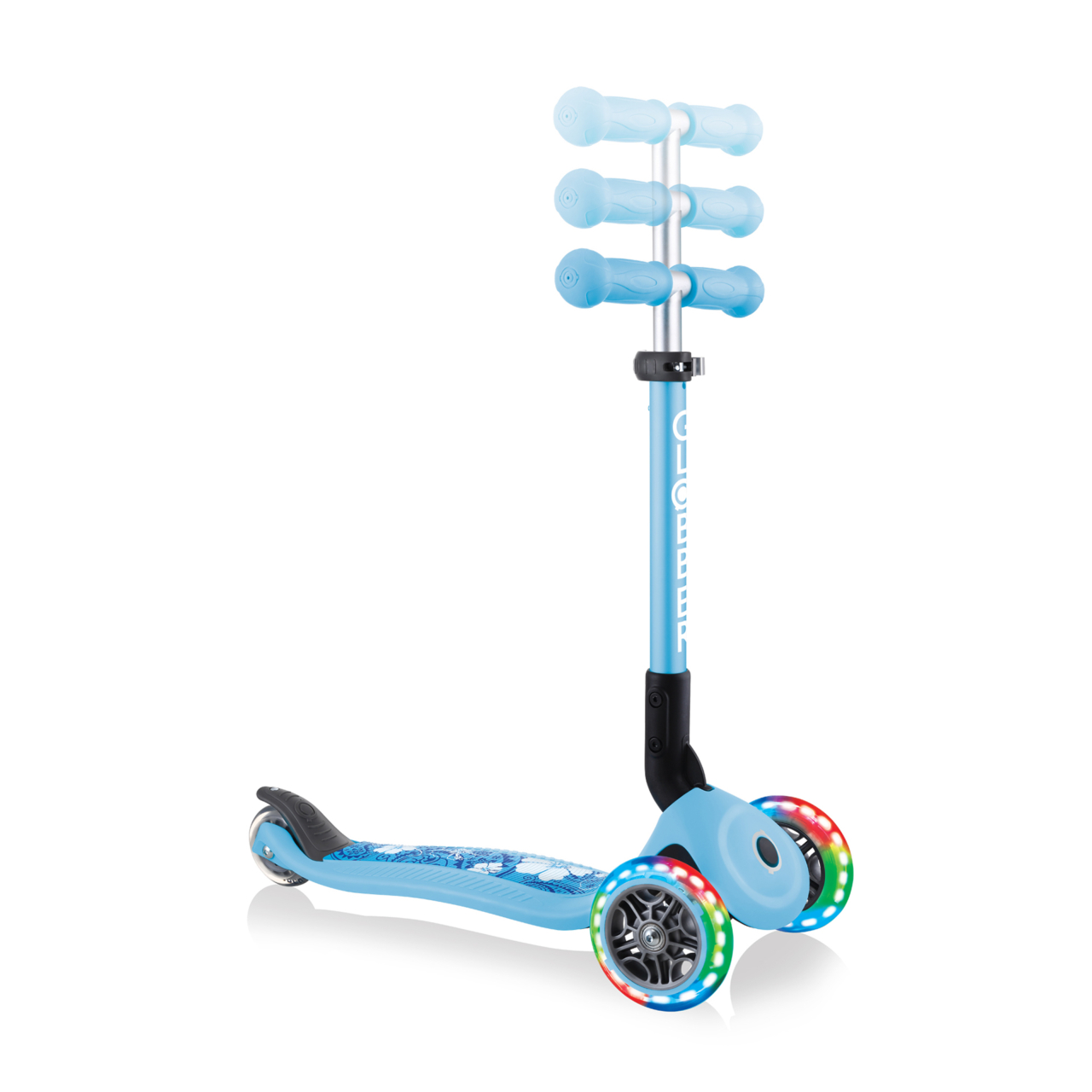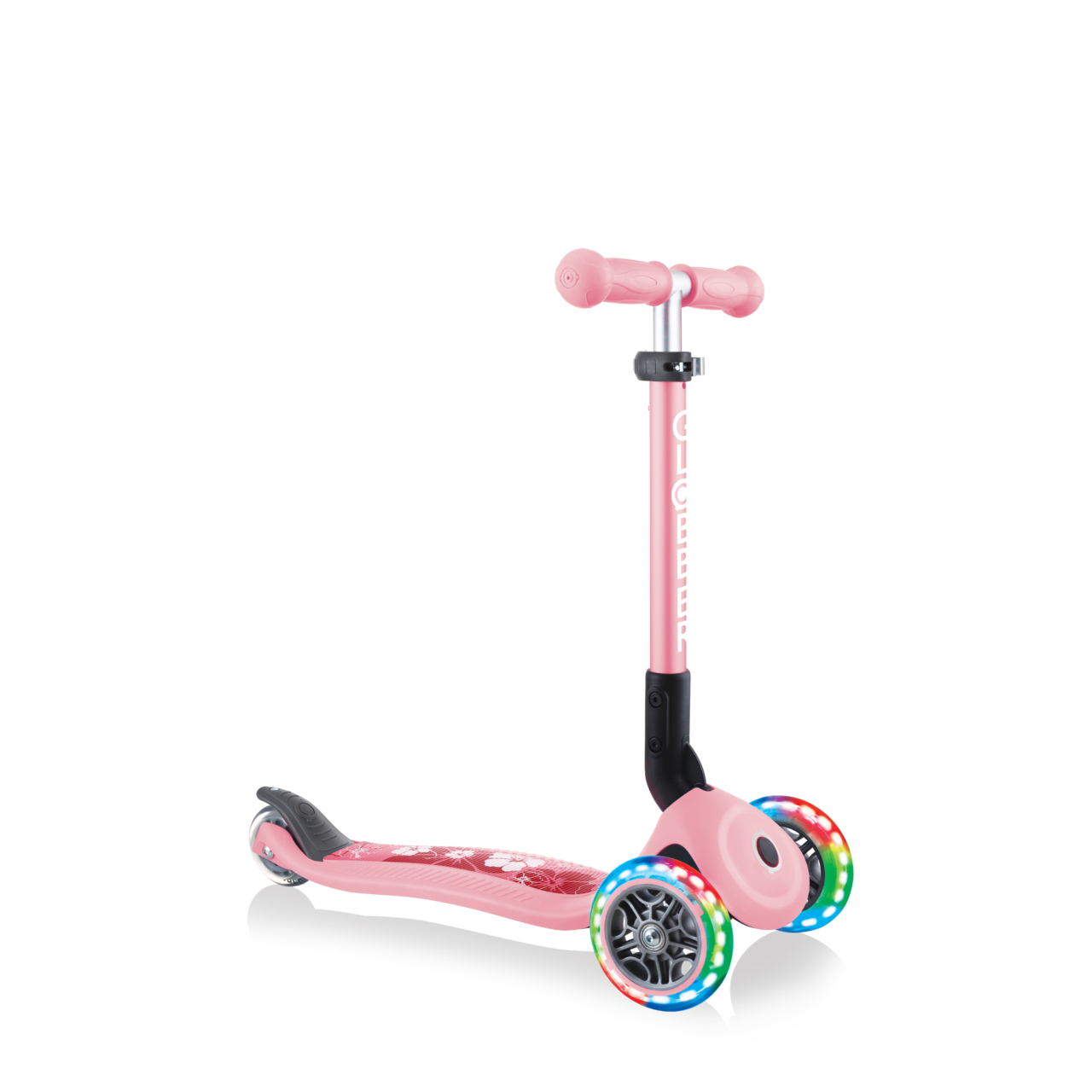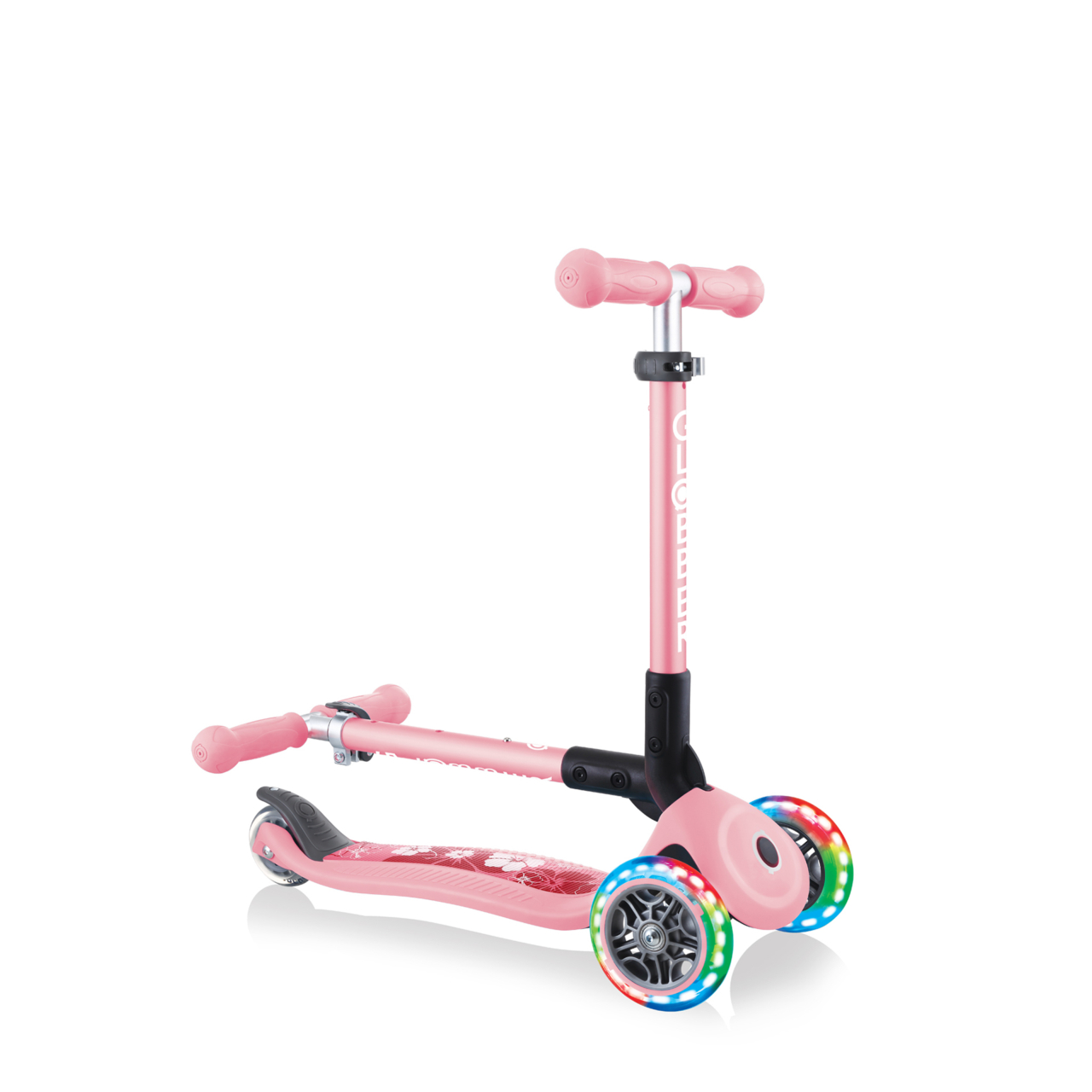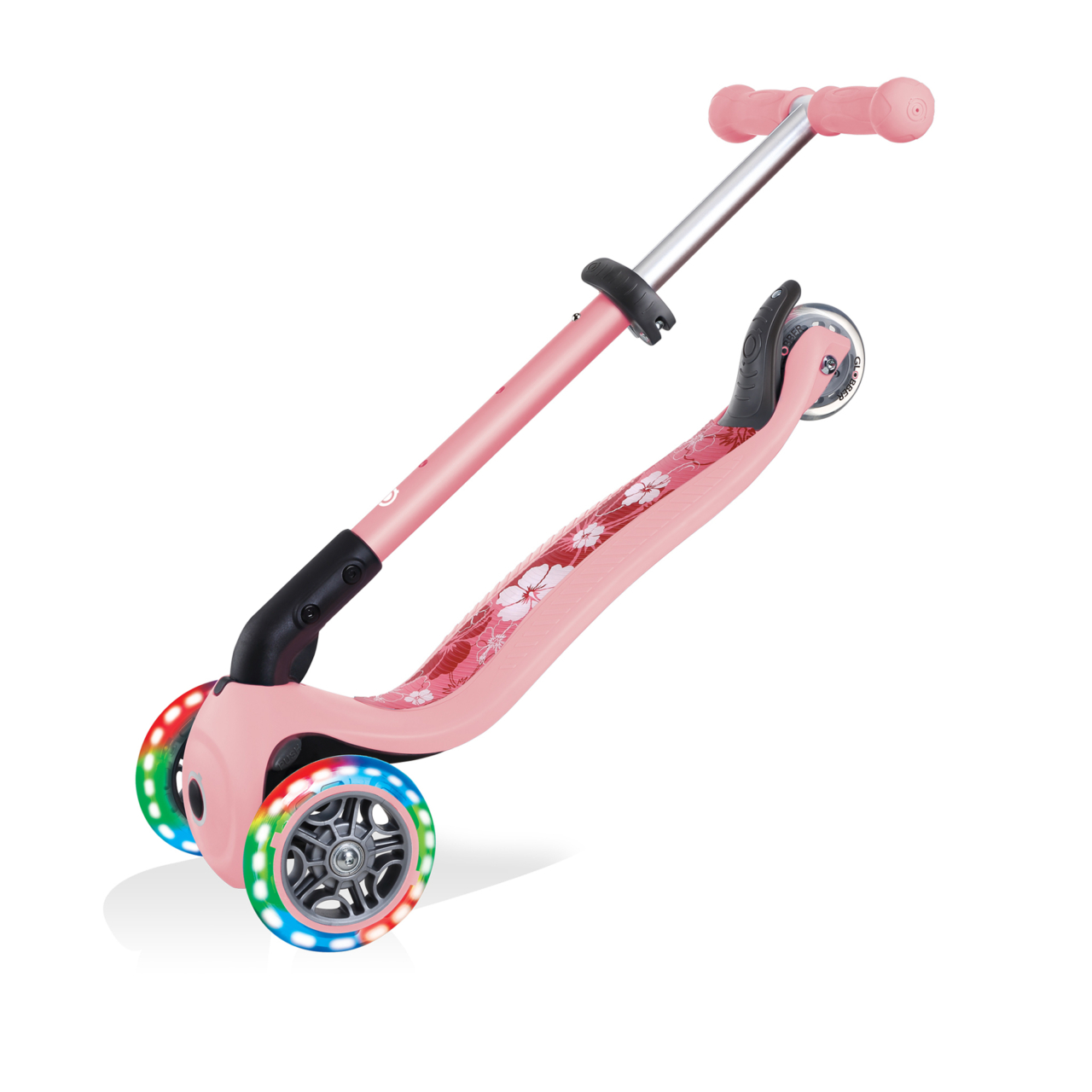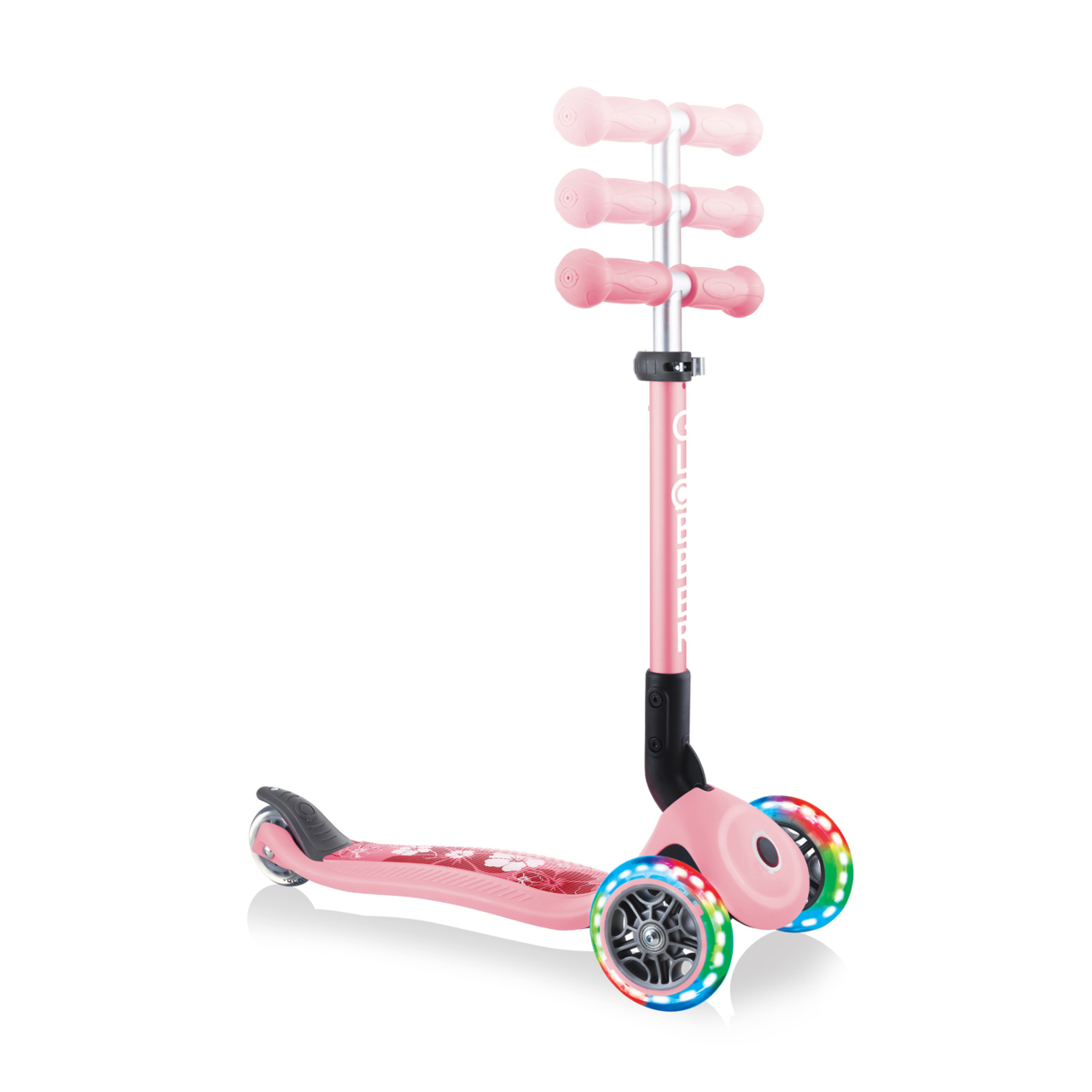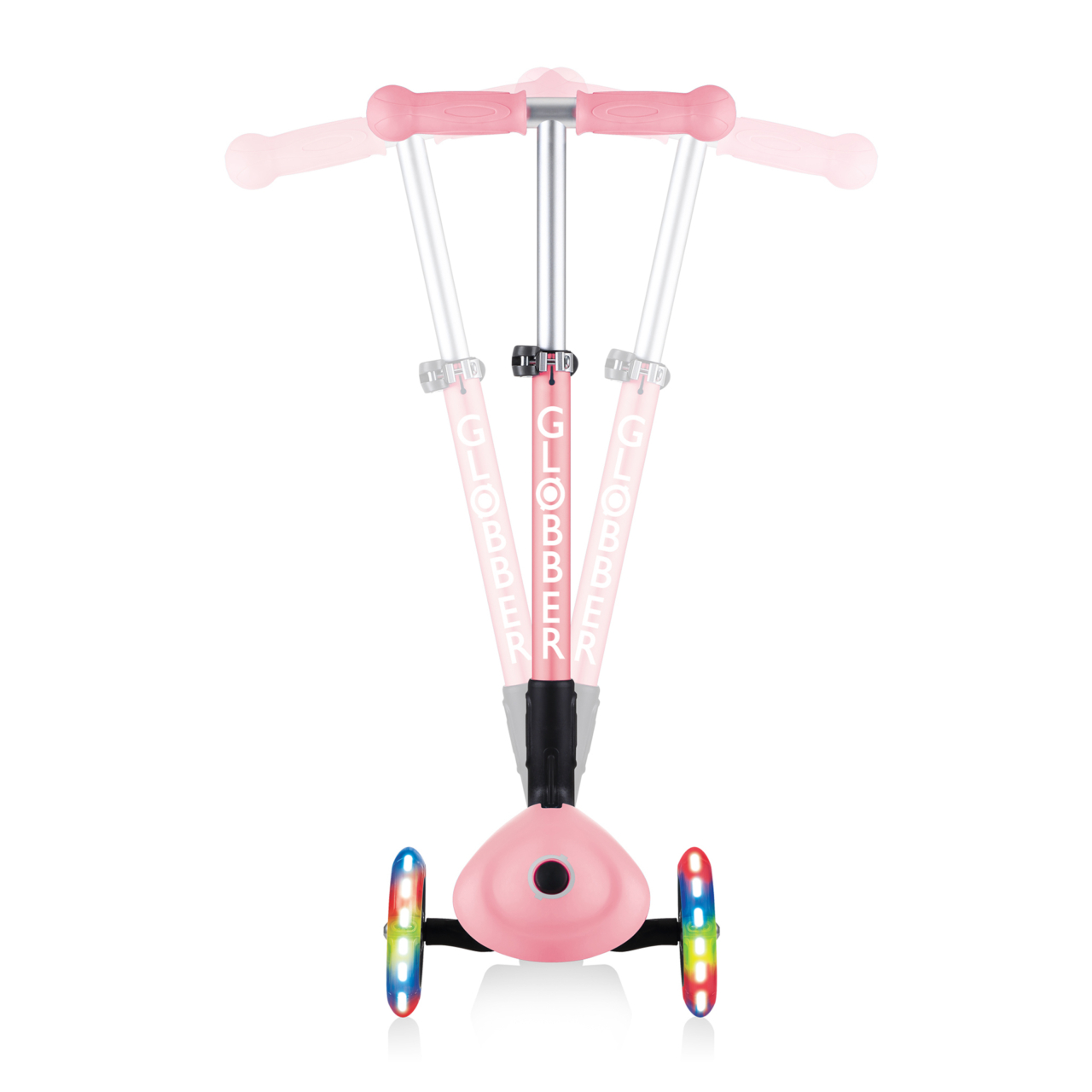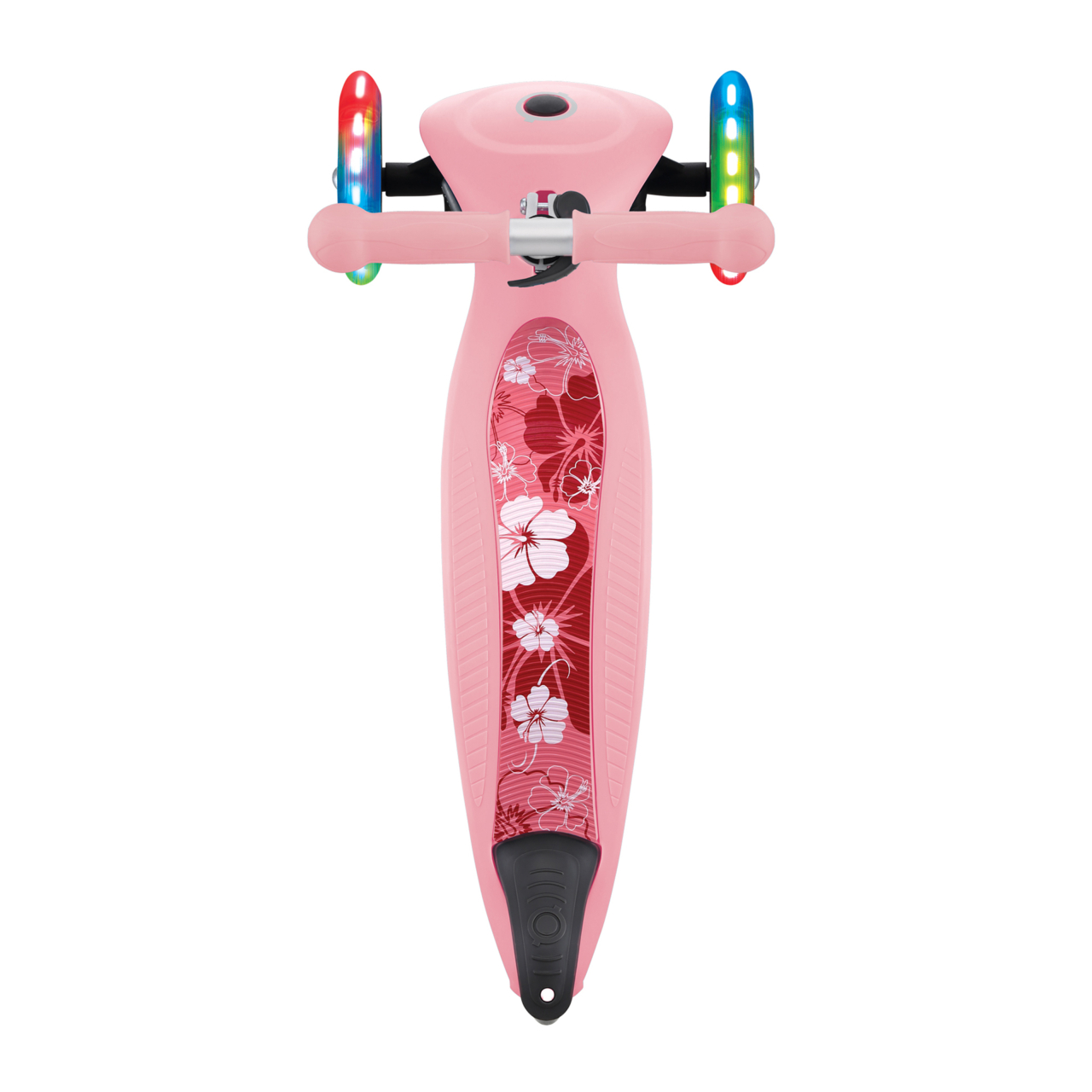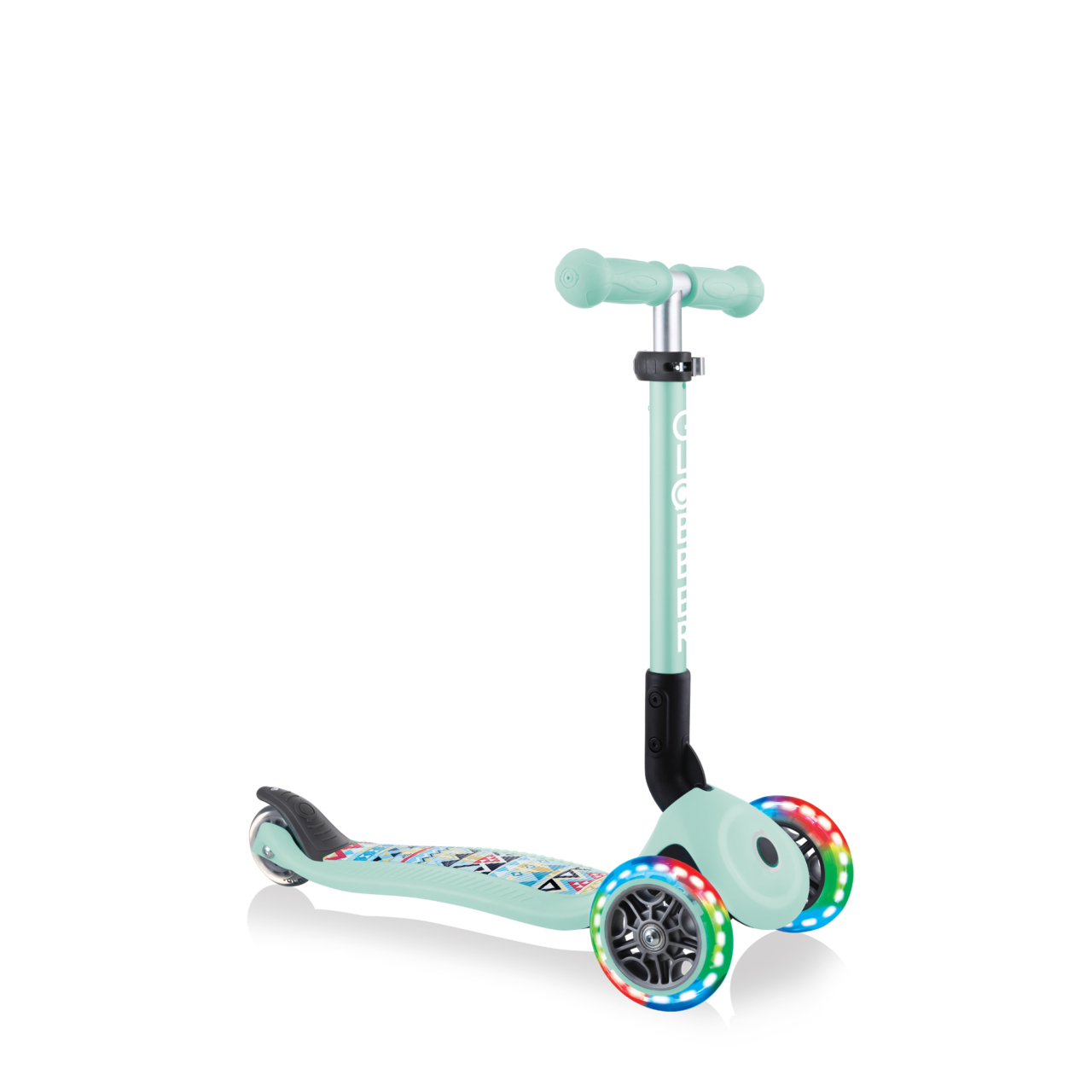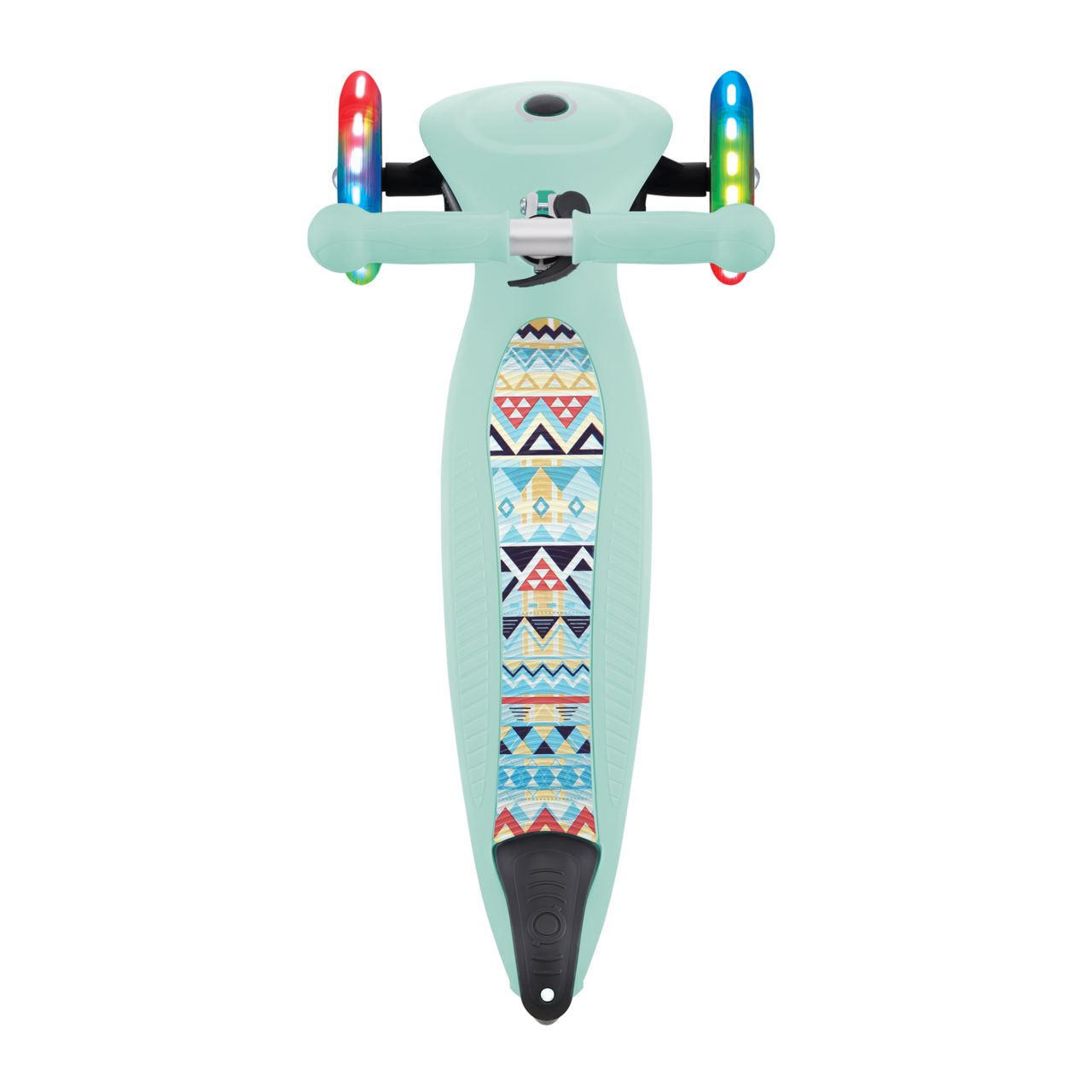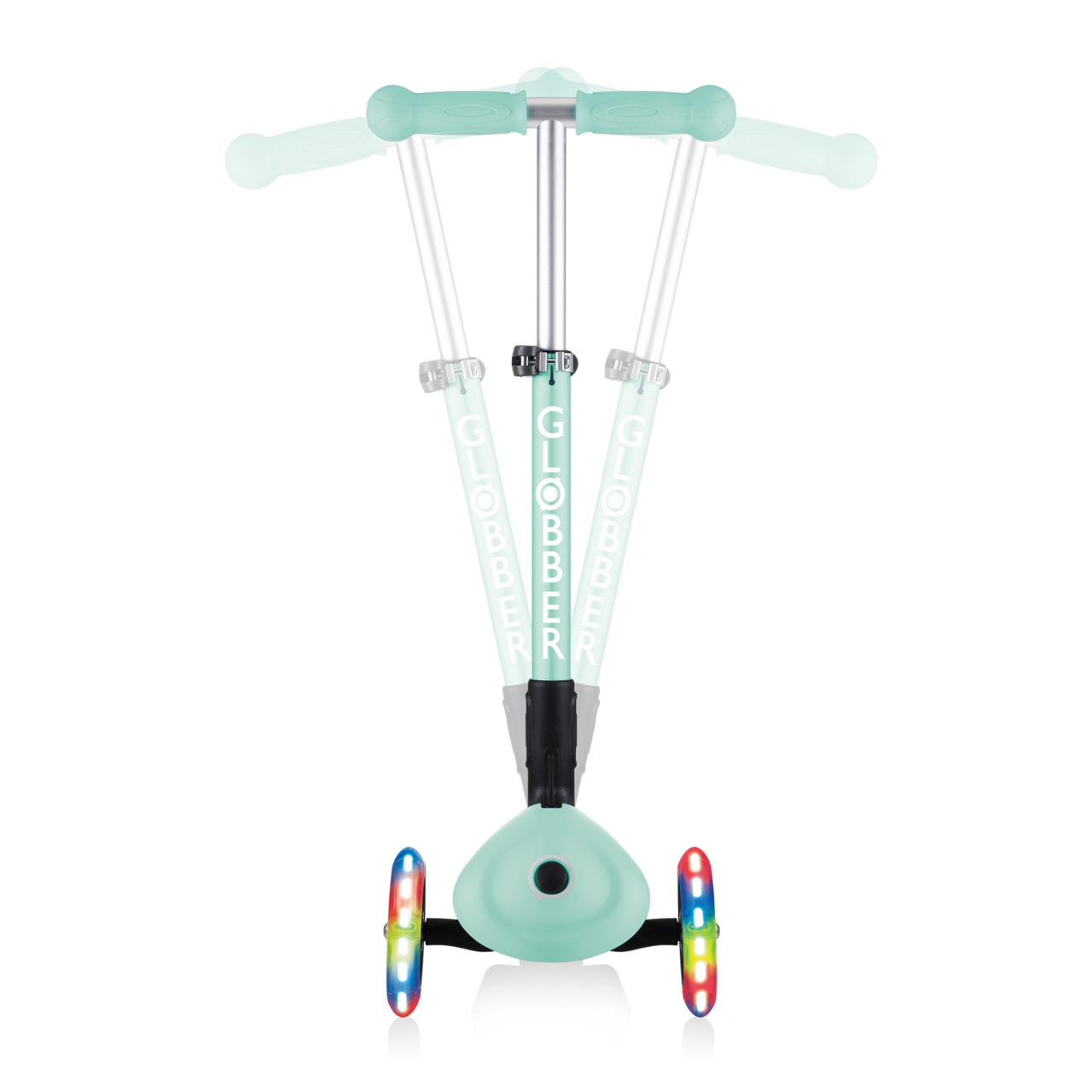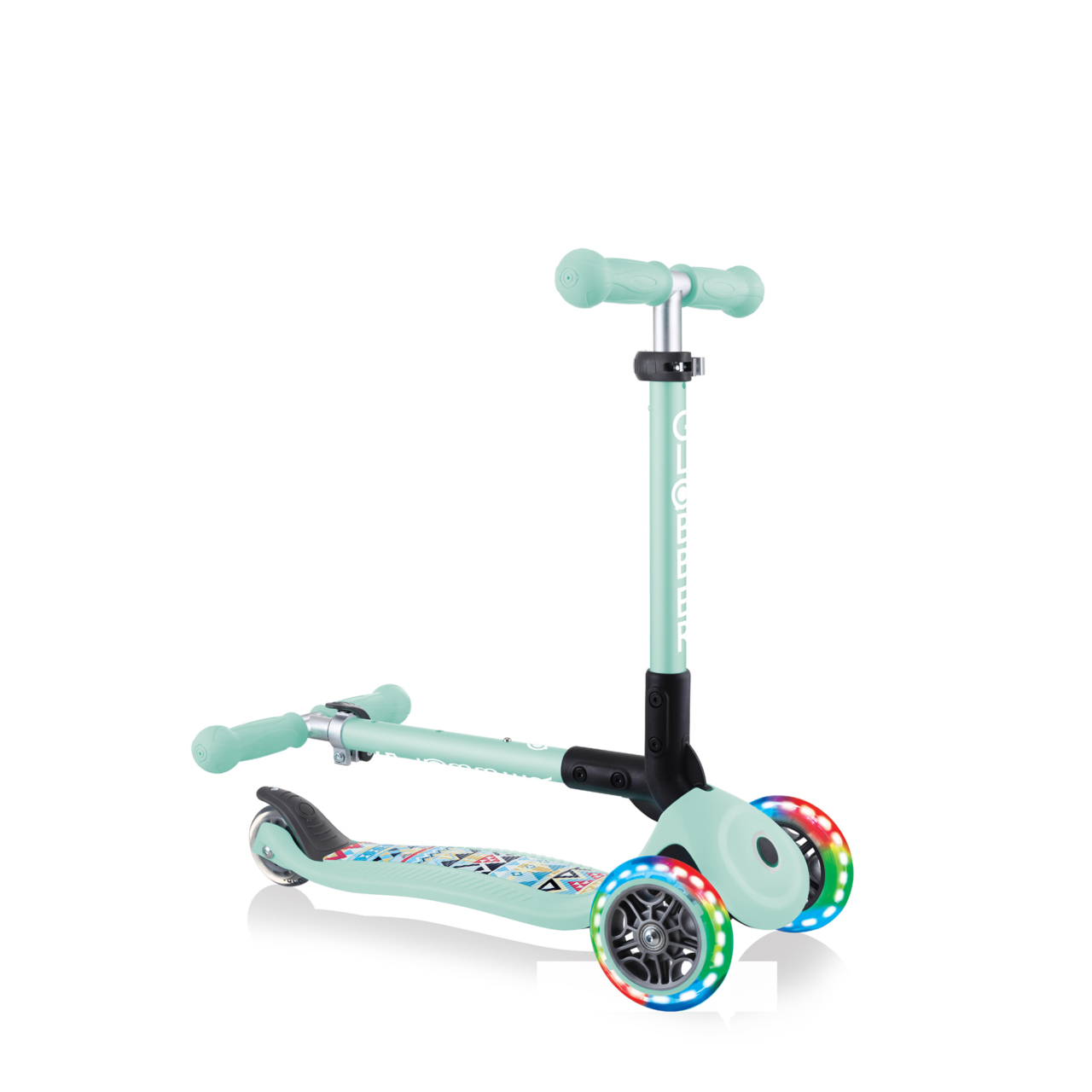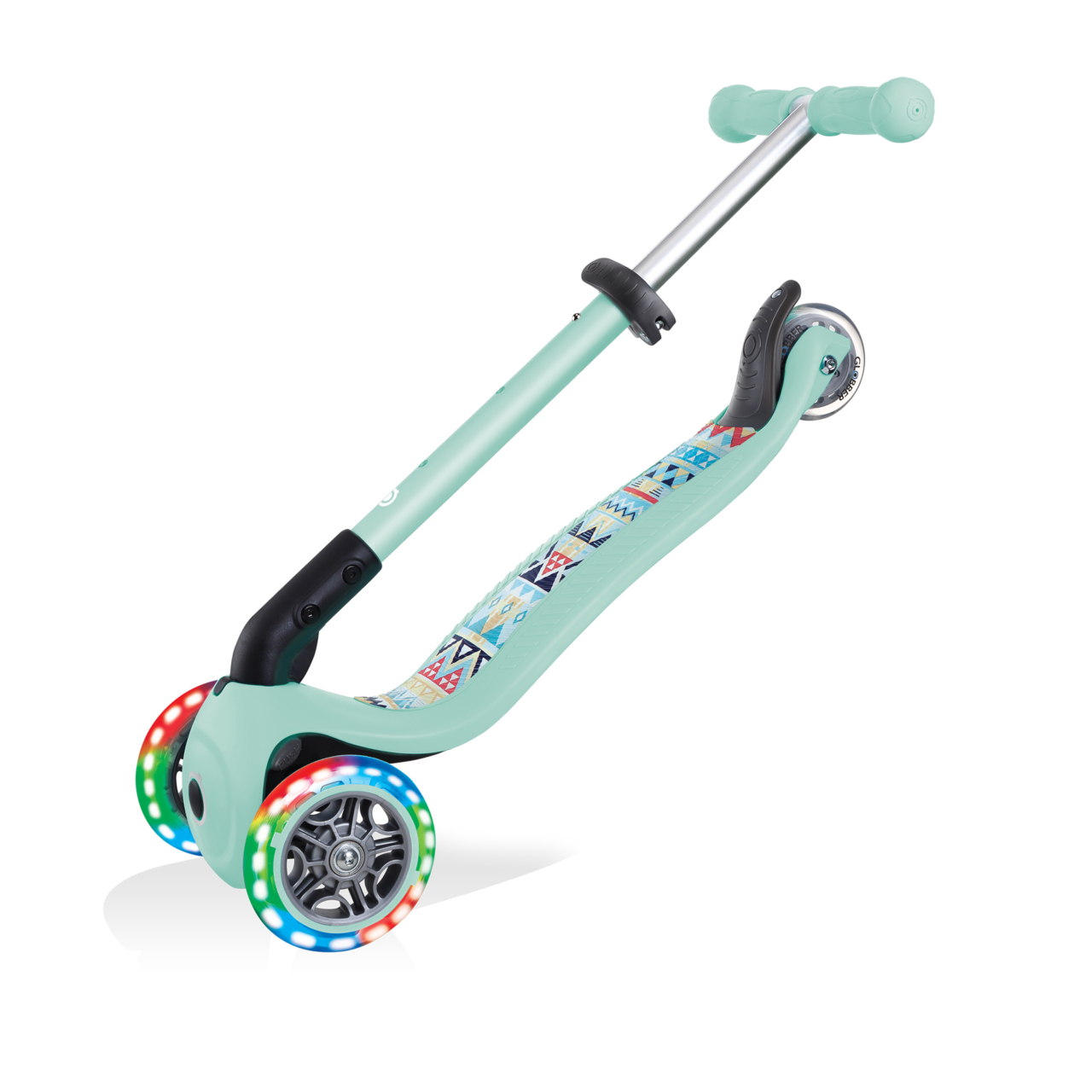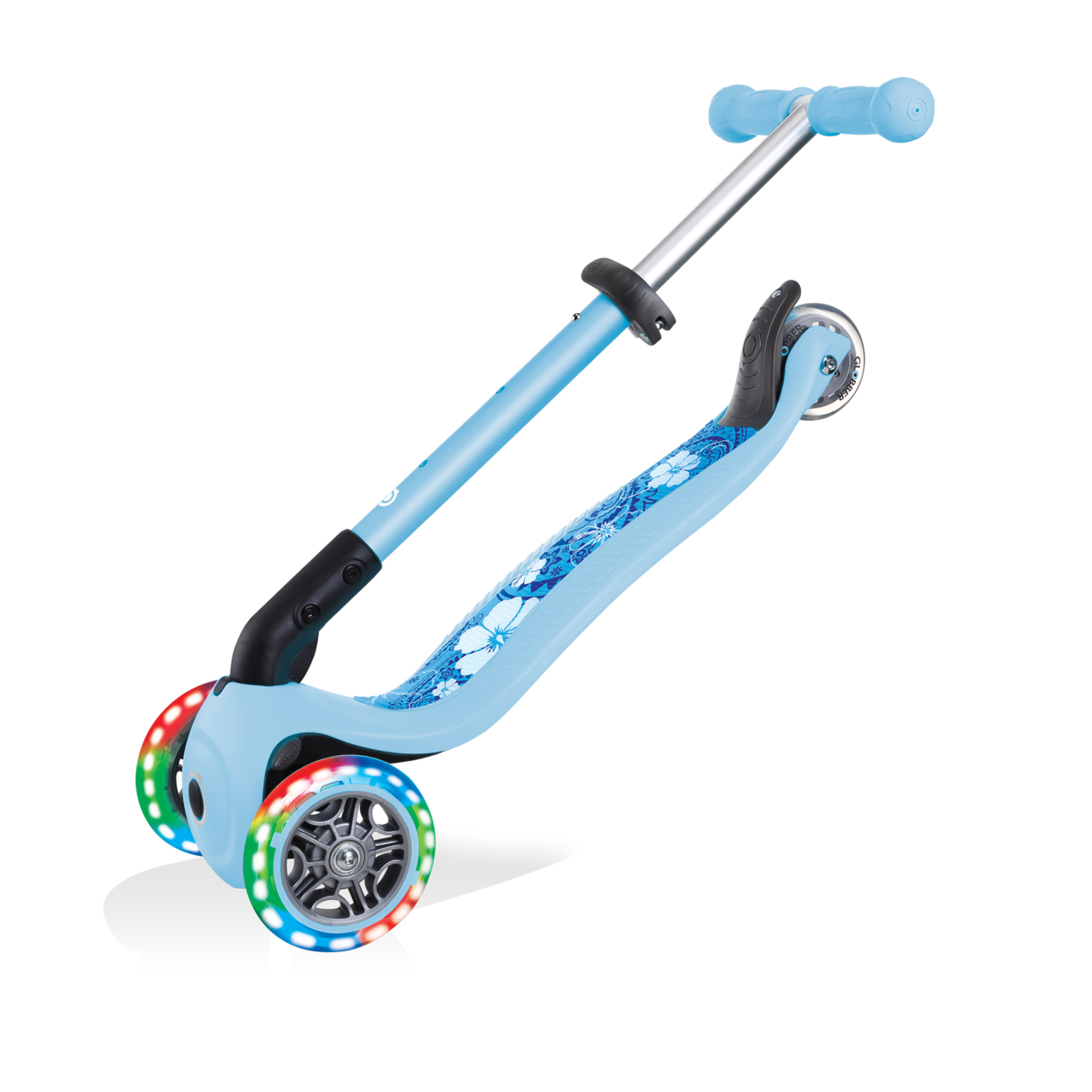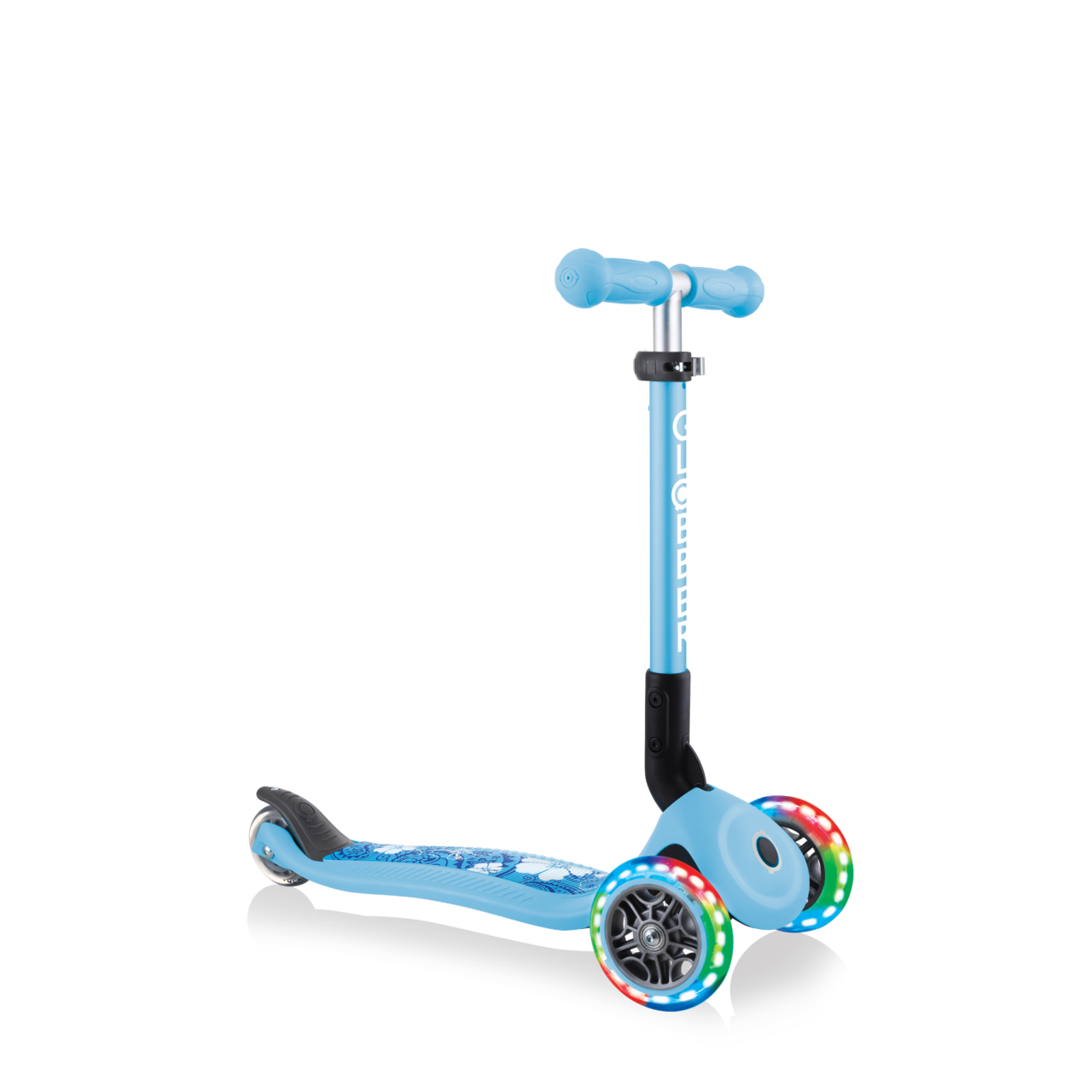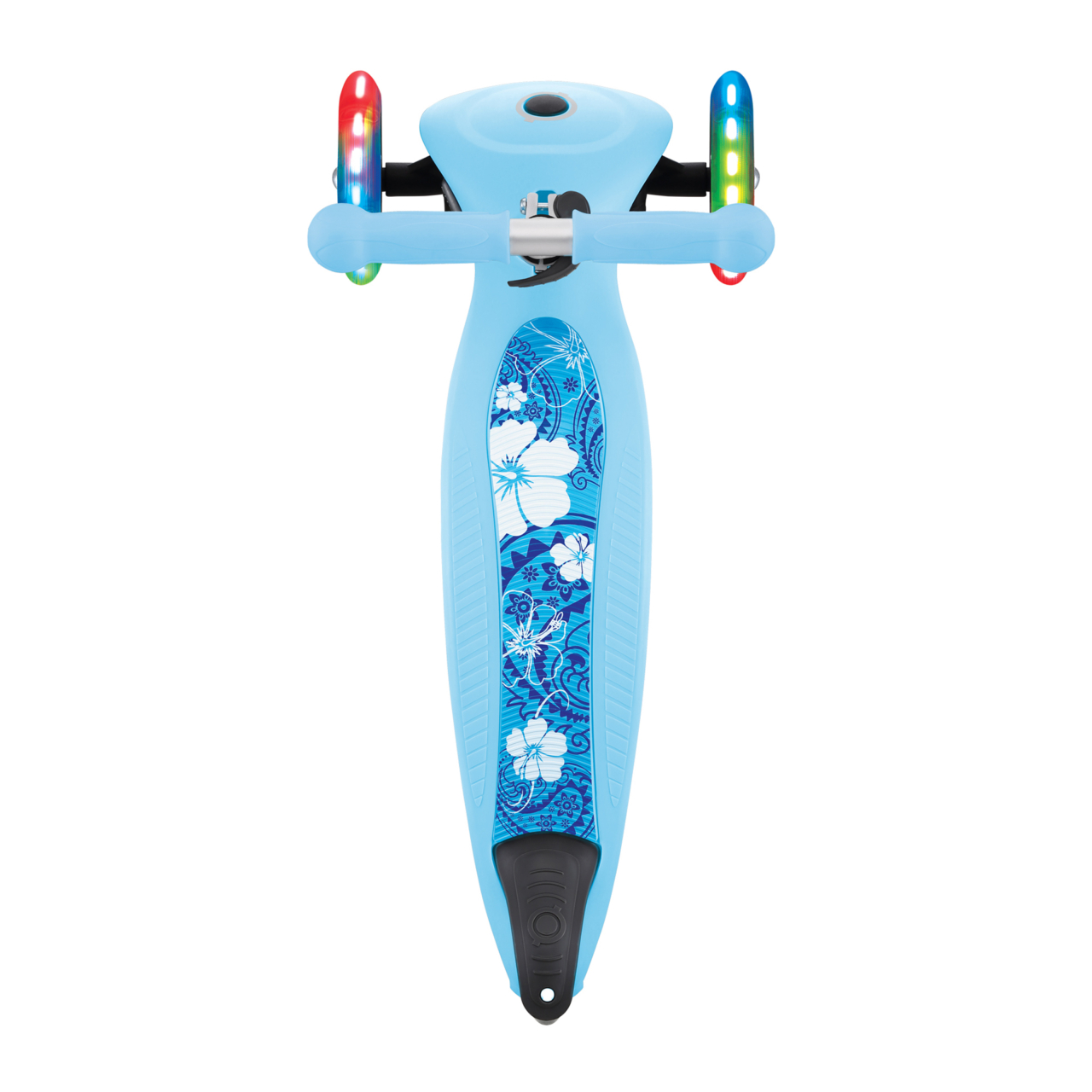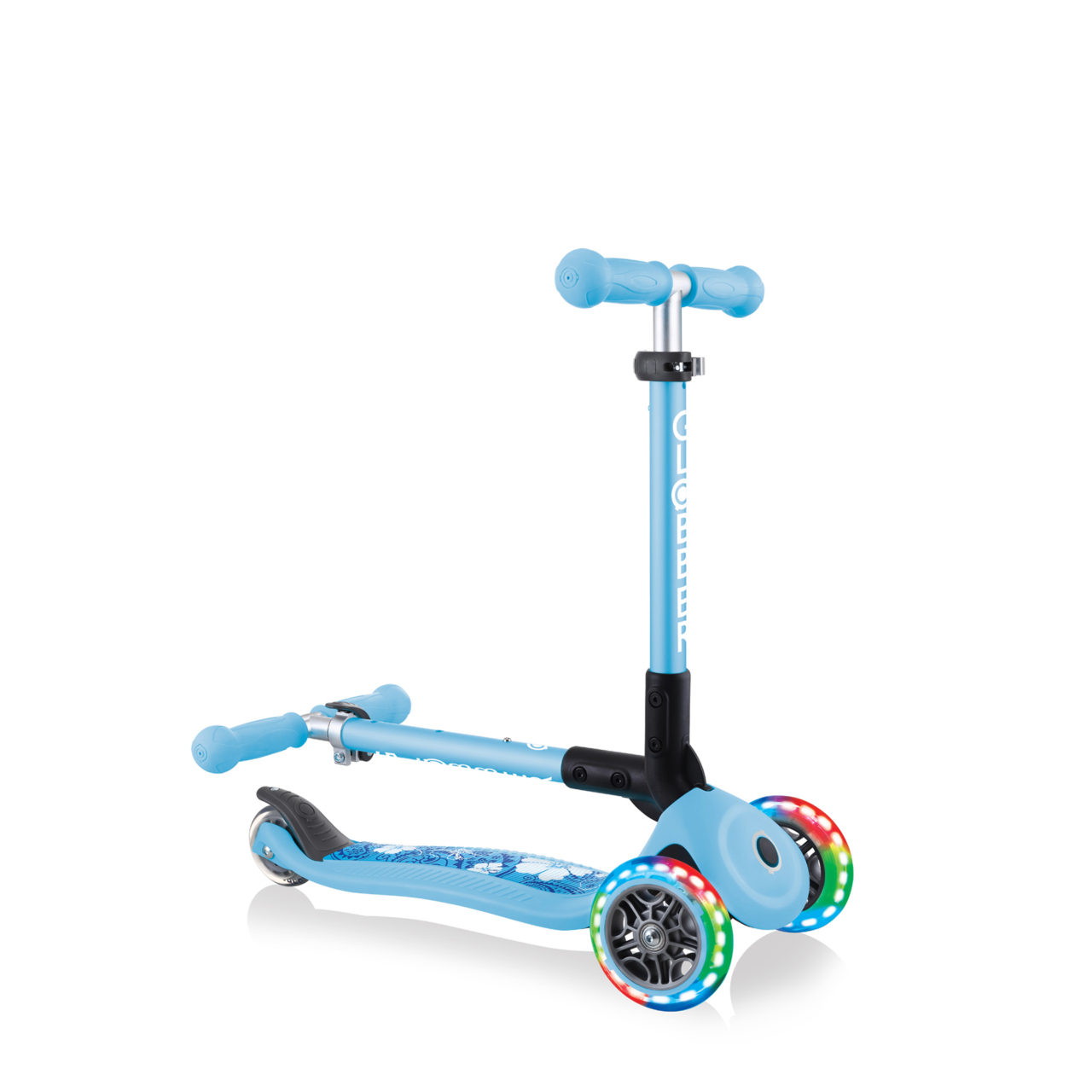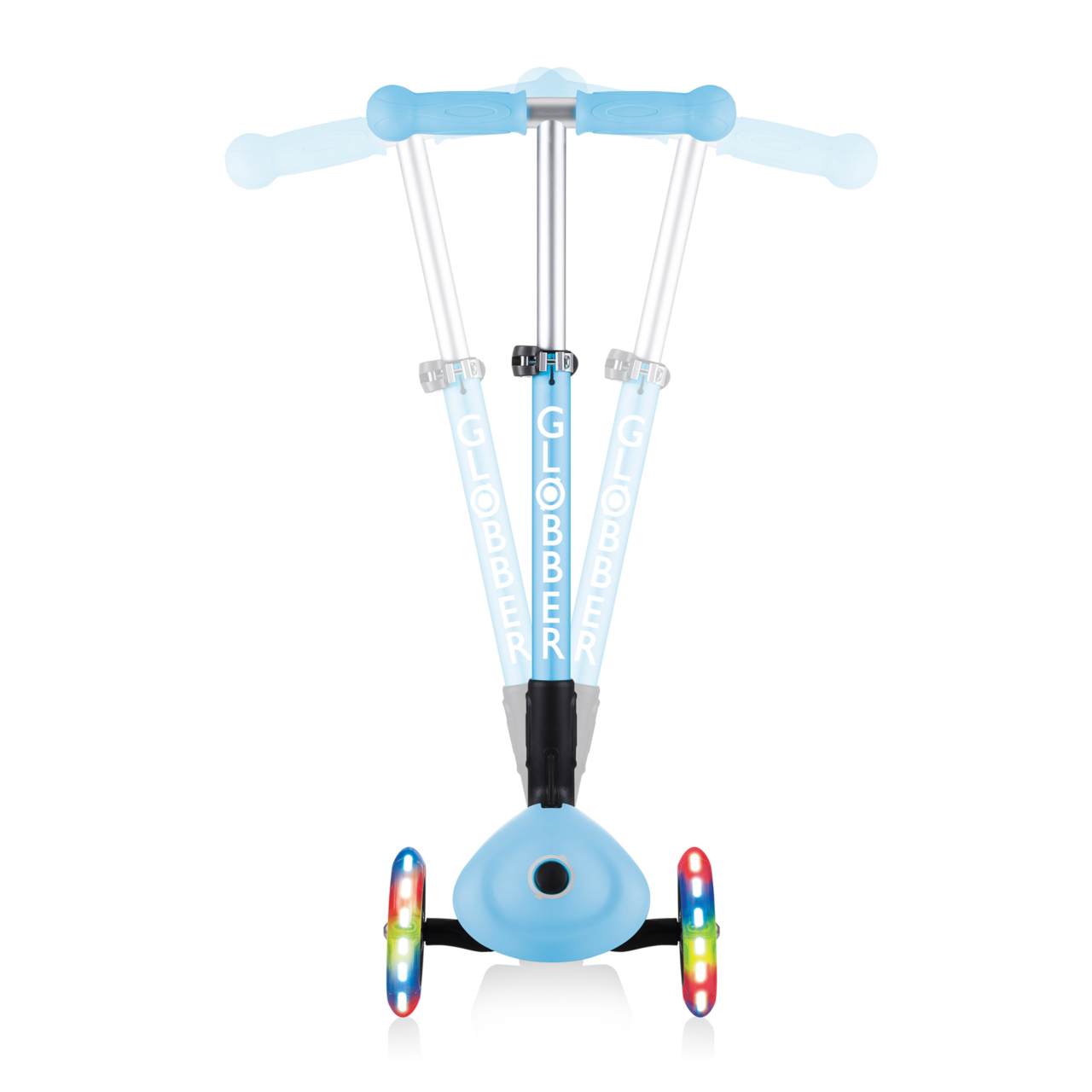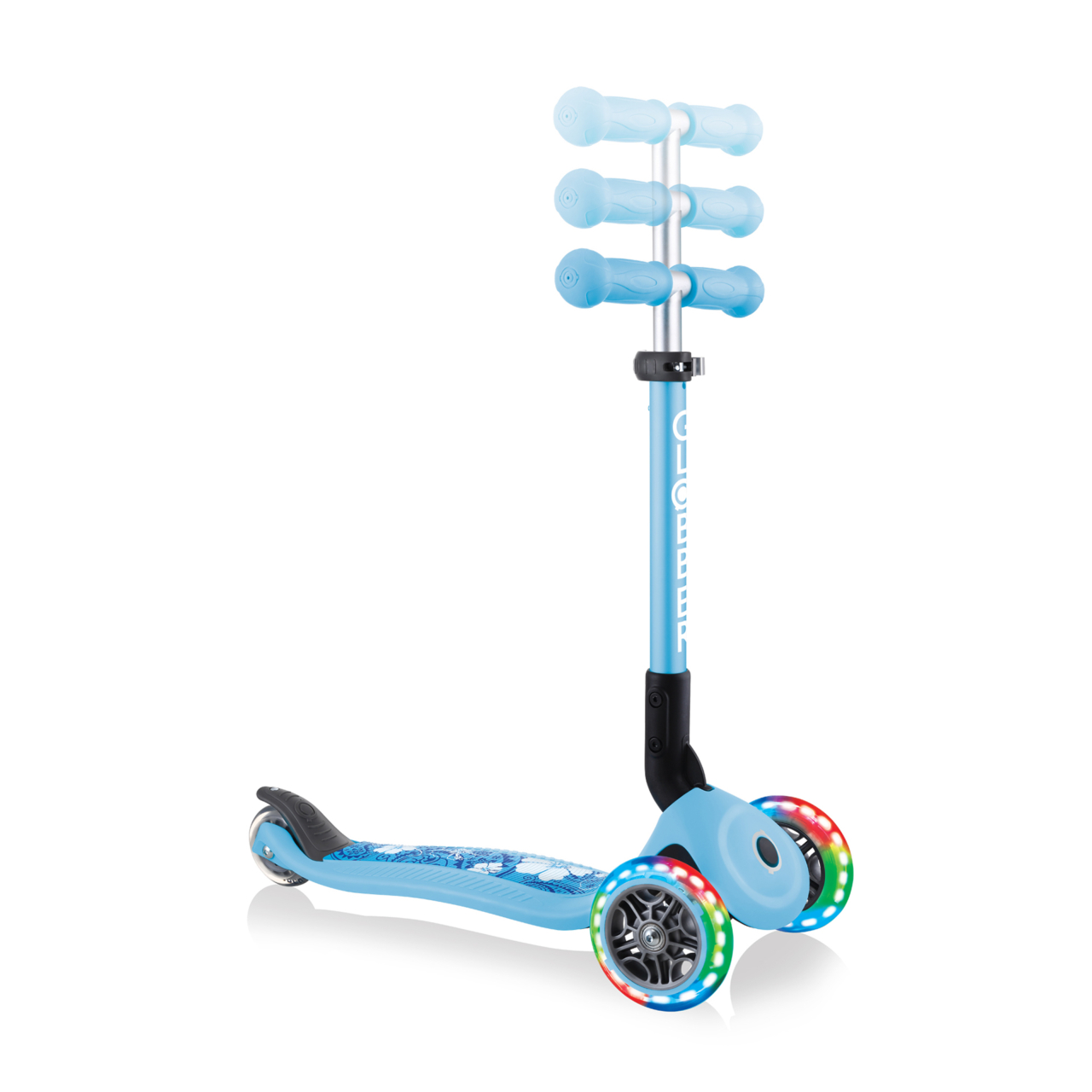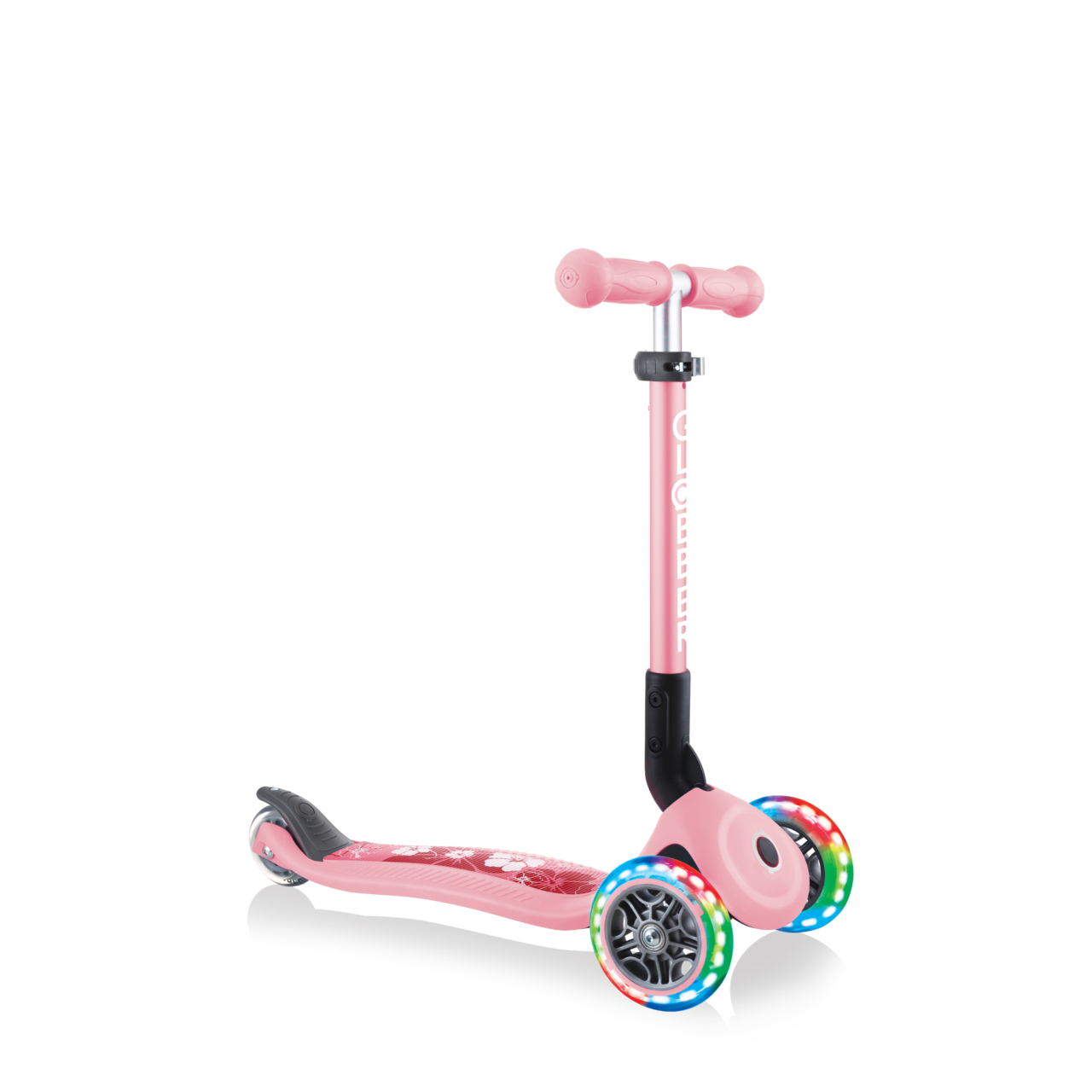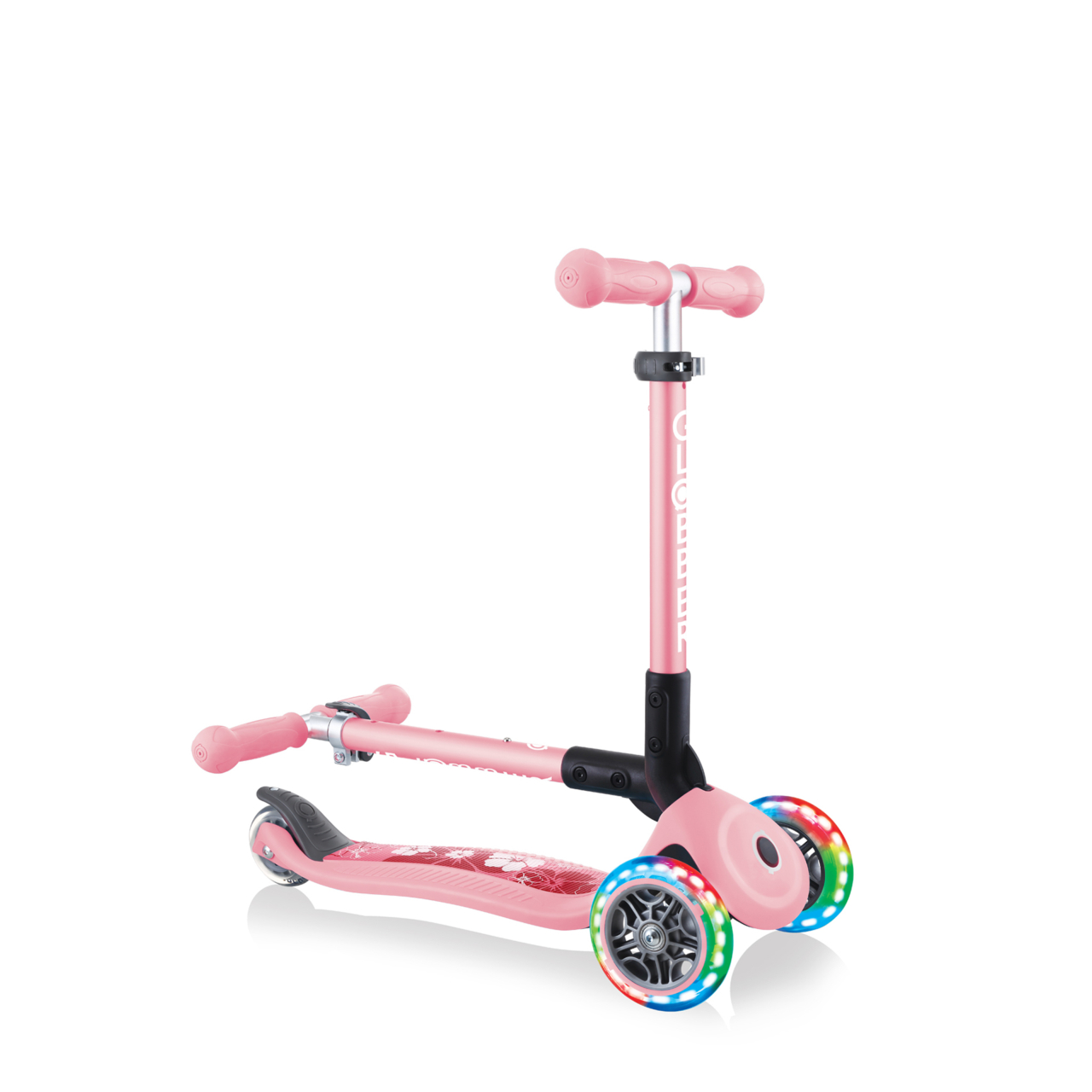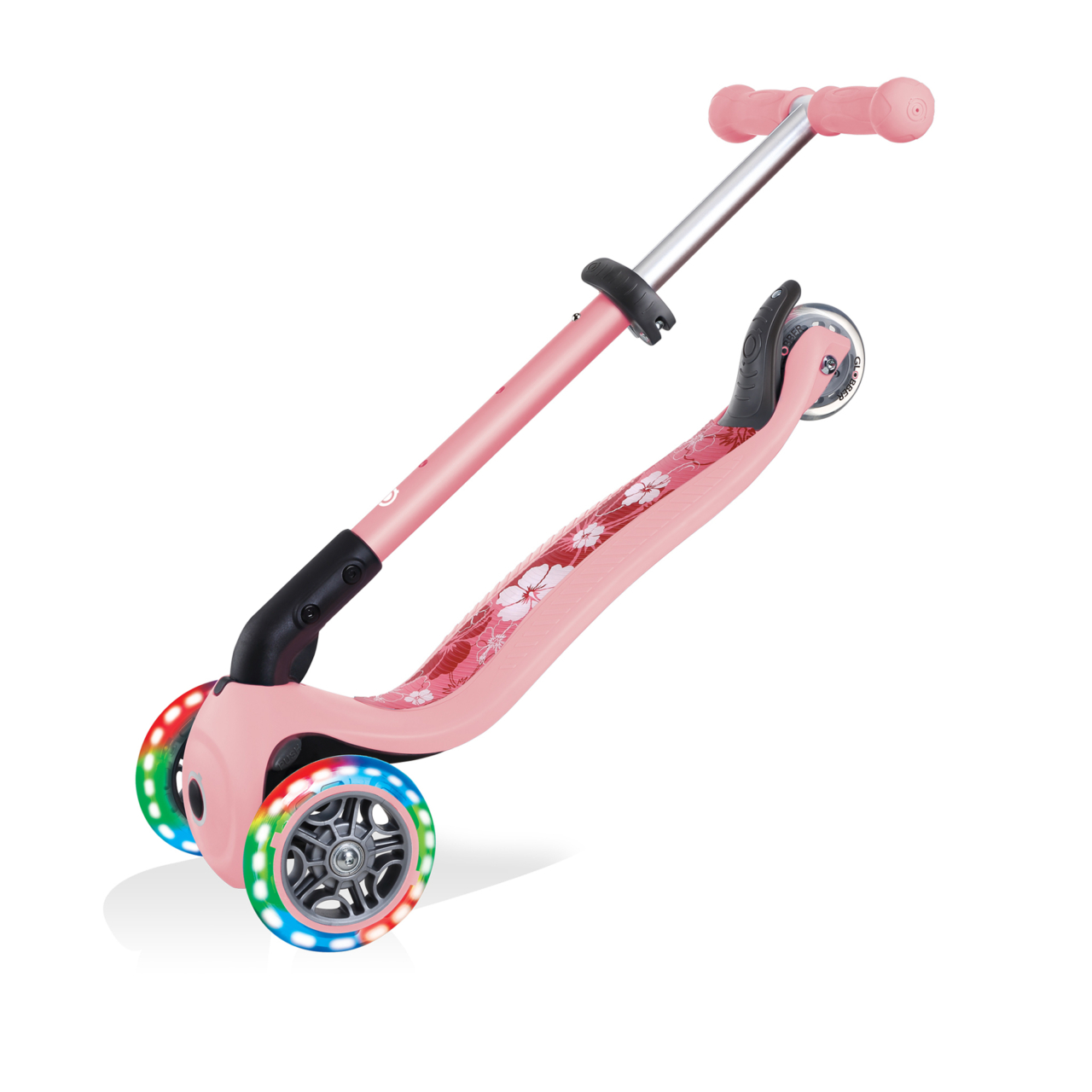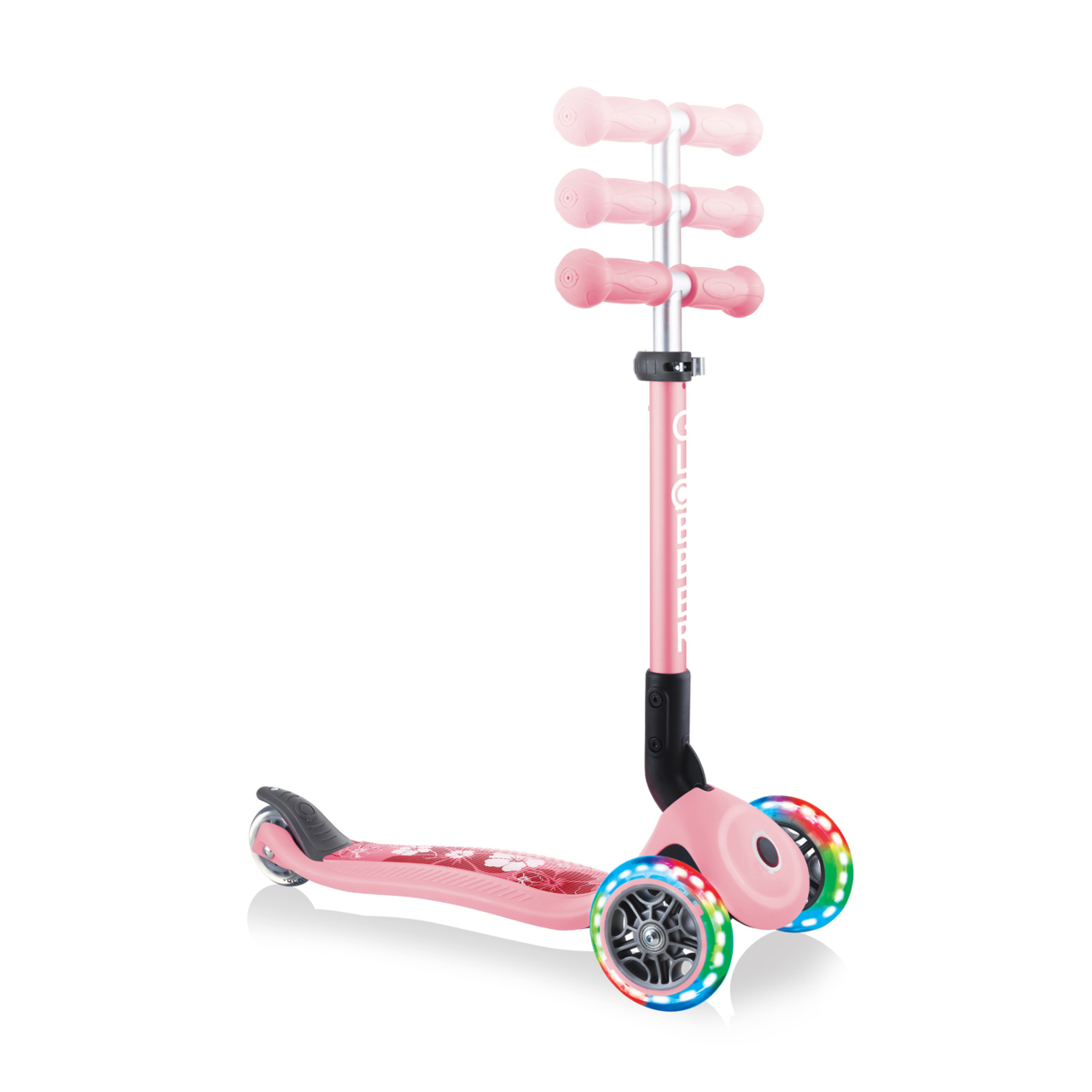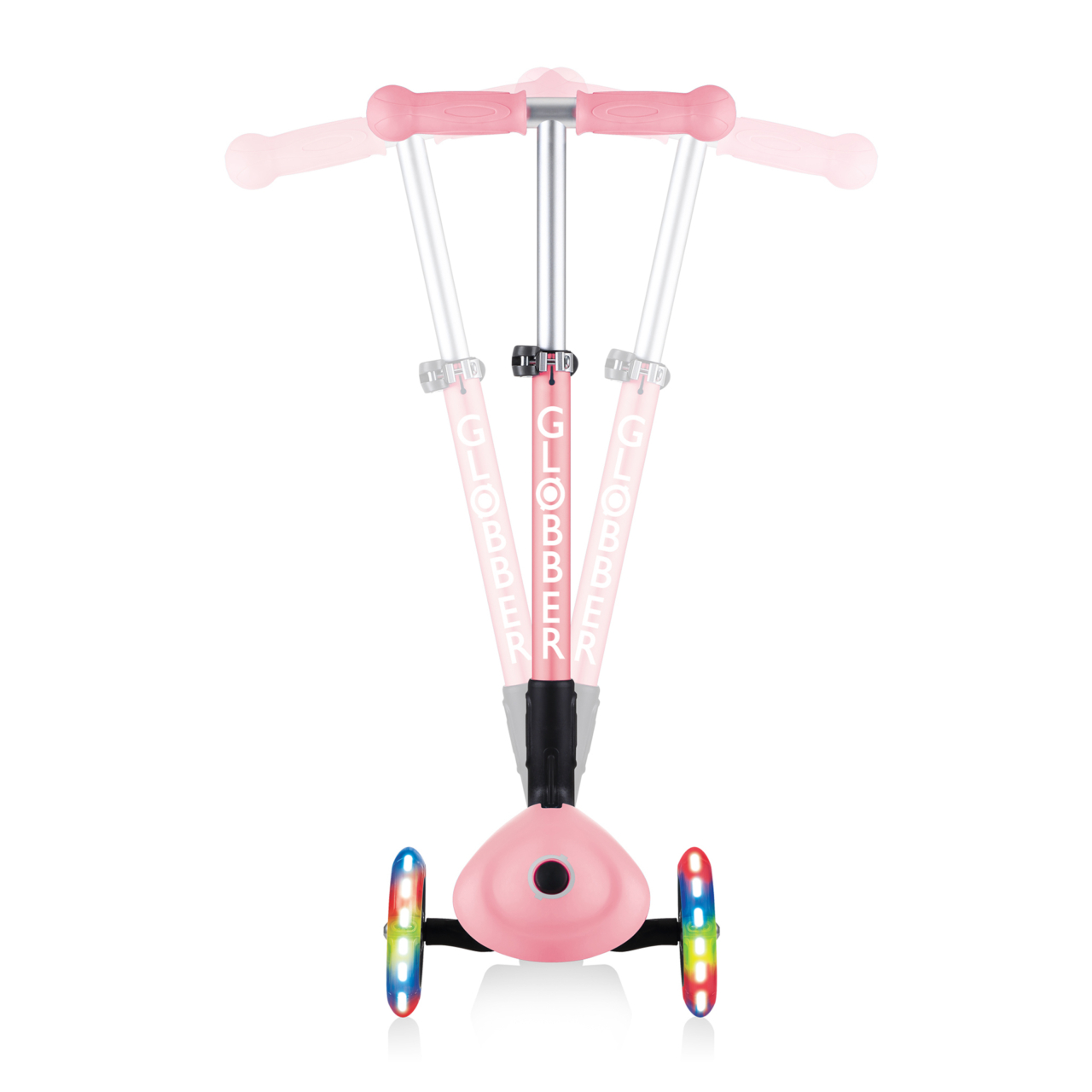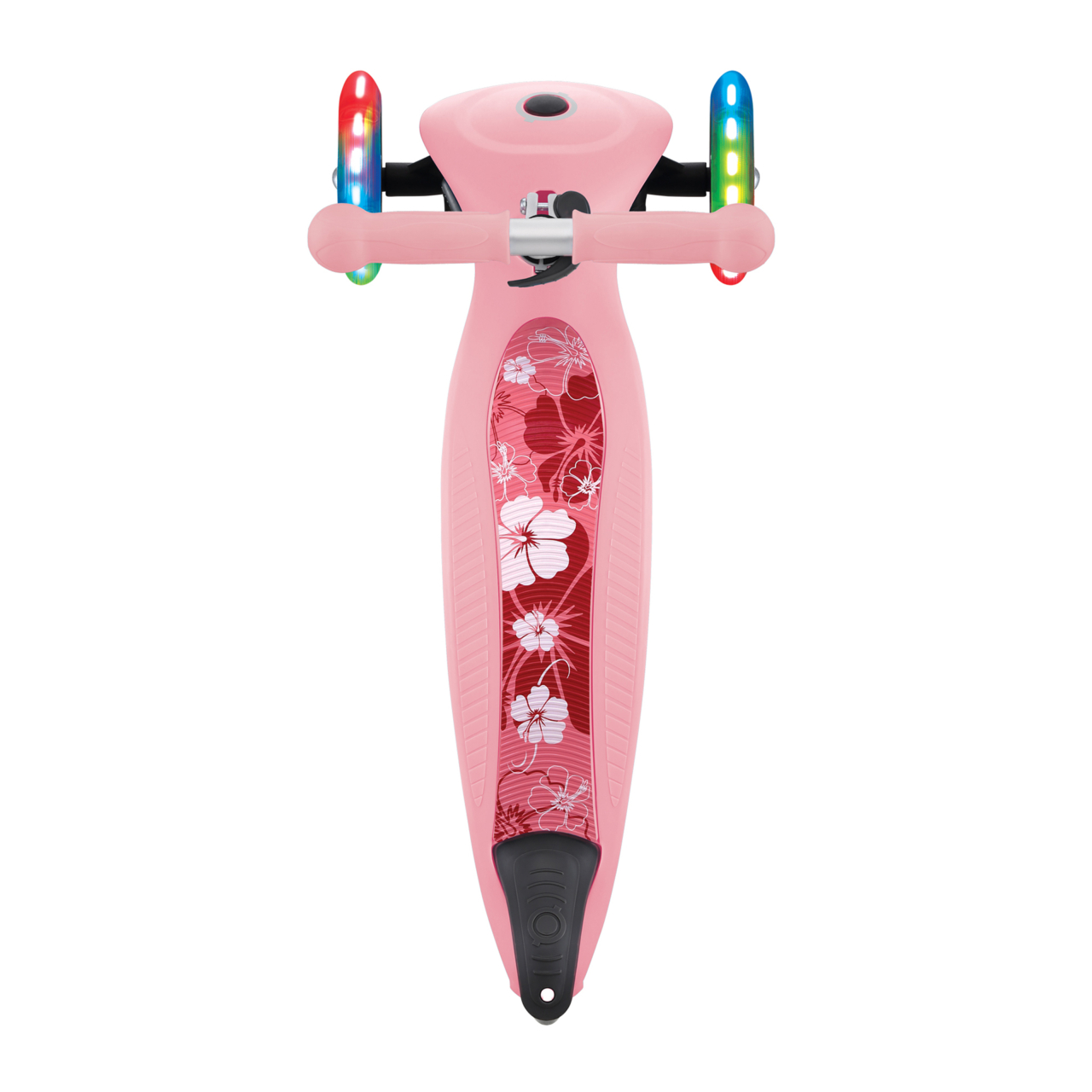 JUNIOR FOLDABLE FANTASY LIGHTS
Scoot with unlimited patterns and colours!
Toddler scooter with LED lights (aged 2+)
| | |
| --- | --- |
| Product type | 3-wheel scooter |
| Color | Mint, Navy Blue, Neon Pink |
| Age range | 2Y-6Y+ |
| Recommended user height | 85-110cm |
| Max user weight | 50kg |
| Foldable | Yes |
| Adjustable | Yes |
| T-bar heights | 54, 61 & 68cm (from the ground) |
| Product weight (net) | 2.46kg |
| Deck material | Composite (PP + fiber) + metal frame |
| Deck size | W 12.5cm x L 54.5cm |
| Brakes | Mechanical rear brake (composite) |
| Wheels size | 121mm (24mm wide) front, 80mm (24mm wide) rear |
| Wheels material | High-rebound PU-casted |
All Globber items purchased are guaranteed against manufacturing defects for a period of 2 years from the date of purchase. E-scooter batteries are covered by a 1-year warranty from the date of purchase. Wear & tear items, including but not limited to wheels, bearings, grip tape, handlebar grips & 2-wheel rear brakes are excluded from our 2-year warranty.
Product Details
Patterns, patterns, patterns. Scooting with JUNIOR FOLDABLE FANTASY LIGHTS makes all the world more funky, fun, and colourful! Designed with toddlers in mind, this toddler scooter with LED lights is packed with all the essential features of our signature 3-wheel kids' scooter: cool scooter deck patterns and colours, a patented steering lock and folding system with a push button, an adjustable T-bar redesigned to fit 2-year-olds, and battery-free LED light-up front wheels for toddlers to join in on the scooter fun!
Battery-free light-up wheels
Patented steering lock system
3-height adjustable T-bar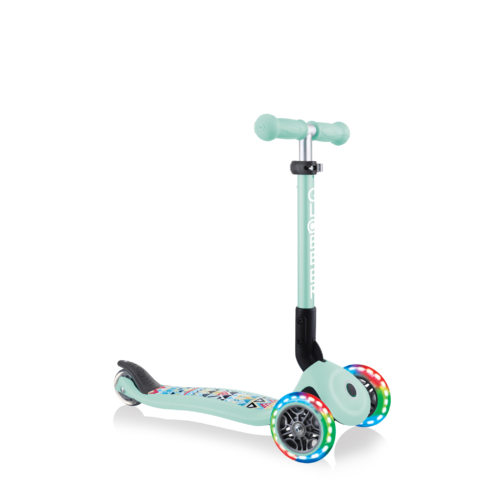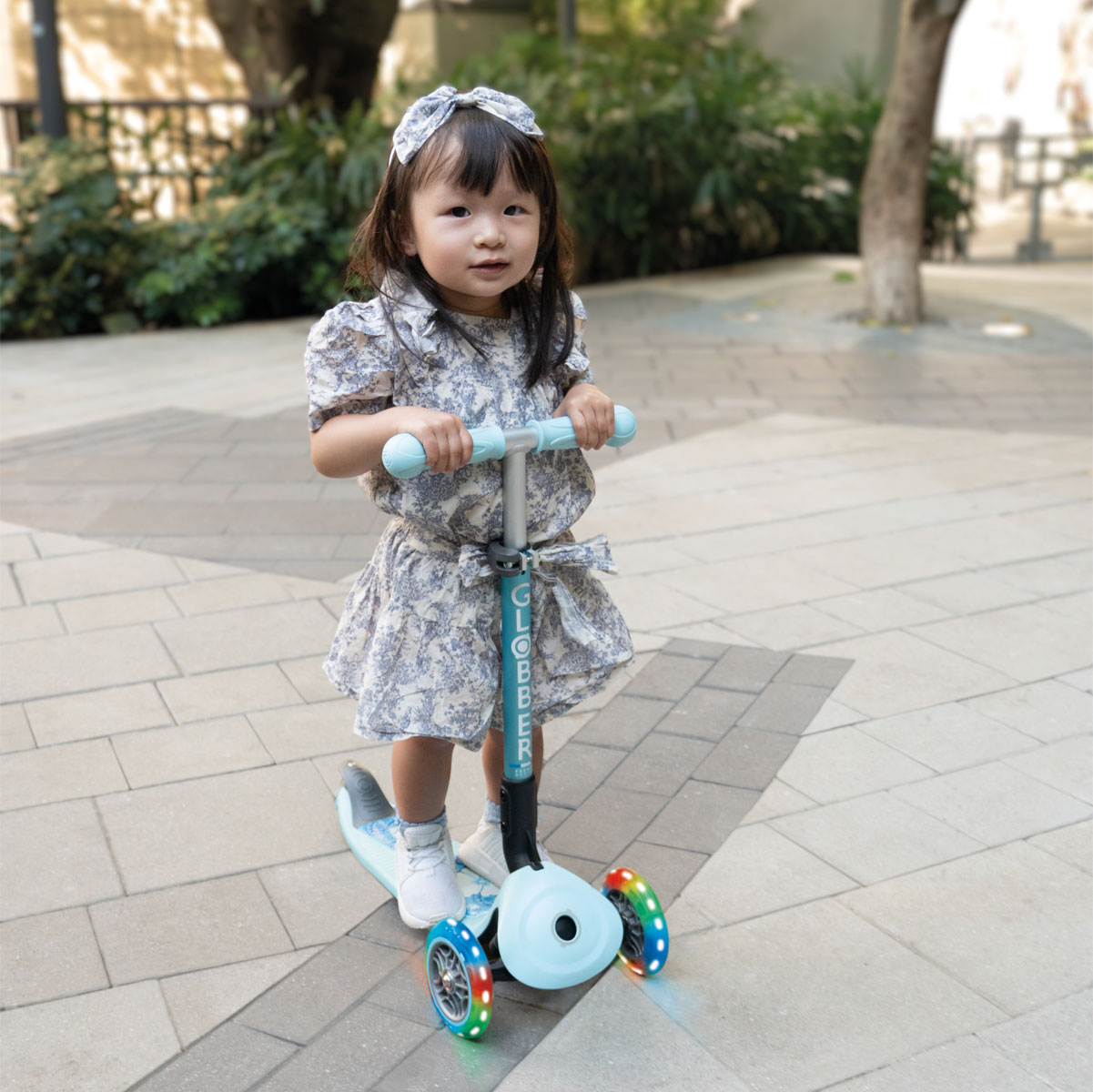 Durable, Patterned Scooter Deck
Let your child's imagination run wild while scooting on this toddler scooter with LED lights! JUNIOR FOLDABLE FANTASY LIGHTS has a range of Globber-exclusive pattern designs available from racing and tribal themes to some flower power in different colours! Fun scooter deck designs await, and with so much choice, you'll easily find the best 3-wheel toddler scooter with LED lights!
Patented Steering Lock System
Teach those little feet to balance on a scooter at your toddler's pace. JUNIOR FOLDABLE FANTASY LIGHTS has a patented steering lock system exclusive to Globber: The front wheels are fixed in a vertical to-and-fro movement, allowing your child to practice balance and gain confidence in scooting. Once they're ready to ride, simply release the steering lock button so they can start turning the wheel and scoot on their own!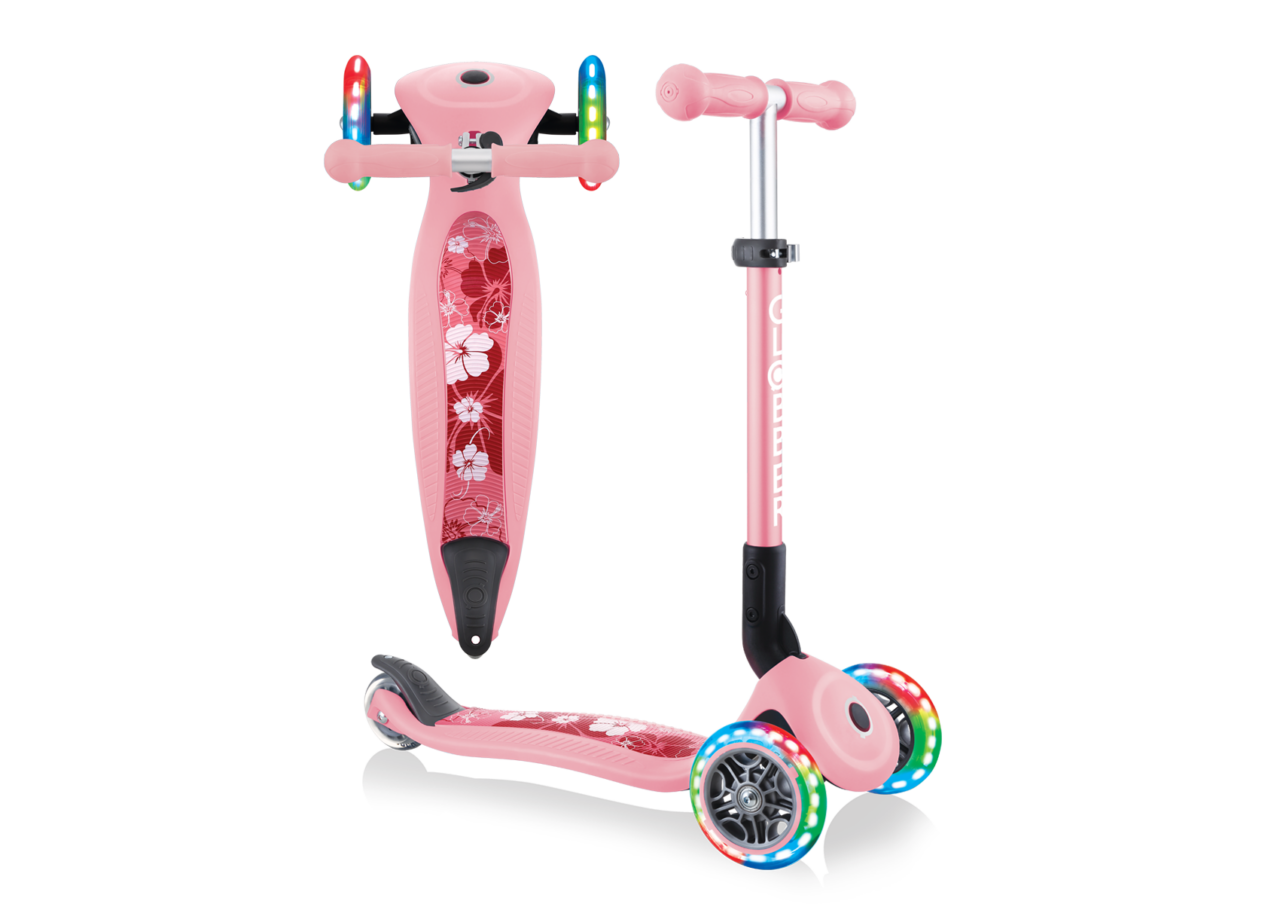 Patented Folding System
Easily fold, carry, and store your JUNIOR FOLDABLE FANTASY LIGHTS toddler scooter with LED lights anywhere and everywhere! Equipped with a patented folding system, effortlessly fold this 3-wheel light-up scooter into trolley mode for you or your toddler to roll home after a fun scooting day.
Battery-Free LED Light-Up Wheels
Have fun with colours and lights when you scoot around the driveway! JUNIOR FOLDABLE FANTASY LIGHTS comes with LED light-up front wheels that flash in blue, green, and red for a colourful ride all day long. No batteries are ever needed thanks to dynamo lighting—it runs purely on the kinetic energy produced by your scooting power which means it's totally battery-free!
3-Height Adjustable T-bar
Little ones can comfortably ride on a 3-wheel ride tailored just for them—JUNIOR FOLDABLE FANTASY LIGHTS toddler scooter with LED lights is equipped with a 3-height adjustable aluminium T-bar (54cm, 61cm, or 68cm) for a comfy scooting experience.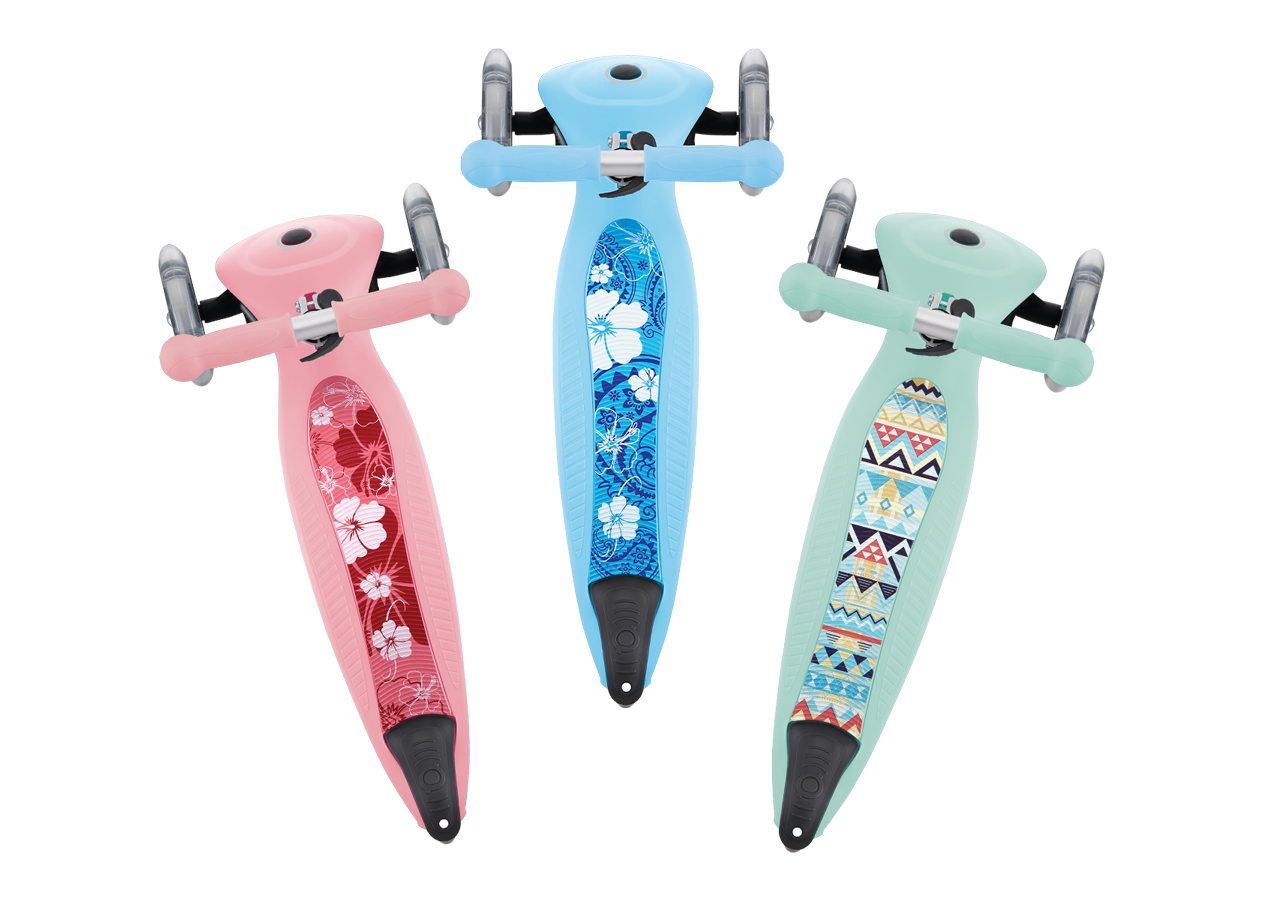 Product Features
Patented folding system with a safe push-button that folds the toddler scooter with LED lights into trolley mode. Conveniently carry, roll, or store it away after playtime!
3-wheel toddler scooter with LED lights that comes with a redesigned 3-height adjustable scooter T-bar with comfortable TPR grips to accommodate smaller kids aged 2+ (54cm, 61cm, and 68cm from the ground)
Patented steering lock button which fixes the steering system of the two front wheels to only move forward and backward, helping kids learn to balance. Unlock the button to enable lean-to-steer riding.
Wide toddler scooter deck with an anti-slip, patterned deck design (3 designs available) that supports up to 50kg. Funky patterned toddler scooter deck designs are available in flower, and tribal scooter prints. Its extra-long and wide composite brake delivers efficiency and wheel longevity.
High-quality and high-rebound 80mm PU-casted rear wheel and battery-free LED 121mm front PU-casted wheels that flash in red, green, and blue, for light-up rides that last as long as you can scoot—the faster you go, the brighter you glow!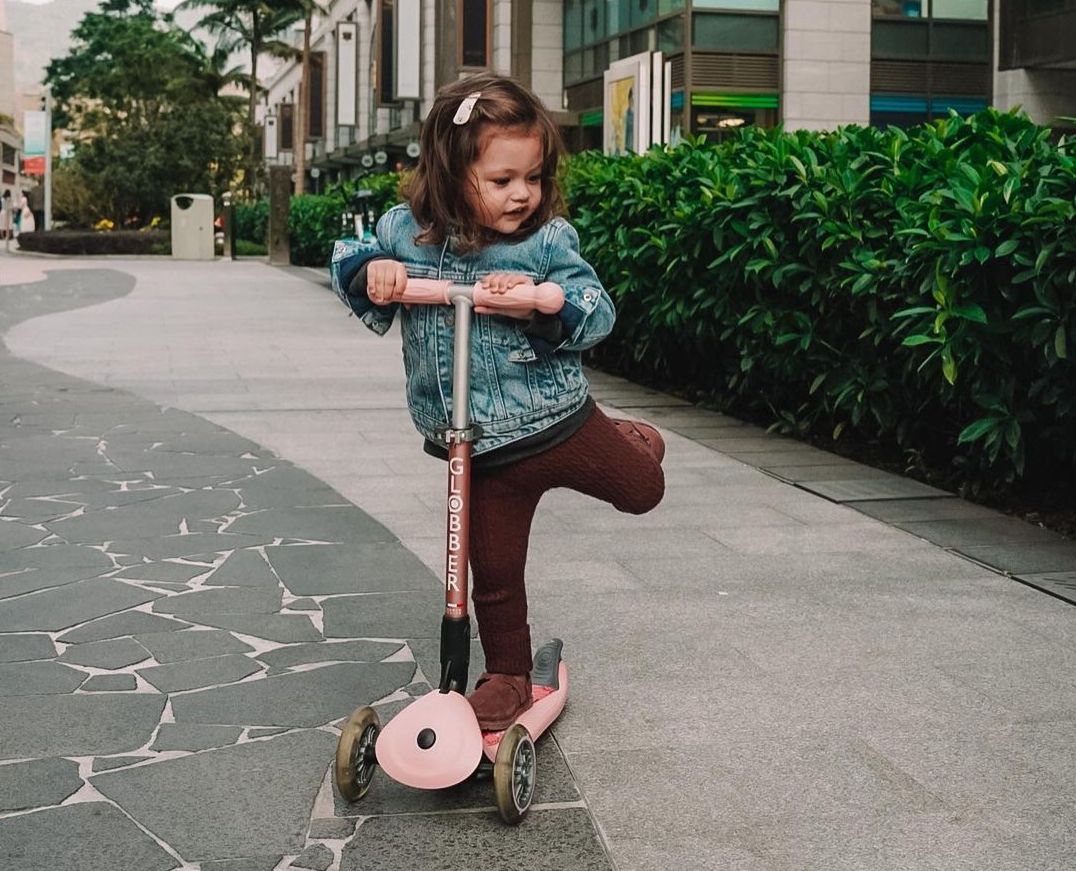 ⭐️ ⭐️ ⭐️ ⭐️ ⭐️ 
"We like the quality material and the smoothness of the wheels. The control is also intuitive and easy for young kids. The coolest part is the lights in the wheels when you go fast!"
You must be to post a review.