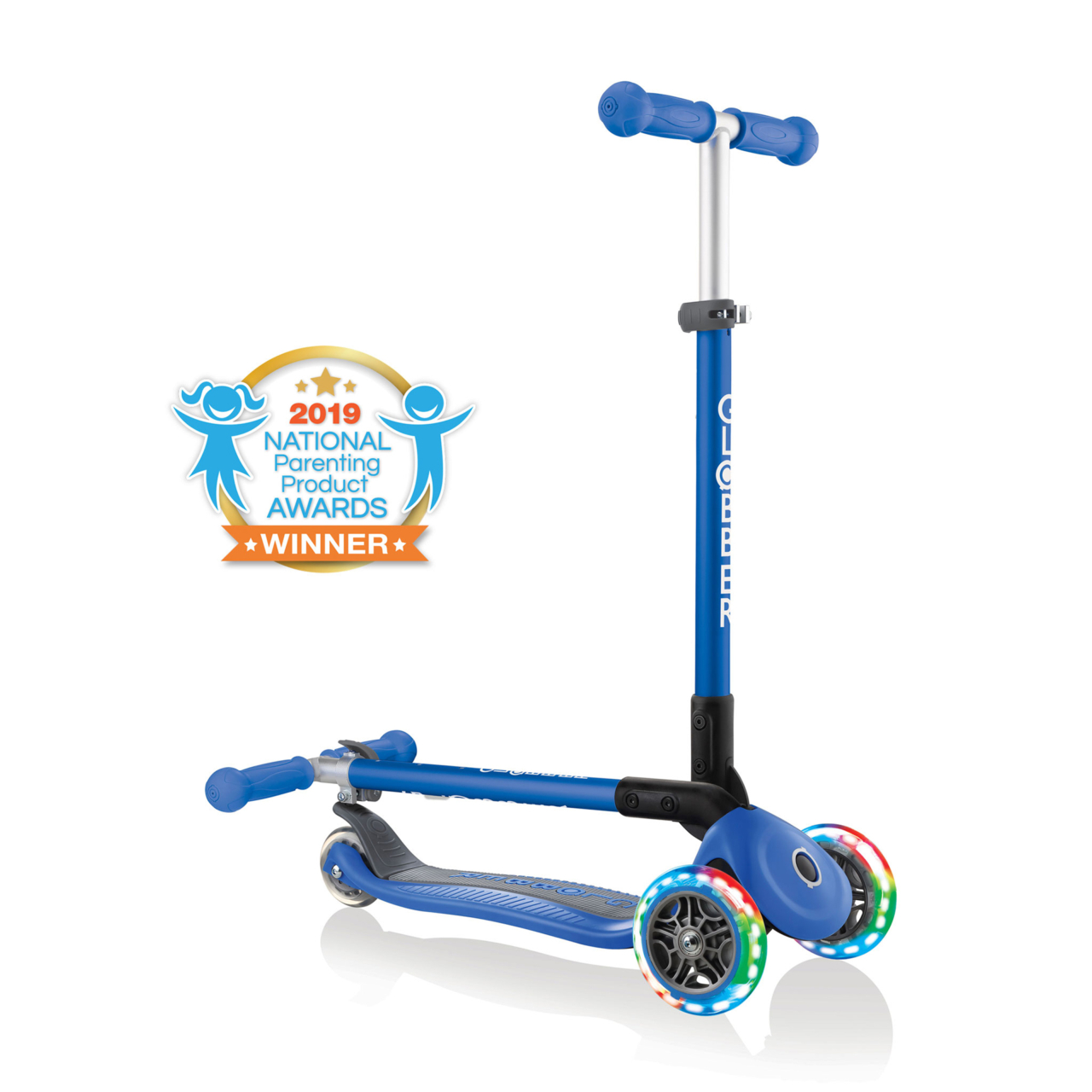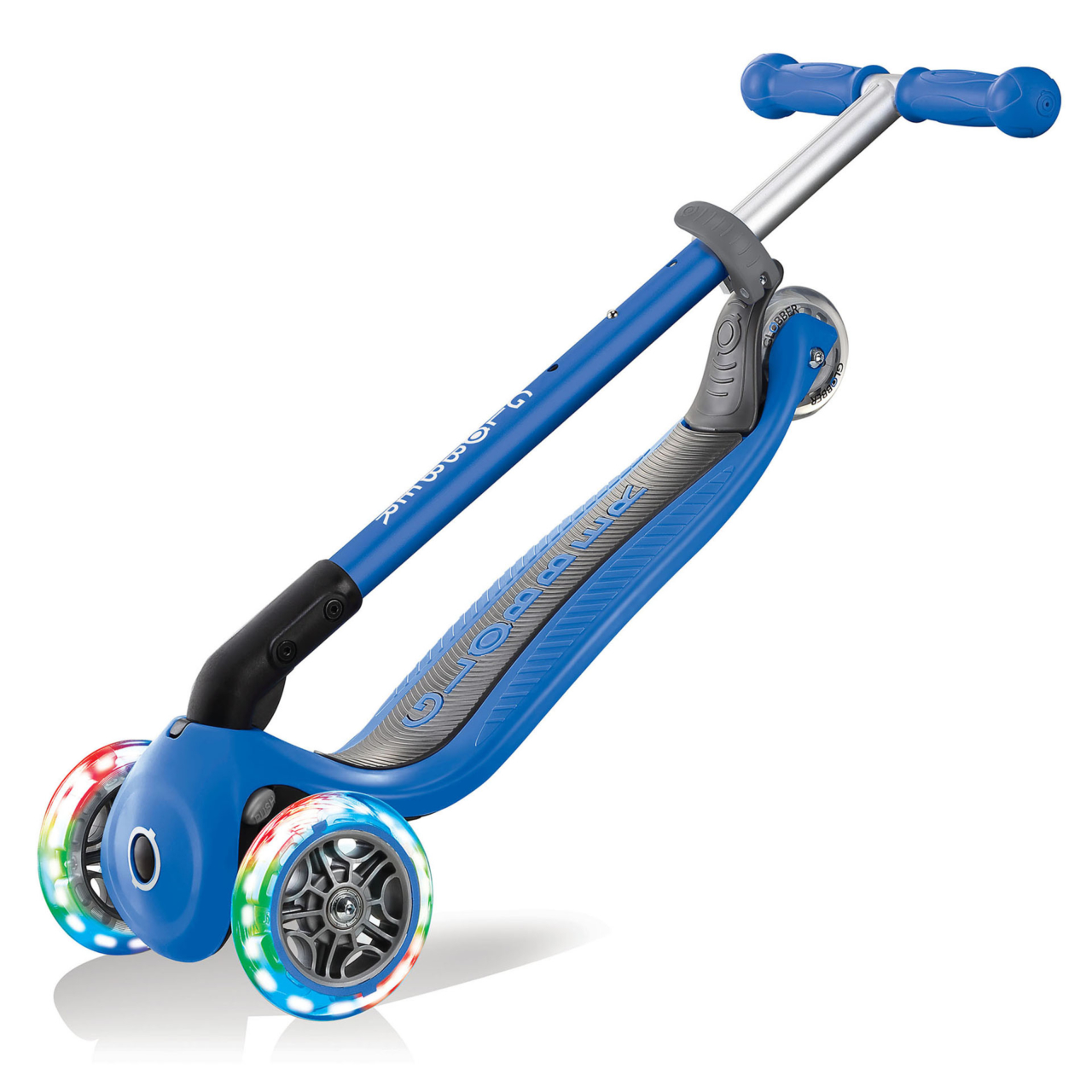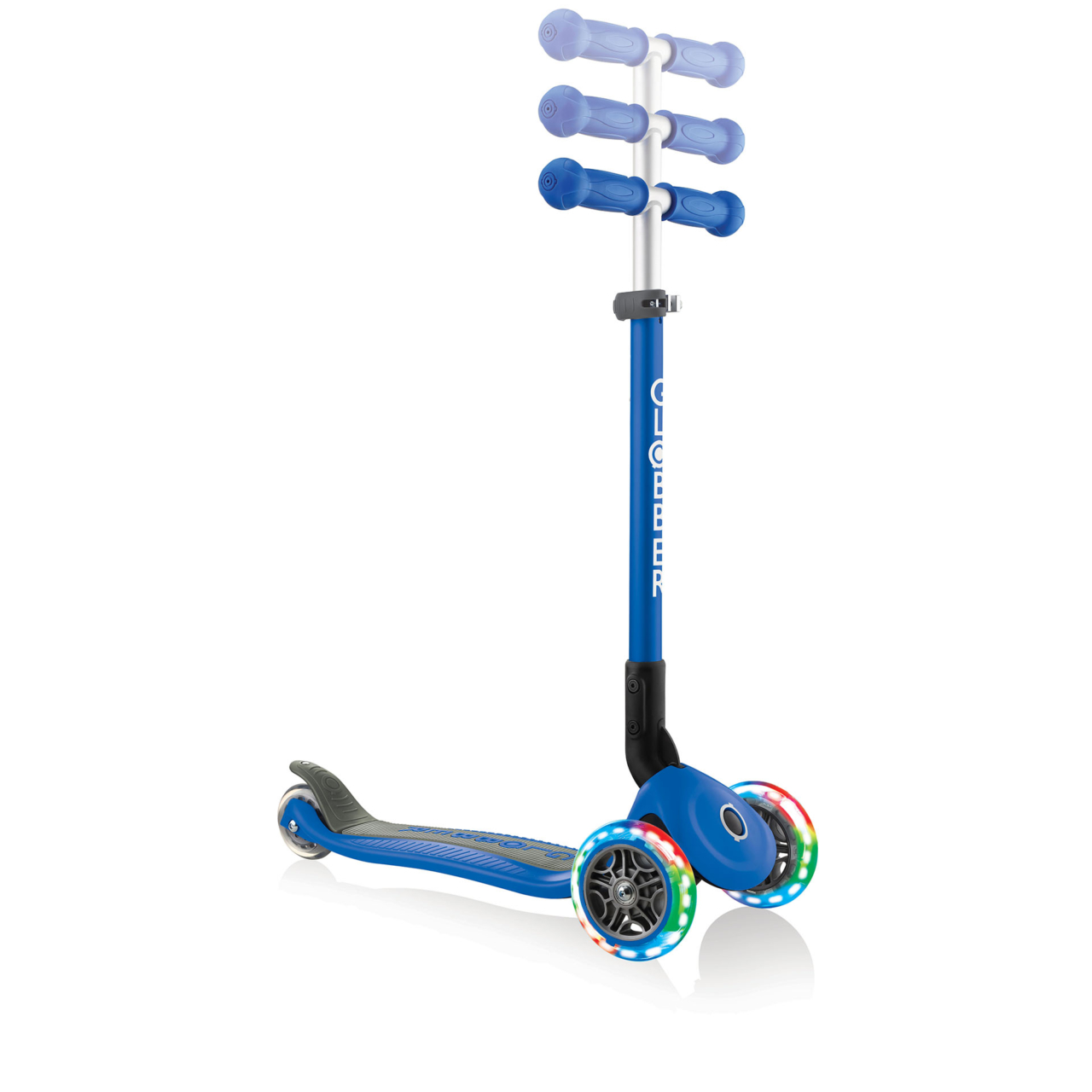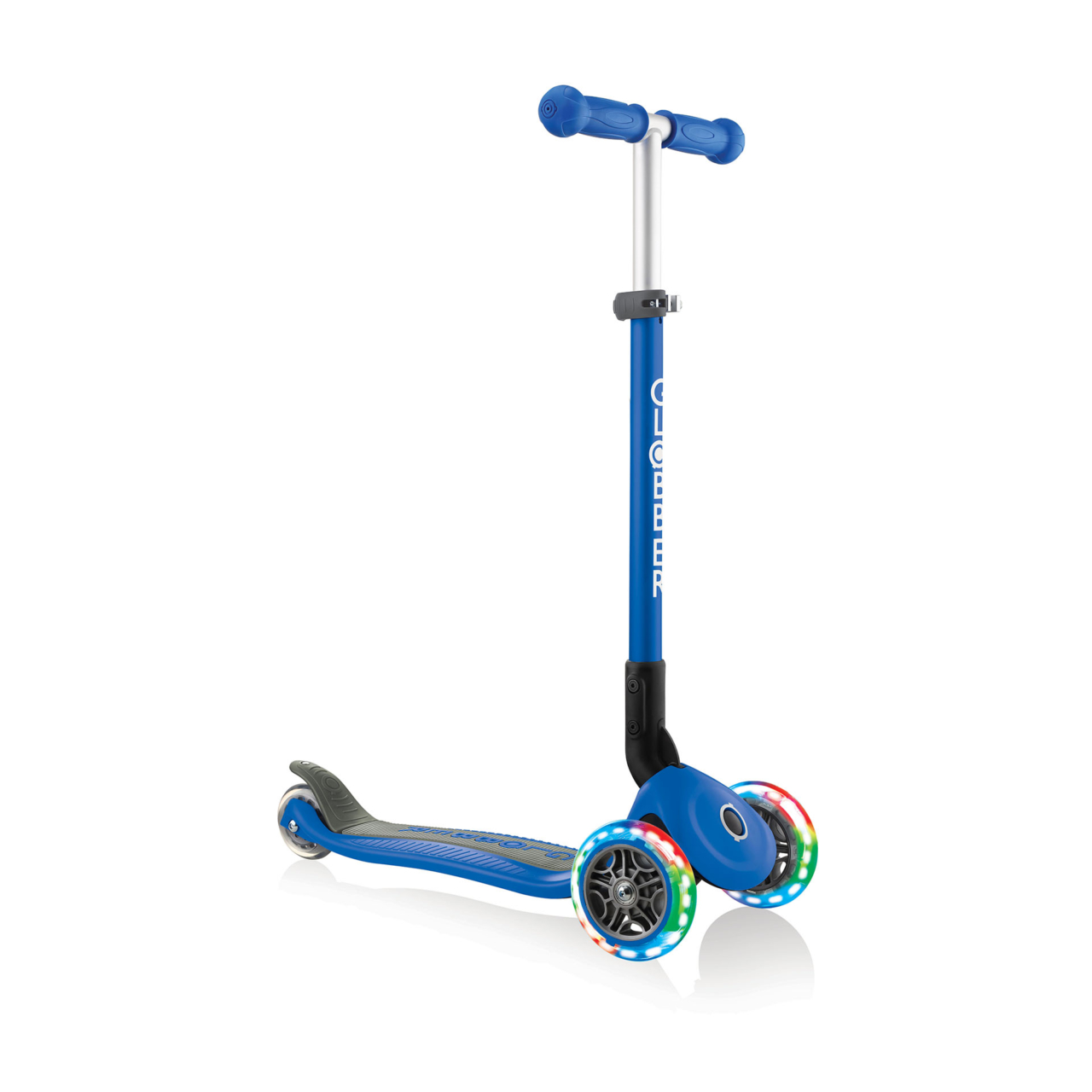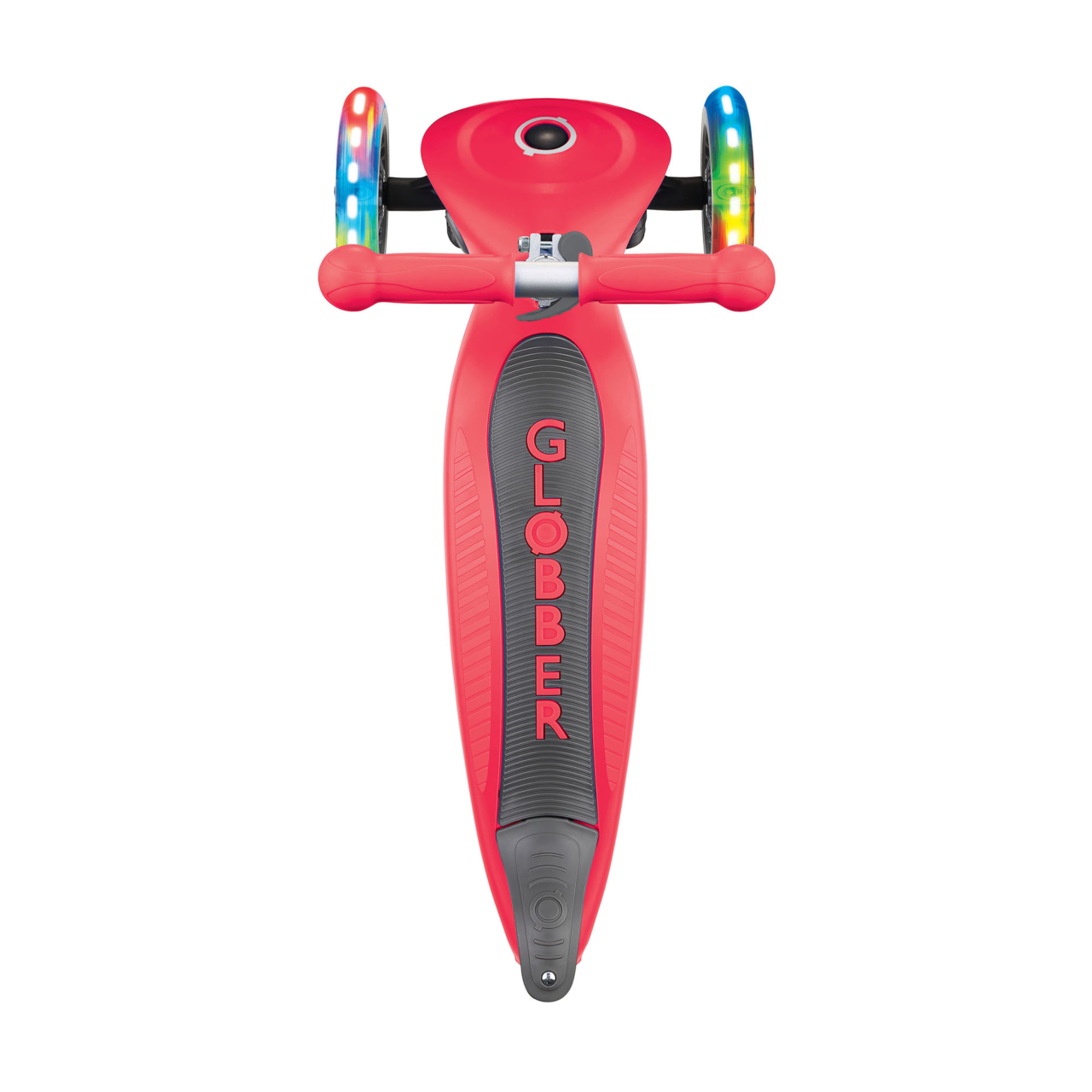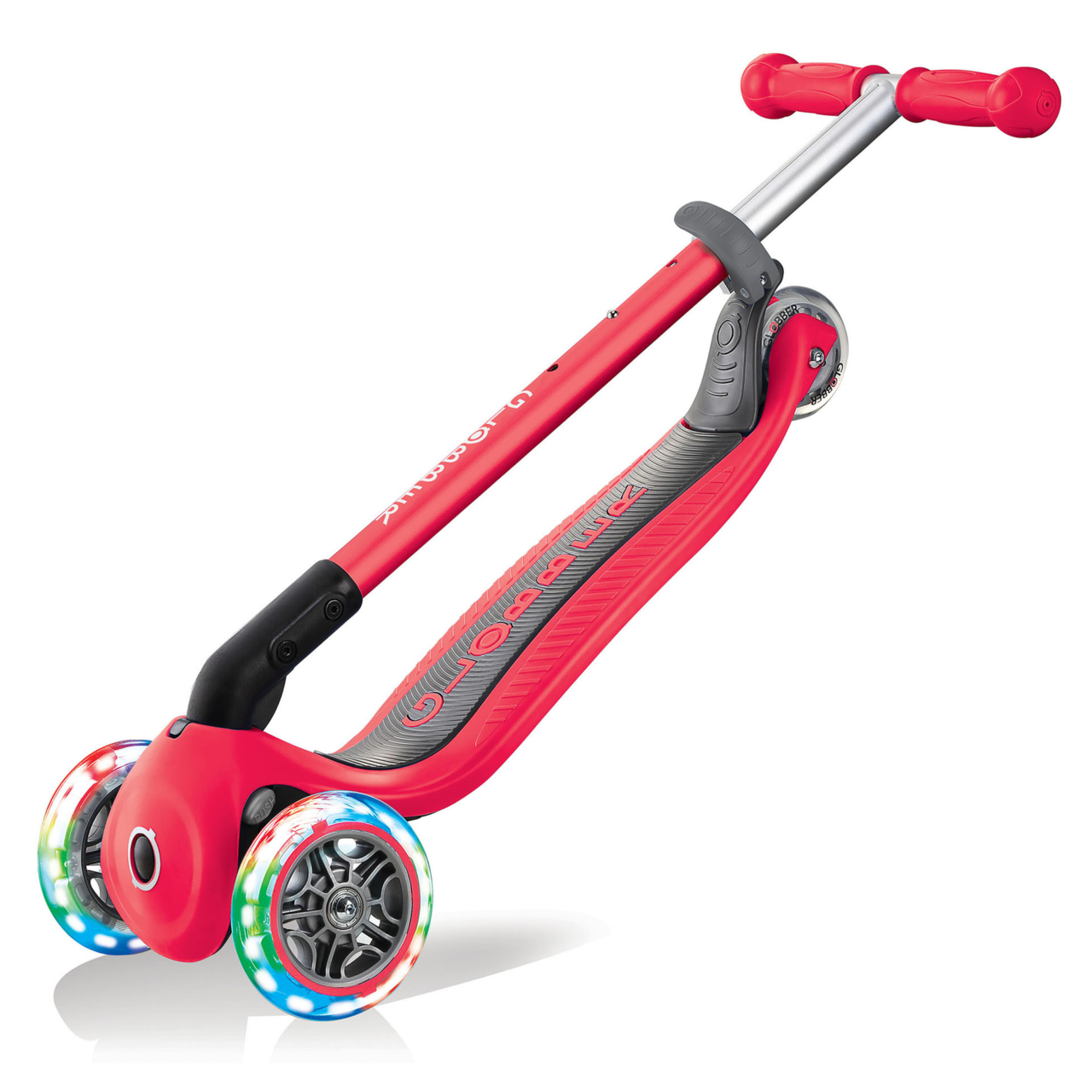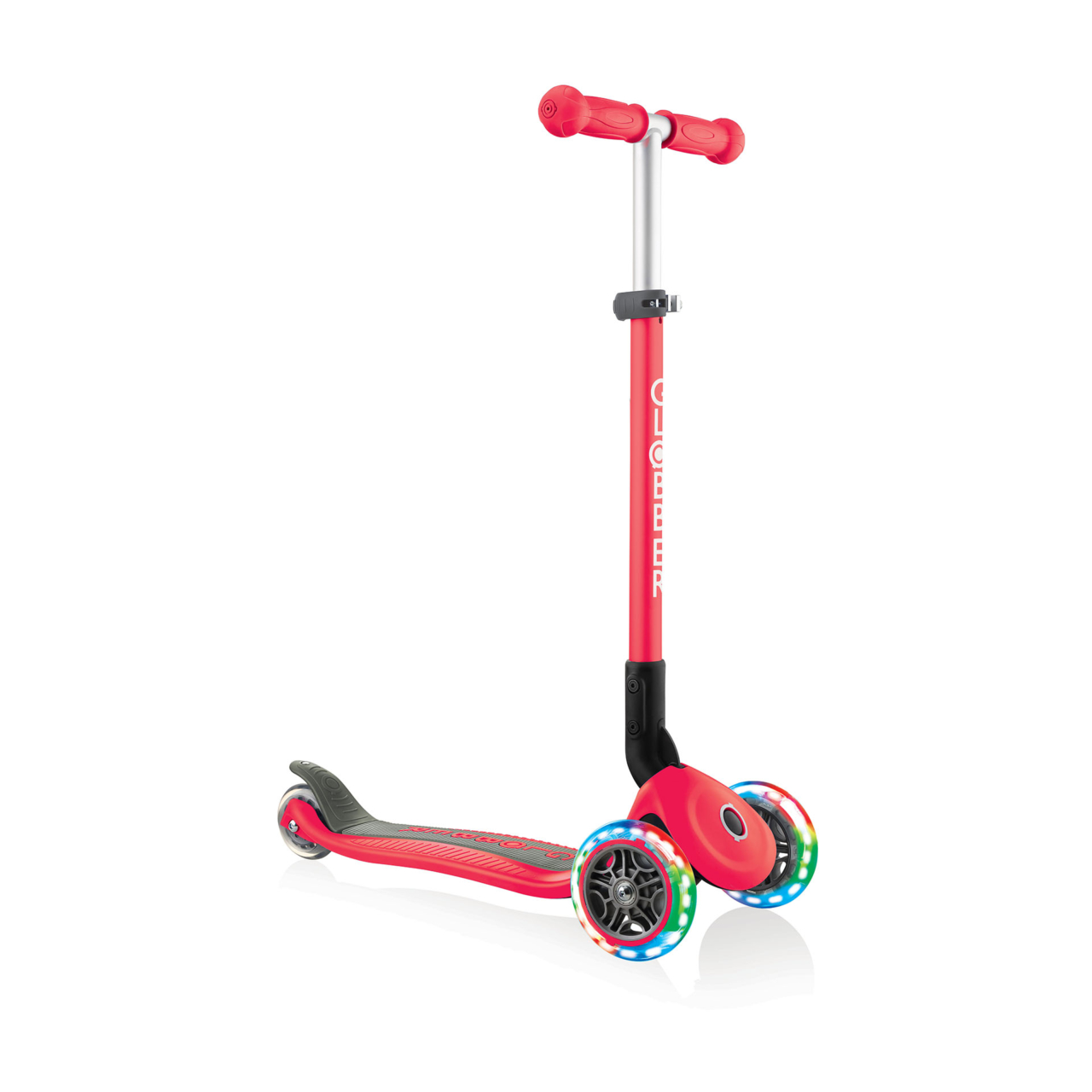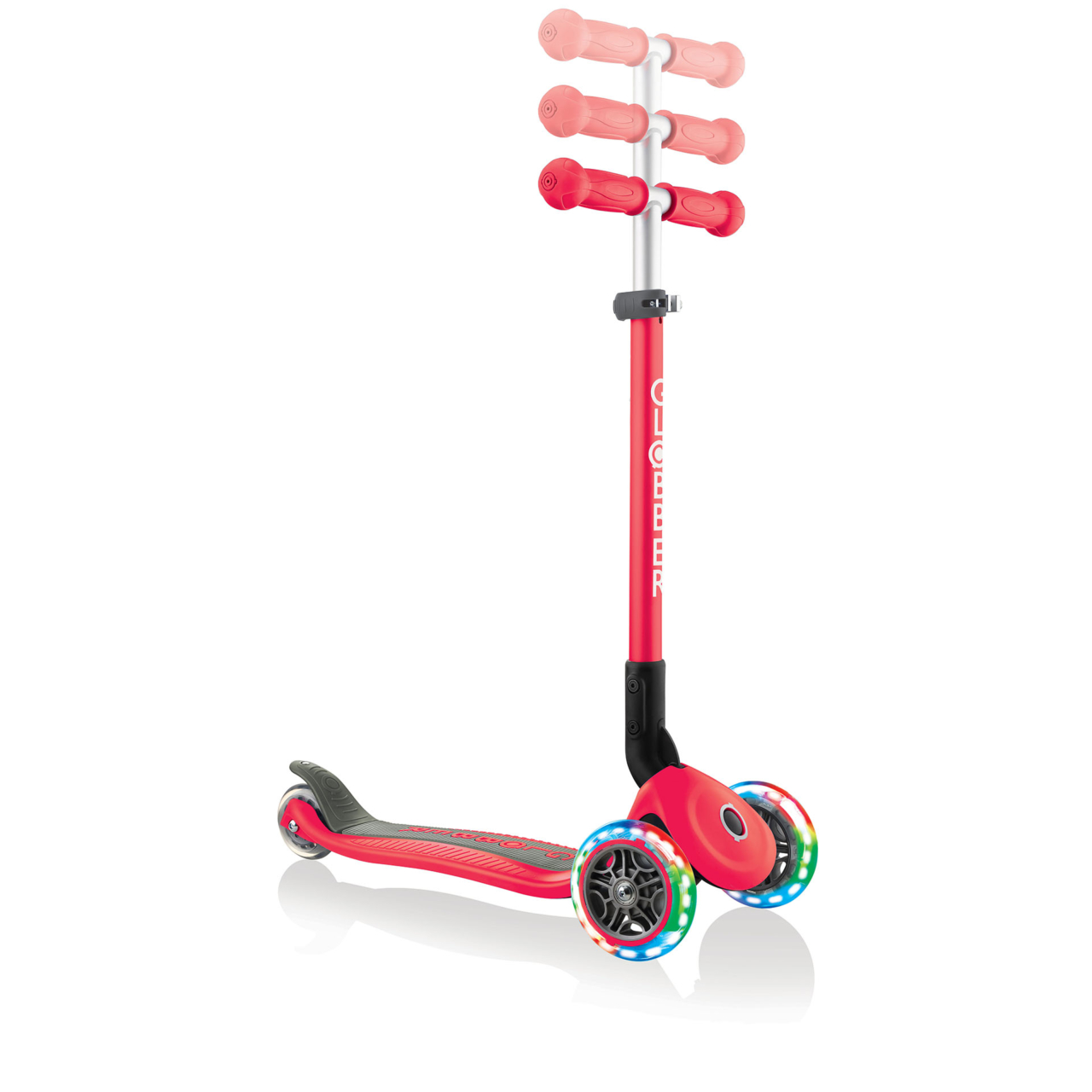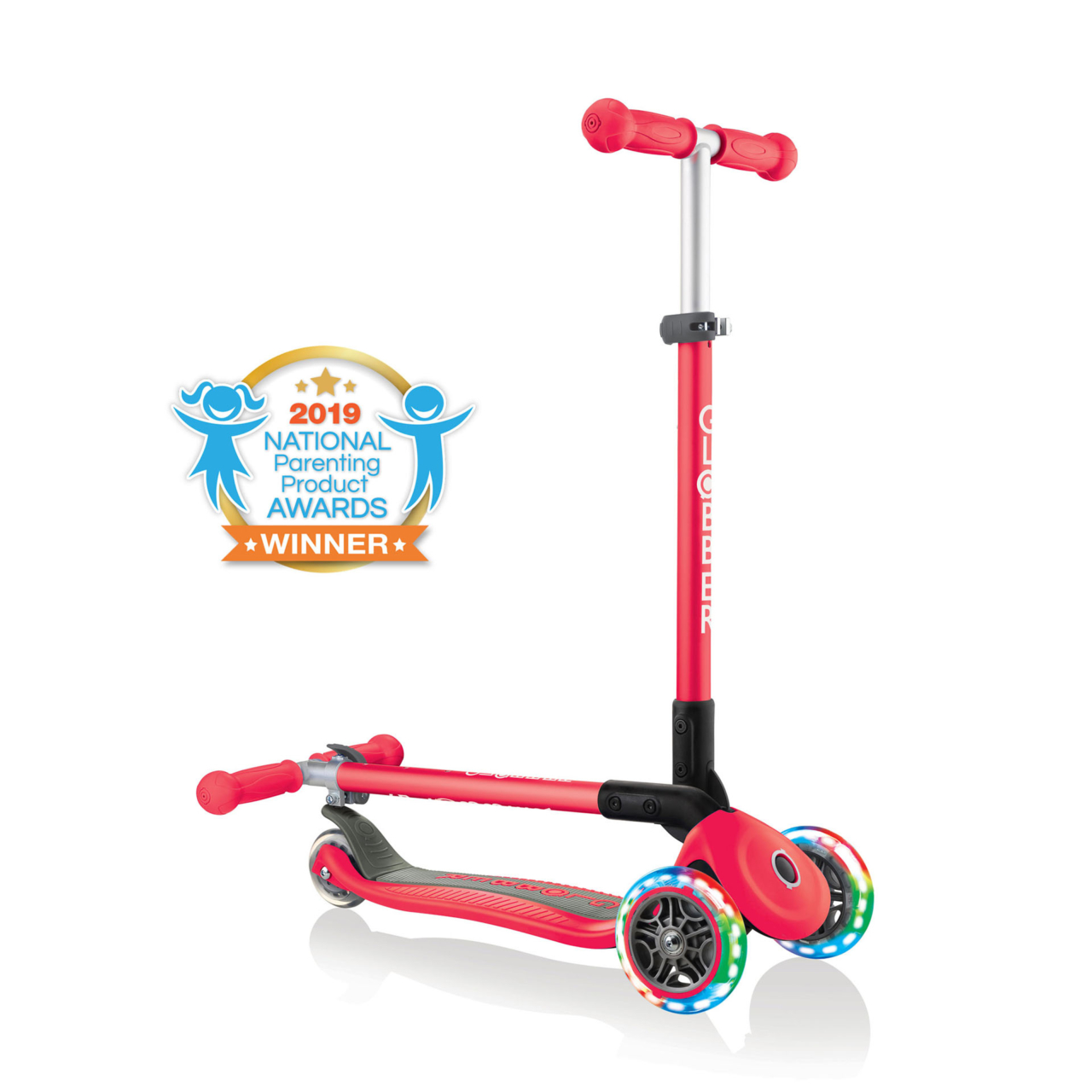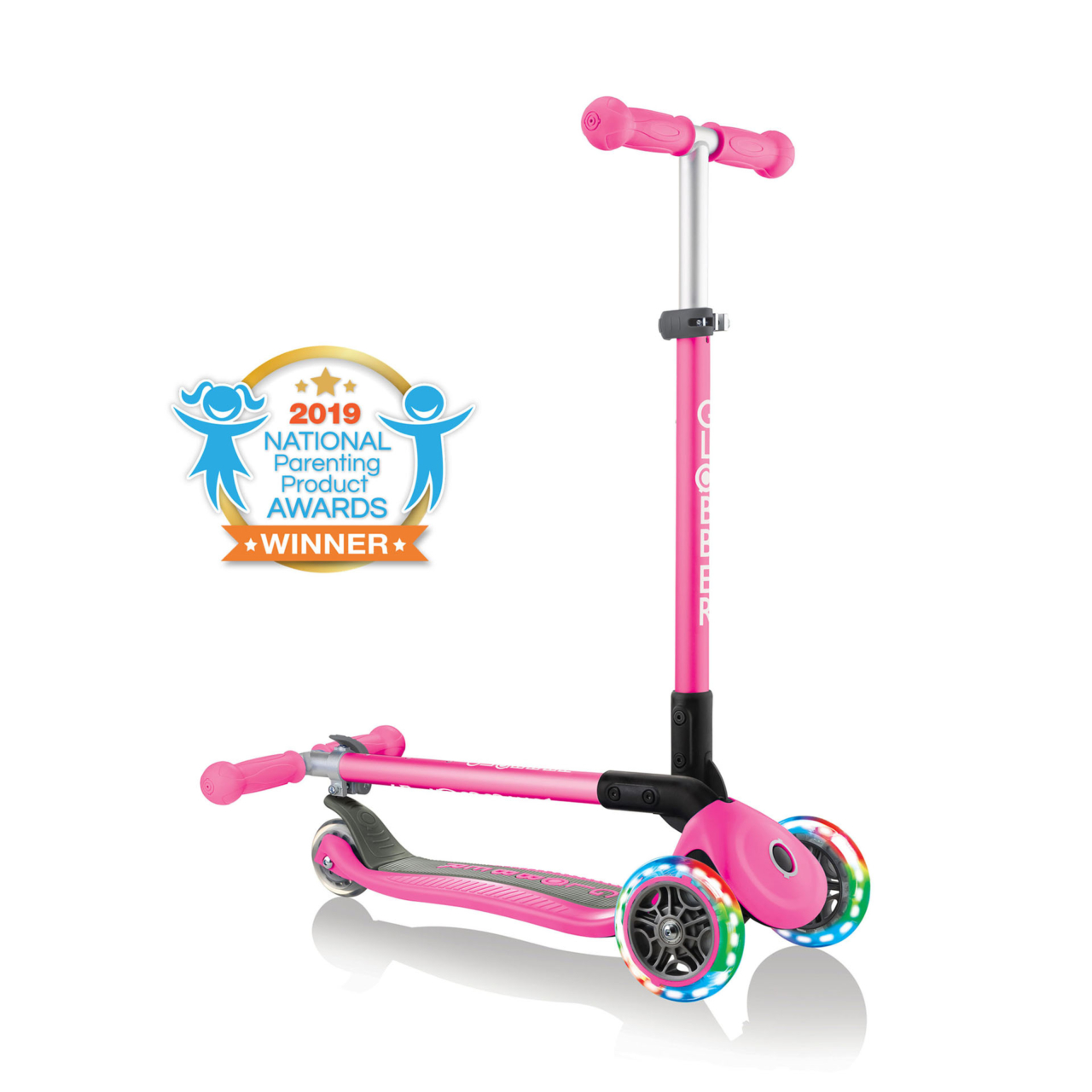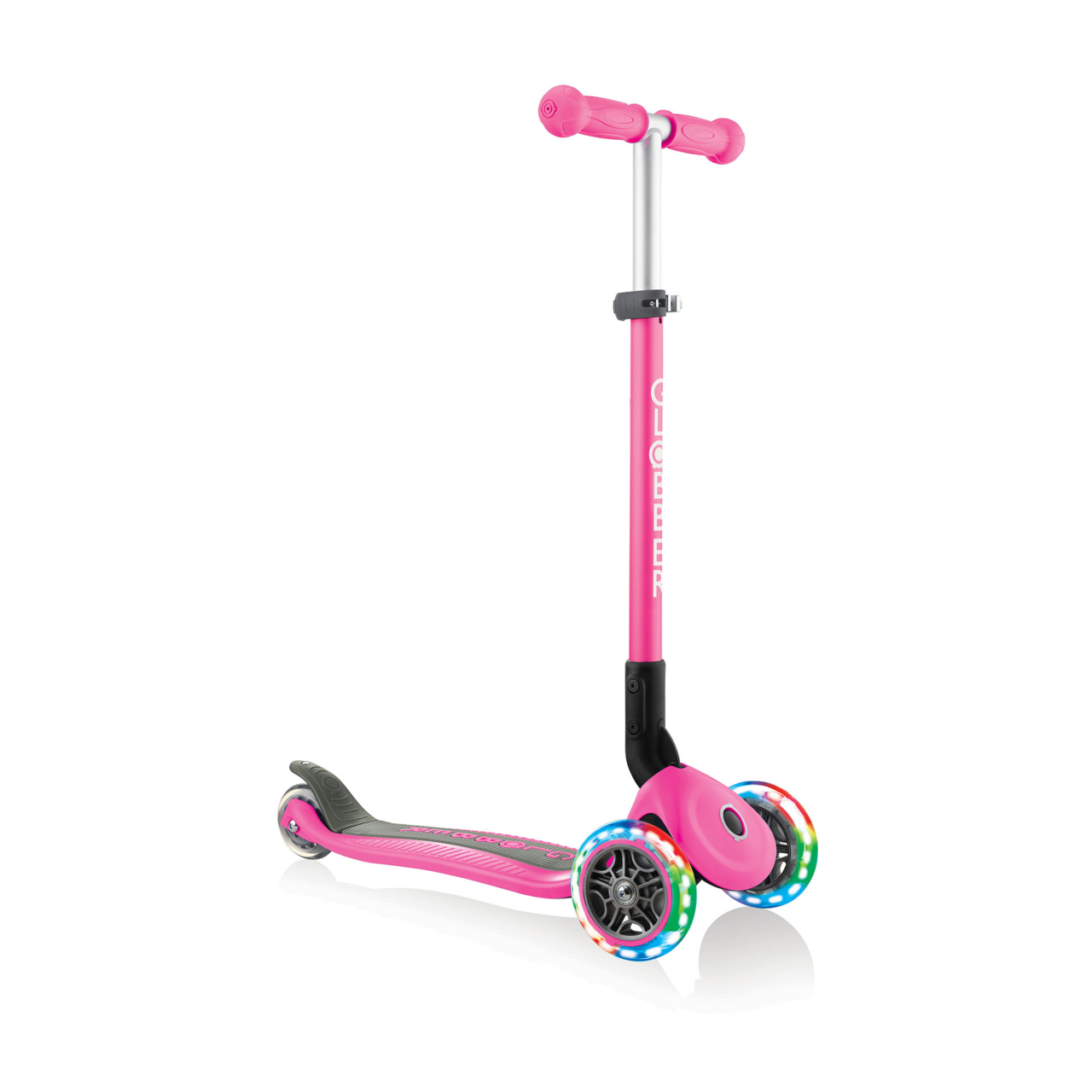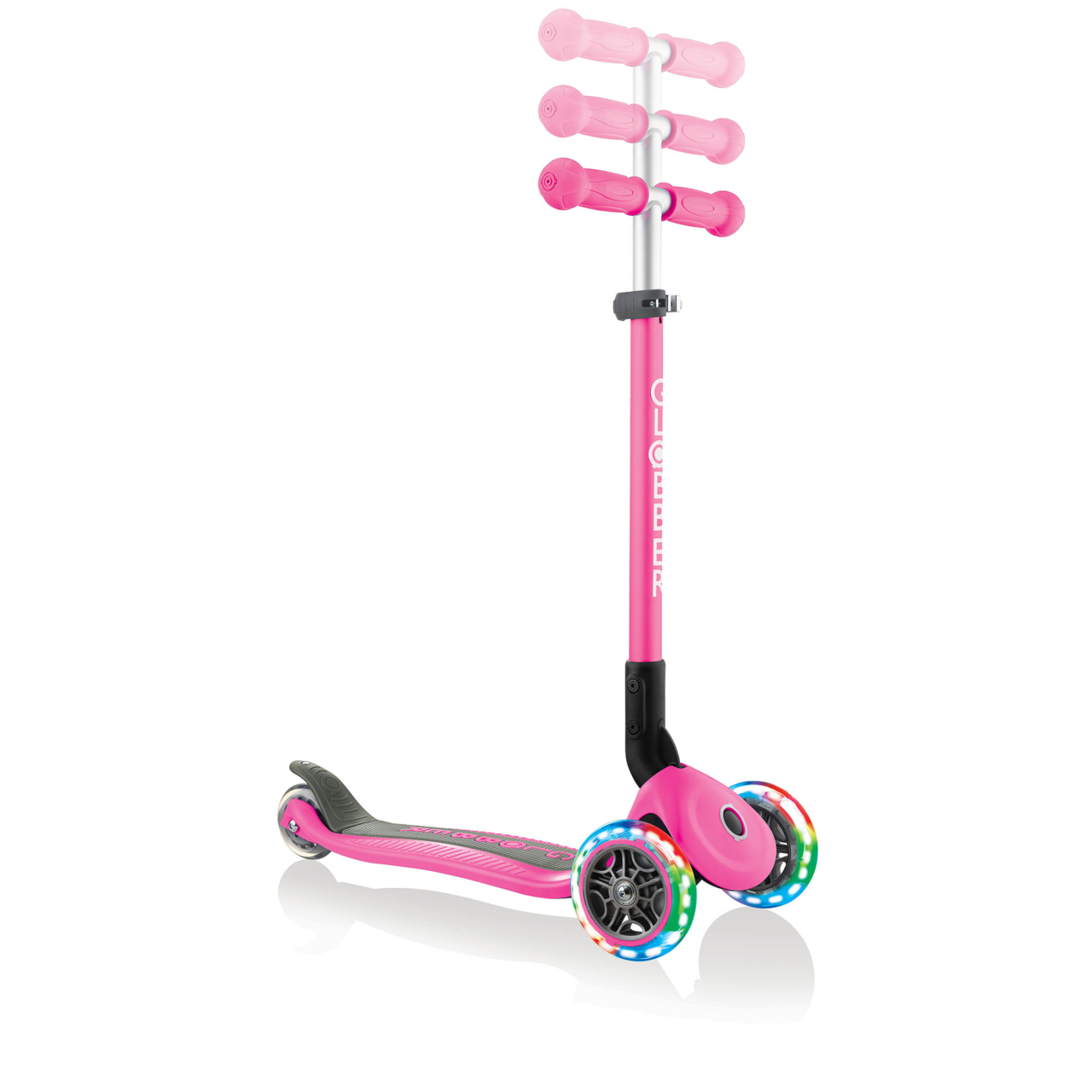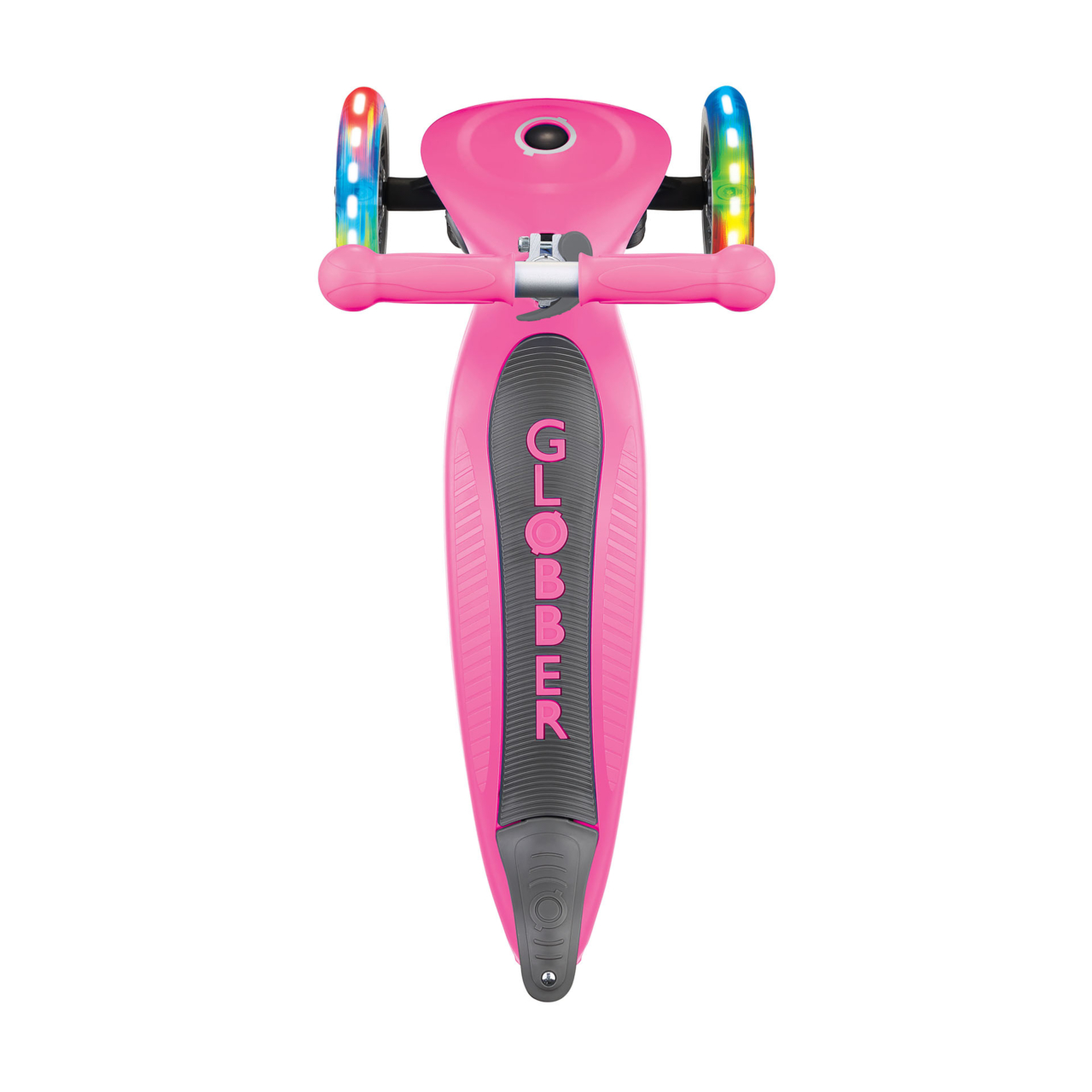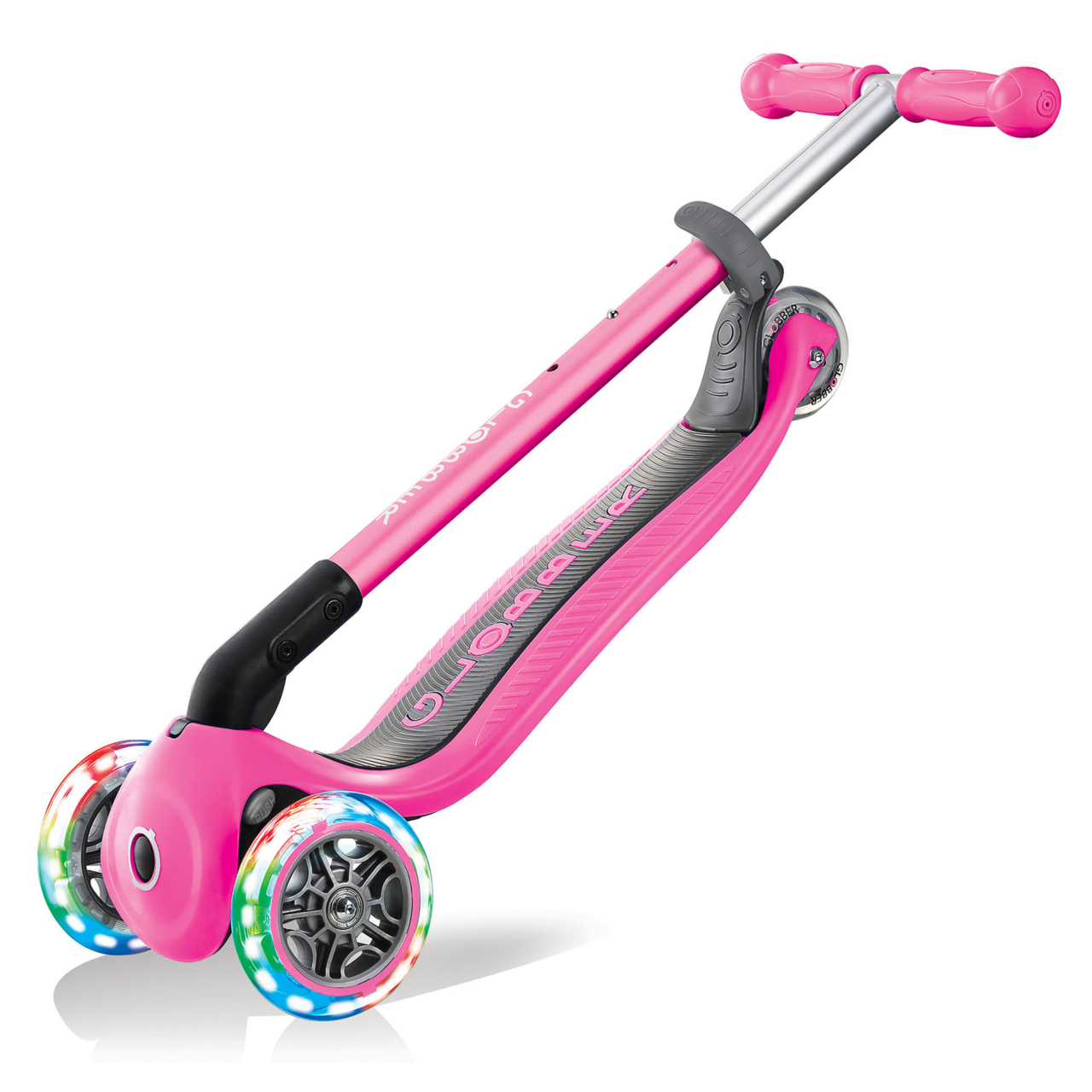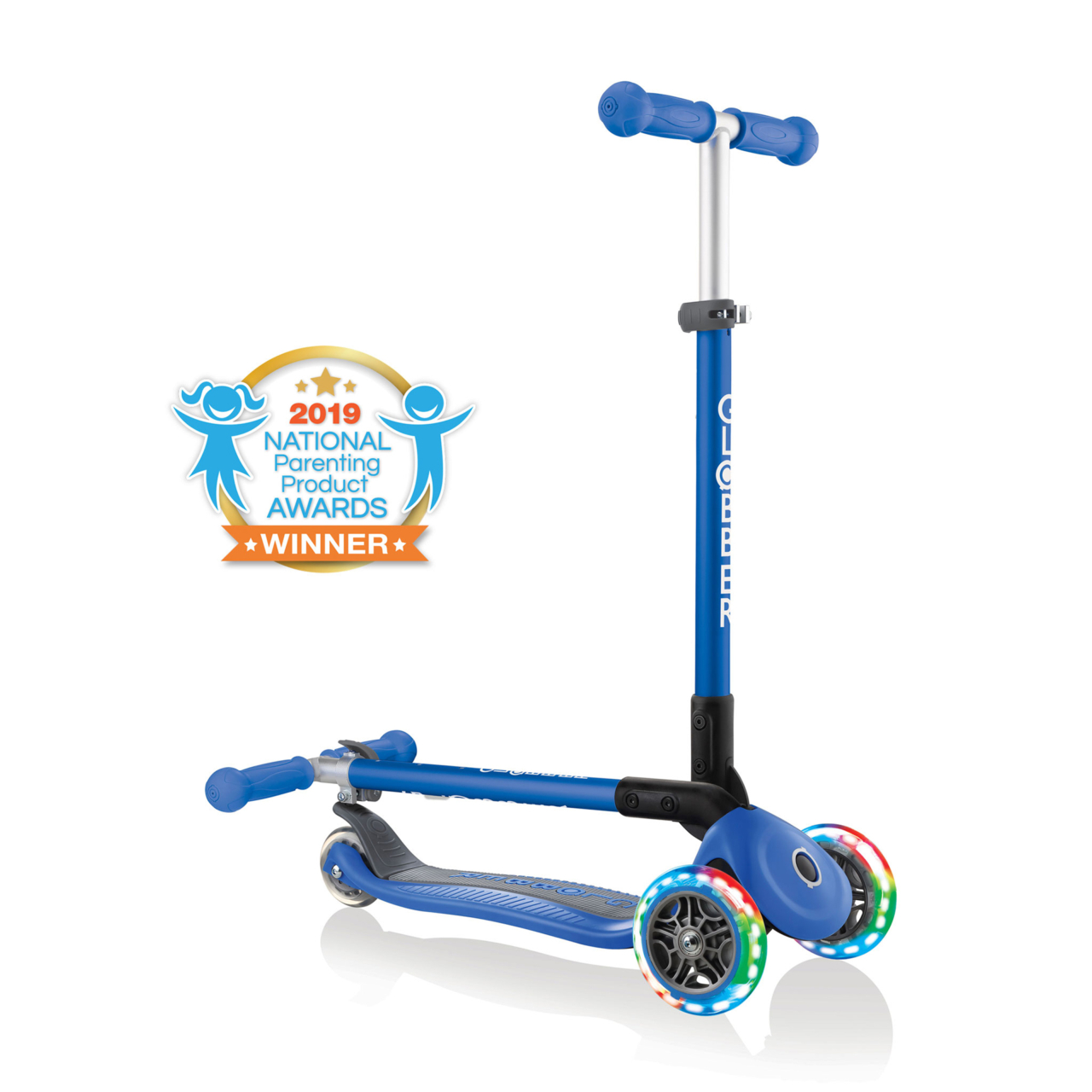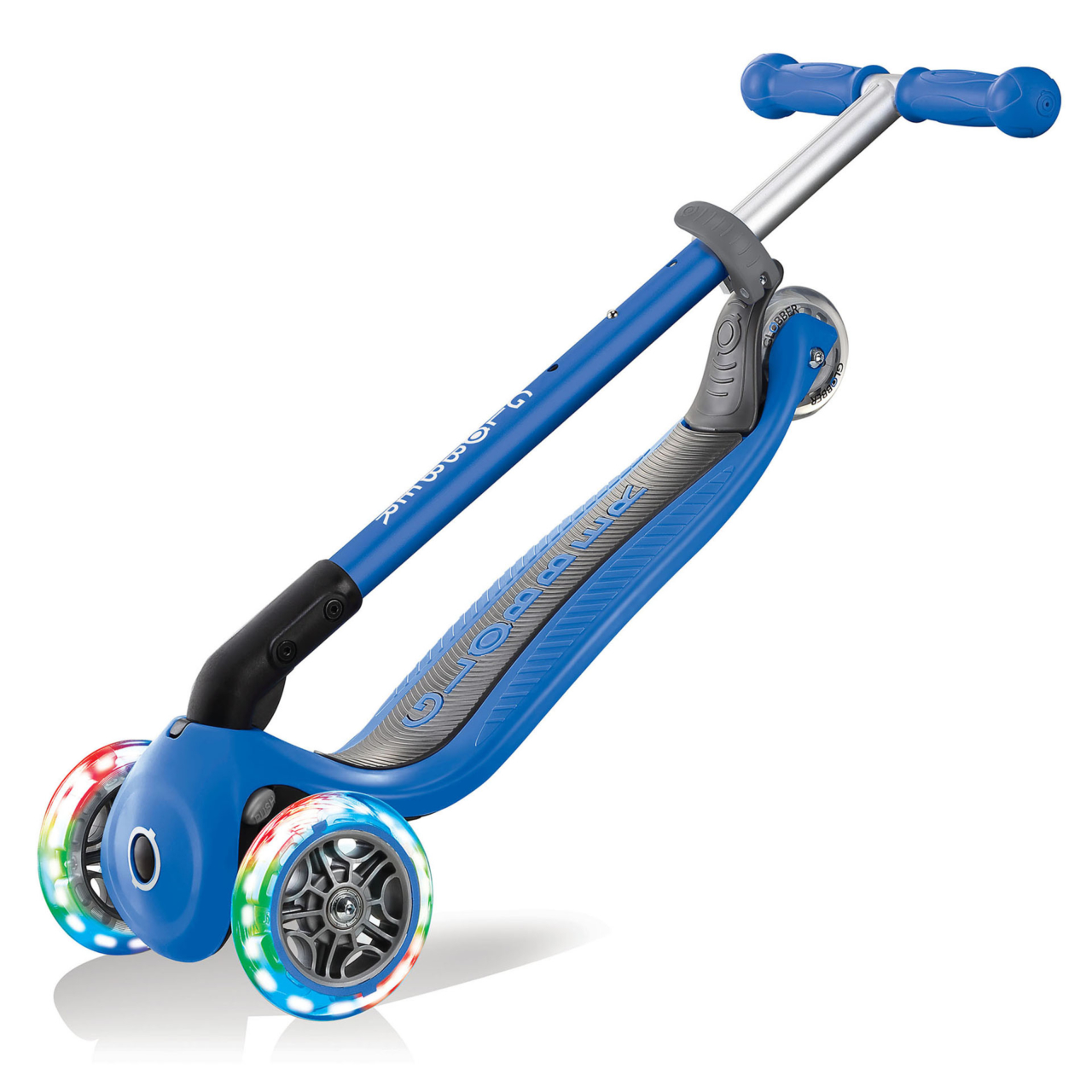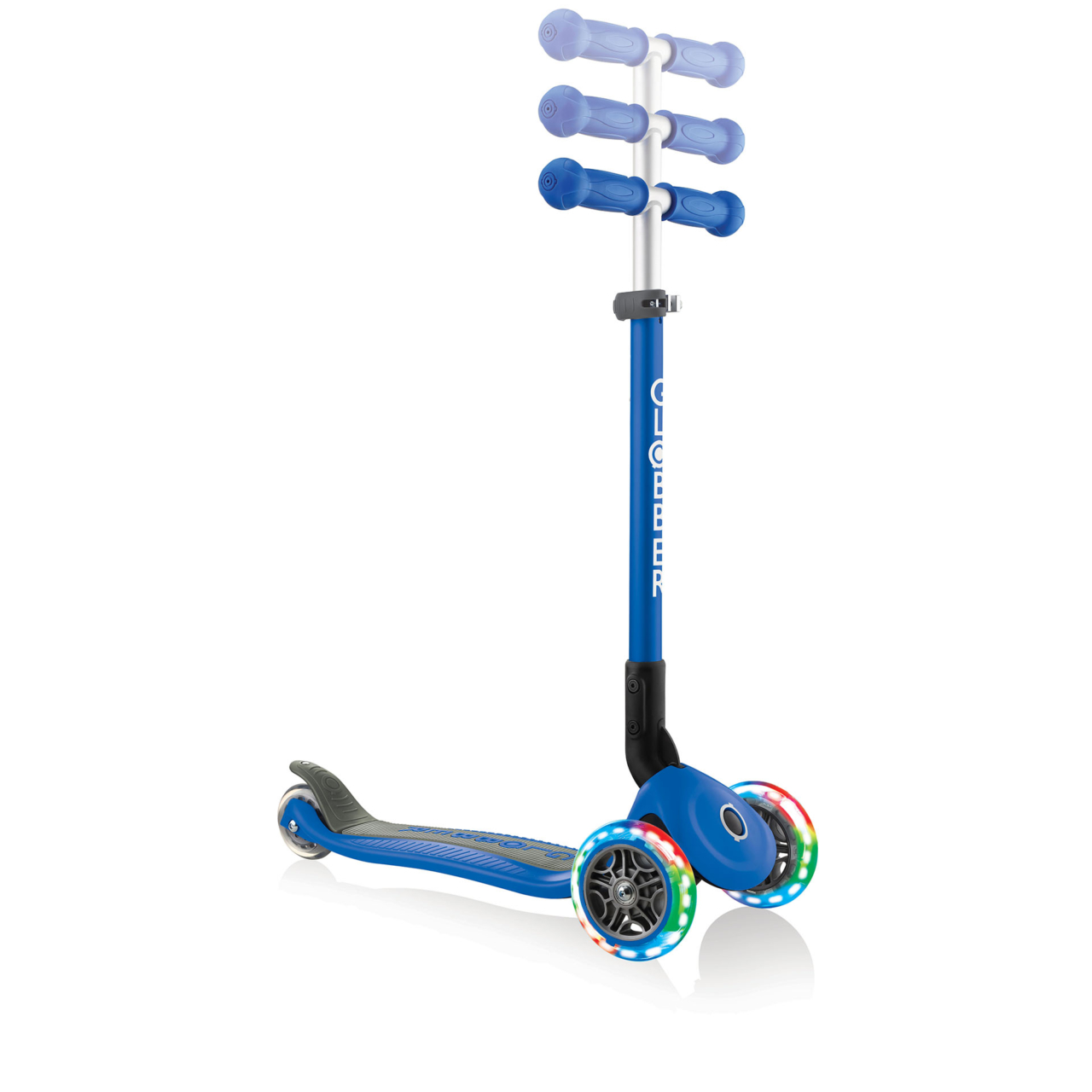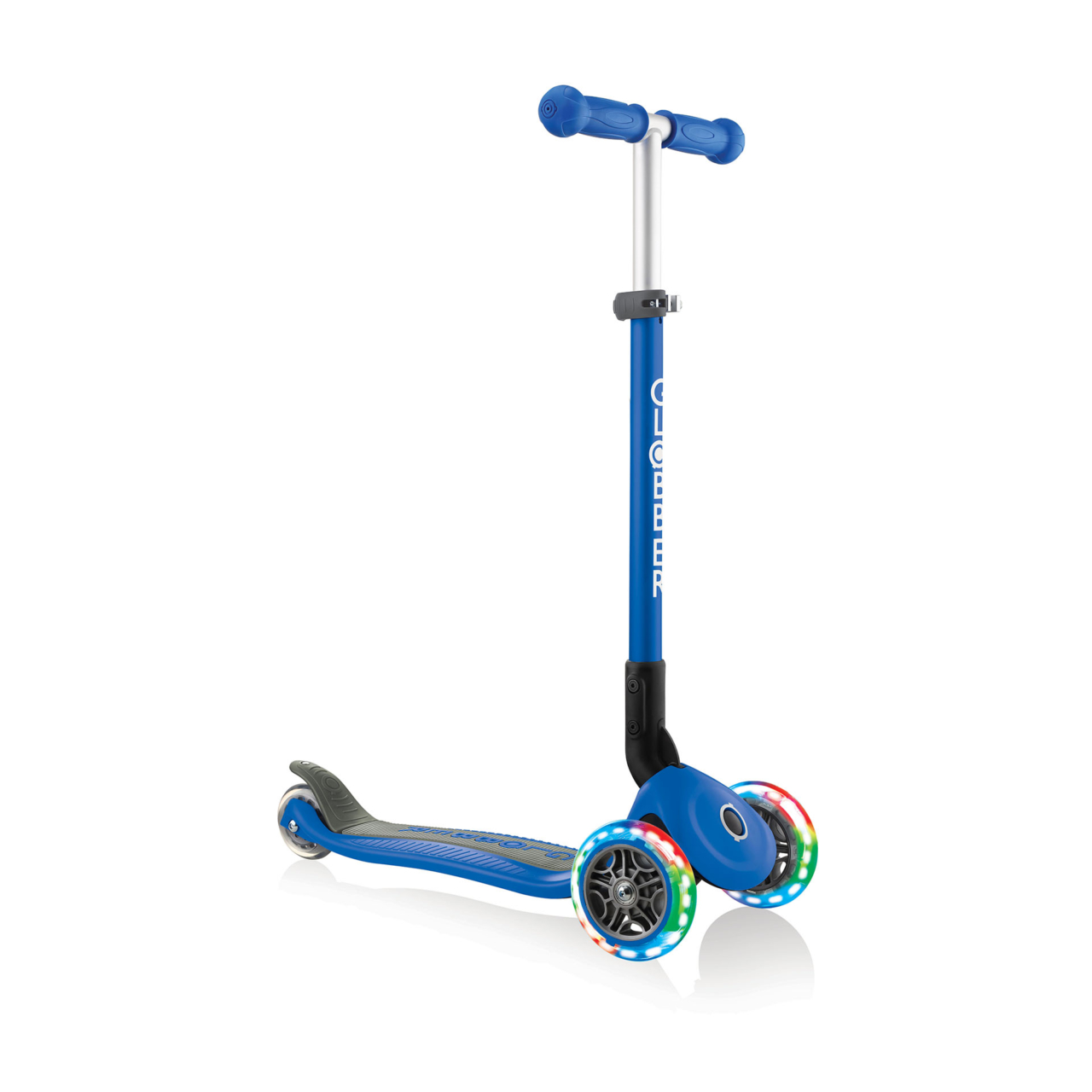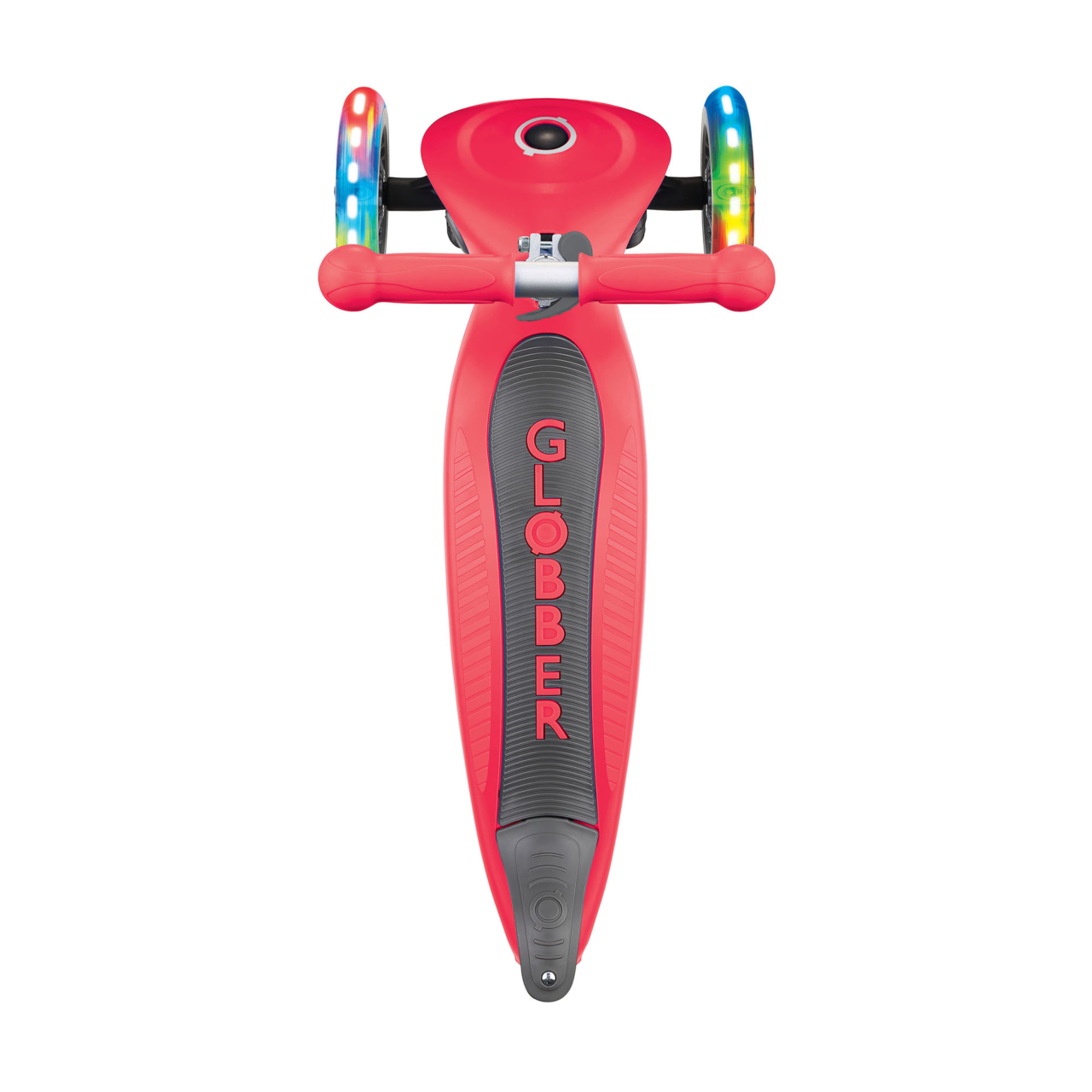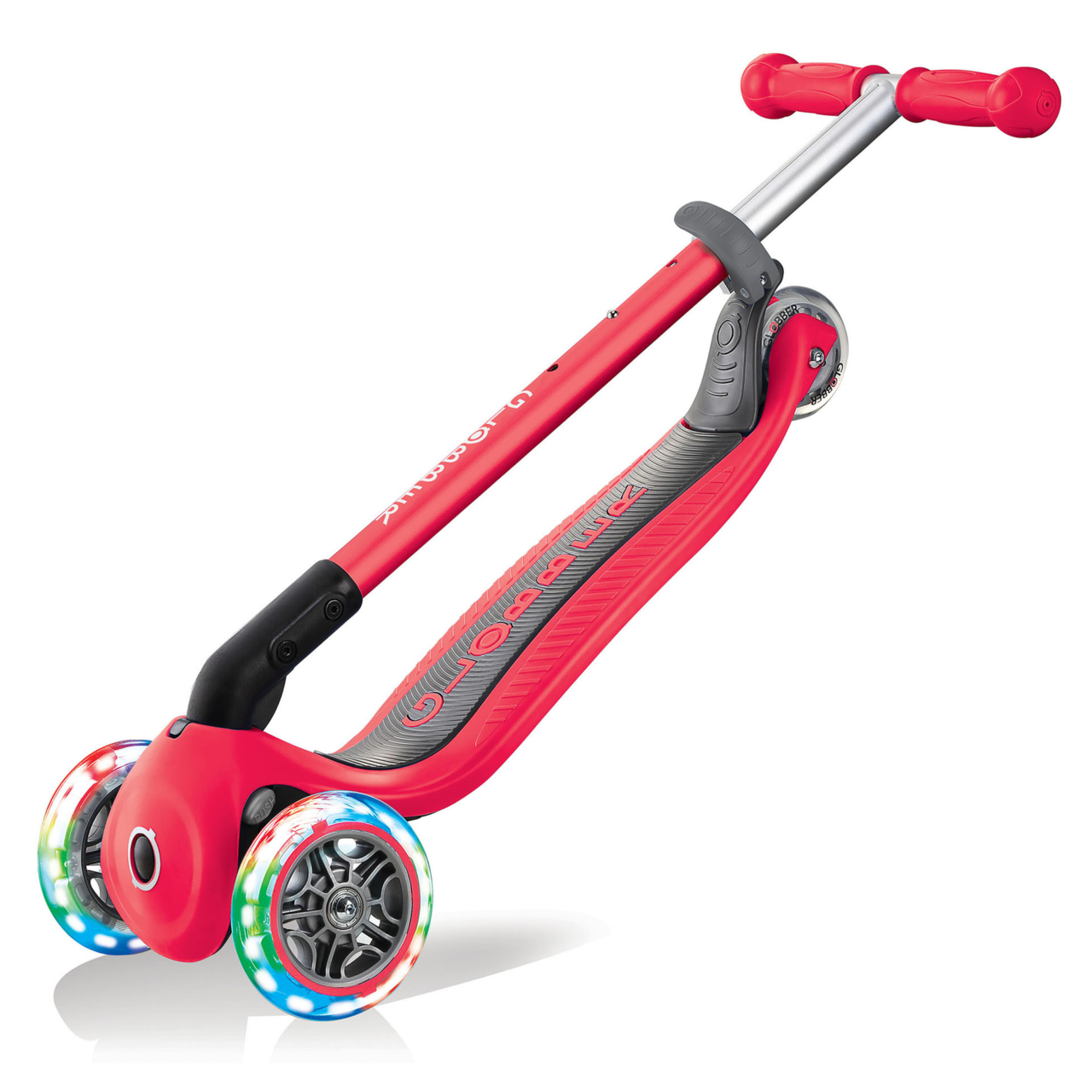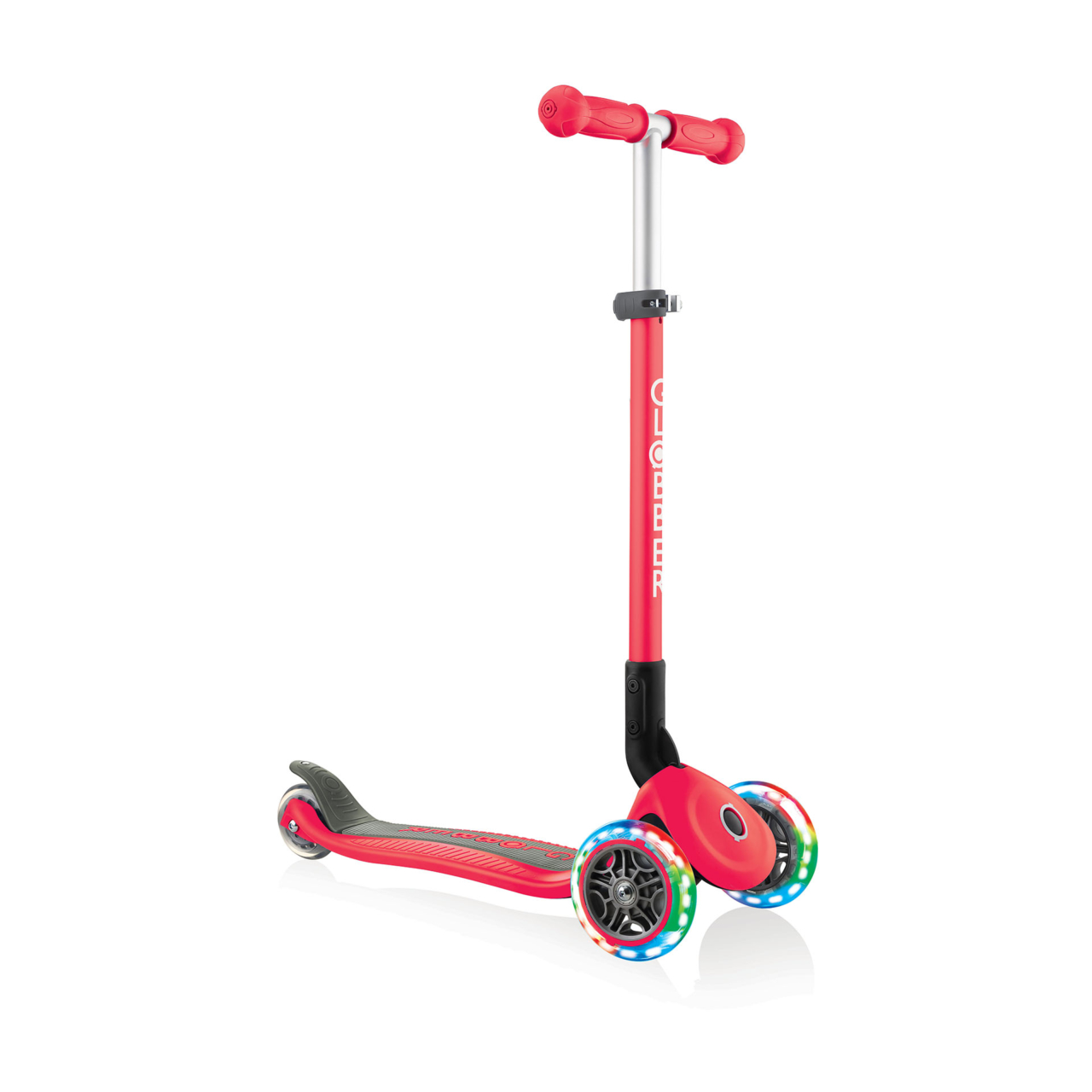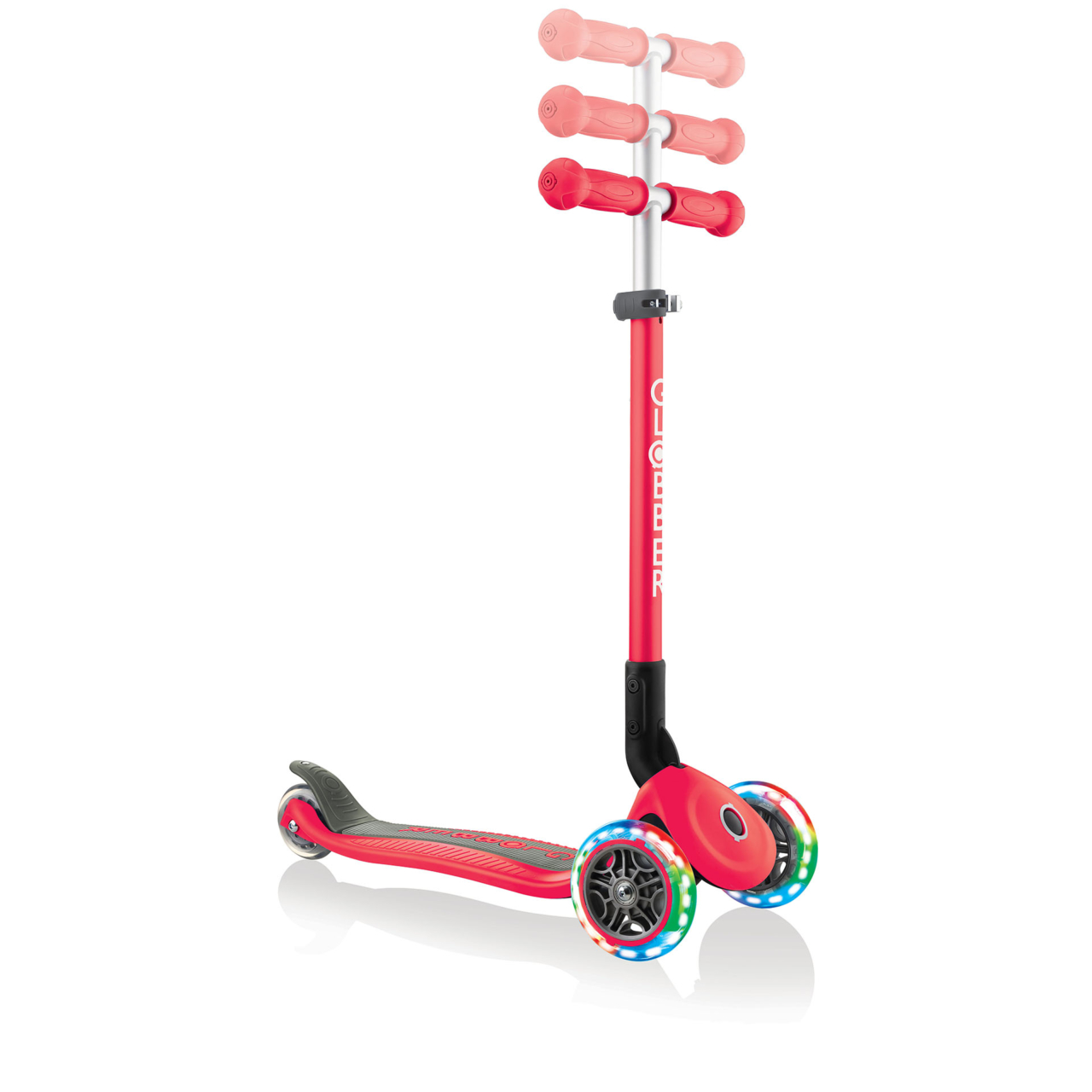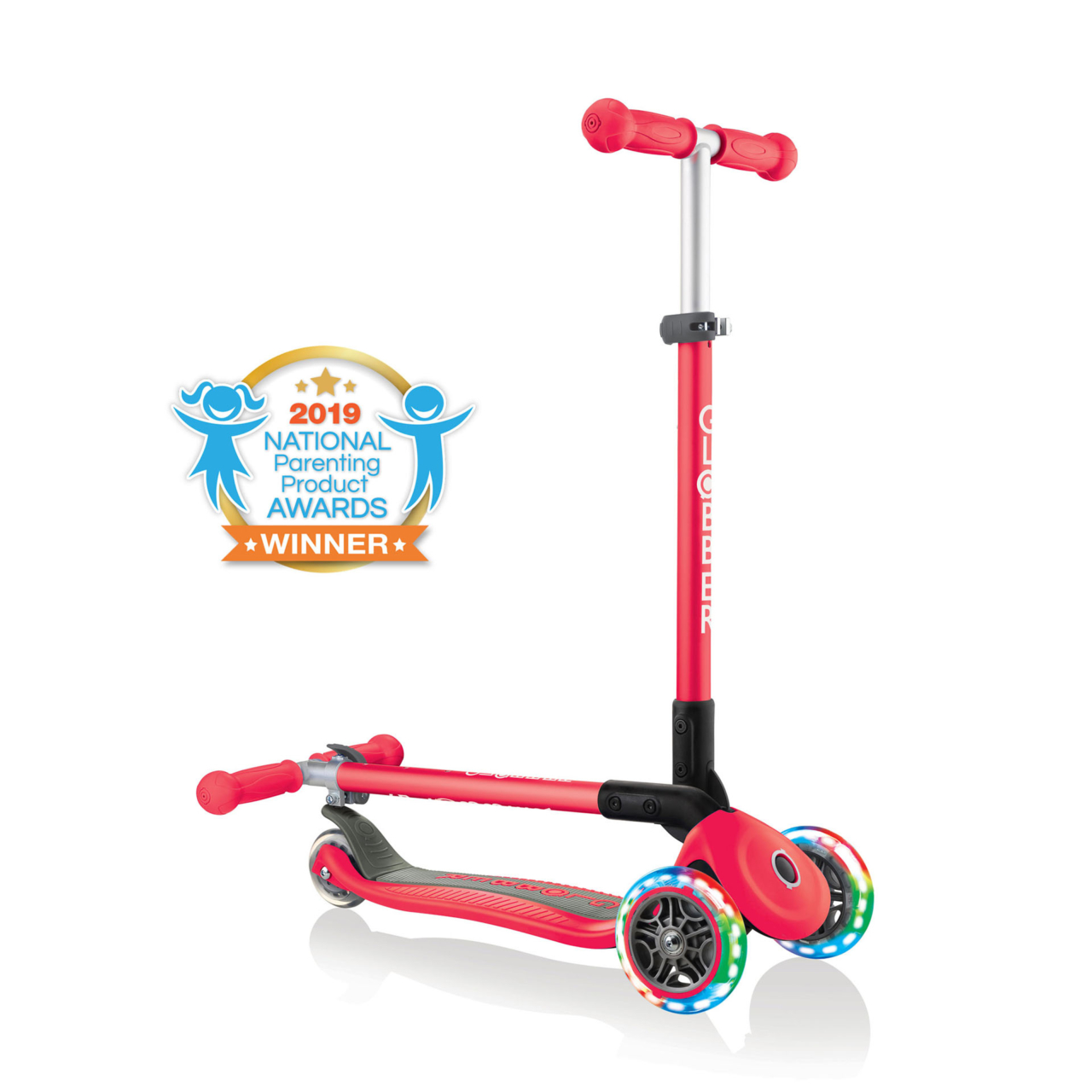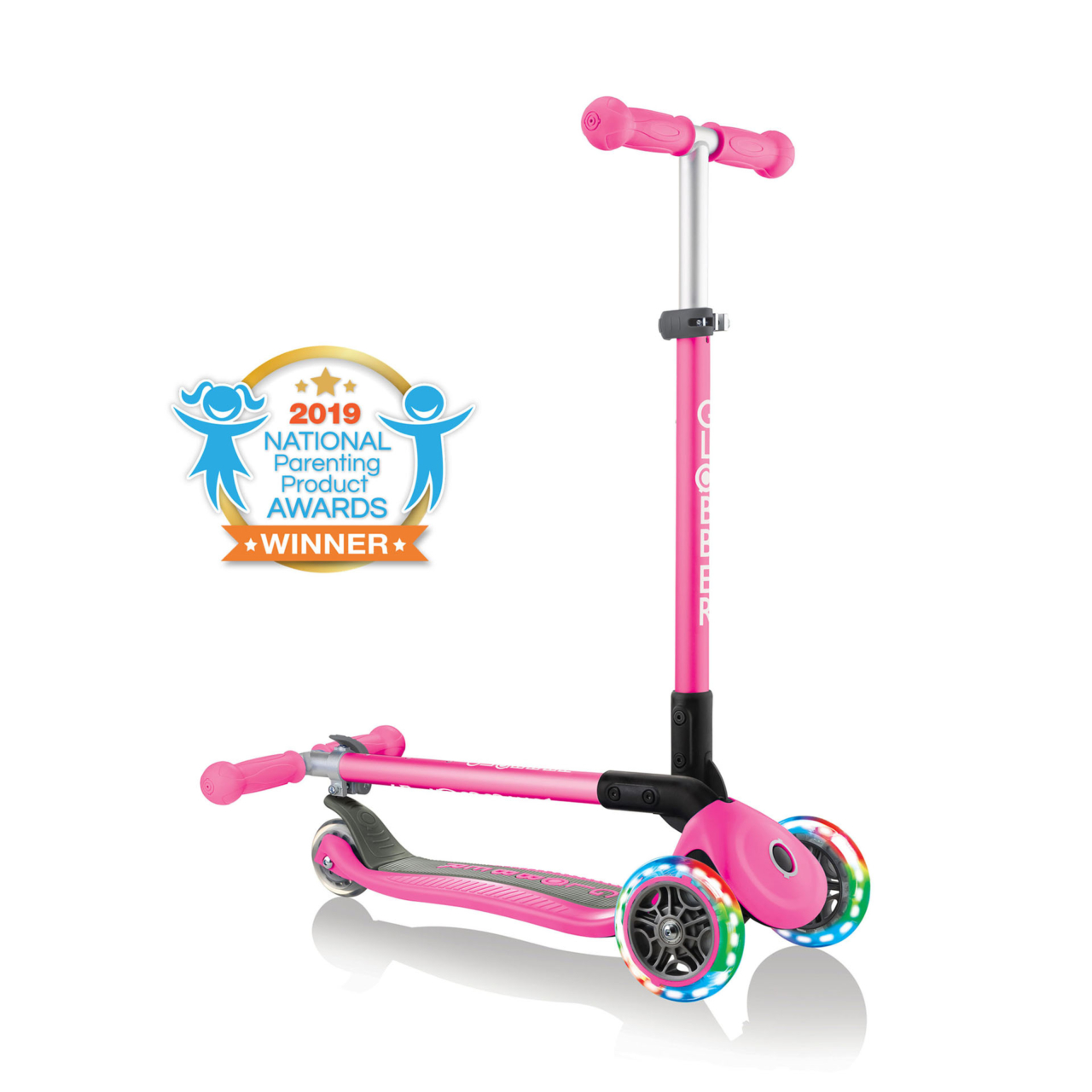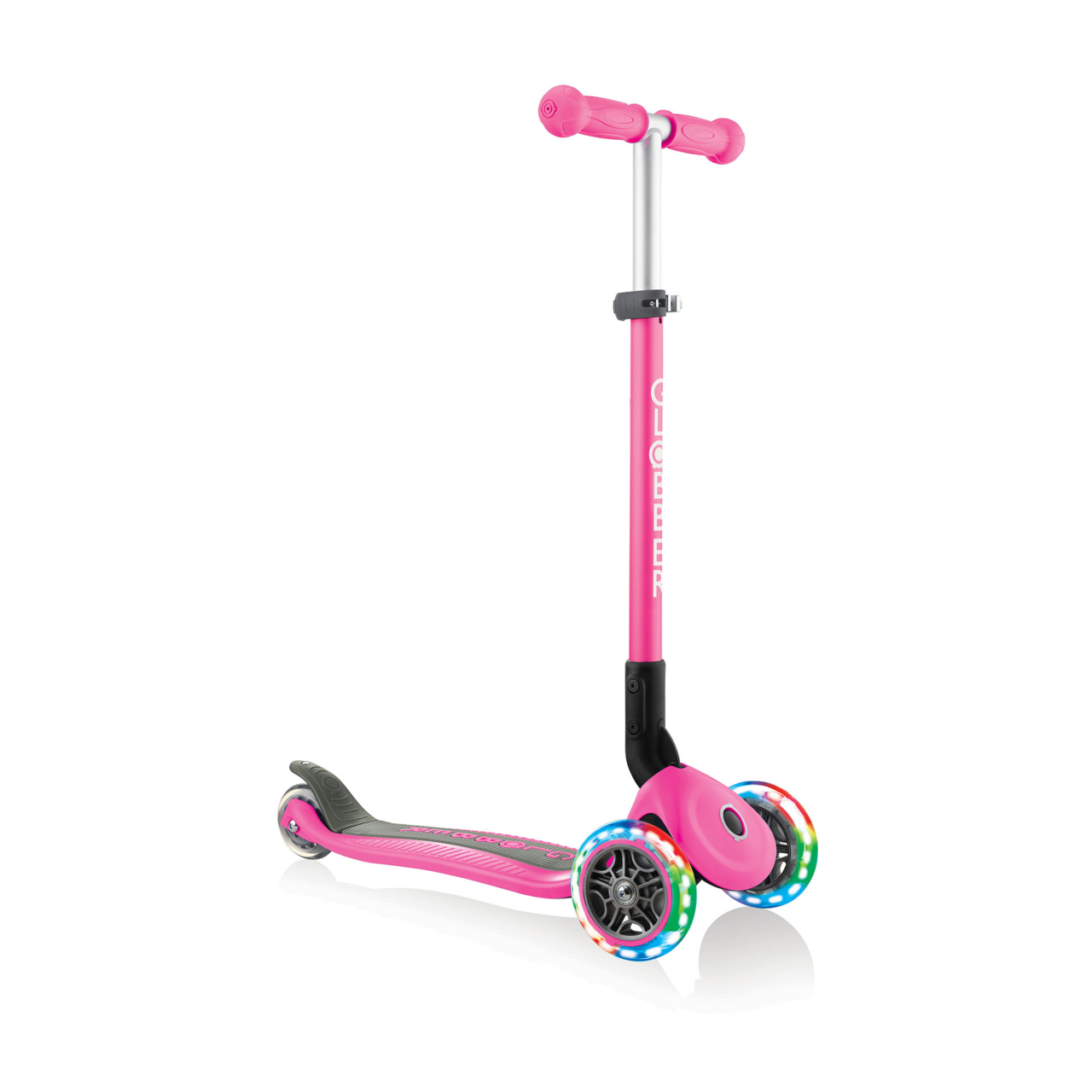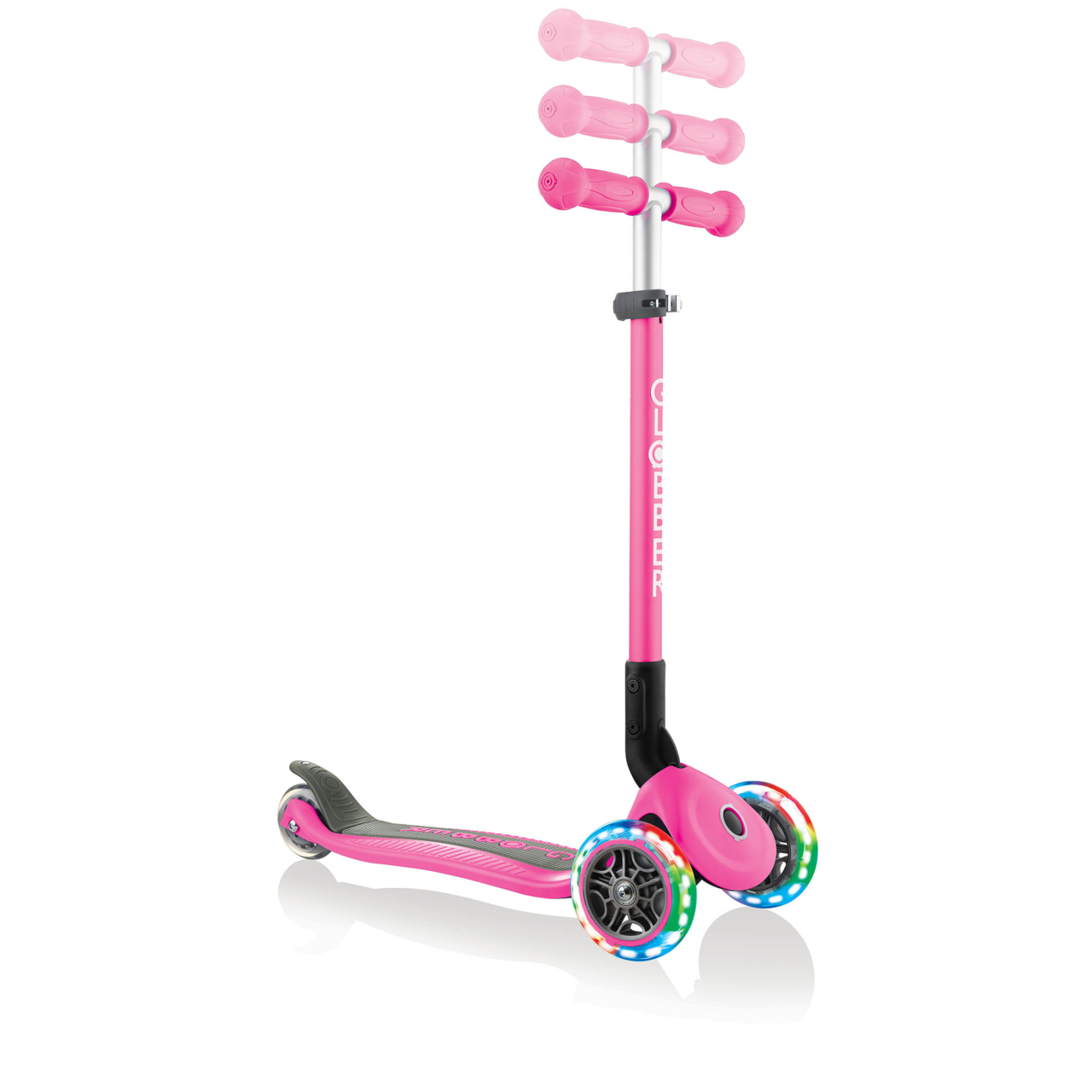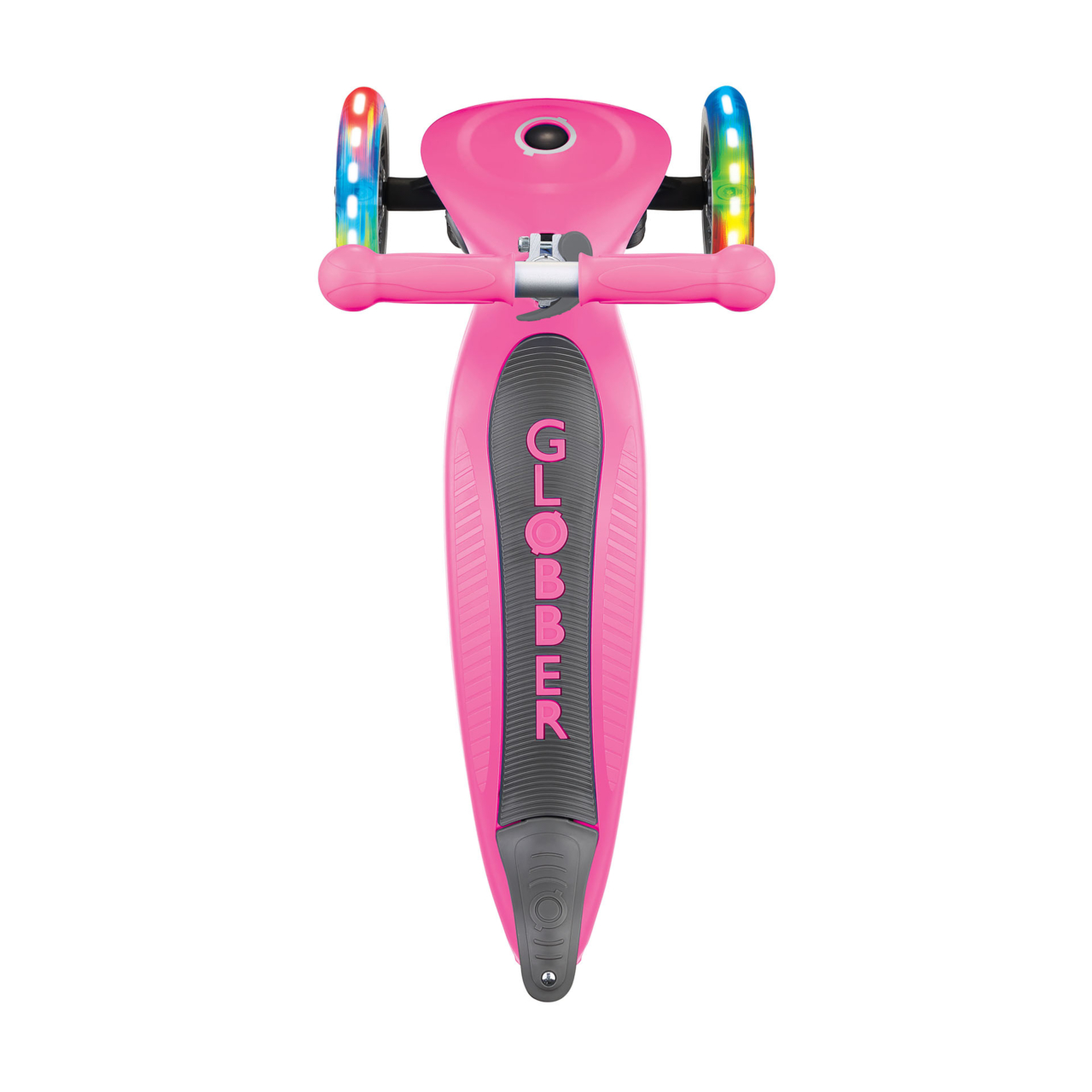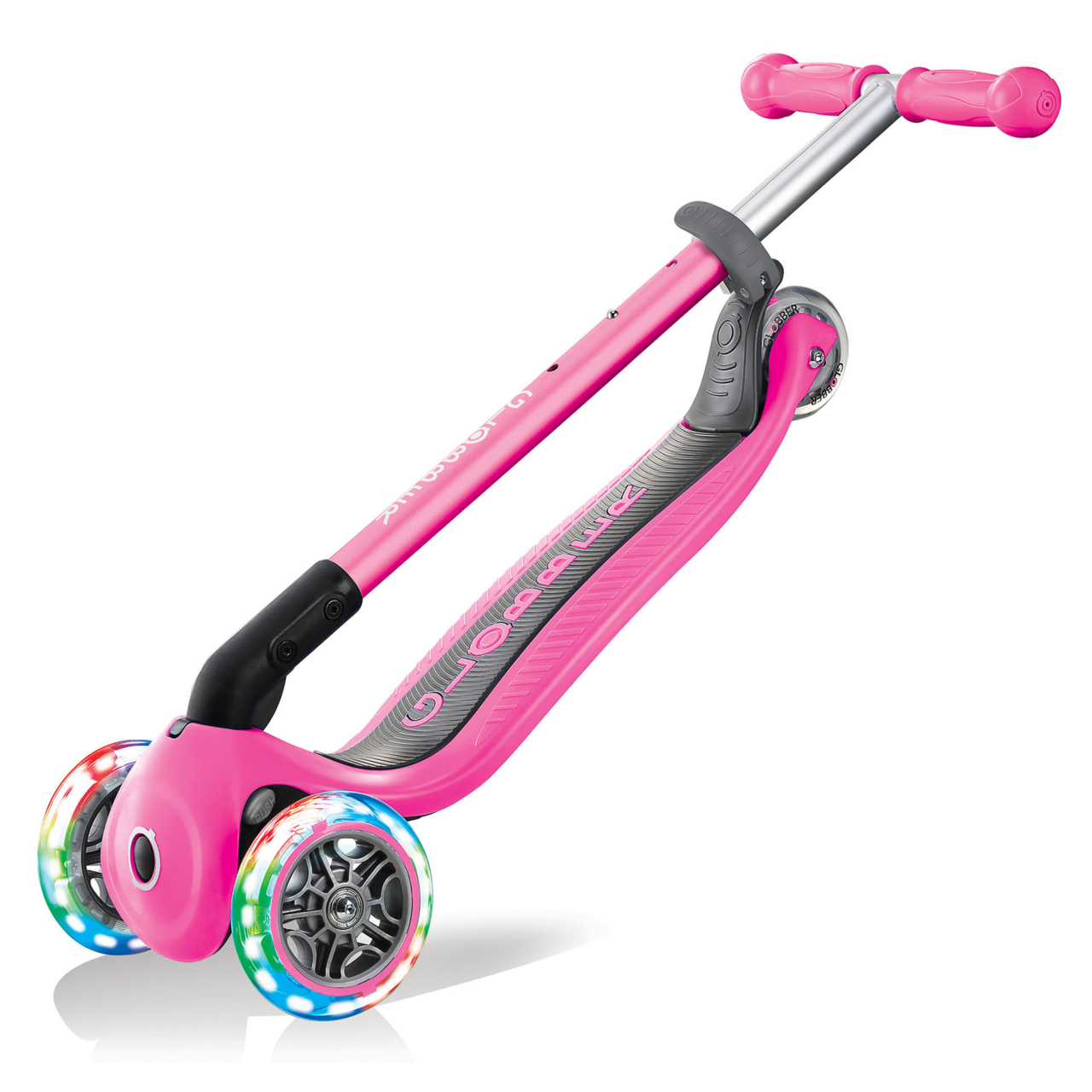 PRIMO FOLDABLE LIGHTS
Get more with the best value on your favourite 3-wheel scooter!
3-wheel scooter for kids (aged 3-7)
| | |
| --- | --- |
| Product type | 3-wheel scooter |
| Color | Navy Blue, Neon Pink, Red |
| Age range | 3Y-7Y+ |
| Recommended user height | 95-120cm |
| Max user weight | 50kg |
| Foldable | Yes |
| Adjustable | Yes |
| T-bar heights | 67.5, 72.5 & 77.5cm (from the ground) |
| Product weight (net) | 2.50kg |
| Deck material | Composite (PP + fiber) + metal frame |
| Deck size | W 12.5cm x L 54.5cm |
| Brakes | Mechanical rear brake (composite) |
| Wheels size | 121mm (24mm wide) front, 80mm (24mm wide) rear |
| Wheels material | High-rebound PU-casted |
All Globber items purchased are guaranteed against manufacturing defects for a period of 2 years from the date of purchase. E-scooter batteries are covered by a 1-year warranty from the date of purchase. Wear & tear items, including but not limited to wheels, bearings, grip tape, handlebar grips & 2-wheel rear brakes are excluded from our 2-year warranty.
Product Details
PRIMO FOLDABLE LIGHTS delivers the best-valued 3-wheel scooters with LED lights for kids aged 3-7+, from price point to features, for awesome scooting days out—light-up wheels included!
A feature-packed 3-wheel scooter with LED lights inclusive of LED light-up scooter wheels, Globber's patented steering and folding systems, and a 3-height adjustable T-bar, PRIMO FOLDABLE LIGHTS can help kids safely build balance and coordination skills while scooting up all the glowtastic fun!
Patented steering lock system
3-height adjustable T-bar
Battery-free light-up wheels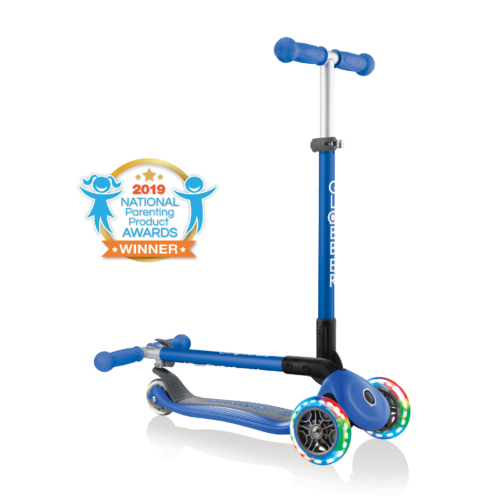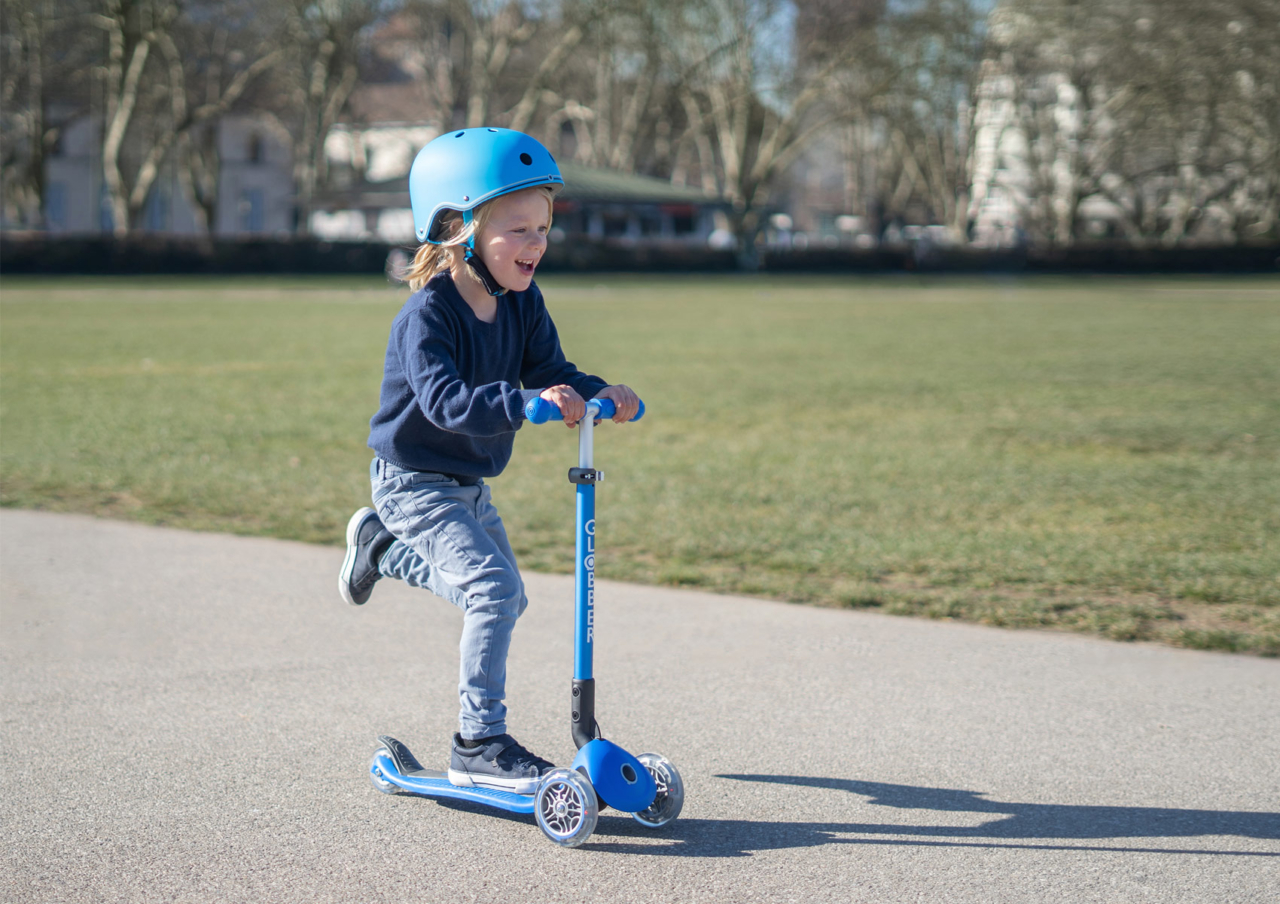 Patented Steering Lock System
PRIMO FOLDABLE LIGHTS is equipped with a Globber-patented steering lock system that locks the front scooter wheels to only move forward and backward, for kids to gain confidence to scoot while practicing balance skills. To go full-on scooting mode and enable lean-to-steer riding, simply release the steering lock button found on the base of the 3-wheel foldable scooter deck!
Patented Folding System for Easy Storage & Transport
Effortlessly carry and store your PRIMO FOLDABLE LIGHTS in compact spaces! Equipped with a patented folding system, easily fold this 3-wheel scooter with LED lights into trolley mode to carry or roll after a fun scooting day.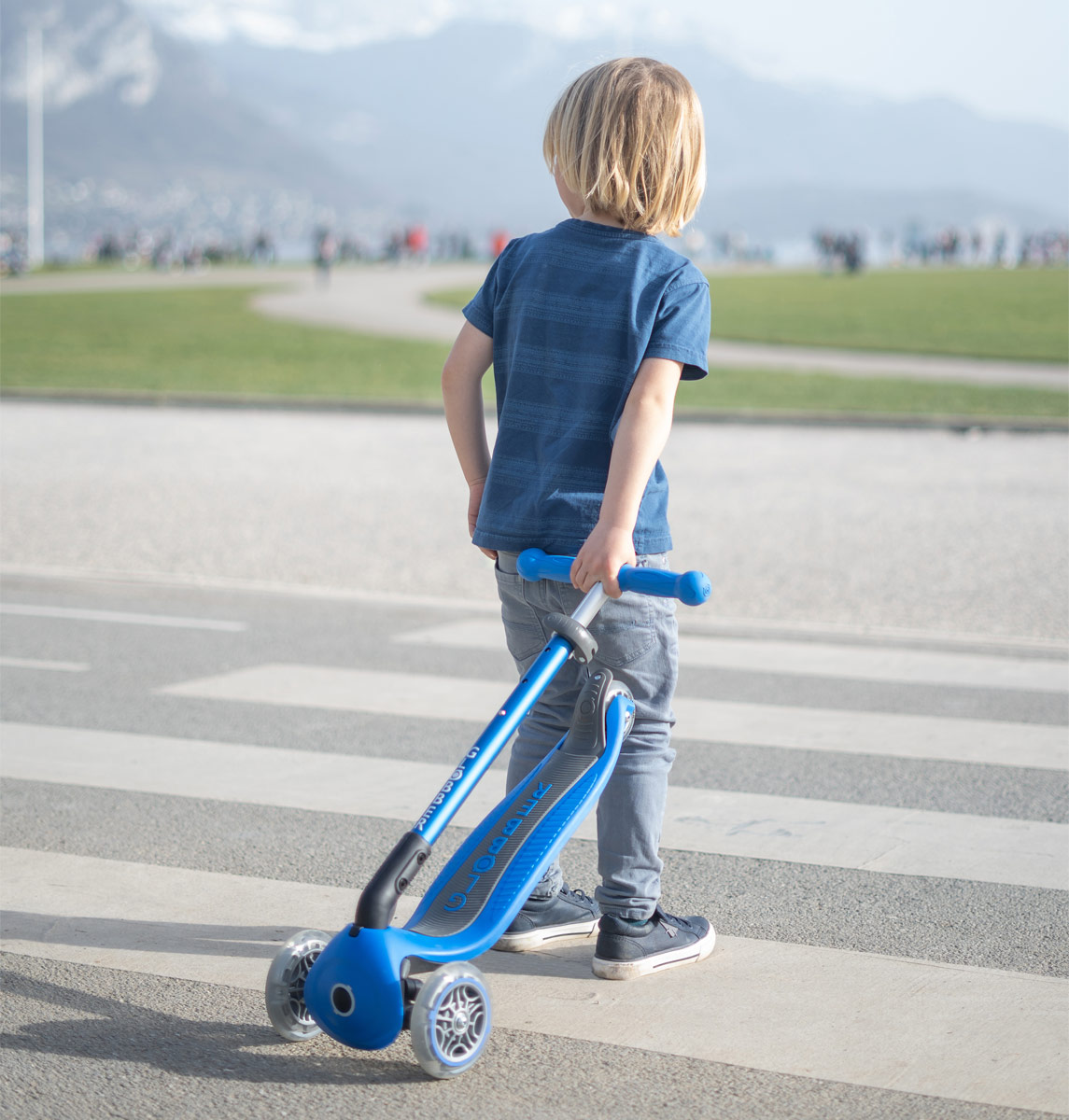 3-Height Adjustable T-bar
Adjust your foldable scooter to the most comfortable height for you! PRIMO FOLDABLE LIGHTS comes with a 3-height adjustable aluminium T-bar (67.5cm, 72.5cm, or 77.5cm) for a comfy ride as your child grows.
Glow as Bright as You Go with LED Light-Up Wheels
Enjoy light-up scooting days with PRIMO FOLDABLE LIGHTS! This 3-wheel scooter with LED lights for kids has LED light-up front wheels that flash in blue, green, and red for a colourful ride all day long. No batteries are needed too, as the light-up wheels use dynamo lighting—it runs purely on the kinetic energy produced by your scooting power which means it's totally battery-free!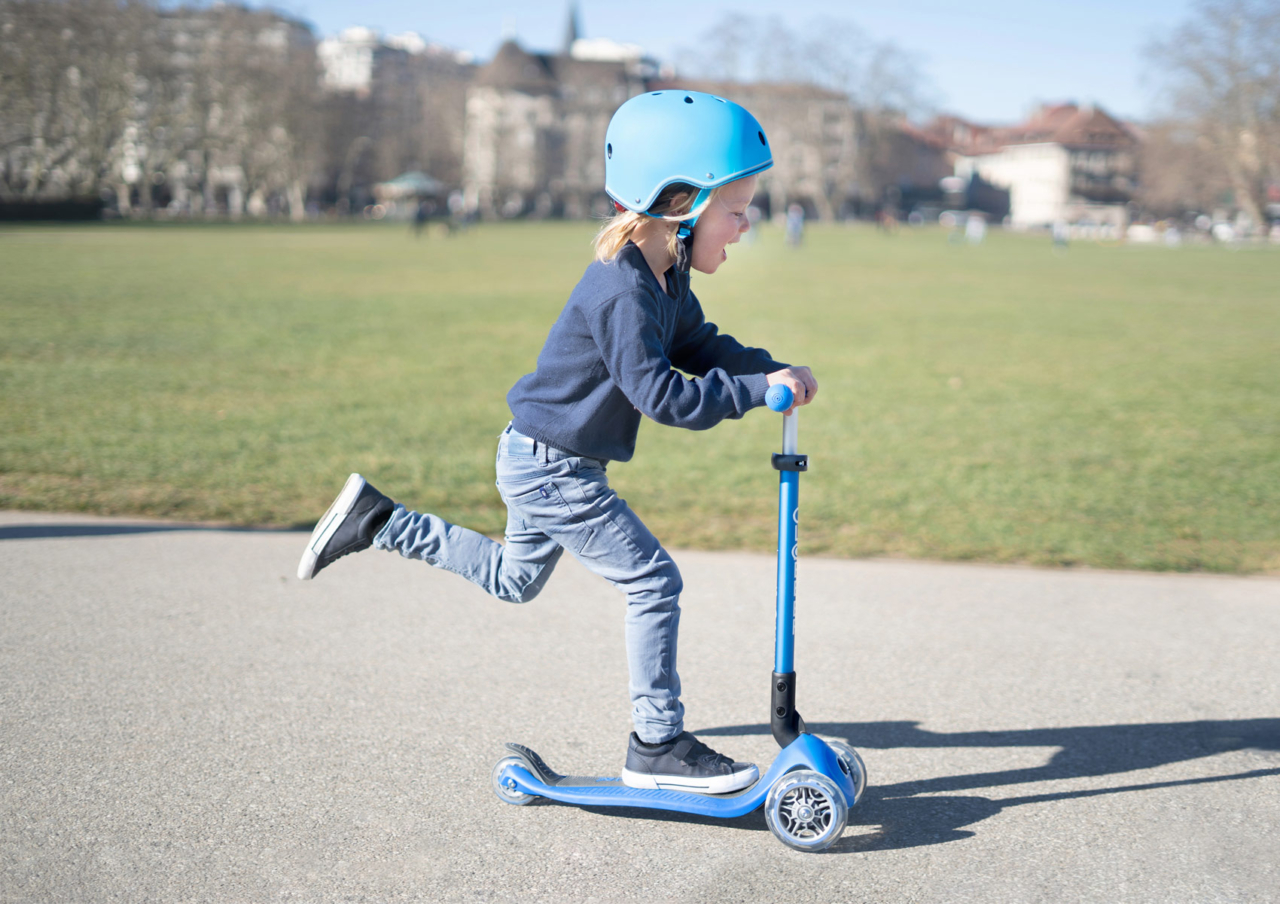 Product Features
3-wheel foldable scooter with Globber's patented folding system with a safe push-button that folds the scooter into trolley mode. Conveniently carry, roll, or store it away after playtime!
Adjustable scooter for kids with a 3-height aluminium scooter T-bar (67.5cm, 72.5cm, 77.5cm from the ground) with an easy-to-use clamp and comfortable TPR ergonomic grips for comfy rides.
Patented steering lock button which fixes the steering system of the two front wheels to only move forward and backward, helping kids learn to balance. Unlock the button to enable lean-to-steer riding.
Durable and safe 3-wheel scooter with LED lights with a super-low metal-reinforced structure and a wide, anti-slip, dual-coloured composite deck design which supports kids up to 50kg. Its extra-long and wide composite brake delivers efficiency and wheel longevity.
High-quality and high-rebound 80mm PU-casted rear wheel and battery-free LED 121mm front PU-casted wheels that flash in red, green, and blue, mounted on ABEC 5 bearings, for light-up rides that last as long as you can scoot—the faster you go, the brighter you glow!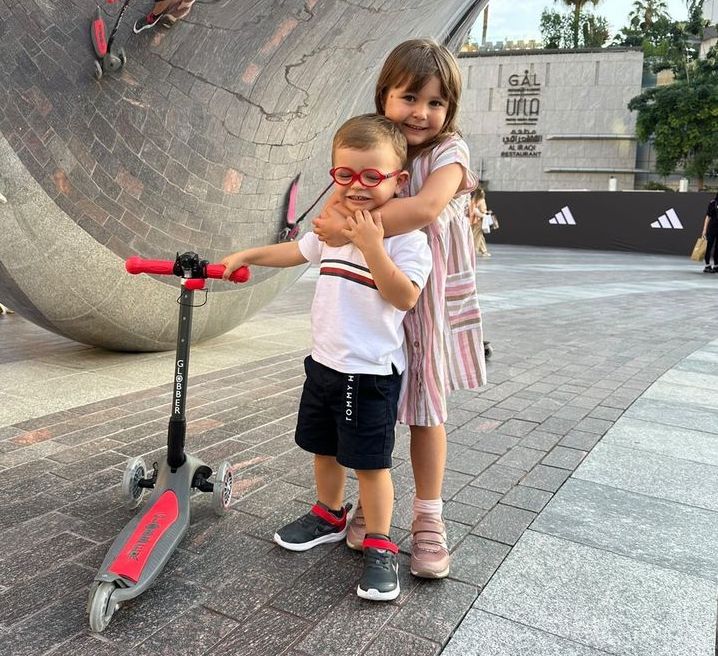 ⭐️ ⭐️ ⭐️ ⭐️ ⭐️ 
"My kids love Globber scooters! They handle great and turn softly. The kids love the glowing wheels, and for me, it provides extra safety because they can be seen from far away. They are perfect for all ages, have great quality, and are at a good price. I highly recommend them!"
You must be to post a review.